I'm sure you have heard the phrase "Now that you have won the Super Bowl, where are you going?"  Well, today at the Magic Kingdom at the Walt Disney World Resort, they were celebrating a different type of victory. They were celebrating the 33 Chilean miners who survived 2 months of being trapped underground after a  mine explosion on August 5, 2010.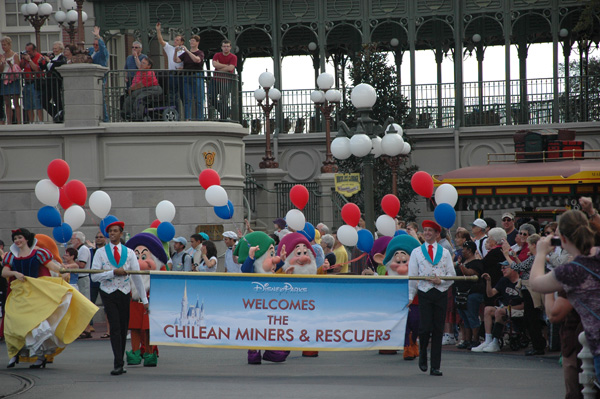 Lining the parade route were the miners' families, rescue workers and plenty of park guests who wanted to share in the great joy and celebration.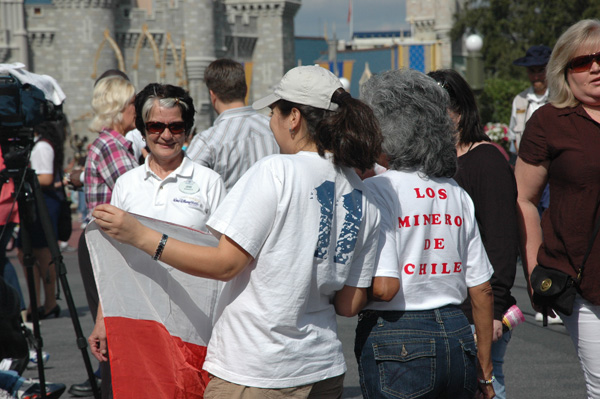 The parade stopped at the top of Main Street for a special ceremony where The Dapper Dans sang "When you Wish Upon a Star".  The Vice Mayor helped in assisting the mayor in the Spanish translation for the Chilean Miners.  After the presentation, the area was filling with cheers and chants.
The Chilean Miners were driven down Main Street as they waved and celebrated with the crowd.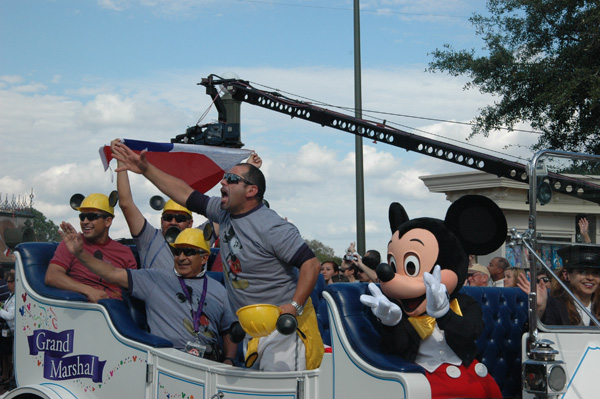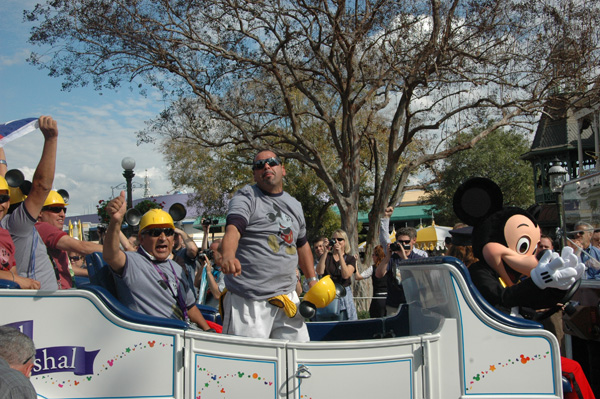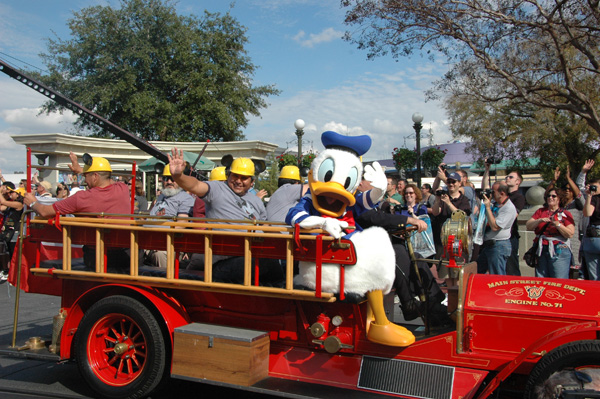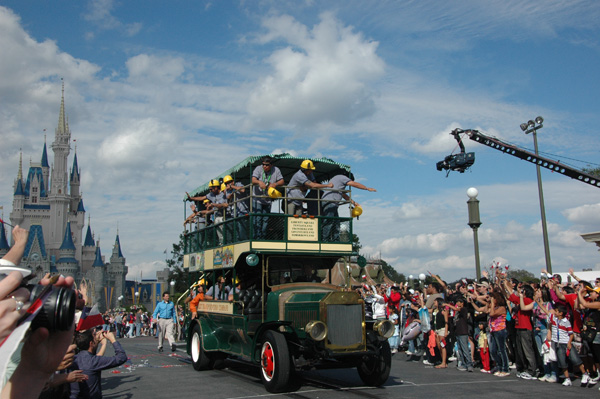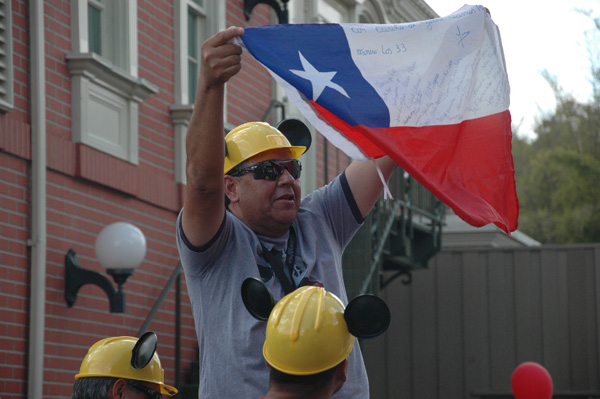 In the photo above, the flag that he is holding is the actual flag that the 33 signed prior to being rescued from the mine.
When the parade ended, all of the miners hopped off the vehicles and started thanking the crowd. The crowd treated them like rock stars.  You could tell that to them, this whole thing is still a miracle and very emotional for them.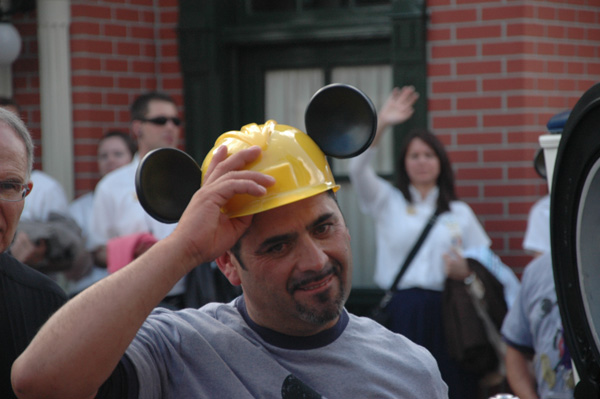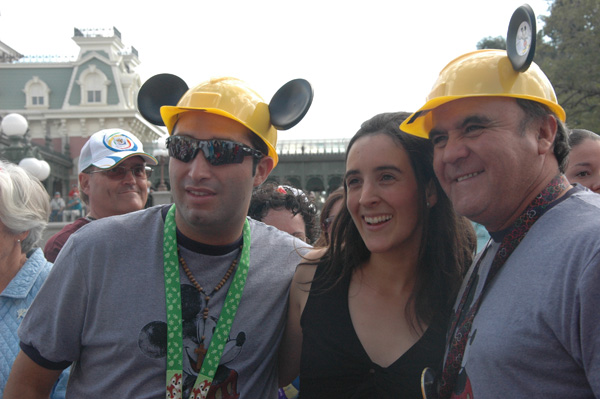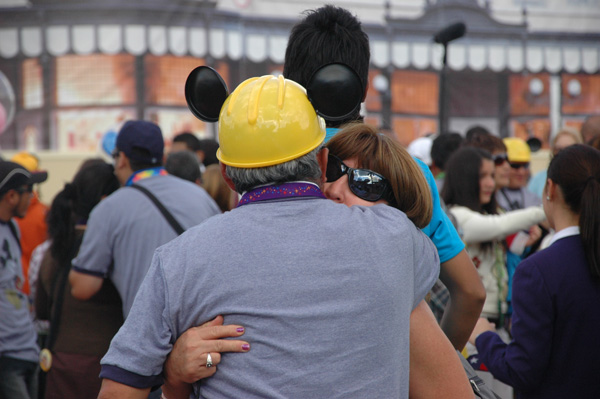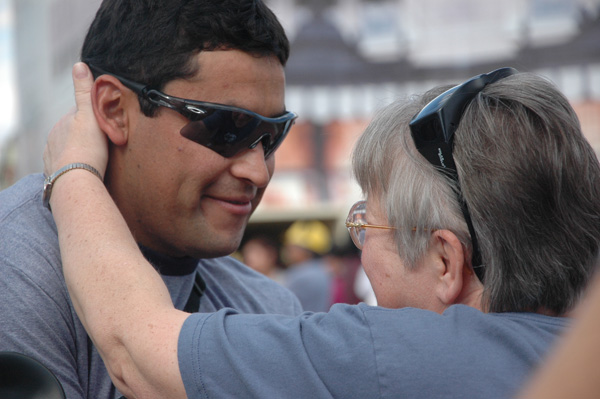 The Chilean Miners have been at the Walt Disney World resort since Thursday, where they have been treated to special Chilean meals prepared by Disney chefs. They also each received a $500 Disney gift card and have been making priceless memories with their families and friends.
Photos by Katie Werling
Category: Disney World
Leah grew up in a little farming town in Illinois, right on the Mississippi River. Her Chicago-born husband, David, left the city for her, and they're now raising their three children (Jacob, Jonah and Lydia) just 12 miles from her hometown. As the Senior Editor of the DIS (wdwinfo.com), Leah spends a lot of time writing about, reading about, and discussing Disney. So, it should come as no surprise that one of her family's favorite ways to spend time is going to Walt Disney World and traveling on Disney Cruise Line. She also enjoys shopping, watching movies with her husband and doing crafts with and for her kids.