"How in the world did they do that?"  Those were the words I uttered when I walked off the Amazing Adventures of Spiderman attraction at Universal Studios Islands of Adventure in April of 1999.  I was so curious and excited I had to jump back into the standby line to experience this attraction again.  Never had a single attraction thrust me right into the middle of a cartoon or comic strip.  I was completely unprepared at how sophisticated this attraction was compared to any other theme park attraction I'd experienced before.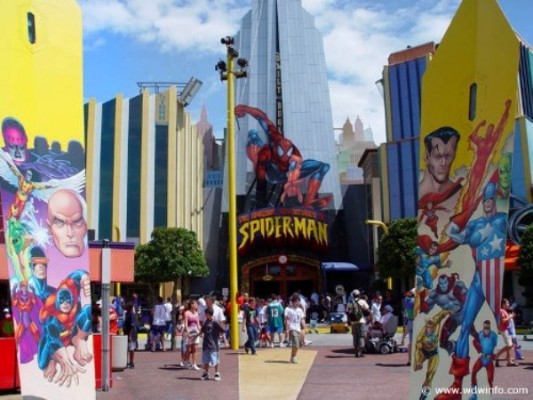 I was fortunate to have visited Universal Orlando in April of 1999 at a time when Islands of Adventure was in soft opening.  In fact, we visited during the second full day of the park's operation.  Team Members were telling us as we entered Islands of Adventure that all attractions and shows may not be running.  That's what you would expect to hear when a theme park or attraction is in soft opening.  Also opening at the same time as Islands of Adventure was Universal's City Walk entertainment and dining district.  Although a portion of City Walk was still under construction, it was apparent Universal Studios had become a destination instead of just a single theme park.
As a theme park fan I couldn't wait to check out Islands of Adventure.  There was some buzz on the Internet about the new park, but information was somewhat limited unlike today where you'd know about most every detail before your visit.  I had read some information about the Spiderman attraction, but again information was limited.  Most of the excitement came from Orlando locals who had been following the new theme park's progress in the local media.
As we entered the new theme park we turned left to Marvel Super Hero Island and bypassed the Incredible Hulk roller coaster because it didn't appear to be in operation.  Our next stop was the Amazing Adventures of Spiderman.  As we saw guests exiting the attraction we heard words like "unbelievable, amazing, wow, and let's ride that AGAIN!"  We immediately jumped in line and were pretty impressed with the queue.  Most of the queue was themed after the Daily Bugle.  It was apparent there was a story breaking because papers were scattered everywhere and telephones were ringing constantly.  Reporters were nowhere to be found as they were out covering the breaking story of Doc Octopus and his evil villains running rampant through New York City.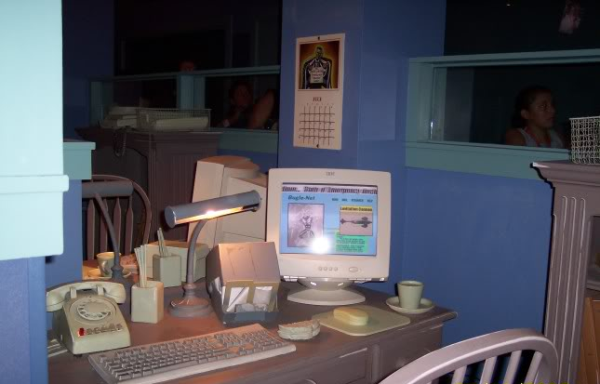 As we approached the loading area we were amazed at how sophisticated the ride vehicles looked.  The ride vehicles were called "Scoops" and they sported a very sleek and streamlined look with a satellite dish on the back.  We put on our 3-D glasses and began our adventure.  I wasn't really sure what to expect during the ride because I've never been on anything like this attraction.  A few guests tried to explain it to me while we waited in line, but I didn't quite understand how a simulator attraction could move through space.  My imagination was running wild with ideas, but I eventually gave up and decided to wait and see it for myself.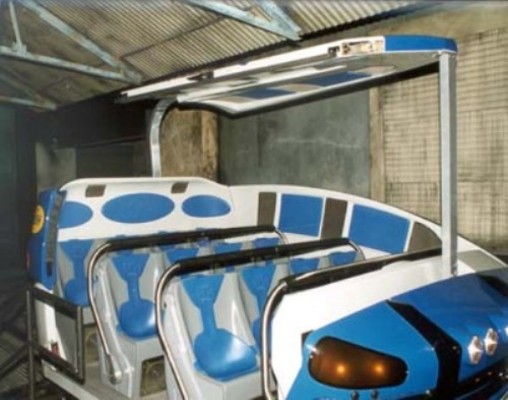 To this day I still remember my first spin on Spiderman.  As my wife and I went through the ride we were blown away at the level of technology, imagery, scenery, and imagination that went into this attraction.  It was obvious to me this was a groundbreaking attraction.  Nothing had ever been designed and built like it.  It was one of those attractions where you felt a new level was reached and new attractions would someday be modeled after it.
So, how did they really do it?  According to Mark Woodbury, who worked in Creative Design & Development for Universal, "the biggest challenge was manipulating the 3-D images so they wouldn't appear distorted to the passengers in a moving vehicle.  This technology, a moving point of convergence, didn't exist.  We had to create it."  Scott Trowbridge, Spiderman's show producer said, "Everybody told us it couldn't be done.  We set out to prove them wrong."  Trowbridge and his team felt challenged to build an attraction unlike anyone had ever experienced before.  Every detail was scrutinized.  For example, the shadows of the 3-D objects in each scene had to be placed just right to give riders the illusion the object was real and not just a projected image.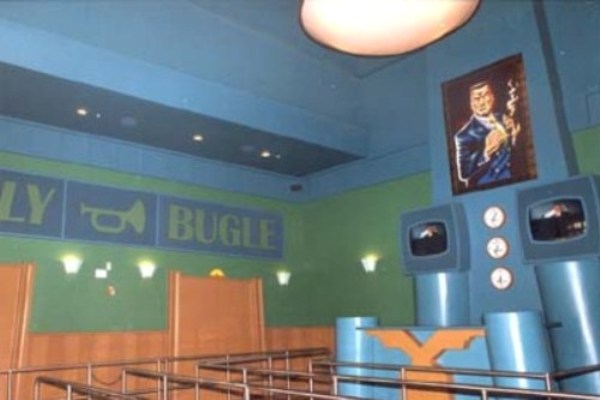 Here we are 12 years later and unfortunately little has been done to model the guts of this attraction or enhance its current technology elsewhere.  There have been a few attempts like the Forbidden Journey inside the Wizarding World of Harry Potter and Toy Story Mania inside Pixar Place at Disney's Hollywood Studios, but little has come close to equaling Spiderman's creativity, groundbreaking innovation and technology.  Some say it has to do with the cost to build and maintain an attraction this technologically advanced.  When Spiderman was built in 1998 the final price tag was just over $100 million dollars.  Today, building an attraction similar to Spiderman would cost much more because of inflationary factors.  It would be a huge investment and a substantial risk for a theme park to take in our current economy.
Over the past 12 years the Spiderman attraction has won several awards making me wonder why more theme parks have not copied or tried to simulate its technology.  The ride has won best overall attraction 4 years in a row by 'Theme Park Insider' magazine and 7 Golden Ticket Awards for the best dark ride in a theme park.  For me personally, it's the first attraction I must ride whenever I visit the Universal Orlando resort.  What separates Spiderman from some of the other moving simulator attractions at other theme parks is re-rideability.  There's so much going on during the ride you may have missed some great attraction details.  Also, the ride seems to appeal to a large audience.  Tweens and teens seem to enjoy the ride's 3-D movements.  Adults can relate to Spiderman who has been around in the comic books for quite some time.  Families will laugh and get caught-up in the ride's storyline.  Additionally, the transitions between scenes is very well done.  Although you will notice yourself moving between scenes the creative minds behind this attraction have added transitional elements making the entire experience fit together like a cog and wheel.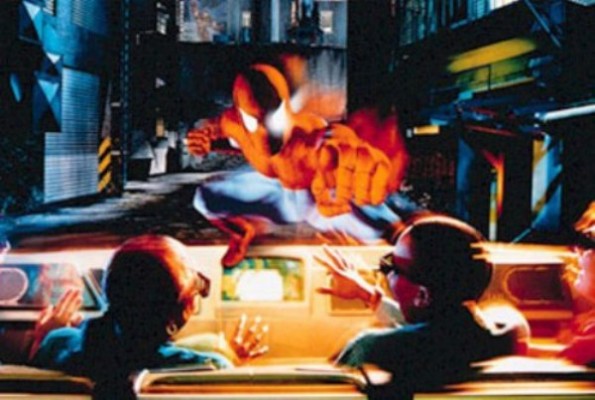 Even though I've been on this attraction several times I'm still amazed at how it works and how entertaining it is for guests.  However, I'm equally amazed nothing has come along in the past 12 years to match Spiderman's innovative attraction status.  You would have thought with such an innovative attraction 12 years ago theme parks would be further along with more advanced attractions today.  Spiderman still remains as innovative and technologically advanced as it did almost 12 years ago.  If you've never experienced this attraction be sure to get over to Universal Orlando and check it out.  It will change your perspective on theme park attractions in general.  If you are a theme park fan like me you'll probably be asking yourself the same question I did 12 years ago, "How in the world did they do that?"
Friend Aaron on Facebook: I accept reader friend requests.
Category: Disney World, Universal / Sea World