Certainly one of the highlights of the DIS Unplugged Podcast Cruise 2.0 on the Disney Wonder was an exclusive performance by Jodi Benson, voice of Ariel: the Little Mermaid, on Monday, December 13, 2010.  She captivated the audience for over an hour with songs and stories of her career with Disney, and then spent even more time after the concert meeting fans, taking pictures, and signing autographs.  Continue after the break for a short video with highlights of the performance.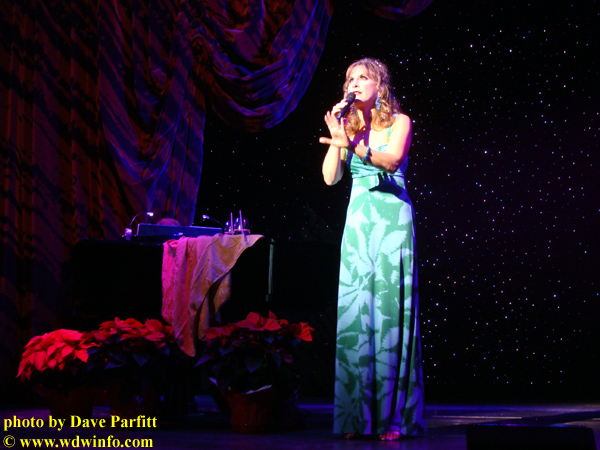 Jodi Benson sang songs from the Disney canon including "A Dream is a Wish Your Heart Makes", "When You Wish Upon a Star", "Belle", a medley from "Beauty and the Beast", "Colors of the Wind", and "God Help the Outcasts."  She also sprinkled in songs from her Broadway shows such as "Disneyland" from the show "Smile."  Howard Ashman was the director and lyricist for "Smile" and also one of the producers and lyricist for "The Little Mermaid."  Jodi also performed a medley of Gershwin classics from her Tony-nominated role in "Crazy for You", and dedicated the song to DIS Founder Pete Werner's mother Madeline for her 80th Birthday.  Throughout the show Jodi shared insight into her career at Disney, how she got the role of Ariel in "The Little Mermaid", working with John Lasseter on the "Toy Story" pictures, and even gave a sample of her voice-work as Barbie.  Of course she concluded the concert with a moving rendition of her signature song "Part of Your World" – prefaced by saying she never, ever grows tired of singing it.  I do not exaggerate when saying the audience swayed from laughing to crying throughout her show.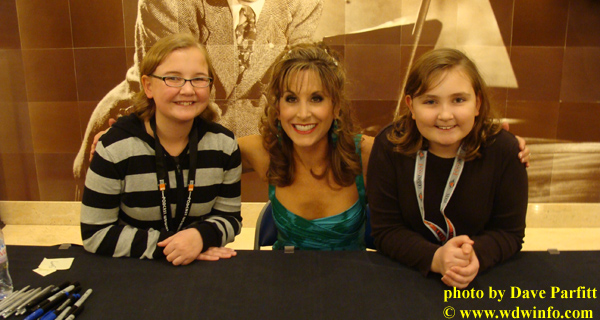 Afterwards, Jodi Benson met with guests of the DIS Unplugged outside the Walt Disney Theater to sign autographs and pose for pictures.  Thirty minutes was scheduled for the meet and greet, but she stayed well past 90 minutes to meet every single guest that waited in line.  Furthermore, the final guest in line was treated with the same warmth and personal attention as the first one.  With a huge smile, Jodi signed every item placed in front of her, and posed for any picture requested.  Sometimes she even suggesting a picture be taken if a fan was going to miss the opportunity.  Yes, guests of the DIS Unplugged learned Jodi Benson is a beautiful person inside and out, and very willing to welcome us into part of her world.
Category: Disney Cruise Line