We recently completed the 2nd DIS Unplugged Podcast Cruise, better known as PCC2.0, on the Disney Wonder December 12-16, 2010.  We were fortunate to have a number of special events for the 600+ guests sailing on the cruise.  One such event was an exclusive presentation with two Disney Legends: Walt Disney Imagineer Bob Gurr and Magic Kingdom Press Agent Charlie Ridgway.  Continue after the break for a video highlighting their presentation.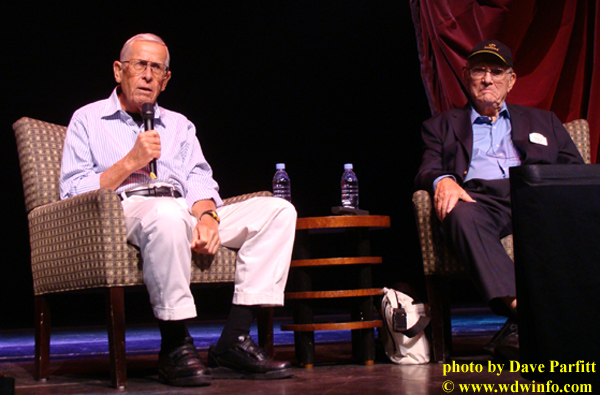 Image: Disney Legends Bob Gurr (left) and Charlie Ridgway (right) enthrall guests on the 2nd DIS Unplugged Podcast Cruise aboard the Disney Wonder.
Charlie Ridgway was first to take the stage, and related stories of 40 years working as a press agent for the Disney Company.  Charlie worked directly with Walt Disney himself and stayed with the company through the Michael Eisner years.  He started as a newspaper man in Los Angeles, CA, and wrote some of the first articles describing "Walt's Folly" – as Disneyland was referred to before opening.  Showing a photo of his press badge dated Sunday, July 17, 1955, Charlie talked about his experience on Disneyland's opening day, and why he was maybe the only reporter that gave the park a favorable review.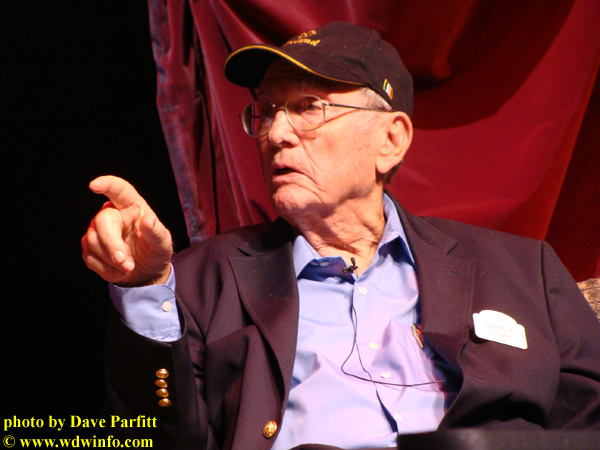 Image: Disney PR Legend Charlie Ridgway answers a question during PCC2.0.
After his years at Disneyland, Ridgway moved to Orlando to head PR during the construction and opening of "The Florida Project", and eventually worked on publicity for every Disney theme park including those in Paris, Tokyo, and Hong Kong.  However, Charlie Ridgway may be best known for a publicity stunt to promote Donald Duck's 50th birthday.  "Oh, you're the duck guy!" exclaimed Bob Gurr when he learned it was Charlie who got 50 pristine white ducks wearing birthday hats to follow Donald Duck down Main Street, U.S.A. in the Magic Kingdom.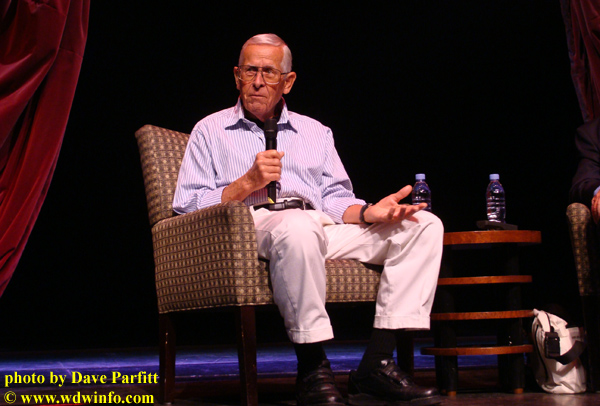 Image: Disney Imagineering Legend Bob Gurr addresses fans of the DIS Unplugged.
After Charlie Ridgway spoke, former Imagineer Bob Gurr bounded on stage with the energy and enthusiasm of a Christmas Elf.  He showed an exclusive video highlighting some of the many vehicles he designed for Disneyland including the Autopia cars, Monorail, and (his personal favorite) the Main Street Fire Engine.  Bob had such a great stage presence and the audience laughed at his many tales of working with Walt Disney laced with Bob's own droll sense of humor.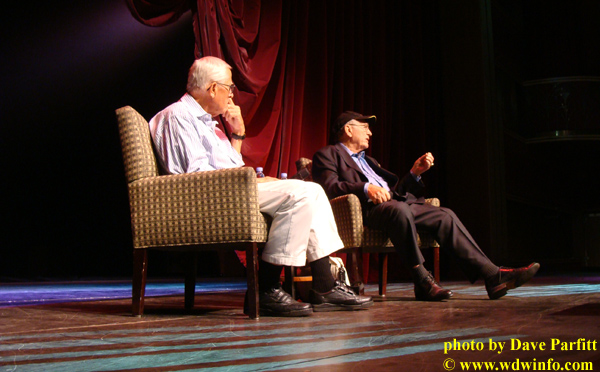 Image: Bob Gurr (left) and Charlie Ridgway (right) answer questions from the audience.
However, the real "Disney Magic" occurred when these two Legends were paired on stage together for a question and answer session from the audience.  Bob and Charlie told stories that played off one another, and they reflected on moments in Disney history from their own unique perspective – Gurr working at Walt Disney Imagineering in California and Ridgway in the swamps of Florida building the next Magic Kingdom.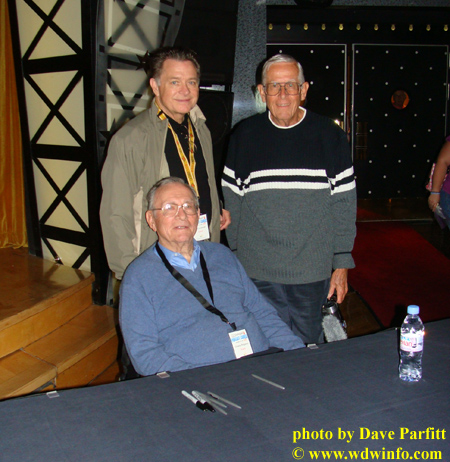 Image: Lee Cockerell (left), Bob Gurr (right), and Charlie Ridgway (seated) meet and greet fans on the Disney Wonder.
There were plenty of opportunities for guests to meet and get to know our special VIP guests.  Later in the cruise, Bob Gurr and Charlie Ridgway took photos and signed autographs for fans along with Lee Cockerell, retired Executive Vice President of Operations for Walt Disney World.  Lee and Charlie each autographed copies of their books "Creating Magic" and "Spinning Disney's World", respectively.  However, Bob Gurr provided, exclusively for DIS Unplugged guests, a never before seen photograph of himself with Walt Disney's personal Autopia car the "MK1: Walt Special."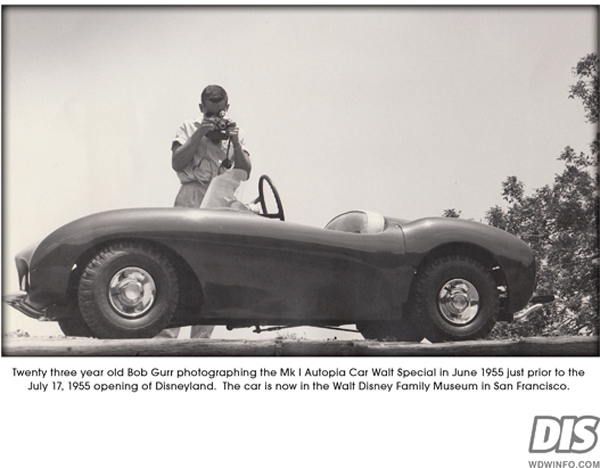 It was truly special to not only be able to hear stories directly from the people on hand when history was being made, but also to have a chance to get to know these Disney Legends personally.  Lee Cockerell, Bob Gurr, and Charlie Ridgway were all so generous with their time and gracious with the Disney fans, that everyone felt as if they came away with a new friend.
Category: Disney Cruise Line, Disney World, Disneyland