One of Disneyland's coolest holiday experiences, for kids of any age, is offered at Big Thunder Ranch.  During the holidays, the folks looking for a meet-up with Mr. Claus himself often discover it, but not many others.  This is a historic area of Disneyland-Past – home to the Mine Train through Nature's Wonderland, but for many, it seems like an empty path to nowhere.  Little do they realize that there is a small area – at the bend in the road – that is home to goats, turkeys, a donkey, a cow, horses, and the like.  During the holidays, they get some very special guests.  That's why I was so excited when I had the opportunity to share them with you.
Not only does Santa Claus come to Disneyland every year, to chat with kids in the cozy log cabin at the Ranch, but he also makes sure he can keep an eye on his 8 reindeer, as they prepare themselves for that long journey around the world on Christmas Eve!    That's right.  Dasher, Dancer, Prancer, Vixen, Comet, Cupid, Donner, and Blitzen are all in residence at the Ranch and are being cared for the Circle D Ranch Cast Members under Santa's watchful eye!   To find out what it takes, I got a chance to speak with Maggie Gitchen, Santa's "chief caretaker" of the reindeer!
Take a look at my interview with Maggie and then read on to see the beautiful reindeer that have made Disneyland their home this holiday season!
When I arrived at Disneyland for my meeting with Maggie, we headed the usual way – past Big Thunder Mountain Railroad and further on down the trail.  At the exit of Big Thunder Mountain Railroad lies a banner, directing you to the Reindeer Round-up at the Ranch.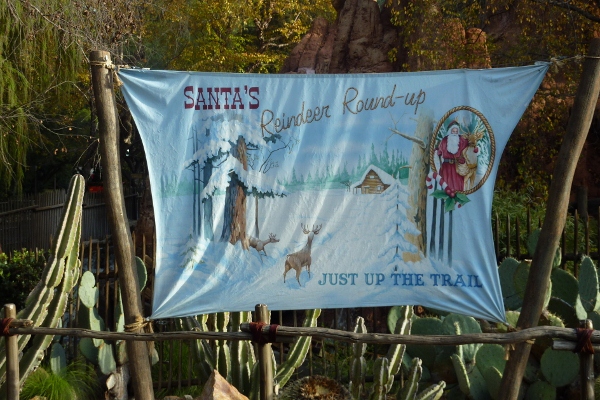 Now, when you get to the Ranch, it's pretty obvious that Santa and the Mrs. have taken up residence.  There are poinsettias and decorations everywhere.  In fact, so much so, that the décor ideas are enough to make up another blog!!!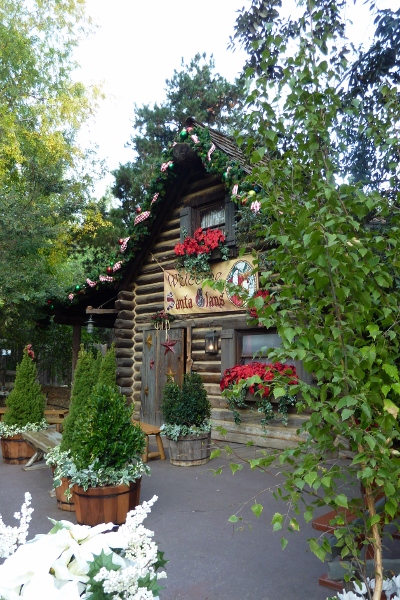 The reindeer reside in an area that normally houses the goats and sheep for guest interaction (aka petting and little kid love…).  Cast members remove the rocks and barriers that allow the goats freedom of movement and resting places, and put up a new canopy, as well as prepping the ground with fresh hay and some signs to welcome the new residents.  The resulting product is warm and inviting – to the reindeer as well as the human visitors!   There's no question of who the star residents of the area are!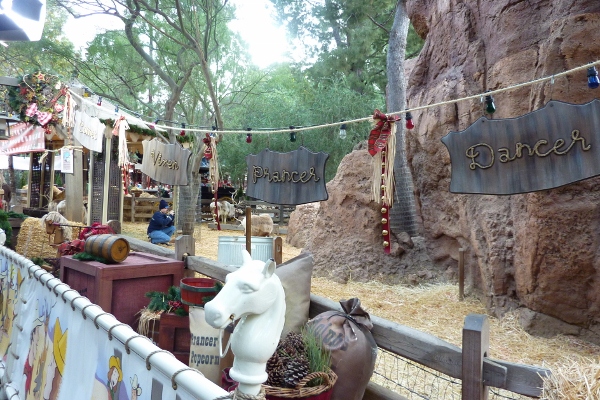 Now because reindeer are not the usual "tame" creatures found in this area, the décor is ramped up and altered a bit to keep guests from getting too close to the fence.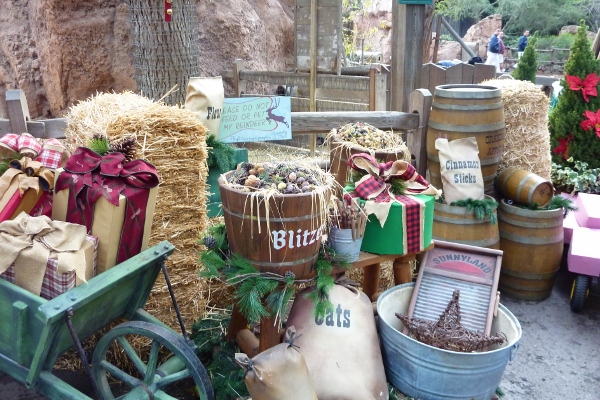 In fact, adorable "caution" signs are placed throughout the area to remind guests of that fact.   After all, they are at work, getting ready and focusing on the big job that lies ahead!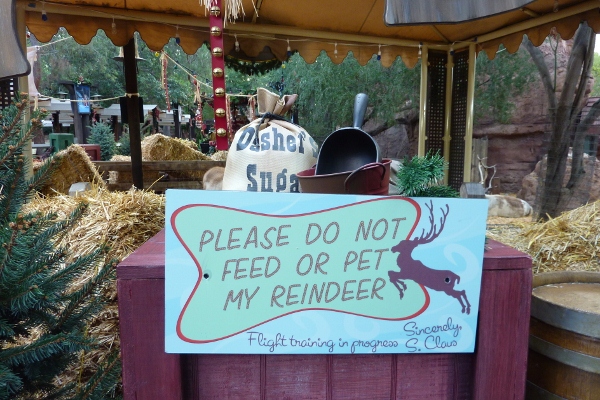 Since there aren't any goats for petting at the Ranch at this time, Cast Members have even turned the hand-washing sinks into beautifully decorated scenery!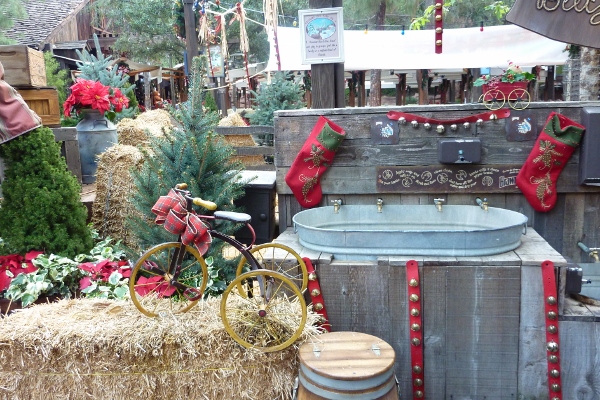 There are even signs throughout the area that tell you fun facts – both real and traditional myths – about Santa's reindeer.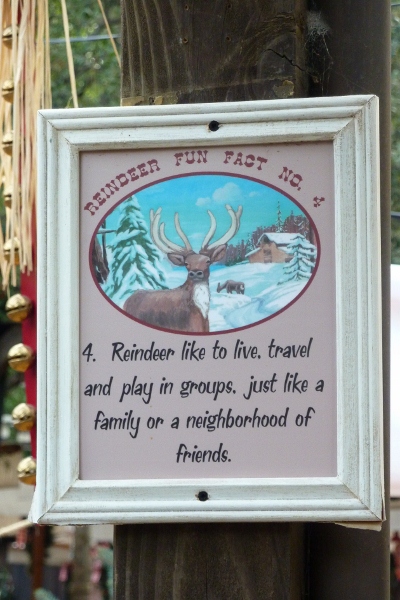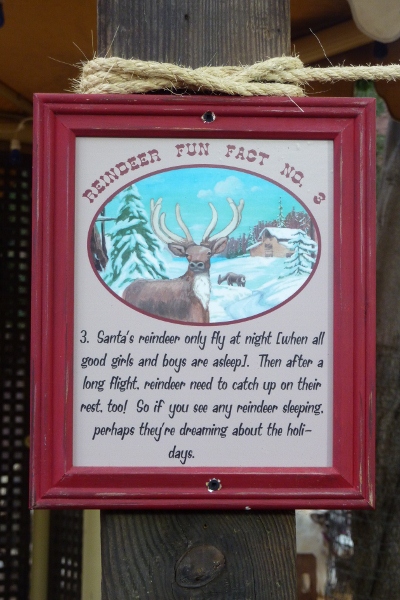 Now that I've shown you what Disneyland has done to make the reindeer comfortable in their new home, it's time to present these wonderful creatures!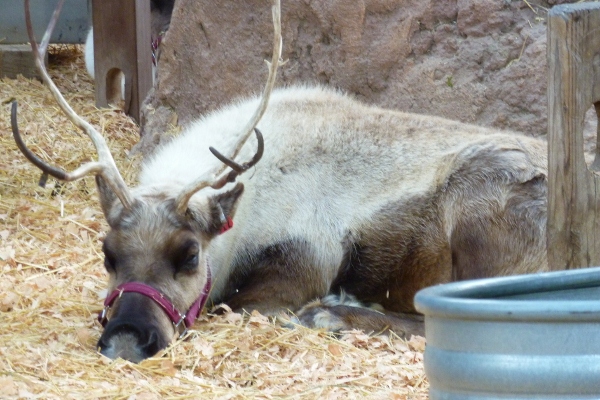 They are considered wild animals that, although they are farm-raised for both products and labor, they are never truly domesticated or trained.  They have distinct personalities and are even a bit curious…..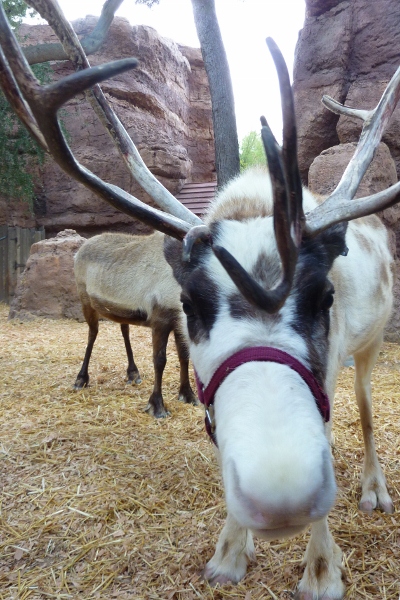 The folks at Disney pay close attention to their special diet, which is based on grasses and lichens.   Maggie discussed this special mix and also talked about some of their fun drinking habits – which you will find out about when you watch the clip.  Unfortunately, all I could get was some great eating shots for you.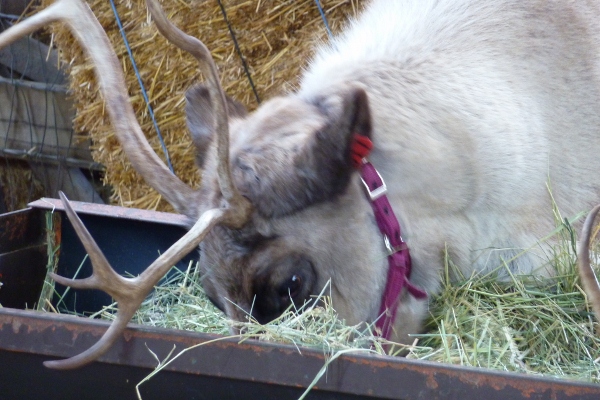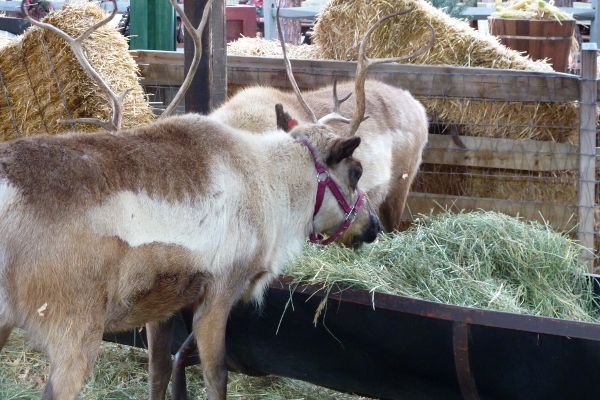 These photos really show great representations of their hides.  I found them to have beautiful coloration.  It's no wonder their hides were traditionally made into coats and clothing by the northern tribes and cultures that first began domesticating them, many centuries ago.  Their coat/fur is made up of two layers, so they can shed to adapt to different climates – anyone who has a dog mixed with  German Shepard, Akita, or Laborador Retreiver knows about that!  I know I'm constantly cleaning up hair after mine!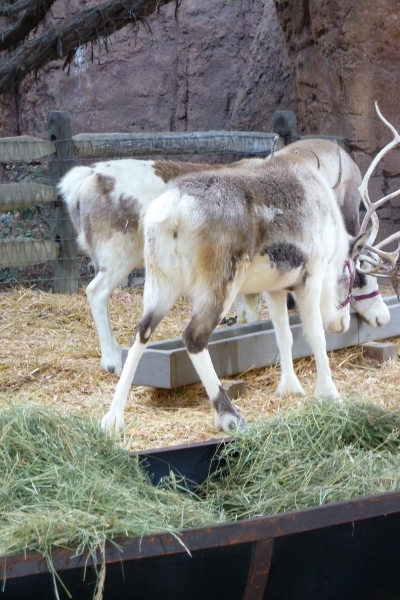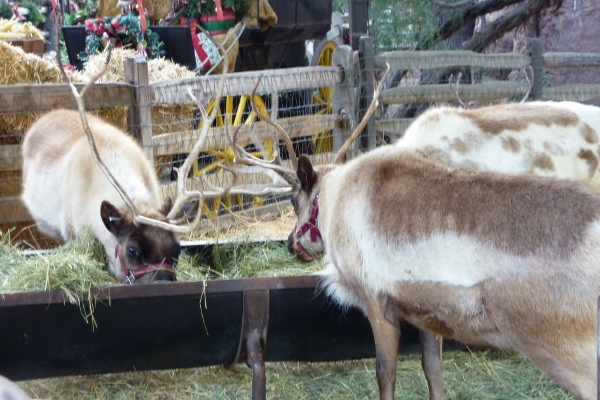 Maggie showed me samples of the reindeer's "velvet" – the fur that covers their antlers.   Both male and female reindeer grow antlers – which, as the fun fact below states, are shed annually.   However, males usually shed theirs around Christmas time….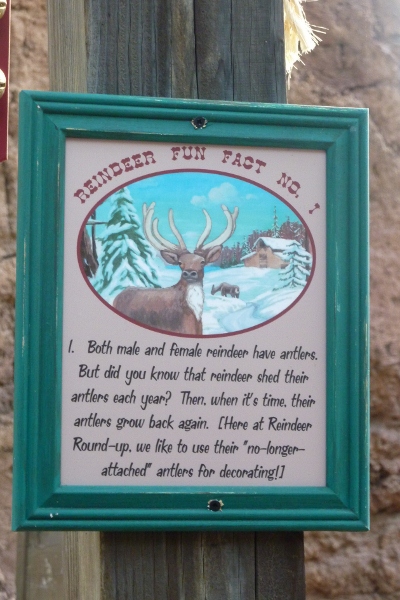 You can see a bit of the downy "velvet" on this reindeer's antlers.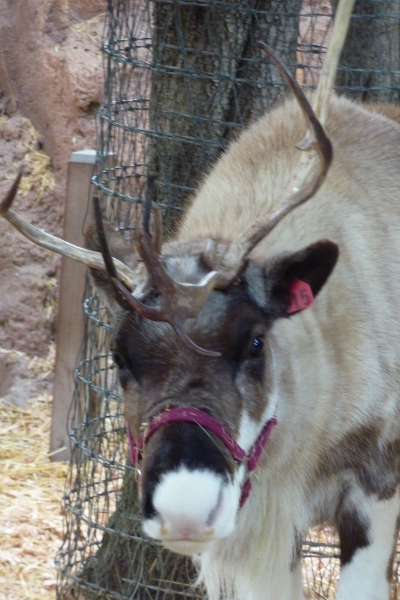 We weren't the only ones who found the reindeer fascinating.  The Ranch's resident turkey (pardoned by President Obama last year) was checking his neighbors out, as well.  Maggie let us know that turkeys like him don't normally last long in captivity (since they are bred for fattening to become food for us), but Disney has developed a high fiber diet to help them live longer.  In fact, this diet has been so successful that Disneyland's residents include 3 of these Presidentially pardoned turkeys!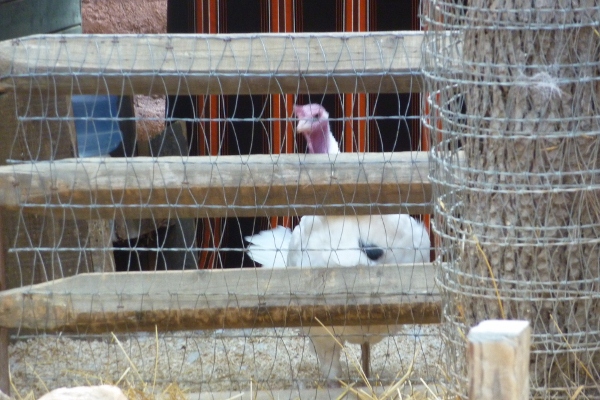 Well I hope you've enjoyed my visit with Maggie and Santa's reindeer, here at Disneyland.  Thanks again to Maggie for sharing her time with us and hopefully, you'll have a chance to visit them one day, in person!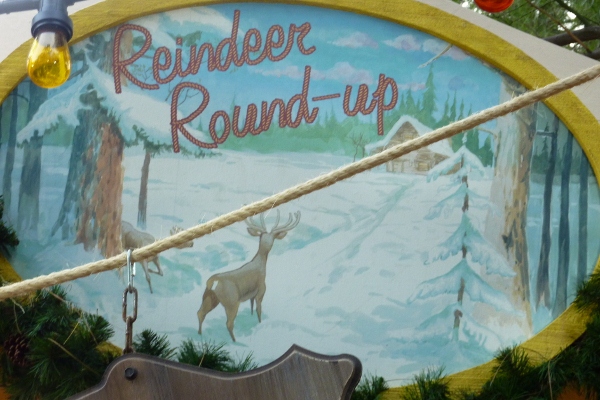 Video courtesy of Disneyland Media Services.  Photos by N. Johnson
Category: Disneyland, News
Disneyland Podcaster for the DIS Unplugged