Many visitors to Walt Disney World during the holidays take time to visit the resorts and admire the Christmas decorations.  Check out Kathy Werling's blog with some of the displays at Disney's deluxe resorts.  Unfortunately, one thing Kathy noticed was that many resorts were cutting back on the decorations.  Not so at the Walt Disney World Swan and Dolphin Resort.  In fact, they have even added a brand new centerpiece featuring a life-size Santa Claus made entirely of chocolate.  Continue after the break for a video with a more detailed look at the chocolate marvel.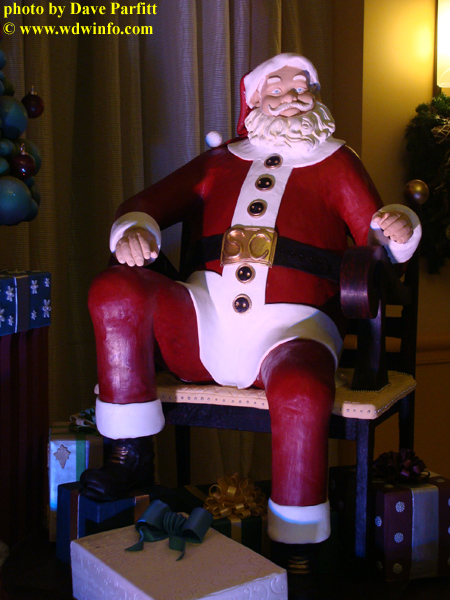 It took over 300 hours for the Swan/Dolphin Resort's 2x World Champion pastry chef Laurent Branlard to create the masterpiece using 880 pounds of dark chocolate, 130 pounds of milk chocolate, 150 pounds of white chocolate, and 120 pounds of cocoa butter.  When you walk into the lobby area where Santa is displayed, guests are immediately engulfed by the aroma of chocolate.  A sign next to the display notes that everything you see is made entirely of edible material including the pulled sugar candy canes and fondant covered presents.  A warning was posted that guests should not attempt to lick Santa. 🙂
The Walt Disney World Swan and Dolphin Resort has a lot of fun with Santa during the holiday period calling it "Santa's Favorite Resort." They proclaim it is the Swan and Dolphin where Santa goes to rest up before his big Christmas Eve flight, and have even provided video evidence of his vacation.
We at the DIS Unplugged hope that you have a restful and relaxing holiday surrounded by your friends and loved ones.
Category: Disney World