One of the biggest things that makes the holiday special is the sweet treats you find in every corner.  You can't escape them anywhere – in the office, at home, family gatherings…  I could go on.   The Disneyland Resort is no exception, and each year, they try to outdo themselves.  This year is no exception.  I had a great time exploring on my own, as well as talking treats with Karlos Siqueiros, Manger in Concept Development of Food Operations and Chef Jay Garcia of Disney California Adventure.
Read on to find out how you can blow your calorie counting for an indulgent holiday visit!  I'll even show you how they make those special little snowman caramel apples!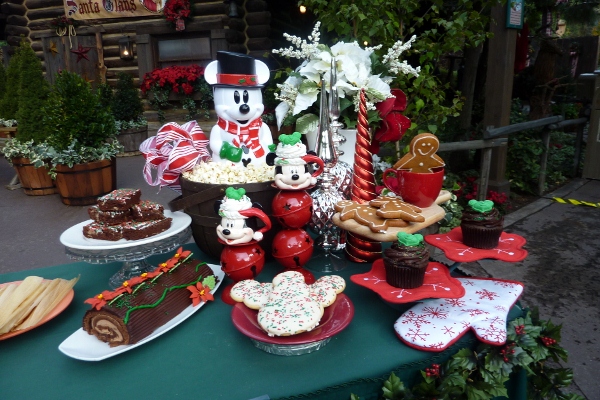 Probably the thing most people are excited about this season are the new Snowman Mickey popcorn buckets.  They are $9.50 and you can ask them to put your popcorn in a regular box, so you can keep your little guy clean, or you can rely on the fact that you can unhinge it and put it in the dishwasher to clean it!  The Halloween buckets were so popular that they sold out quickly.  Karlos expects the snowmen to be just as popular!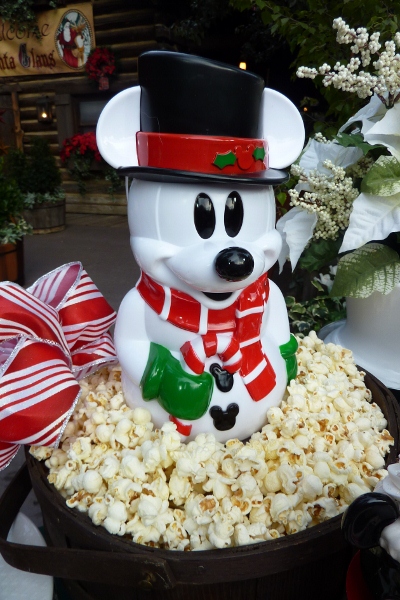 The Holiday Yule Log is one of the best loved traditions in Disneyland.  Often found at restaurants, like the Plaza Inn, it is chocolate cake, chocolate ganache frosting, and filled with a chocolate chestnut creme.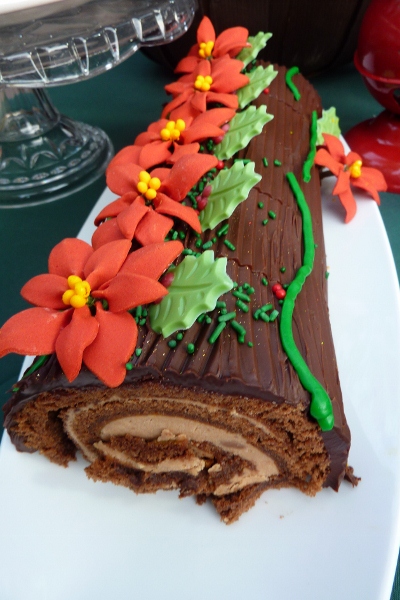 These holiday brownies are pretty sexy…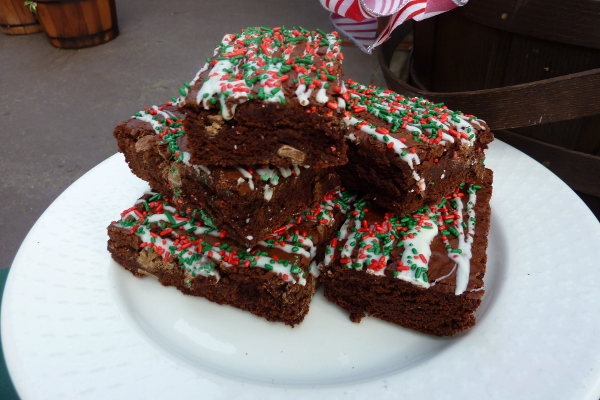 …as is the Peppermint fudge.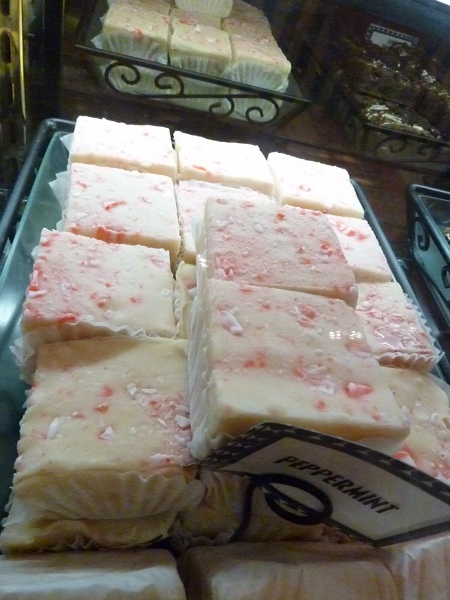 Gingerbread can be found in a couple different forms.   There are Gingerbread Mouseketeers,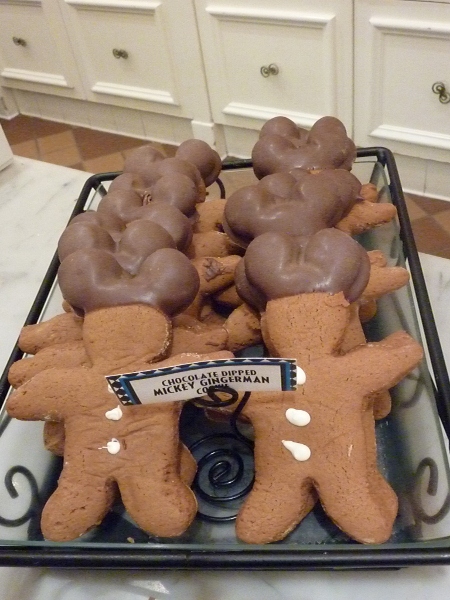 and simple Gingerbread Men.    And some more sexy Chocolate Mint Cupcakes….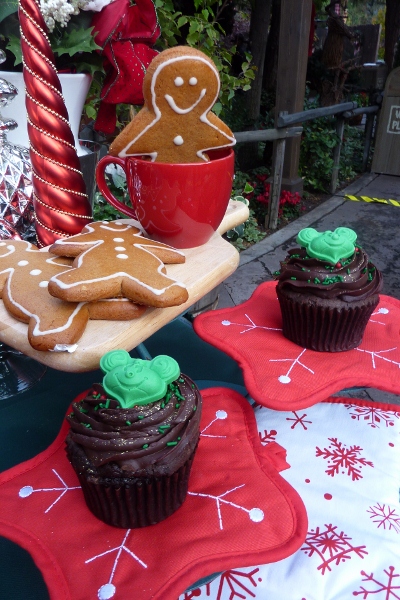 The demitasses are my personal favorite.  Served in a Santa Mickey mug, this year, they are filled with the richest dark chocolate creme brulee that you can ever imagine.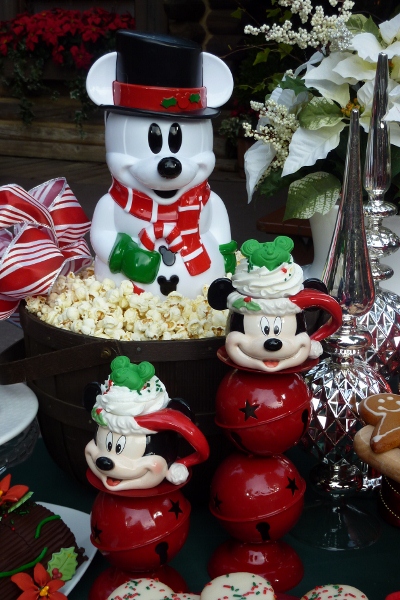 They are even topped with a "green" chocolate Mickey and edible gold glitter to fulfill that desire for holiday sparkle!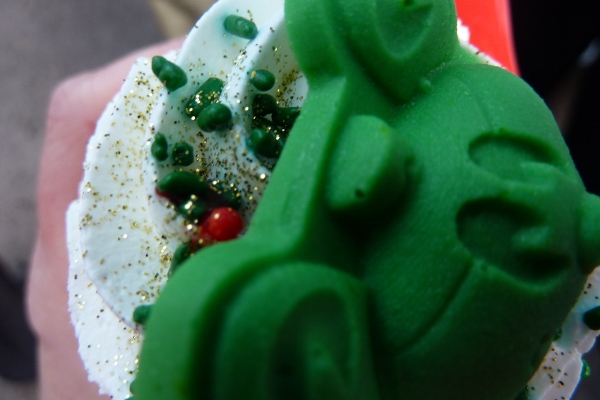 If you hit the candy shops you can pick up Christmas Candy Corn…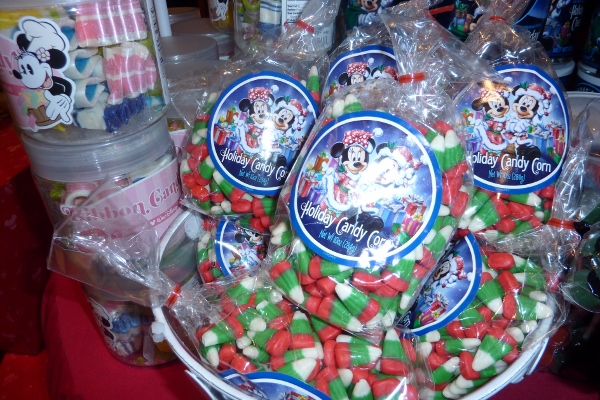 …and the Snowman version of the Tigger Tail.  These little skewers of caramel and chocolate-dipped, marshmallowy goodness are dressed up with the same accoutrements as their larger apple cousins, who I will discuss in a minute.  You can also get these little tails (and their pretzel-rod counterparts) rolled in dark chocolate and crushed peppermint – but I ate those before I could get a decent photo…..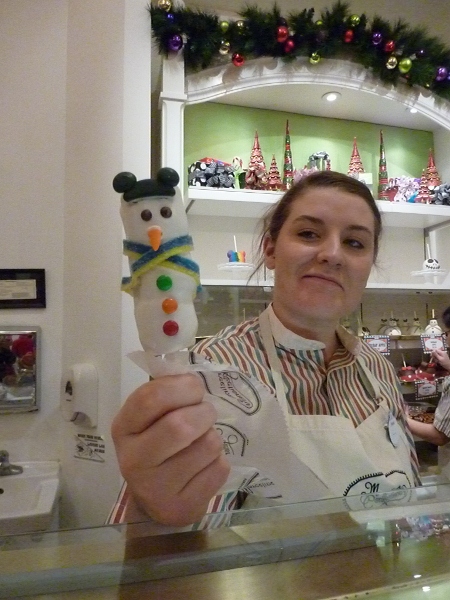 That brings me to one of my favorite holiday treats – the Snowman Caramel Apple!  Disneyland is famous for its decorated apples, but the snowman is one of the cutest.  I happened to be able to photograph a bit of the process and wanted to share.  It seems very simple to duplicate at home!
After dipping in caramel and letting it harden, the apples are dipped in a white candy/white chocolate coating.  Then, a marshmallow is placed on top and it is dipped again.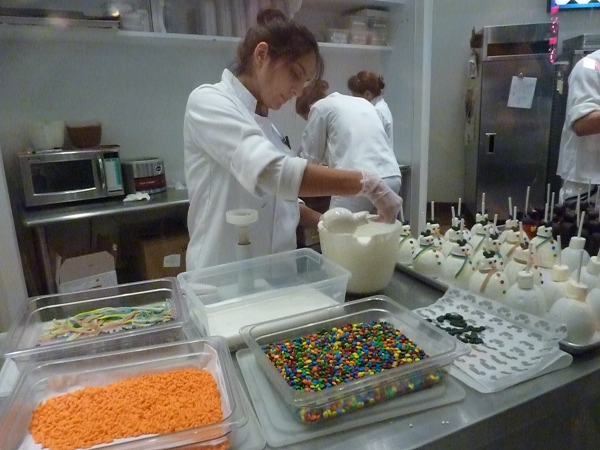 The apples are then decorated with a bit of candy and icing.  Striped fruit roll-ups are used for the scarf.  Candy dots (mini-M&Ms for the home shopper) are used for buttons and eyes.  Royal icing dots make up the nose, and piped, icing Mickey ears are placed on top.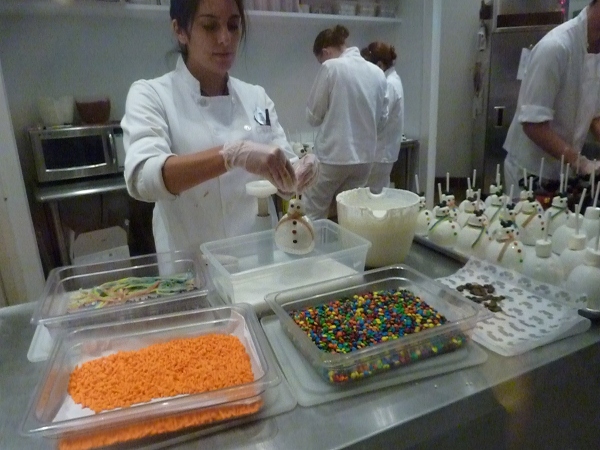 Here's a tray showing them in various stages of dipping and decor.  And yes, they are as tasty as they look!!!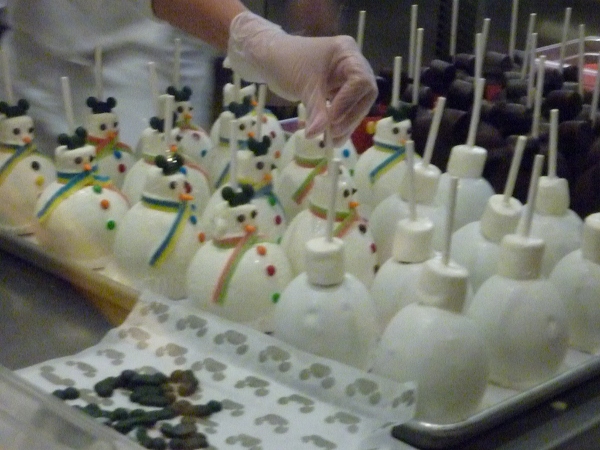 I hope this has stimulated your desire for the unique sweet treats at the park.  The culinary team at Disneyland (from left – ?, Karlos, Chef Jay, and Chef Jesse)  is very proud to bring you all of them and wishes you and yours the best of the holiday season!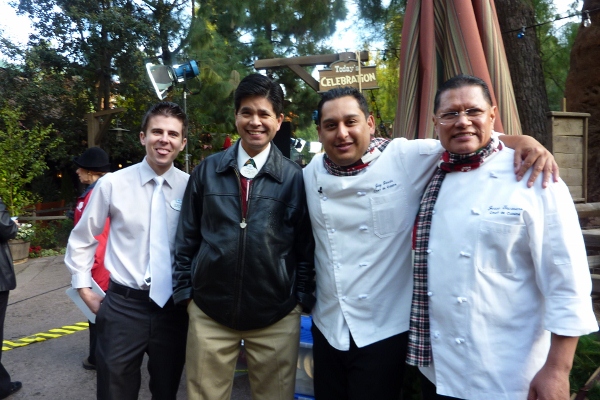 Photos by N. Johnson
Category: Dining, Disneyland
Disneyland Podcaster for the DIS Unplugged