Collector's Edition Giveaway Part 2
During my conversation with Warren Spector, creator of the new Wii video game Disney Epic Mickey, he mentioned the theme park attractions featured in the alternative world of Wasteland were mostly from Disneyland prior to 1967.  Now Walt Disney World will be celebrating its 40th Anniversary in 2011, and many attractions have come and gone since its opening in 1971.  Therefore, if there is an alternative world of Wasteland for Disneyland, then there certainly should also be a Wasteland "Florida Project" for Oswald the Lucky Rabbit and his pals.  Just for fun, let's imagine there is a Wasteland "Florida Project" and begin to speculate on the attractions it might contain.  With this post, the DIS Unplugged will give away 3 copies of the Disney Epic Mickey Collector's Edition (all prizes provided by Disney Interactive Studios).  Continue after the break to find out how to enter.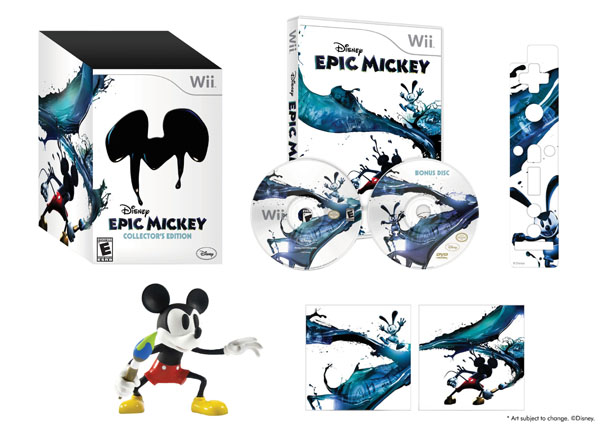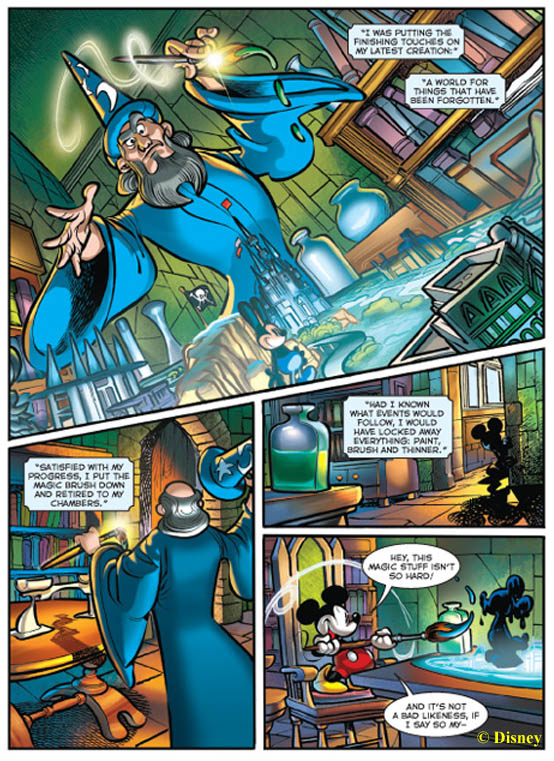 Image: Page from Disney Epic Mickey graphic novel courtesy of Disney Digicomics
Warren Spector mentioned one of the "lost attractions" currently found in Wasteland includes the Nautilus from the original Submarine Voyage at Disneyland.  I loved the Submarine Voyage, and remember being transported to an undersea world when I rode it as a 6th grader in 1980.  I knew I could peer out the porthole, look up, and see the top of the water, but I didn't want to spoil the "magic."  I forced myself to look down, and totally immerse myself in this world of fish and giant clams.  There was also a version of Submarine Voyage at Walt Disney World as Captain Nemo's Nautilus prowled the Fantasyland lagoon in the 20,000 Leagues Under the Sea attraction.  I remember squeezing into one of these Jules Verne-esque submarines when traveling to the Magic Kingdom on a high school band trip in 1984, but, alas, the Nautilus now resides in the Wasteland: "Florida Project."
Many other attractions have been replaced in all four Disney theme parks over the past 40 years including (in no particular order): the Skyway, Timekeeper, Plaza Swan Boats,  Horizons, Discovery River Boats, and Who Wants to be a Millionaire – Play It!  Many of these attractions were ones I never experienced, and are now a part of the Wasteland: "Florida Project."  There are also parades and shows no longer at Walt Disney World that now entertain Oswald the Lucky Rabbit when he vacations in Bizarro Florida.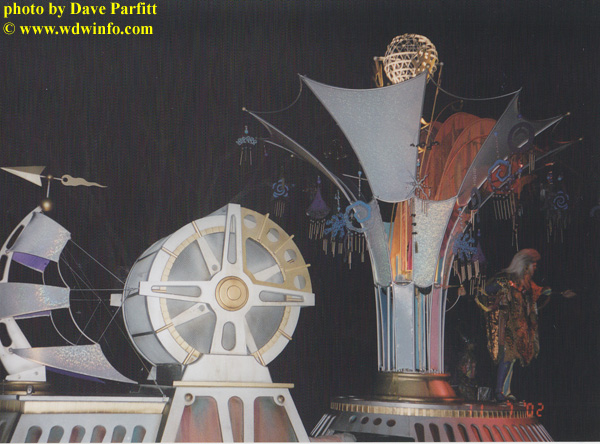 Image: Tapestry of Dreams Parade final float
Epcot had an evening parade called "Tapestry of Dreams" that we saw when we took our daughters to Walt Disney World for the first time in 2002.  Part of the show contained large puppets (similar to the Lion King Broadway show) that interacted with parade watchers, and our daughters were enthralled by the sight.  Tapestry of Dreams also had a cool interactive element.  Throughout the day children worked on craft projects related to their hopes and dreams.  In the evening, when the parade went by, children tossed their "dreams" into the nets of the DreamSeekers to ensure they came true.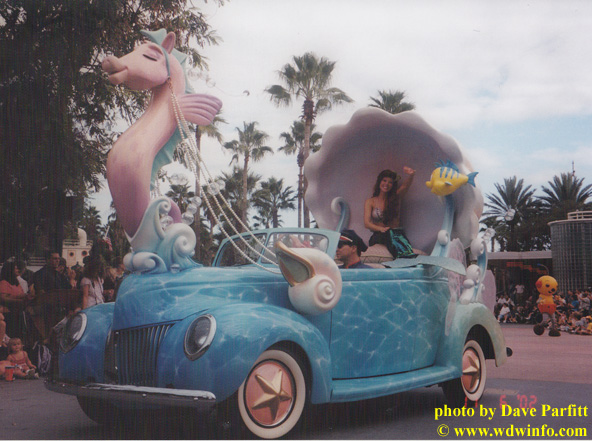 Image: Disney Stars and Motor Cars Parade
We also enjoyed the Disney Stars and Motor Cars Parade at Disney-MGM Studios (as it was then called).  This was a whimsical motorcade of stylized automobiles that included a Star Wars Landspeeder car, Andy's bed from Toy Story, and many other fun car floats.  I can definitely imagine a steampunk version of Stars and Motor Cars entertaining Oswald and the other characters in our Wasteland: "Florida Project."
So here's where you come in, we need some more "blue sky" development of our East Coast Wasteland.  To win one of the 3 copies of Disney Epic Mickey Collector's Edition you need to leave a comment at the bottom of this article.  This time, we want you to reminsce about the closed Walt Disney World attractions that are now in Florida's Vacation Wasteland Kingdom.  Log in with your DISboards username and password, leave a comment on this article, and share some of your memories of favorite long gone attractions.  Now if only we could *poof* send Stitch's Great Escape! to Wasteland and bring The Timekeeper back to the Magic Kingdom.  Bye, bye, Stitch… Bye, bye, chili dog burps… Hello Timekeeper… Hello 9-Eye.
Again, you need to leave a comment at the bottom of this article.  Comments in other places such as Facebook or Twitter will not be official contest entries.  Comments will close on Monday, Dec. 6th.  Keep following the blog, there will be one more chance to win a copy of the Disney Epic Mickey Collector's Edition plus a special Grand Prize.  Good luck to everyone who enters.
Category: Disney World, Disneyland, News