The highly anticipated new Wii video game, Disney Epic Mickey, was recently released.  With this game, Warren Spector, Epic Mickey's creator, looked to create the video game equivalent of a Pixar film – entertainment for everyone.  Spector is well known and respected in the gaming world for creating popular video game series such as Wing Commander and Deus Ex, but with Disney Epic Mickey Spector wanted to create a video game that appealed to more than just hard core gaming fans.  I recently participated in a conference call with Warren Spector.  Continue after the break to read and listen to Spector's thoughts on creating the new Wii action-adventure game as well as his love of Disney.  Also, at the end of the article learn how you can win a copy of what's been touted by some as the video game of the year.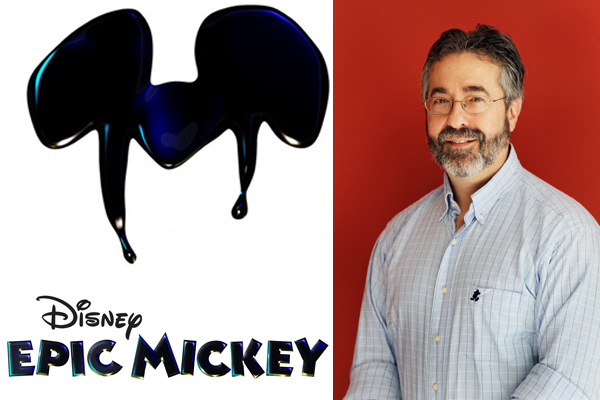 1. Click here to listen to highlights from Warren Spector's conference call
Note: this was a moderated conference call where we were asked to submit questions ahead of time – many (but not all) of the questions asked were my own.  The last portion of the call was opened up for us to ask questions directly.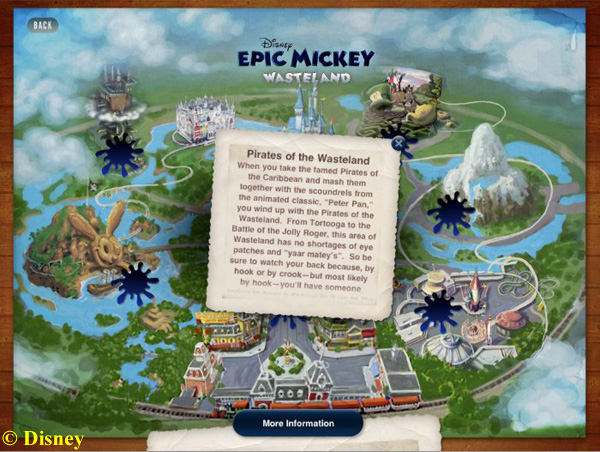 You may wonder why the DIS Unplugged, a website specializing in Disney-related travel, is covering the release of a Wii video game?  Well, besides the fact that the game appeals to the Disney fan in us, the game's universe takes place in the theme park Wasteland, a "Bizarro Disneyland" made up of familiar, yet strange, Disney Park attractions.  Whenever an attraction is eliminated or re-imagined in a Disney Park, such as Disneyland's Nautilus submarine or Swiss Family Treehouse, *poof* they appear in Wasteland.  The story of Epic Mickey relies heavily on Disney history.  Warren Spector wants to re-introduce Mickey Mouse to a generation who has yet to see Mickey star in his own story, and in this alternate universe Mickey confronts and befriends all sorts of cast-off Disney Characters.  The head honcho for Wasteland is Walt Disney's first cartoon star from the 1920's-30's, Oswald the Lucky Rabbit, who is bitter and jealous of Mickey Mouse's life and success.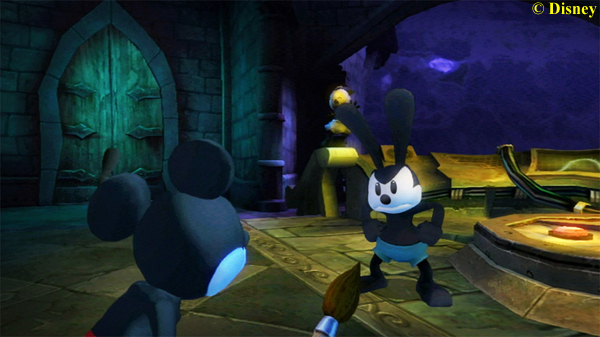 Spector described himself as a life-long animation buff who grew up watching the Mickey Mouse Club, Wonderful World of Color, and Wonderful World of Disney.  Those shows, as well as Saturday morning cartoons, were hugely influential and a part of his life that he never outgrew.  He continued to watch and study cartoons, studied film criticism in college, and ultimately wrote his Master's thesis on Warner Bros. cartoons.  Spector cited the Warner Bros. Daffy Duck cartoon "Duck Amuck" as one of the greatest cartoons ever created and admired how it provided a peek behind the creative process in animation.  However, Spector also said, "If you're an animation buff, you have to study the Disney stuff."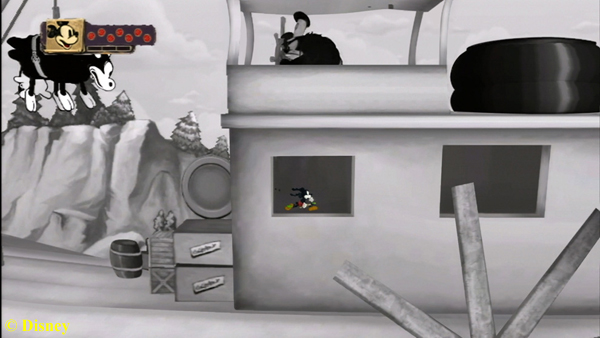 However, Spector was not solely enthralled in cartoons.  He's a big theme park fan as well, and described how one of the most magical days of his life occurred on his 30th birthday at Disneyland.  He recounted a trip that occurred during Disneyland's 30th anniversary celebration.  When Spector went through the turnstiles, bells, whistles, and alarms started ringing.  It turned out that he was the 3,000th person through the gate – Mr. 3,000 – and he had the run of the park with his friends, never waiting more than 5 minutes to ride an attraction.  His day culminated when after the fireworks, Spector and his friends were invited to stay in the park for an after-hours private party.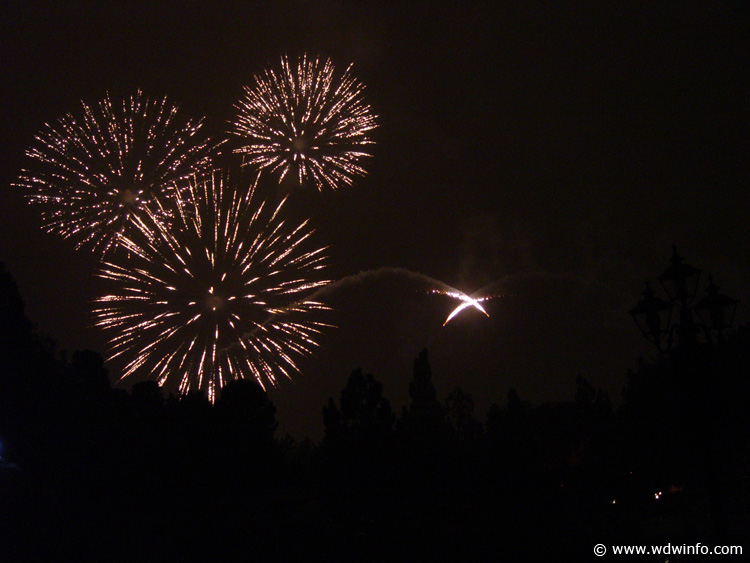 Spector elaborated on his love of the theme parks saying he dreamed of becoming a Walt Disney Imagineer.  After college was torn between designing video games or theme park attractions.  He had two telephone interviews with Disney Imagineering before Origin Systems offered him a job to create video games.  Spector still holds out hope that some part of Epic Mickey could make its way into a theme park saying, "It would be a life-long dream if Epic Mickey would end up as a theme park attraction."  Given the imagery released for Epic Mickey, it makes you wonder just what kind of steampunk theme park attraction Spector would create.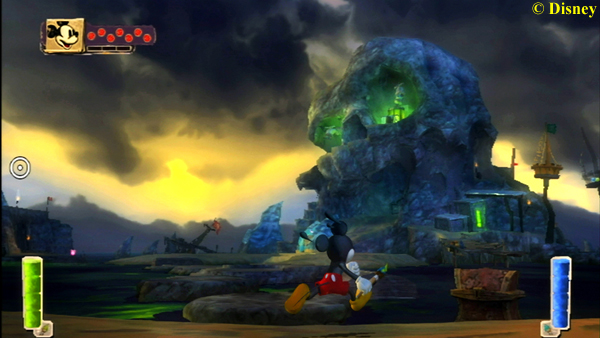 In creating Epic Mickey, Spector and his team relied heavily on previous work completed by Disney.  They had full access to Disney's history and the archives, and in many instances Spector reined in his team from being too creative.  Instead, Spector wanted the game to reflect Disney's creativity and inspiration.  They did not need to create new villains or characters because that work had already been extensively done by Disney.  They drew inspiration for characters, attractions, and theme park lands directly from the Disney archives.  Everything from the backgrounds seen in the game were taken directly from Disney paintings to the trash cans on Main Street U.S.A. were reproductions of those at Disneyland.  However, just like Disney films and theme park attractions, Epic Mickey is ultimately about the story.
Disney Epic Mickey: Into the Archives
Warren Spector uses video games to tell stories WITH players not to players, and Epic Mickey is no exception.  He wanted young children to see Mickey Mouse not just as a corporate icon, but as the starring character of a story, and ultimately as an Epic Hero, as he was in "The Sorcerer's Apprentice", "Mickey and the Beanstalk", "The Prince and the Pauper", or, more recently, "The Three Musketeers".  He also wanted the story to have the same broad appeal as a Pixar film such as "Toy Story 3" or "Up."  Spector commented on how nobody considers "Toy Story 3" as JUST a children's film, or looks at "Up" and says, "Oh, that was clearly aimed at tween girls."  Pixar creates films with depth that grandparents can see and enjoy with their grandchildren.  That is what Warren Spector is aiming for with Epic Mickey, and one of the reasons he selected the Nintendo Wii console as the sole gaming platform.  When the game was in the initial stages of creation the Wii was the only game system where children would play side-by-side with parents and grandparents, and appealed to all ages.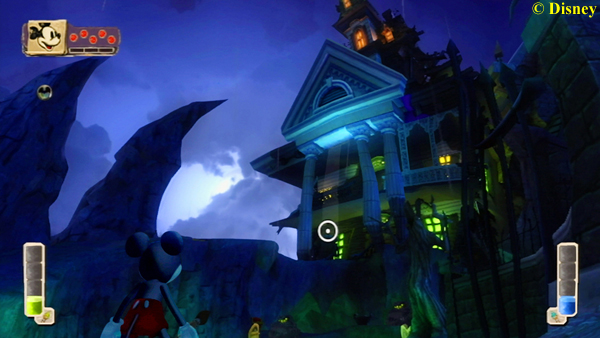 As we wrapped up our conference call, Spector talked about his creative philosophy.  He has always believed games can tell a good story as deep and sophisticated as any medium.  He hopes when people are playing Disney Epic Mickey they start to think about how exactly do you define a hero?  Also, Spector hopes playing the game will reveal how important family and friends are to the player.  By the time people get to the end of this action-adventure game, people may actually learn a little something about themselves, how they feel about family and friends, and how they define a hero.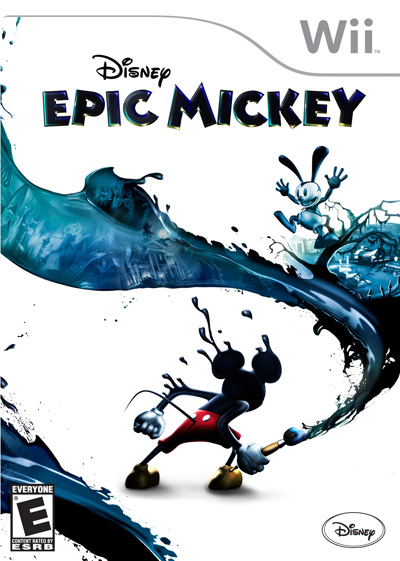 Win a Copy of Disney Epic Mickey
OK, I promised you at the beginning of the article I would reveal how you can win your own copy of Disney Epic Mickey.  Disney Interactive Studios has provided the DIS Unplugged with 6 copies of the Disney Epic Mickey Collector's Edition.  In addition to the game, the Collector's Edition includes a 5 inch Vinyl Epic Mickey Figure, Special Edition DVD with behind the scenes footage and videos, Epic Mickey Stylized Wii Remote Faceplate, and 2 Epic Mickey Stylized Wii Console skins.  Over the next few days, we will post a number of contest blogs on the DIS Unplugged to give away the copies of Disney Epic Mickey.  All you need to do to enter is log in with your DISboards username and password and leave a comment on the blog.  That's it, you're entered, and we will randomly select winners from the comments on the blog.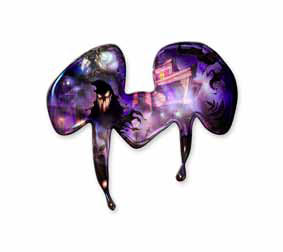 Oh, what the heck, let's start this giveaway now!  We will randomly select 2 people who leave comments at the end of this blog to win a copy of Disney Epic Mickey Collector's Edition.  You have to leave a comment on this article, comments in other places such as Facebook or Twitter will not be official contest entries.  Comments will close on Friday, Dec. 3rd.  So get started, let us know what you think of this article, Waren Spector, Disney Epic Mickey, or anything else on your mind.  Good luck to everyone who enters.
Category: Disney World, Disneyland, News