An Interview With Disney Imagineering Legend Marty Sklar
Not too long ago I received an e-mail from Marty Sklar, retired Executive Vice President and Ambassador for Walt Disney Imagineering.  We had previously talked about doing another interview to hear more of his thoughts and perspective from working for 50+ years at the Walt Disney Company.  When he asked if I was still interested in talking about some of his recent activities, I jumped at the chance.  Continue after the break for the full recap of our conversation or to listen to the audio of our interview.  With that, I'll turn it over to Disney Legend Marty Sklar to (as he put it) tell you a little story.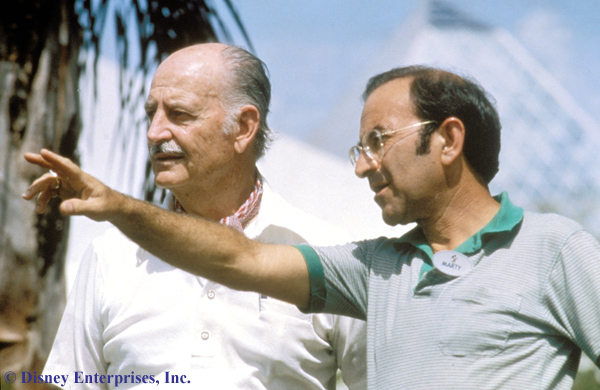 Image: John Hench (left) and Marty Sklar (right) during the construction of Epcot
For those who may not be familiar, Marty Sklar worked side by side with Walt Disney from the opening of Disneyland in 1955 until Walt's passing in 1966.  While at Walt Disney Imagineering, Sklar was instrumental in the design of many classic Disney theme park attractions including it's a small world, Carousel of Progress, and Space Mountain; he also led the planning and building of Epcot.
1. To listen to the complete interview with Marty Sklar click here.
Since retiring, Marty Sklar is President of his own company, Marty Sklar Creative, Inc., and has spent much of his time giving talks and presentations.  Quoting legendary Negro League baseball pitcher Satchel Paige, Marty explained, "Don't look back.  Something might be gaining on you." Marty said he's one of those people that has to keep running.
On September 24, 2010, Marty Sklar hosted a panel discussion of former and current Imagineers at the Disneyland Hotel.  This was part of the D23 (Disney's Official Fan Club) event called Destination D: Disneyland '55.  "Imagineering the Magic of Disney" featured 4 Disney Imagineering Legends including: X. Atencio, Alice Davis, Bob Gurr, and Don Iwerks, and mixed them with 4 current Imagineers: Tony Baxter, Dave Durham, Kathy Magnum, and Kevin Rafferty.  I asked Marty why he selected these particular Imagineers for the panel?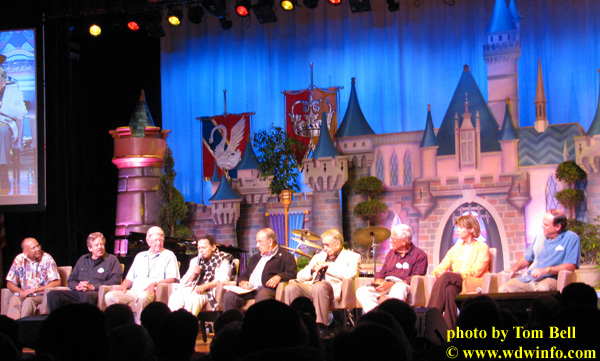 Image: (l to r) Dave Durham, Tony Baxter, Don Iwerks, Alice Davis, Marty Sklar, X Atencio, Bob Gurr, Kathy Mangum, Kevin Rafferty
He said he picked great storytellers who got their start at Disneyland.  Of the current Imagineers, Tony Baxter started out by scooping ice cream on Main St. U.S.A., Kevin Rafferty was a dishwasher, Kathy Magnum worked attractions in Adventureland as well as public relations, and Dave Durham won a Cast Member new idea competition.  Marty said he loved working with all of these Imagineers, and enjoyed putting together the group so they could discuss memories of Walt Disney, their favorite attractions at Disneyland, their projects, and motivations.
Marty started the panel by asking everyone their favorite attraction at Disneyland.  He predicted the Imagineer's answers because he knew their projects so well.  Tony Baxter might have had the hardest time coming up with a favorite because he worked on so many great attractions such as Splash Mountain, Big Thunder Mountain Railroad, Star Tours, and the Indiana Jones Adventure: Temple of the Forbidden Eye.  However, for X. Atencio, selecting a favorite attraction was easy: Pirates of the Caribbean.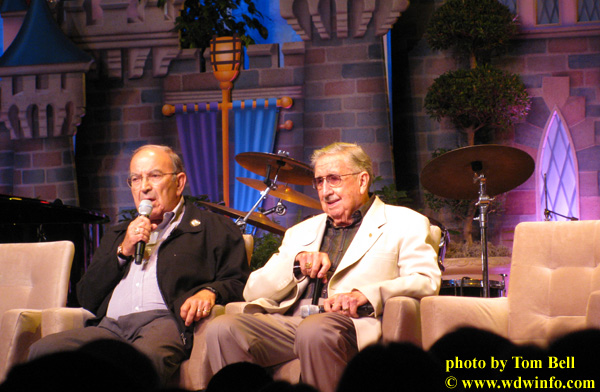 Image: (l to r) Marty Sklar and X Atencio at D23's Destination D: Disneyland '55
Marty elaborated on X's story about how Walt Disney called him into his office, and told X to write the narration for Pirates.  X said, "I've never written a script before." To which Walt replied, "I know you can do it."  X not only came back with the beginning of a script but also a song…
Note: At this point in the conversation, Marty breaks into a bellowing chorus of "Yo ho, yo ho, a pirate's life for me!"
I could tell that Marty had so much respect and affection for his panelists.  Marty declared, "Everyone on the panel has done so much, has such great credentials in creating 'Disney Magic', but they're so sincere."  He went on to describe how they embodied the philosophy he always put forth at Imagineering; there is only one name on the door – Walt Disney.  Other than that name, it wasn't important that anyone knew who anyone else was.  However, Marty went on to explain that with talent the likes of Kevin Rafferty, Tony Baxter, X Atencio, and all the rest, it was pretty hard to hide that level of talent – and no one tried.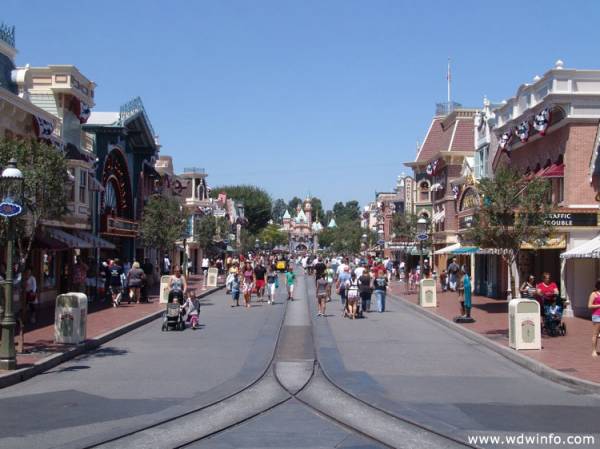 During the D23 panel, a number of stories were told about the Imagineer's experiences with Walt Disney, and Marty divulged one of his own personal memories of Walt Disney.
There used to be a Hills Bros. Coffee Shop on Town Square in Disneyland.  Marty was working public relations at Disneyland and getting coffee with his boss, publicist Eddie Meck (Disney Legend 1995).  Sklar described Meck as the "quintessential" publicist going back to the 1930's film industry publicizing the films of Frank Capra, Gary Cooper, and Clark Gable.  As they enjoyed their coffee, Walt Disney strolled in, sat down with the two of them, turned to Marty and said, "Well, what are you doing Marty?"  Marty replied, "I'm working with Eddie on publicity."  Walt Disney looked right at Eddie and said, "Well, we're going to have to give Marty something more important to do."  Marty assured me that Walt Disney was only giving a minor "tweeking" of his boss, but, nevertheless, before too long Marty was at Imagineering working on the World's Fair attractions.
I asked Marty if he thought the Imagineers are at all surprised by their "celebrity" status in the Disney fan community?  He didn't think so, and followed with, "I'll tell you a little story…"
Marty talked about how he wanted to write a book highlighting Imagineering, but he knew Michael Eisner (CEO of The Walt Disney Company 1984-2005) opposed the idea.  Sklar felt Eisner did not want anyone to know the Imagineers because Eisner was afraid someone would swoop in and steal his talent.  Sklar went to Bob Miller, then head of Hyperion Publishing, to implore Bob to convince Eisner that Hyperion would make money on the book – that was the only way the book would get published and allow Imagineers to become known by the public.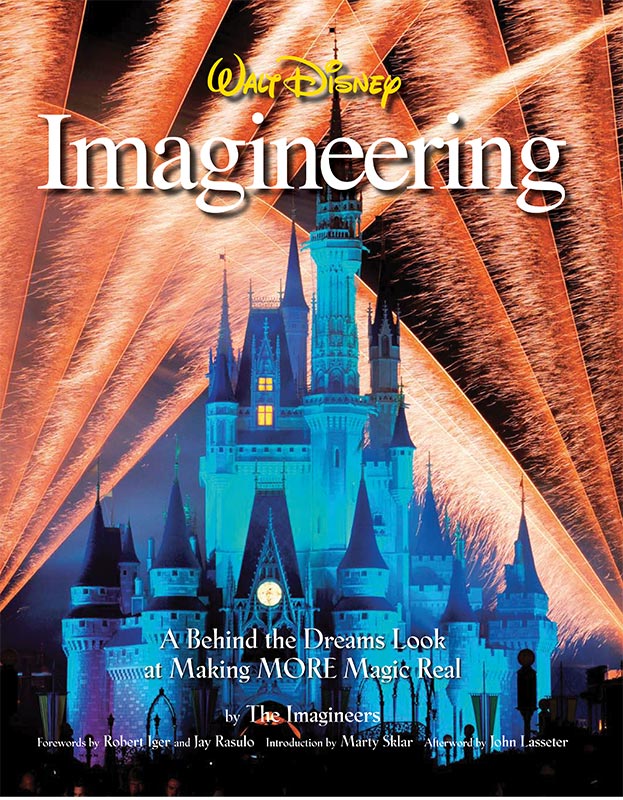 Marty explained when an attraction opens there's no way to hide the people responsible for creating and building it.  He went on to say how it's important (from a publicity standpoint) that people know who the creators are.  It means a lot to the individuals to be recognized of course, but it is also a large part of the fan experience to know the Tony Baxters and Tom Fitzgeralds and Kevin Raffertys and Joe Rohdes.  There's such enormous talent that they should be recognized.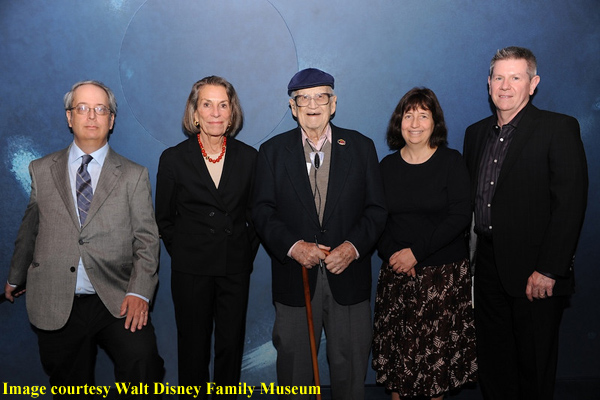 Image: (L-R) Richard Greene, Diane Disney Miller, Harrison "Buzz" Price, Katherine Greene, and Richard Benefield at the Walt Disney Family Museum on July, 2010
As we talked about Disney Legends and the fan community, it reminded me of another panel discussion organized by Marty Sklar on July 17th, 2010, the 55th Birthday of Disneyland.  This event was held at the Walt Disney Family Museum in San Francisco, CA.  Two of the participants included museum founder, and daughter of Walt Disney, Diane Disney Miller, and Harrison "Buzz" Price – the person Walt Disney hired to narrow down possible locations for Disneyland.
Unfortunately, not one month after that appearance, Buzz Price passed away.  Marty Sklar has described Buzz Price as a personal mentor and friend and one of the sharpest and quickest minds he had ever known.  I asked Marty about Buzz Price's contributions to Disney projects around the world.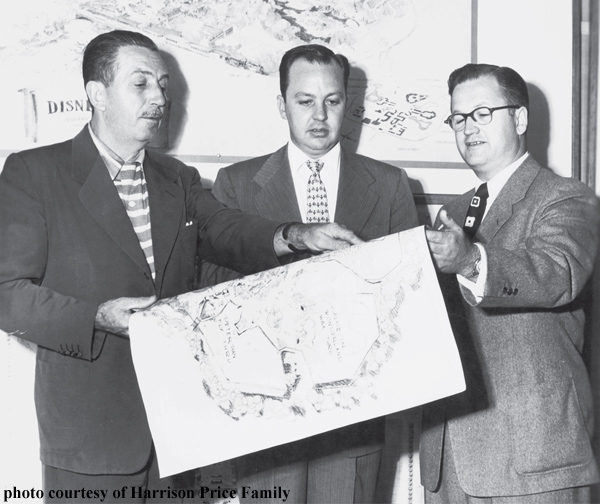 Image: (L-R) Walt Disney, C.V. Wood, Jr. and Harrison "Buzz" Price share plans for what would become Disneyland in Anaheim, California.
Marty explained that Buzz had the good fortune of being recommended when he was at Stanford Research in 1952 to Walt Disney, and he became the person who did the site selection and economic feasibility studies for Disneyland and Walt Disney World.  Buzz's instruction from Walt Disney was to find a location for a new business – which turned out to be Disneyland.  He studied climate conditions, traffic patterns, where the freeways were going, where population was moving, and ultimately recommended Anaheim for Disneyland.  Ten years later, in 1963, they assigned Buzz to find a location for the project in Florida.  At the time, the prevailing view was the site would be Miami, where all the population was.  However, Buzz recommended Central Florida because all the traffic that comes to the beaches or south to Miami has to go through Central Florida – and that's how Orlando was selected.
Buzz Price did more than 150 different economic feasibility and other kinds of studies for The Walt Disney Company.  Walt Disney wanted him outside the company because he never wanted a "yes man."  Beyond the Disney company, Buzz Price completed over 3,000 economic feasibility studies for Knott's Berry Farm, Universal Studios, SeaWorld, Ripley's, 8 different World's Fairs, etc.  Marty Sklar described him as the "guru and king of economic studies" and he had a keen sense for evaluating whether a business would be successful.
In addition to Buzz Price's keen business-sense, he was an ardent supporter of the arts.  Diane Disney Miller told Marty Sklar that when Walt Disney went into the hospital for the last time, he took all of his studies, books, and plans for Cal Arts.  Walt Disney was passionate about creating a school for all the arts – and he handed all the material to Buzz Price and said, "Here, you take care of my school for me."  Buzz did.  He became the central figure in creating and building Cal Arts, and later became chairman of the board for Cal Arts.  Buzz Price remained on their board until he passed away.
Image: California High School students attending a Ryman Arts program.  Image courtesy of Ryman Arts.
Buzz Price also worked with Marty Sklar and others in creating Ryman Arts – now in its 21st year.  Ryman Arts is a program for Southern Californian high school art students named after Disney Imagineering Legend Herb Ryman who did the first drawings of Disneyland, Walt Disney World, and so many others.  Over 3,000 high school art students have passed through the program which happens every Saturday at USC.  Along with his wife Anne, Buzz Price was instrumental in creating the Los Angeles Master Chorale which shares the Walt Disney Concert Hall in LA with the Los Angeles Philharmonic Orchestra.
Buzz Price's engagement in the community through Cal Arts, Ryman Arts, and other activities served as an example to Marty Sklar.  He stated, "My wife and I consider Buzz and Anne Price mentors in how to serve your community.  I was on the school board, helped found Ryman Arts, on the UCLA Alumni Board, and things like that – I don't think I would have developed that passion for doing that without the role models we had in Buzz and Anne Price."
For his work in the theme park industry, Buzz Price was honored in the hall of fame of the International Association of Amusement Parks and Attractions (IAAPA), and he was the first recipient of the Themed Entertainment Association Lifetime Achievement Award (Thea Award).  Marty said, "He was just a really wonderful person as well as contributing greatly to the leisure, recreation, attraction industry."
Listening to Marty Sklar's description of Buzz Price, he sounded like, to use a cliché, a real renaissance man.  He was an economist who also had a real passion for the arts and education as well.  Marty affirmed the sentiment, "We're all so fortunate that Walt Disney had a 'Numbers Man' who loved music, art, and poetry.  I think renaissance man is exactly the way to put it."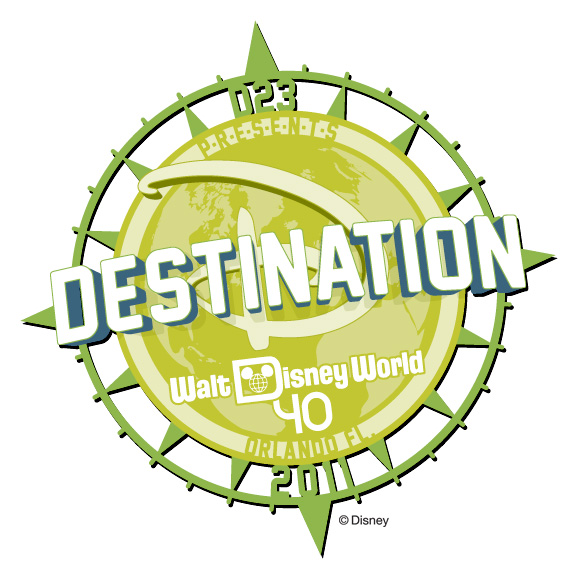 Both of the panel discussions Marty Sklar organized, D23's Destination D celebration and the Walt Disney Family Museum event, were held, in part, to celebrate the 55th anniversary of Disneyland.  2011 will be the 40th Anniversary of the opening of Florida's Magic Kingdom.  I asked Marty Sklar if he thought something special would be planned for the 40th Birthday of Walt Disney World's Magic Kingdom?  Marty mentioned that Steven Clark, head of D23, asked him to organize a panel discussion at the recently announced Destination D: WDW 40 event May 14-15, 2011.  "There's so many great stories that go back to even before Walt Disney World opened, and those should be heard," replied Sklar.  I'm looking forward to celebrating the 40th Anniversary of the Magic Kingdom – especially if I can celebrate with one of the people who created it, Marty Sklar.


If you are interested in meeting Disney Legend Marty Sklar in person, he will be joining the DIS Unplugged Adventures by Disney Backstage Magic Trips to California in February, April, and July, 2011.  Marty Sklar has agreed to meet the DIS groups for an exclusive lunch where everyone will also receive an autographed copy of the book "A Brush With Disney" containing the artwork of Herb Ryman – the inspiration for the Ryman Arts Foundation.
Category: Disney World, Disneyland