Where can you find the change of the seasons so obviously displayed, with pumpkins on the ground and snow on the castle?
In answering that, I'm going to introduce you to a new series of articles that I'll be bringing to you, hopefully bringing you some joy and surprises – The Gems of Disneyland!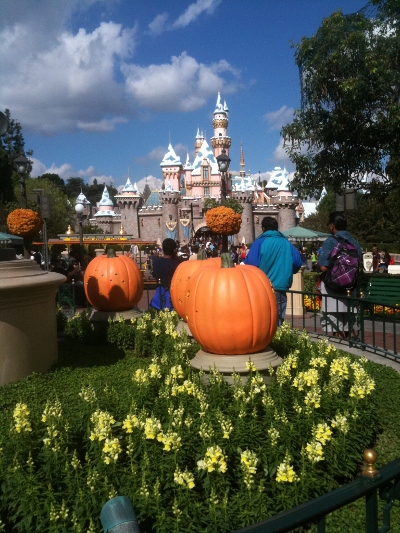 I decided to start the Gems of Disneyland as I was walking through the park one day with friends.  We were really looking at and discussing some of the details of the parks and it hit me.  As I was "showing off my park", I thought – wouldn't it be nice if I could just do a blog tour that would have you look at things through my eyes as I explore different areas and their details?
Some of these articles will be short – just a photo and a trivia comment.  Some will be detailed retrospectives.  They may be "Hidden" or blatantly obvious!  Whatever the size, shape or topic, I hope it will convey some of the details and charm that make The Disneyland Resort unique!
Answer and Trivia: The Disneyland Resort usually hosts the film crews for the Annual Walt Disney World/Disneyland Christmas Parade on the first weekend in November, whereas Walt Disney World doesn't host for several more weeks.  This doesn't allow for much time to transition from Halloween to the Winter Holidays, so the cast members at Disneyland provide a little "seasonal transition" while they are getting ready!
Photo by N. Johnson – taken 10/30/10
Category: Disneyland
Disneyland Podcaster for the DIS Unplugged