So in my last two blogs, we talked with Disney Stores Worldwide President – Jim Fielding, we discussed design with Jon Endicott – Director of Global Design and Construction, and now, we cover the star-studded Grand Opening of their Santa Monica Place store!  I know.  I did a blog on the Montebello, CA Disney Store – the first one of this design to be opened, but stick with me.  You'll get to listen and watch me talk with special guests at the event – Hannah Montana stars, Moises Arias and Jason Earles, as well as RidemakerZ ZEO (CEO), Larry Andreini.    I think you'll find that visiting the new Santa Monica Place store (and Santa Monica, itself) might be a great add-on destination for your Disneyland trip!
Watch the Grand Opening of the Santa Monica Disney Store!


When I went to Santa Monica for the big event, I didn't go alone.   I was accompanied by the Mogle Family,  who were in town for the week and staying at the Disneyland Resort.   This was going to be an easy day excursion that they were really looking forward to!  Not only were they going to attend the event with me, they were going to see the mecca that is Santa Monica.  There is a lot to do in this beautiful, oceanside city, with its famous beach and pier amusement park – just like the ones that Paradise Pier in Disney California Adventure was based on, as well as a great shopping area less than 2 blocks off the beach, called the Promenade.   Adding a new Disney Store in to the mix was a pleaser for both their teen and their 4 year old!    It was an easy drive for them, too – just up Interstate 5 North to Interstate 10 West.  The drive involves only one directional change, since "The 10" or the Santa Monica Freeway (as we call it out here) dead ends right into Santa Monica at the beach; so if you want to try the drive, it really isn't bad at all!
We arrived and parked in one of the many public parking garages that line the Promenade.  Santa Monica Place has its own garage, as well.   The rates aren't too bad, and they do take credit cards, but it's nice to have cash handy for a faster exit.  When we stepped onto the Promenade to head for Santa Monica Place, we saw the following crowd!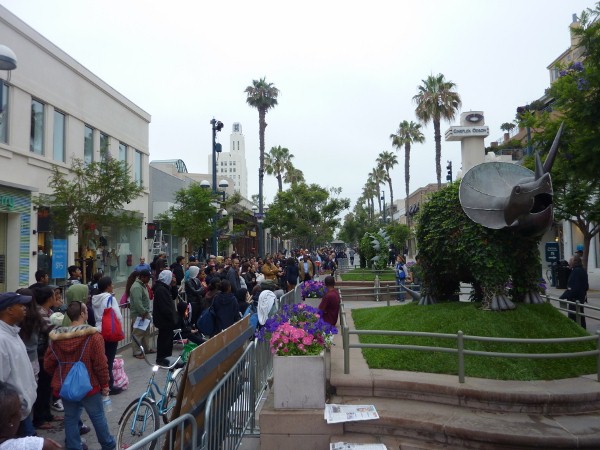 The line was over a block long.  Hundreds of people flocked to attend the opening of Santa Monica Place, as well as the opening of the Disney Store.  We couldn't believe what we saw, until we saw the sign at the front of the line – the first 500 people at the mall were given gift cards….  Well, that makes sense!!!!   We walked past all of them, picked up our press credentials and were escorted into the empty mall.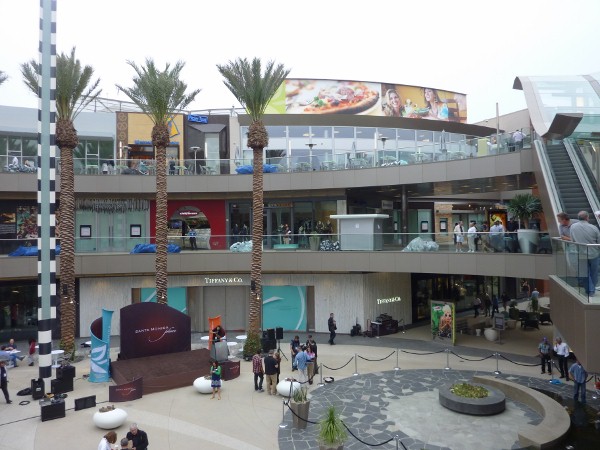 This photo is of the Santa Monica Place Central Court, where the Disney Store is located.  See all of those blue and white bags around the railings?  They contained black and white beach balls.  When the grand opening of SMP occurred, the balls were simultaneously released and thrown up and down from level to level.  It was a hoot!
I'm getting ahead of the story, though.  Before that happened, we had our private tour of the store by the President of the Disney Stores Worldwide, Jim Fielding.  (If you missed that,
to catch that audio.)   We then got a chance to meet and speak with Moises Arias and Jason Earles from the Disney Channel hit series,  
Hannah Montana
.    They were both very charming and shared with me their thoughts and plans, now that the show is airing its final episodes.   We even spoke about their roles in Disney Channel's Friends for Change Project.   I wish them both well in continuing their careers.
Click here to listen to my conversation with Moises Arias and Jason Earles from Hannah Montana!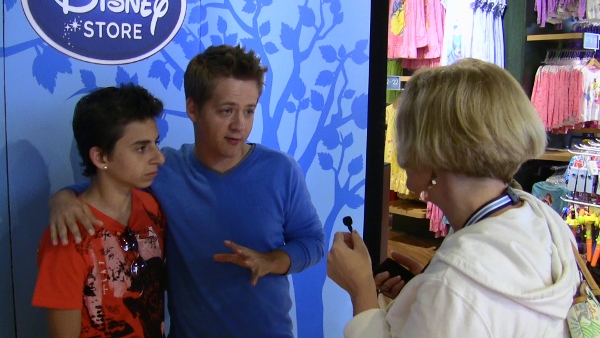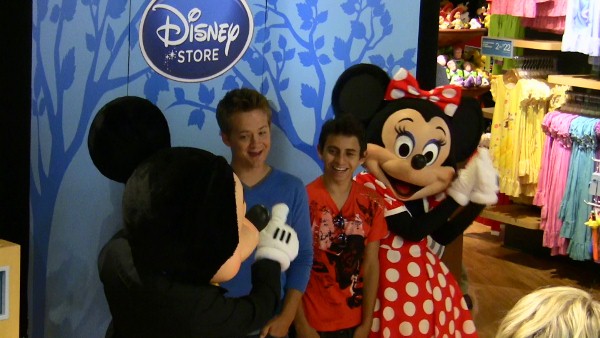 I also got to take some time and speak with Larry Andreini, the "ZEO" of RidemakerZ – a fast growing company that specializes in "CustomiZing" your own remote-controlled vehicles (or manual-controlled, if you prefer).   He and his right-hand trainer, Ryan, were on hand to make sure guests would have a great time learning to build their own cars.  When he spoke with me, you could easily tell how happy Larry was to share his excitement of bringing his products to the Disney Stores!    Now some of you may be familiar with RidemakerZ from your visits to Downtown Disney in either Walt Disney World or Disneyland, or maybe you have one in your own city, or you've simply seen Tom Bell's previous blog about his experience with building a car with his son.   Well, the reason that Larry is so excited, is that RidemakerZ was so successful in their original venture, that the were asked to partner with Disney to do something special for the Disney Store.  They introduced a whole line of CARS vehicles and have a full building station in each of the new Imagination Park design stores.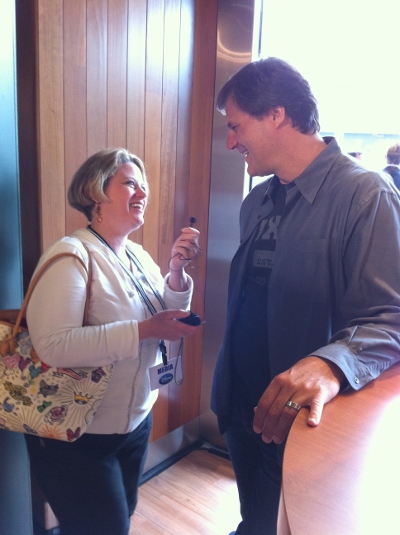 I wish I could have brought you our entire conversation, past the brief amount I have in the video.  Unfortunately I had some technical issues on both audio and video fronts, so I'll do my best to recap the conversation.
Larry talked about how wonderful and successful it was to initially have his custom vehicles available at the two Downtown Disney locations, as well as how natural of a partnership it was to work with Disney and Pixar to develop their new CARS bodies.   He discussed what it took to develop each vehicle in their line, including working closely with the animators at Pixar to make sure that they had every detail correct – right down to Mater having only one working headlight!  (Do you remember which one it is?)   To give folks options (after all, it is about customiZation at RidemakerZ), they also turned to the "Mater's Tall Tales" short films to design other bodies – like Mater the Greater (from the episode of the same name), Stealth Ninja Mater and Stealth Lightning McQueen (inspired by the ninjas in "Tokyo Mater").    He also gave me a tease that they have been working closely with several levels of folks at Disney/Pixar to prepare for the release of "CARS 2", hinting that we might be seeing a few more new choices in the RidemakerZ lineup!  He was careful not to give me many details, except to say that there were a few new characters to keep Sally, Lightening, and Mater company on the shelves.  Can you imagine the possibilities for collectors?   I really enjoyed my conversation with Larry.  He was fabulous to speak with and even stopped by again to say hello while we were waiting for the opening ceremony to start!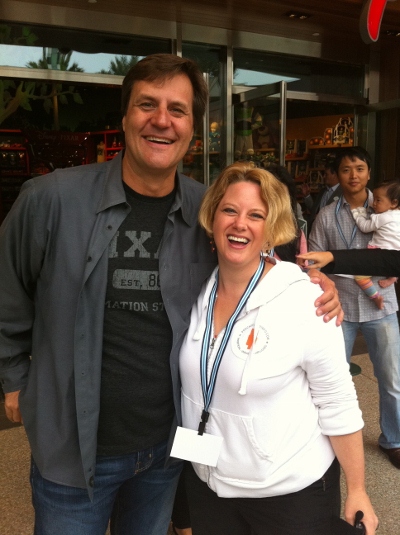 So, remember those exciting opening ceremonies for Santa Monica Place?  We went out to watch them  – here is that ball release I talked about!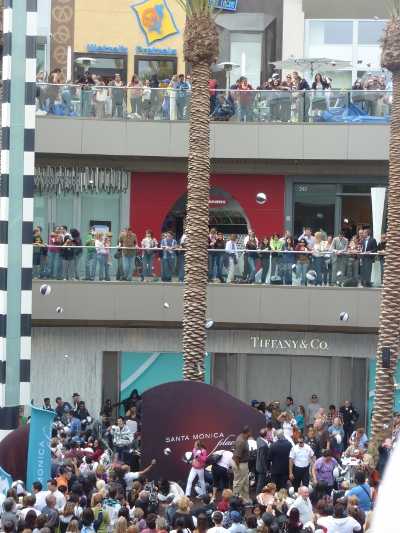 After my interview with Larry, the time had finally come to open the Disney Store.  Now, as I've mentioned before, a child is chosen to "unlock the Magic" when the store first opens.  This would also happen today, but this time, it would actually be the Mogle's youngest daughter, Julianne.   Because of this, they escorted us to a prime spot to watch the ceremonies from.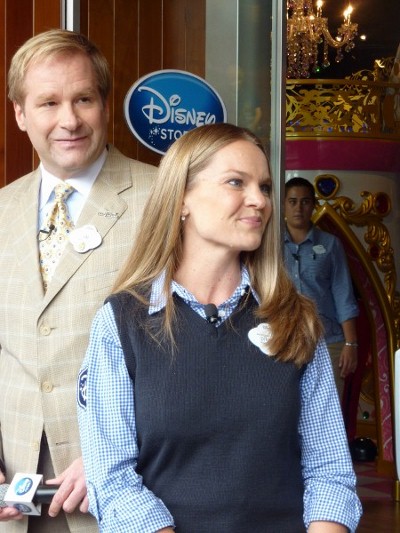 President Jim Fielding joined the Santa Monica Store Manager, Diane Derudder, to get ready for the store opening.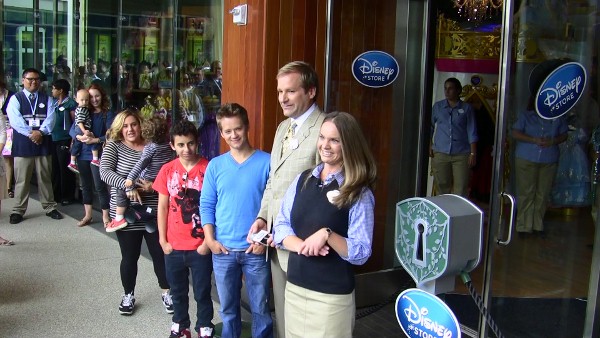 Disney stars -Marissa Jaret Winokur (Dancing with the Stars), Moises Arias, and Jason Earles (both from Hannah Montana, join Disney Store President- Jim Fielding and Store Manager, Diane Derudder, to host the opening ceremony.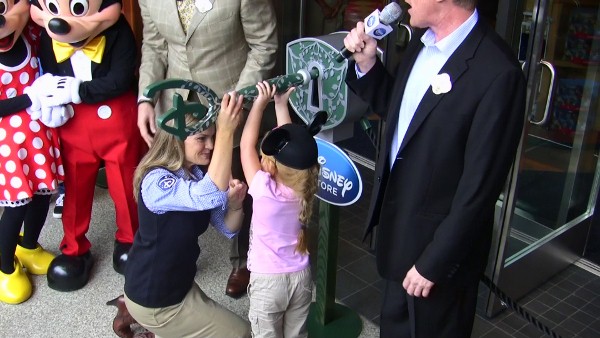 Our special guest, Julianne Mogle, turned the key that opens the Disney Store for the first time!!!  She then got to keep a replica of that very key as a souvenier – a treat for a Disney-loving family that doesn't live close to a store of their own.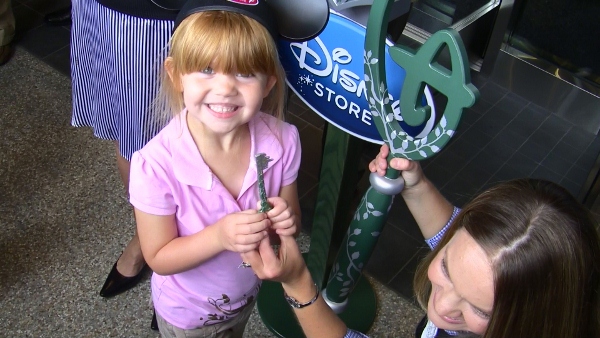 When everyone went inside to enjoy the store, we were treated to some special sights, such as Jason Earles deciding to demonstrate how to become a princess by showing some young guests how to use the Magic Mirrors.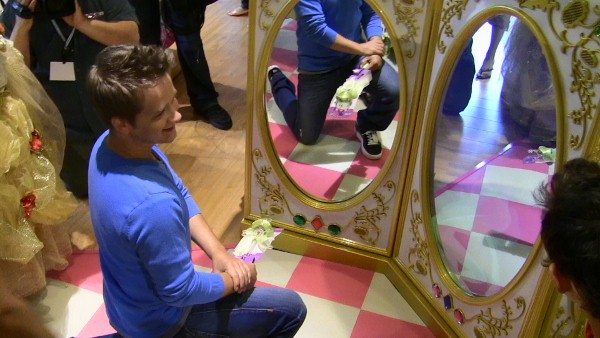 Some guests even got a treat while customiZing their own CARS vehicles.    This hero fixture was the hit of the event for Moises and Jason, who took time out to build a couple themselves.  Mater was their favorite!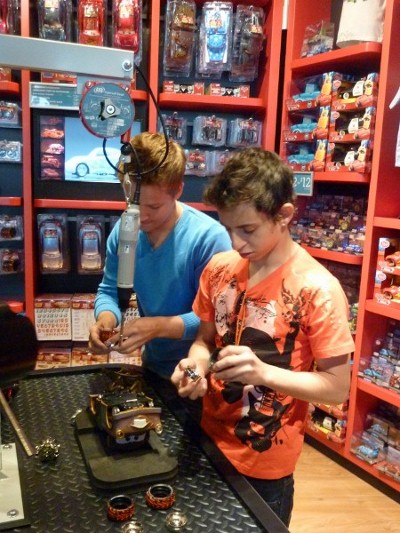 They even took time out to hang out and chat with guests like me!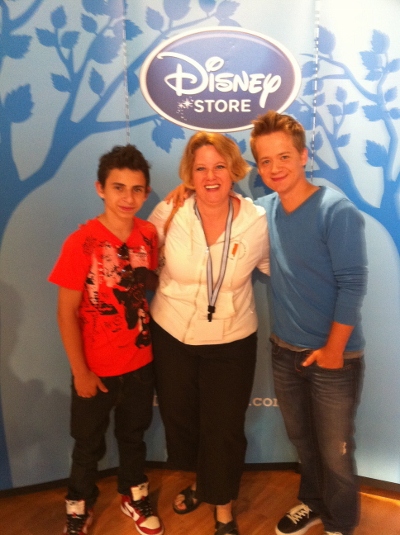 All in all, we had a fabulous time, made some great memories, and learned a lot about the Disney Store's future.  After all, visits that create smiles like Morgan's below are what the new Disney Store is all about!!!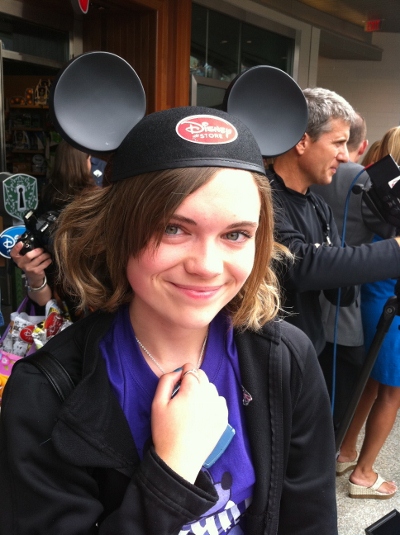 Photos by S. Mogle and N. Johnson
Category: Disney World, Disneyland, News
Disneyland Podcaster for the DIS Unplugged