Post writen by Emiel and Yvette van Leeuwen
Today is going to be a very busy day. We knew that right when we woke up in the morning.  October 30, 2010: the day the Disney Dream will be floating out of the dock at Meyer Werft in Papenburg, Germany.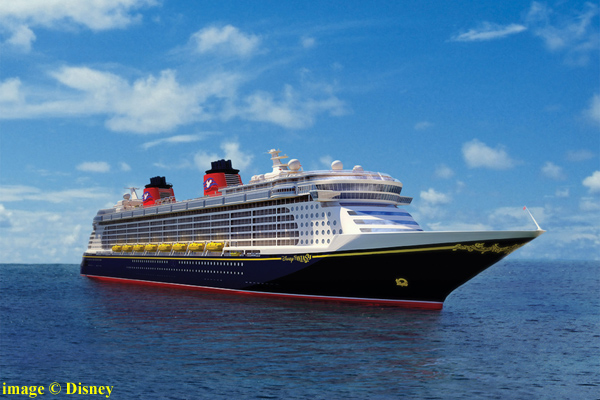 The floating out was scheduled for 5 pm, but we wanted to be there early, so we scheduled to arrive around 1:30 pm, leaving us plenty of time to set up our cameras and get ready for the event. The crowds were quite light when we arrived at Meyer Werft but there were a lot of RV's that had parked there overnight. We had no trouble finding ourselves a good parking spot. We arrived at the event area where we found ourselves dipped in German thoroughness: drinks, lunch, dinner, public restrooms and kiddie fair attractions were all available for purchase. Meyer Werft has already learned a lot from Disney because they had set up a Meyer Werft merchandise shop too. It never hurts to try to make a euro or two…
After strolling around we found ourselves a very good spot to view the Disney Dream floating out of its construction dock, where we watched it being built almost two months ago.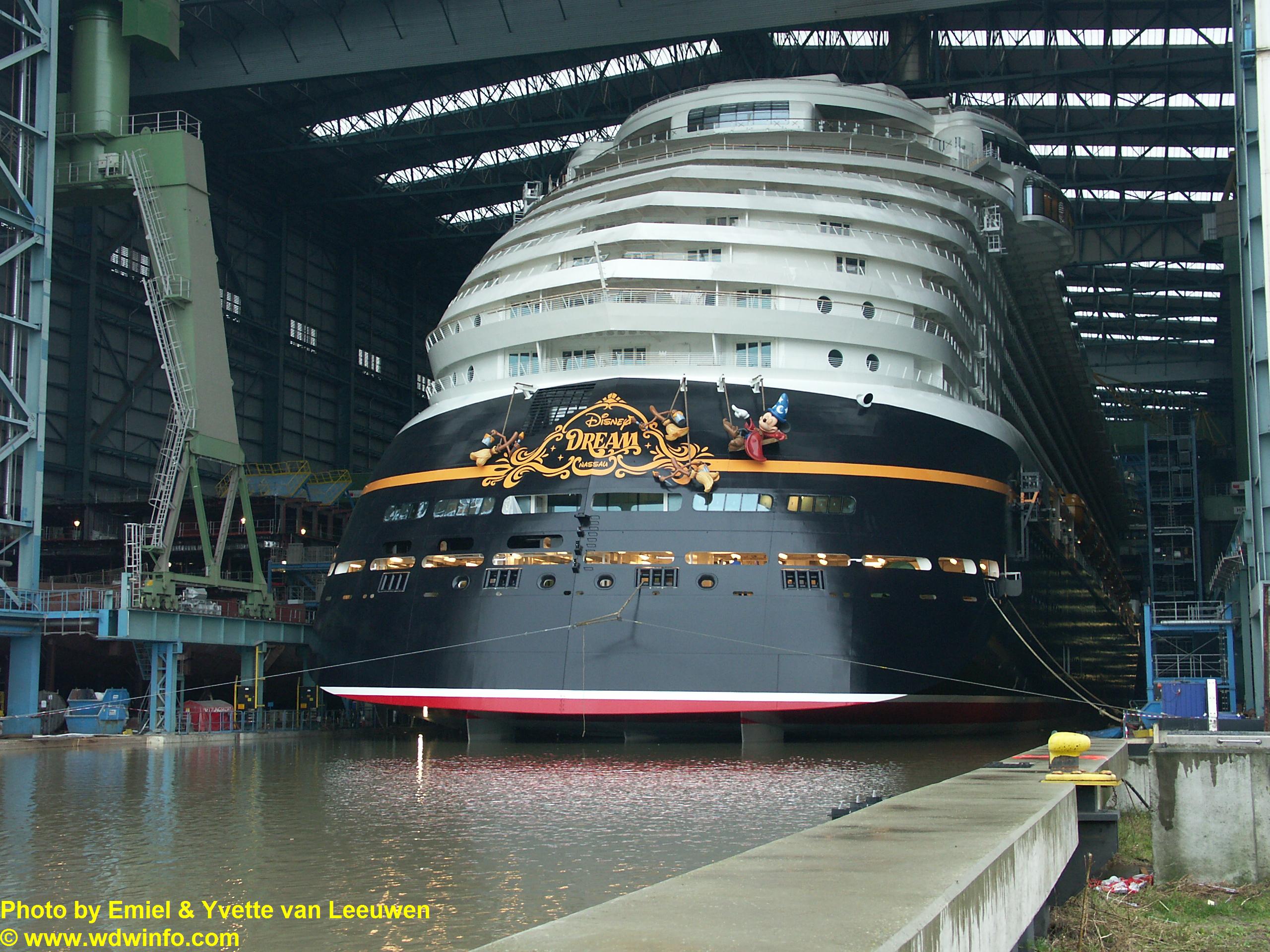 About 30 minutes after we arrived it started to rain and it kept on raining throughout the whole event. One thing Disney still can't control: the weather.
More and more people were steadily arriving to see the birth of Disney Cruise Line's newest ship. In the end about 15,000 people watched the floating out taking place.
"Today marks a monumental milestone and begins the first of the finishing touches for the Disney Dream as we prepare to welcome guests aboard our newest ship." said Karl Holz, president of Disney Cruise Line.
Disney Cruise Line also provided plastic Mickey hands for the public to wave at the Dream.
Of course you can't visit any Disney event without interacting with other Disney fans. We discovered that there were people from all over the world here to see the Dream floating out – one woman who we spoke with came all the way from Canada!  She is staying with Disney friends from The Netherlands who she met on a Disney cruise.
As mentioned before, the floating out was scheduled to start at 5 pm but Disney tested our patience with a delay of almost 1 hour (mind you the rain was still pouring). During the delay we were entertained with some Disney music playing on the ship's loudspeakers.
And then finally the moment we had all been waiting for was there: the Disney Dream started to move!!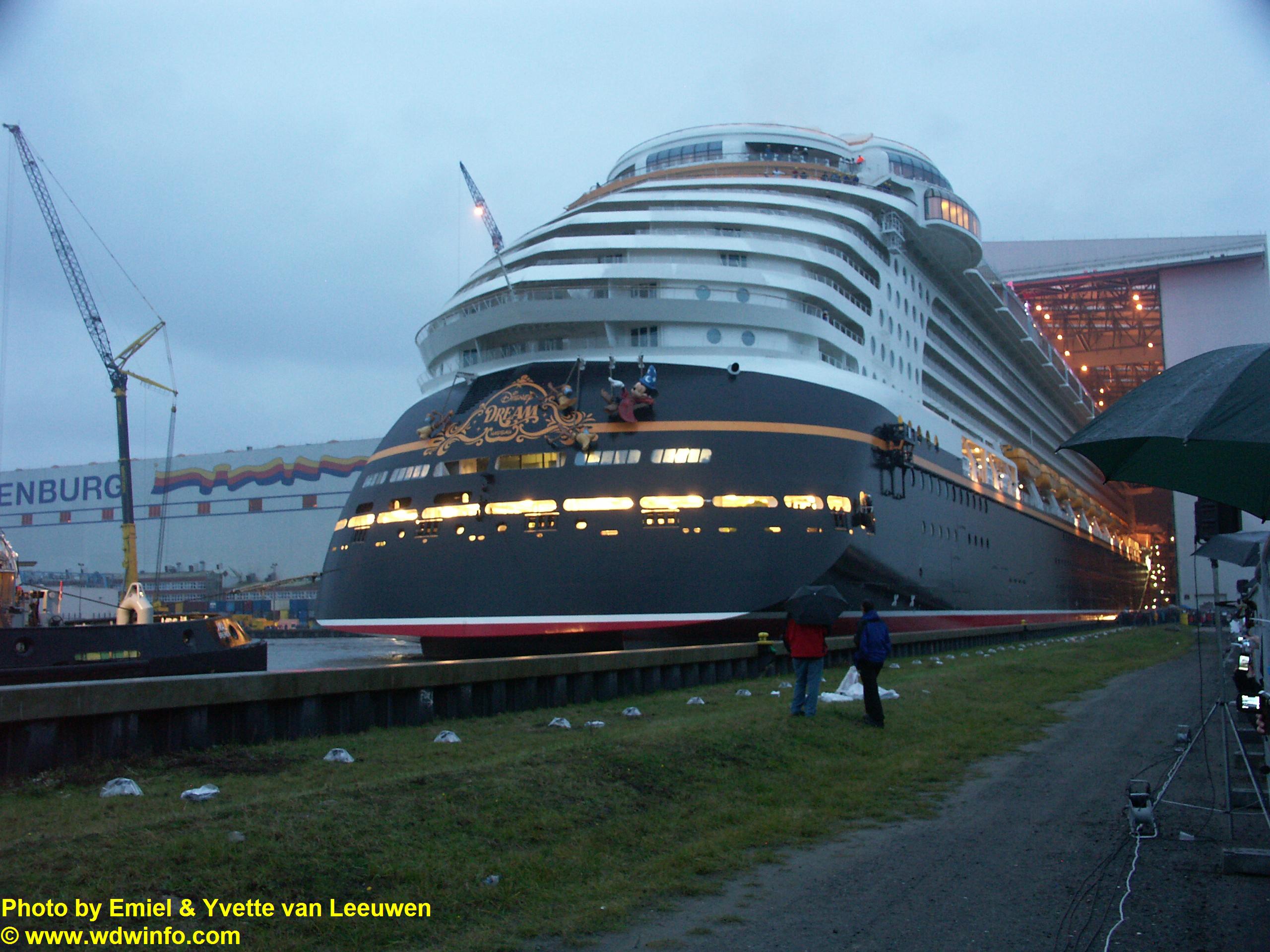 The Disney Dream was towed out of the dock backwards by one tugboat and it moved with a speed of around 0.4 miles per hour. Onboard we could see a few castmembers, technicians and of course, Captain Donald was also present.
After the bow had left the dock the Disney Dream stopped moving and the following announcement was made: "Ladies & Gentlemen, presenting the latest jewel of the Disney Cruise Line fleet, the Disney Dream!"  The Dream responded by blowing its horns revealing its new sound: the tune "A Dream is a wish your heart makes."
Personally we didn't like it; the volume of the horn was way too low (but that could have been intentional) and we felt it wasn't catchy enough. A little fireworks display followed.
There were a few things revealed today that hadn't been announced before.
The funnels are both illuminated and the Disney Dream name on the bow is also illuminated.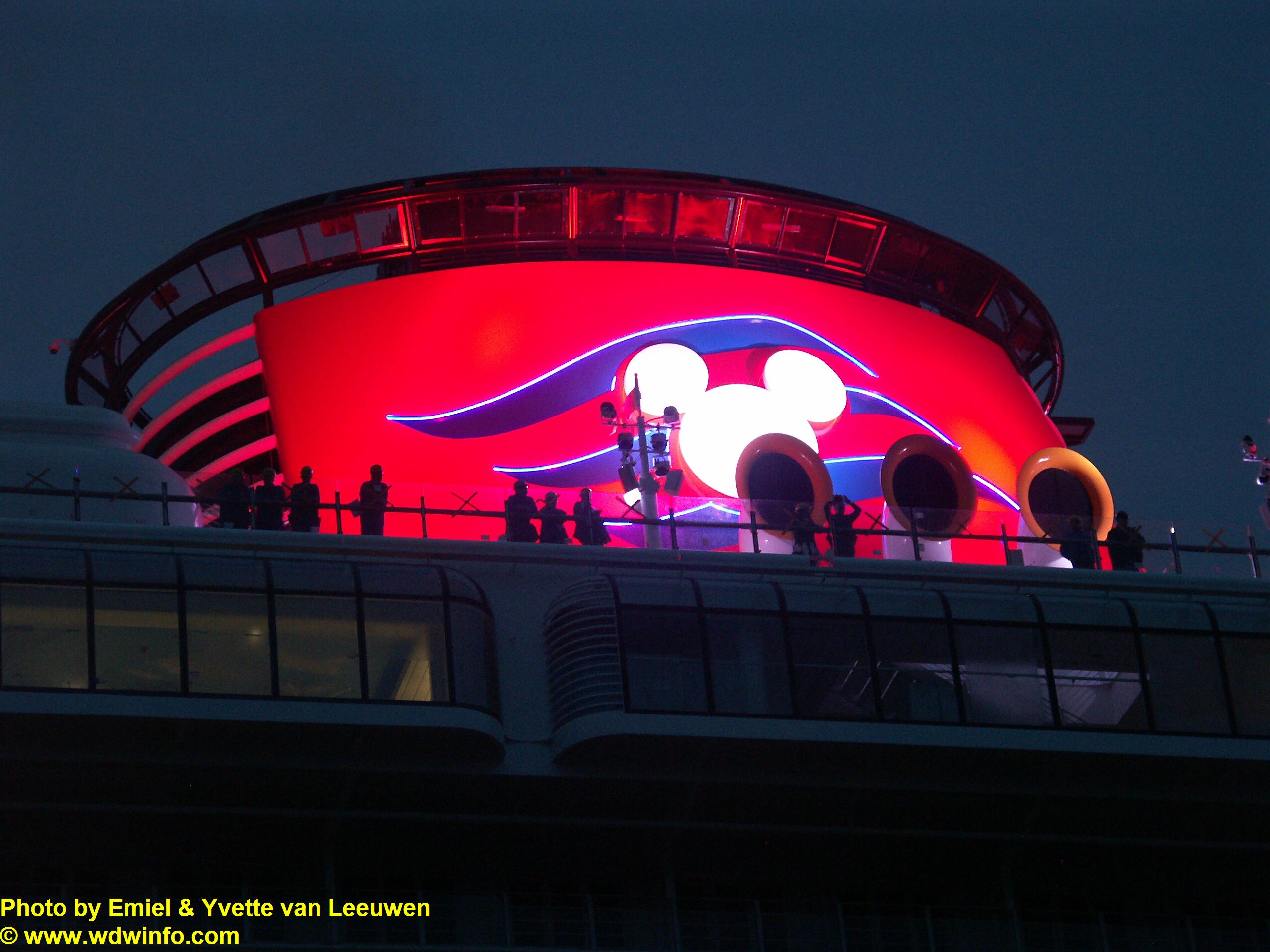 What we already knew was what would be on the stern. To prove it's really there, here is a picture.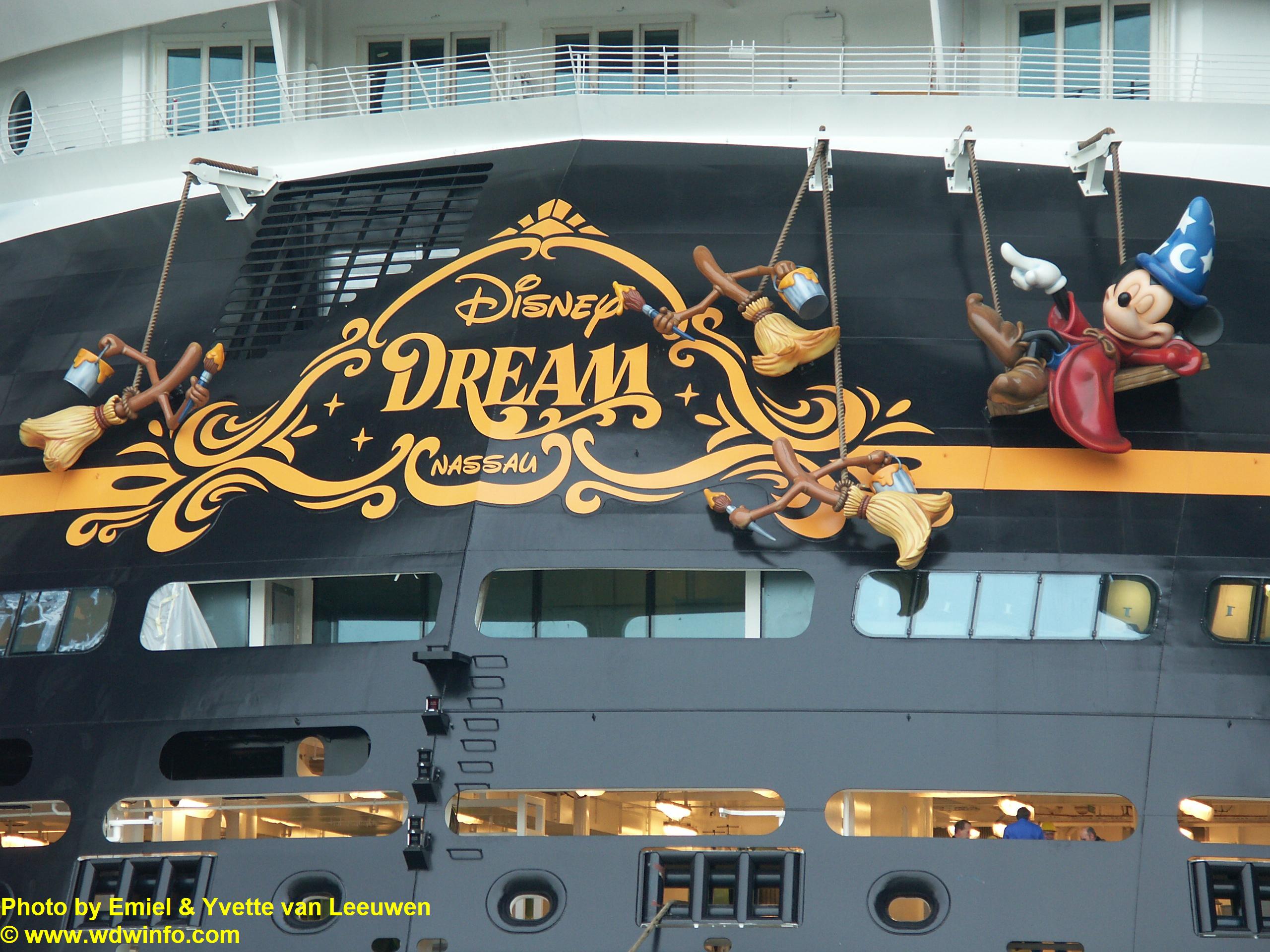 The Disney Dream will remain at Meyer Werft in the shipyard harbor for approximately 14 days. During these 2 weeks, testing on the ship's stabilizers, rudders and other functional features will be done and work on the ship's interior areas will continue.
After these 2 weeks the Disney Dream is scheduled to leave Meyer Werft and be towed down the River Ems, where its destination is the port of Eemshaven in The Netherlands near the North Sea to be stocked with supplies for the Trans Atlantic crossing.
Of course we are going to watch the Dream's journey through the Netherlands and we will keep you all updated.
Category: Disney Cruise Line
Leah grew up in a little farming town in Illinois, right on the Mississippi River. Her Chicago-born husband, David, left the city for her, and they're now raising their three children (Jacob, Jonah and Lydia) just 12 miles from her hometown. As the Senior Editor of the DIS (wdwinfo.com), Leah spends a lot of time writing about, reading about, and discussing Disney. So, it should come as no surprise that one of her family's favorite ways to spend time is going to Walt Disney World and traveling on Disney Cruise Line. She also enjoys shopping, watching movies with her husband and doing crafts with and for her kids.