Post written by Jennifer Grinold
As the Mom of an American family living in Europe, I was determined not to miss Halloween this year.  So I booked a family trip to Disneyland Paris for the Halloween season and bought tickets to the "Mickey's Not So Scary" Halloween party.  I want to share our Halloween experiences at Disneyland Paris for those DIS Unplugged fans based in Europe and also those Americans who may be considering a trip to France next fall.  Join me for a little snapshot of what takes place in Paris for the ghoulish season.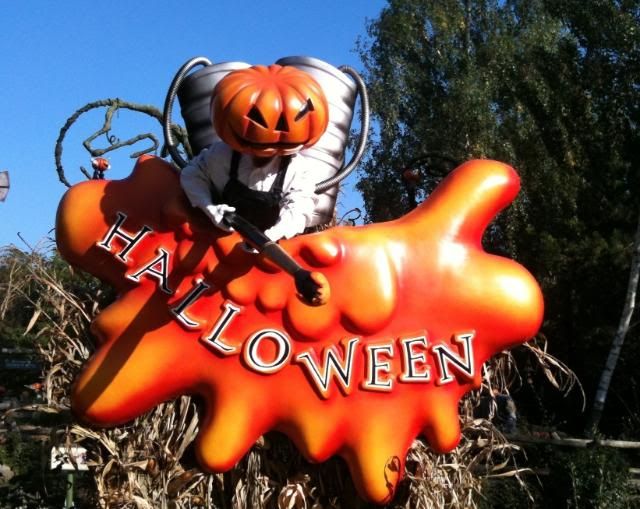 Disneyland Paris has a month long Halloween festival at the park which takes place this year from October 2 to November 1.  With general admission, visitors can enjoy Halloweenland decorations in Frontierland, villain meet and greets, the Disney Villains Halloween Showtime Spectacular and the Halloween parade which follows the "Once Upon a Dream Parade."  Once a week from 8 pm to 11 pm Disneyland Paris celebrates "Mickey's Not so Scary Halloween Party" for 25 euros a person.  On October 31 there will be a Halloween Party from 8:30 pm to 1 am with characters, shows, parade and a Sound and Light Spectacular.
Most of the Halloween decorations are located in Frontierland, which transforms to "Halloweenland" for the season.  Near Big Thunder Mountain, the Pumpkin Men have taken over the Boomtown, making and spilling orange pumpkin goo, falling (or being thrown head first) into large gourds and generally wreaking havoc throughout Frontierland with orange pumpkin "goo".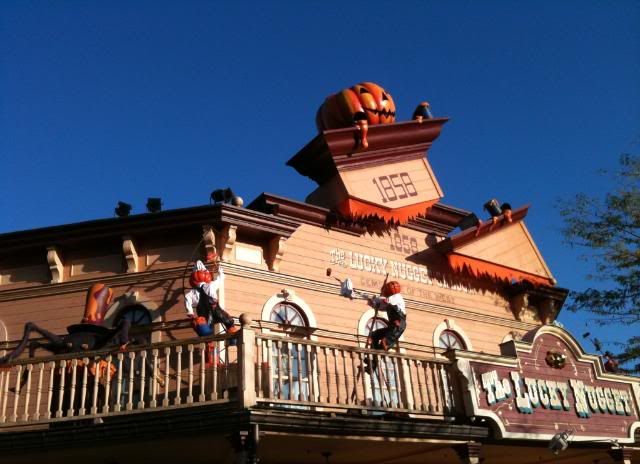 The yard of Phantom Manor (Disneyland Paris' Haunted Mansion) is also decorated for the season with ghoulish scarecrows and skulls which are a bit more sinister, in keeping with the haunted mansion theme.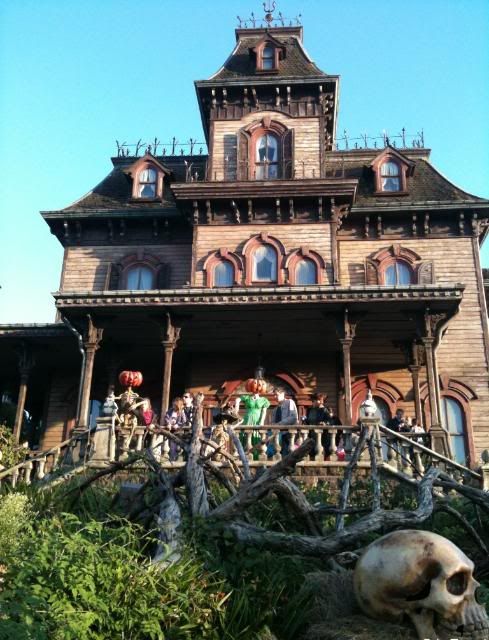 In the plaza area in front of the Phantom Manor are regular character meets with the villains where we saw Jafar, Captain Hook, Shadow Man and Frollo from the Hunchback of Notre Dame.   You can find Jack Skellington and Sally throughout the day at Jack and Sally's Cemetery near the Cowboy Cookout barbecue.  Pumpkin and Halloween decorations are abundant near the "Hallo" Woody's Roundup Village where there even more character meet and greets with Woody, Jessie and other Disney characters.

The "Dreams of Trick or Treat" parade takes place daily during Halloween season as an add-on to the the "Once Upon a Dream parade" and consists of a horse-led Jack Skellington and Sally carriage, the villains' float, and a parade of the Pumpkin Men and Pumpkin Gals who dance and bang on their tin buckets and hand out gummy treats to lucky parade viewers.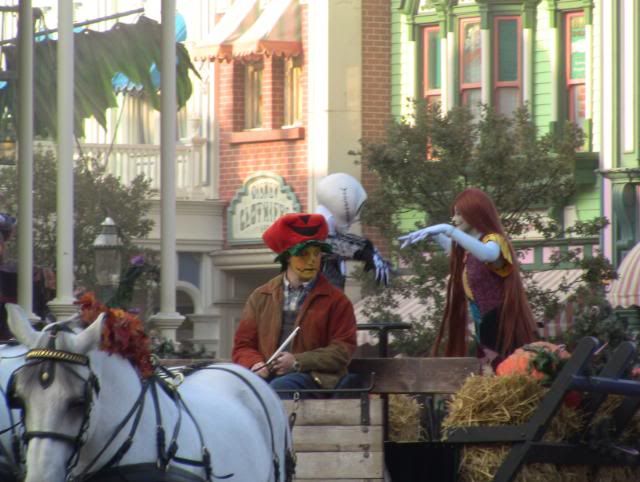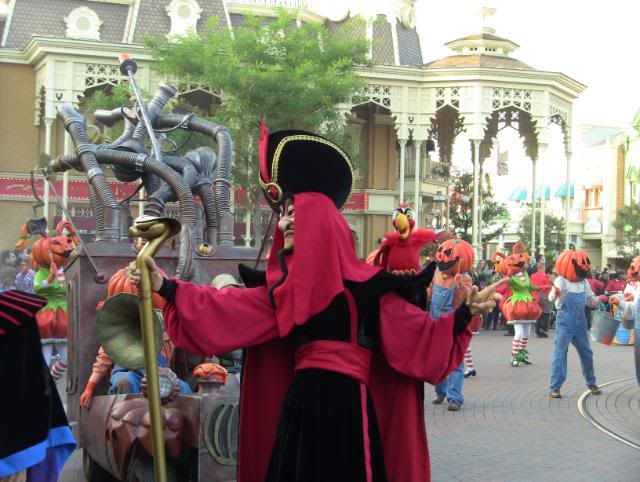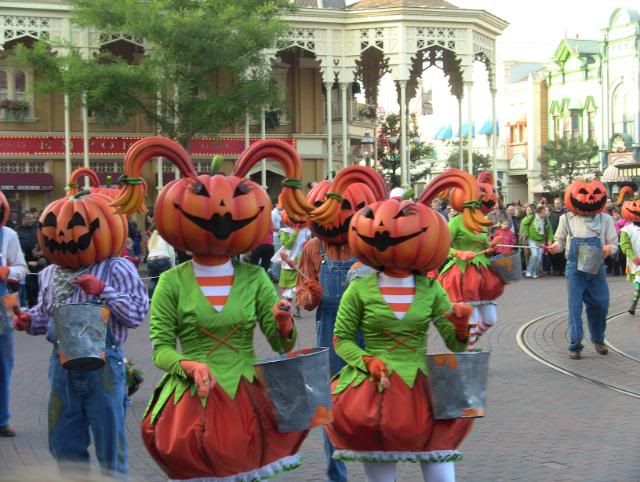 We attended "Mickeys Not So Scary Halloween Party" on October 15.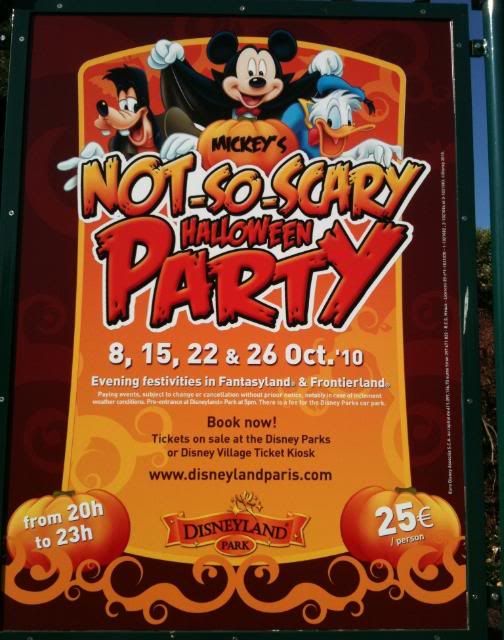 Guest with tickets to the party got pre-admission to the parks at 5 pm and all those daily visitors without party tickets had to leave by the regular 7 pm park closing in preparation for the Halloween party's official start time of 8 pm.  We were in the hotel putting on our costumes at 7 pm, so I don't know how the escorting out of the parks process worked, but clearly it did. When we re-entered the park at 8 pm, it was not at all crowded.  We received our bracelets at the turnstiles and felt as if we were one of only a few people at the party as we walked down Main Street towards the glowing, greenish blue lit castle.  It was raining a bit, which made the evening all the more eery.  All lands but Discoveryland were open for Mickey's Not So Scary Halloween Party with ten rides, including the E-ticket rides Phantom Manor, Big Thunder Mountain, Pirates of the Caribbean and Peter Pan.
After a quick stop for candy apples, we headed to Frontierland which had a very cool and somewhat creepy entrance with dry ice oozing throughout the fort area.  Right in front of the Lucky Nugget Saloon gathered Halloween villains as well as mischievous pumpkins who carried soft baseball bats and snuck around bonking people on the heads.  No getting signatures or pictures with these guys.




There were cast members dressed in overalls and caps handing out the same Haribo sweet and sour dragon candies that were given out during the Halloween parade.  My kids probably got 7 or so packs of these gummy candies each throughout the evening and were thrilled.  I guess living in Europe they've forgotten what the usual loot is for trick or treating, so they had no expectations for assortment or quantity.
There were many shows during the party, including a "Not So Scary" Halloween spectacular, Winnie the Pooh and Friends show,, Merlin and the Witch Academy and the Disney Not SO Scary Cars Cavalcade.
Overall, I highly recommend Disneyland Paris for the Halloween Season, especially for Disney fans in Europe who looking for some Halloween fun.  Would I recommend that people buy a plane ticket from America just for the event?   I can't say that, but if you are living in or are planning a trip to the Paris area that time of year, then it is definitely worth a trip.  Having been to the Disneyland Paris park both at Christmas time and Halloween time, I'd say I probably enjoyed Halloween a bit more, simply because the weather wasn't quite so chilly.  While there were mornings that were so cold we had to wear gloves and hats, we also had some lovely sunny and crisp afternoons.  Always wore our jackets or coats, mind you, but still lovely weather for Fall in Europe.  Also, crowds were almost non existent during the week at this time of year and we never had much of a wait for rides.  Of course, as always, weekends were very crowded in the park, but during the Halloween party and weekday park visits we felt like we really had the park to ourselves.
Happy Halloween from Switzerland!
Category: Disney World, Disneyland
Leah grew up in a little farming town in Illinois, right on the Mississippi River. Her Chicago-born husband, David, left the city for her, and they're now raising their three children (Jacob, Jonah and Lydia) just 12 miles from her hometown. As the Senior Editor of the DIS (wdwinfo.com), Leah spends a lot of time writing about, reading about, and discussing Disney. So, it should come as no surprise that one of her family's favorite ways to spend time is going to Walt Disney World and traveling on Disney Cruise Line. She also enjoys shopping, watching movies with her husband and doing crafts with and for her kids.