Combine the fantastical theatricality of Cirque du Soleil with the Imagineered worlds of Disney and you get La Nouba, the popular permanent show at Walt Disney World's Downtown Disney.  When developing the show, La Nouba's creative team took inspiration from the storybook lands in the nearby Magic Kingdom, and also developed their own interpretation of a classic fairy tale.  I spoke with Cirque Du Soleil's Chantal Tremblay, who helped shape La Nouba as Artistic Director during the show's inception, and she shed light on the story and concept of this contemporary circus.  Continue after the break to learn more about this unique spectacle.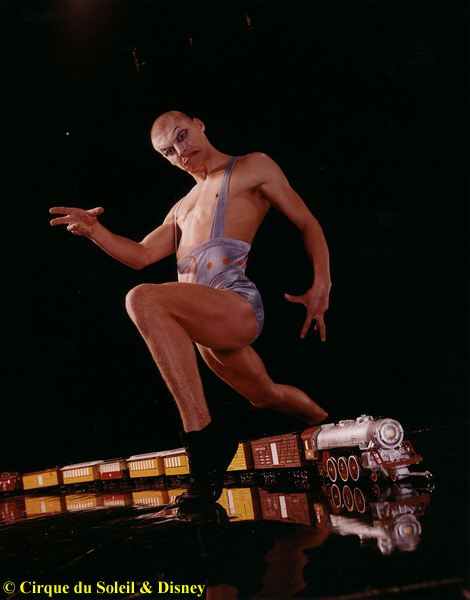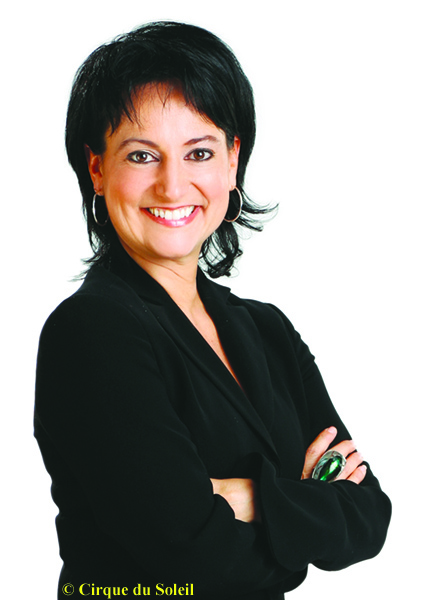 Image: Chantal Tremblay, original Artistic Director for La Nouba in 1998
Chantal Tremblay is a French-Canadian dancer who stumbled upon Cirque in the 80's when living in New York City.  She was homesick and looking for a fix of Montreal culture when the company rolled into town.  Expecting rings, clowns, and animal acts when entering the arena, the dancer was in heaven when ballet great Mikhail Baryshnikov took the seat in front of her.  However, once the show began, the visual, musical, and artistic presentation of Cirque engulfed Chantal, and she discovered a presentation of acrobatic movement that meshed with her own vision of dance.  She decided then and there to join the troupe, and never looked back.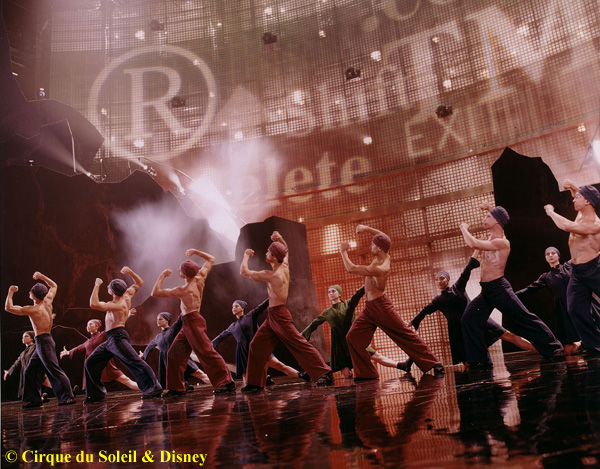 During the creation of La Nouba in 1998, the artistic team looked to fuse the fairy tale/circus world with a stark vision of the modern urban world.  Every aspect of the show, from the acts to costumes to music and dancing, juxtaposed these two worlds, and the result proved a good fit for the fantasy Walt Disney World and the throngs of tourists who flocked there for a break from their modern, urban jobs and lifestyles.  In the story, a simple cleaning lady serves as the focal point, and is also the eyes of the audience into this world of the circus people.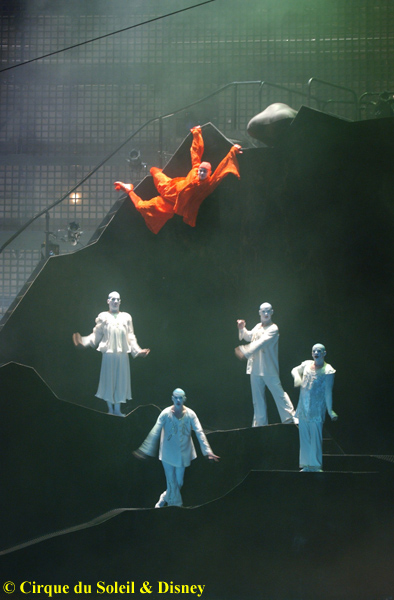 La Nouba's austere set is a "black box" that can be lit with color and changed to anything desired or imagined.  It allows the performers to transport the audience anywhere into this fantasy world.  However, the black box is also an attic that represents our memory, a space storing random items such as a candelabra, a baby carriage, and thoughts that race through like a train.  The cleaning lady enters (taking us with her) this long, dormant attic abandoned for years and strewn with cobwebs.  As the door to the attic shuts, another opens, and she is beset with strange and fabulous characters from another world – the circus world.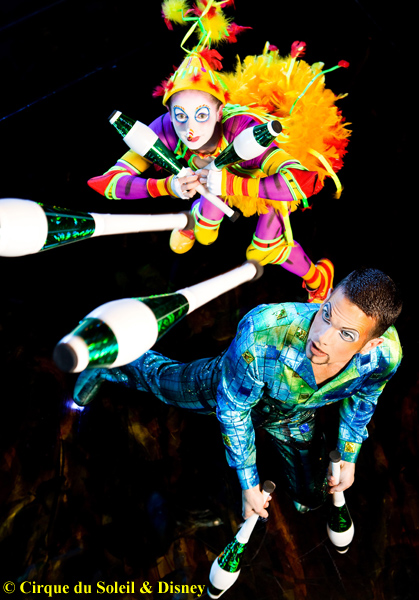 The acts of La Nouba are pieced together like an intricate puzzle.  To create this urban fairy tale the artistic team started with an "acrobatic skeleton" and featured various acts such as high wire, trampoline, Chinese yo-yo, trapeze, cycles, etc.  Chantal and her team examined each act to select those representing either the urban world vs. the fairy tale world.  For example, the trampoline/power track act has a powerful, gritty look and feel of the urban world in contrast to the ariel ballet in silk – a graceful, sleek expression of the circus world.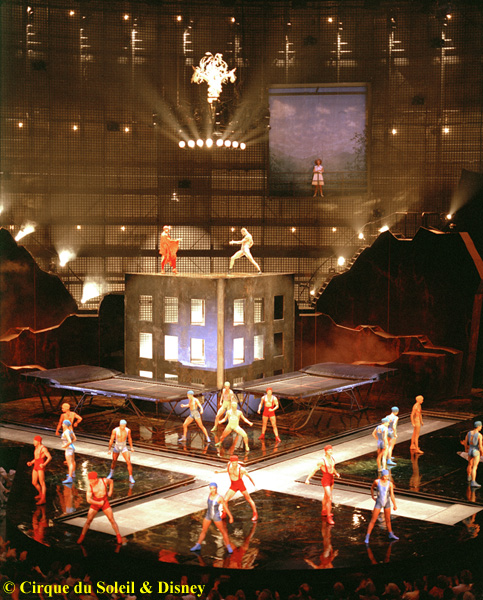 Tremblay said the show constantly evolves and will always be a work in progress.  La Nouba debuted in 1998 at Downtown Disney, but she says it is not dated – the essence of its creation is still there, and the concept and show maintains a high level night after night.  In 2010, two different acts were added to the show including a world-record holding juggler and a rhythmic jump rope act.  If juggling and jump-roping sound ho-hum or mundane, then you are not familiar with how Cirque transforms traditional circus acts into performance art.  Like all the acts in La Nouba, these will grab your attention and hold it until their conclusion.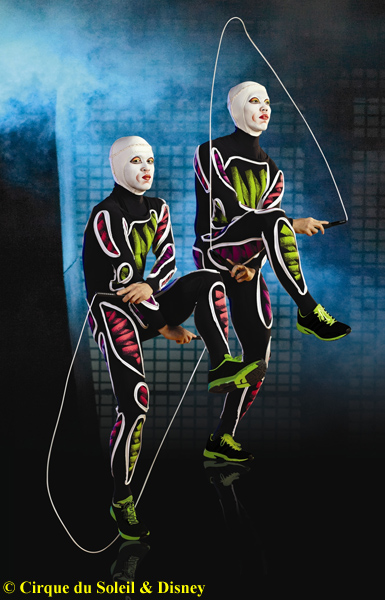 I attended a performance of La Nouba in August with our family including our two daughters (ages 9 and 12).  We had an early dinner at Raglan Road, and settled in for a 6 pm performance.  The show runs for 90 minutes, and our girls were captivated from the moment Balthazar and Sergei the clowns entered the arena.  I don't think our 9 year old blinked throughout the entire performance.  Our family was spellbound by the magic created by blending these two worlds.  We followed the cleaning lady's journey through the wonderland of the circus, and, in typical Disney story-telling fashion, applauded the conclusion as she kissed the frog becoming a true fairy tale princess.
Tickets for La Nouba range from $53 – $120 plus tax for adults (ages 10 and up) and $43 – $97 plus tax for children (ages 3-9).  Reservations can be made up to 6 months in advance by calling (407) 939-7328, at the theater's box office, or online at cirquedusoleil.com/lanouba.  The show runs Tuesdays through Saturdays at 6 pm and 9 pm.  The theater is dark Sundays and Mondays and select times throughout the year.
Have you seen a performance of Cirque du Soleil's La Nouba?  What are your thoughts and experience?  Log in with your DISboards username and password to leave a comment below.
Disclosure: As of December 2009, the Federal Trade Commission requires disclosure of any payments or considerations.  Cirque du Soleil provided 4 tickets to attend a performance of La Nouba.
Category: Disney World