"All you fear is here" is the theme phrase for the 38th annual Halloween Haunt at Knott's Berry Farm.  That's right; ever since 1973 the Berry Farm has been turning its modest theme park into Knott's Scary Farm.  And it's no little event.  The entire park is converted into the world's first, largest and longest running Halloween event.  The scale of the event is surprising, even surpassing Universal and Disney.  Knott's is only about 5 miles from Disneyland (and an easy drive), but many people outside of California have never heard of Knott's or the Scary Farm's Halloween Haunt.  But mention it to the locals and everyone agrees that this is the premier Halloween experience.
Haunt has been my passion for over two decades.  I used to work for Knott's and participated in the Haunt back in the late 80's through early 90's.  Now I attend the yearly event as a guest and I still absolutely love it.  I attended again this year to see what is new, what has changed and to experience again what is, for me, my all time favorite event.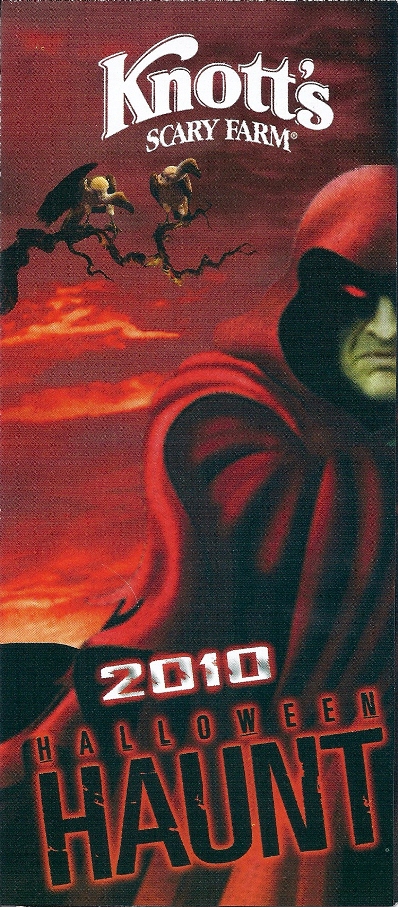 The history of Knott's Halloween Haunt goes back to when the Berry Farm just decorated the Ghost Town area for Halloween night and had a few costumed characters scaring passing guests.  Now the Haunt covers 160 acres, with 13 haunted "mazes", 7 shows, 3 "scare zones" and over 1,000 terrifying monsters wandering the park.  Haunt runs for 27 nights from late September through Halloween night.  This is a big event!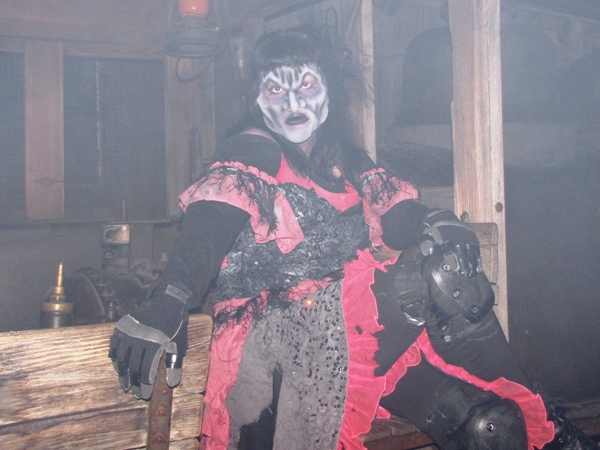 When I worked for Knott's they had a water fountain show and I programmed many of those shows.  For Haunt, I was tasked with producing special shows that also added lasers and fireworks and a specialized Halloween sound track.  (This pre-dated Disney's "World of Color" by over 20 years.)  The Haunt fountain show was one of the many specialty shows that were featured for event and is the reason I became so attached to and impassioned by Haunt.
This year, Haunt is bigger than ever.  The weekend crowds can be overwhelming, so I picked a more manageable weekday night to go to Haunt.  Tickets were readily available and even discounts were easy to get (available online and with a coupon from Burger King).  There are a number of specialty packages also available which include dinner, early admission and hotel accommodations.  Haunt starts at 7 pm and goes to 1 am during the week and 2 am on Friday and Saturday.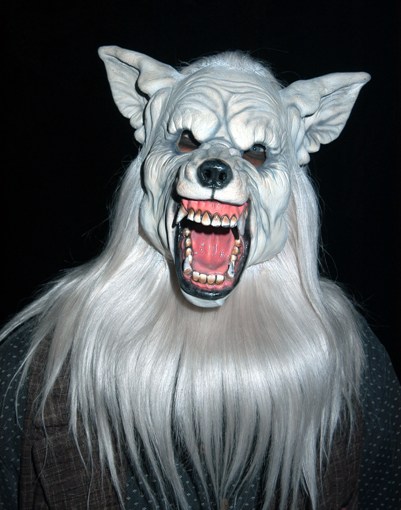 Knott's advises that Halloween Haunt may be too intense for younger children (and I agree) and not recommended for those under 13.  No costumes are allowed and there is a no re-entry policy.
The entrance plaza is decorated fairly simple this year.  Be prepared to undergo a full security scan (as is typical with many special events these days).  After passing inspection and presenting my ticket at the turnstile, I picked up my park map and show guide and proceeded into Haunt.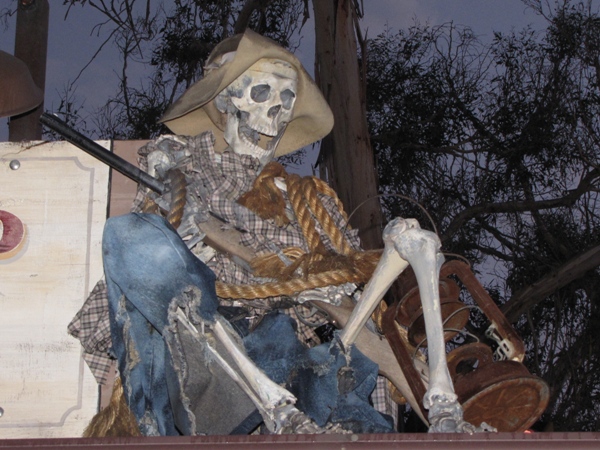 As I said, the entire park is decorated.  This is what sets Knott's Halloween Haunt apart from many other theme park events.  Most others will add some decorations here and there and concentrate on a specific area or two for their "overlay".  Knott's starts at the front gate and covers almost every place you look and walk with Haunt.  Music, screams, fog and characters surround you as soon as you enter.  And it never stops!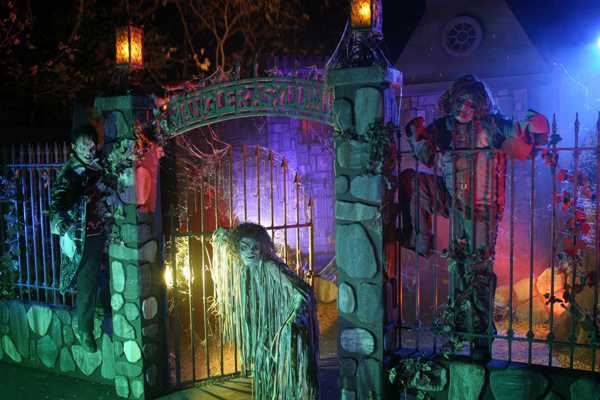 My first destination is, of course, Ghost Town.  This is a rather dilapidated part of the Berry Farm that was part of the original walk- through that Walter Knott built as entertainment for folks waiting to get into his wife Cordelia's Chicken Dinner restaurant.  Ghost Town is still there and provides the perfect setting for Haunt.  Dense fog, swirling colored lights and the sounds of stormy winds fill the area.  The costumed monster characters (once called a "Boo Scary" by the designers) lurk in hiding for their victims.  Few walk into this area alone.  Unfortunately, I had no choice and "bravely" entered.  I must admit that I love being startled and I was an easy victim.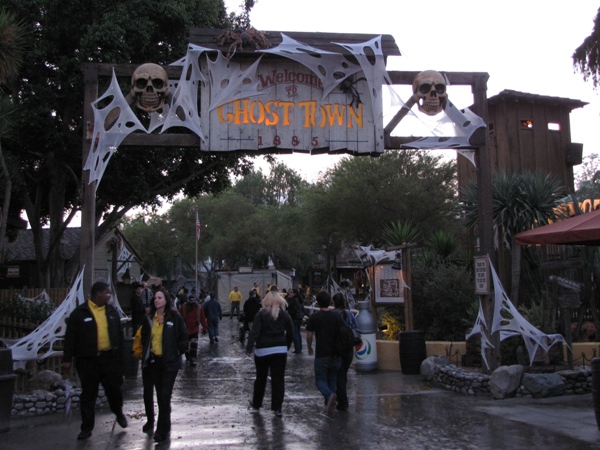 The next stop is one of the 13 haunted houses or "mazes".  For those that are unfamiliar, a maze is a walk-through, usually based on some kind of theme or story, which has characters, music, lighting, special effects and plenty of scary characters.  You wander the halls past scenes as things pop out at you.  Most times you have no idea where you are going, what will happen next or when will you get out.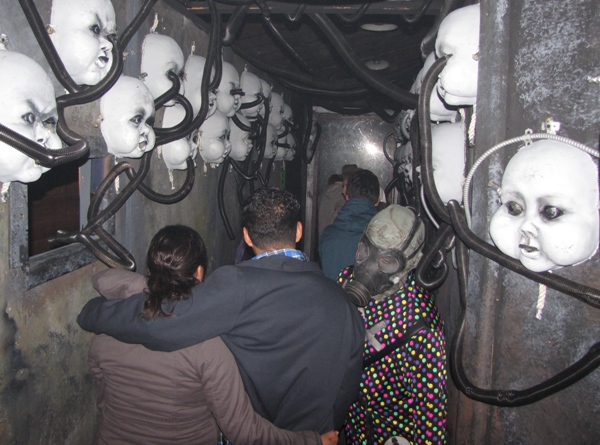 I approach an empty intersection.  "Which way?  Either could spell danger.  Both probably do."  I make the choice and proceed.
I visited called the "Doll Factory" which features life sized doll characters that have come to life with evil intentions.  Nearby is the "Terror of London" where Jack the Ripper and Dr. Jekyll stalk the scenes.  In "Lockdown: The Asylum" the insane inmates have taken over, and next door in "Club Blood" the children of the night dance in the city's underbelly.  And no nightmare would be complete without the requisite killer clowns in "Uncle Bobo's Big Top of the Bizarre in 3D".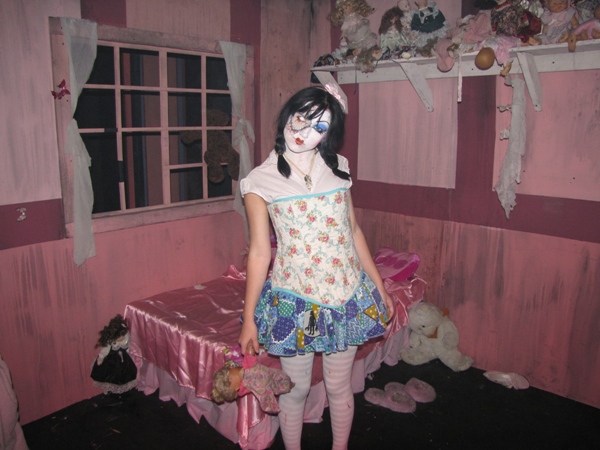 It's easy to just walk through these types of experiences without being affected.  Many folks observe what's going on around them almost as if they are outside looking in at what is happening.  Oh they may react to one thing or another, but in a few seconds they are back again.  That's not me!  Call me crazy (and this is the perfect time for year for that), but I get into it! I'm not just observing.  I'm part of it; it's happening to me.  I realize that not everyone can do this, especially if you are with a group of friends or family.  For me, it's different.  For me, the interactions, the mazes, the sights and sounds all combine into a complete environment.  This isn't something that I'm just attending.  I'm immersed in it.  This is why I am so into Haunt.  For me, this is personal.  And it's REAL!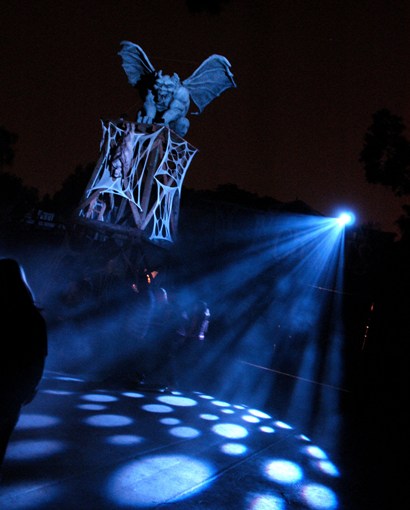 One of the effects that is used in the Haunt mazes takes a few different forms, but is always a startling surprise.  In one case, you enter a bright white room.  The ceiling, floor and walls are covered with small colored dots.  As you pass though the room, you don't notice anything unusual, except that everywhere you look are colored dots.  All of a sudden, a patch of dots starts moving, and they're moving at you! You realize that a creature, covered head to toe in a pure white suite covered with colored dots, is now walking arms out at you!  You jump and just as fast the creature retreats and again blends into the wall for the next unsuspecting victim.  It's a brilliant effect.  I've seen it used in many ways including inside a cave scene where the creature was wearing a textured covering that looked like the rockwork that he was leaning against.  All of a sudden the rocks come alive and reach for you and then quickly retreat into the camouflage.  It's wonderful!
Throughout the Haunt the many roving costumed monsters are creating havoc for anyone walking down the paths.  Most of the monsters congregate in areas called "Scare Zones".  These areas are guaranteed to produce an encounter with something frightening.  The sound of chainsaws is always disturbing and the monsters that chase you are bad enough.  But the real terror comes from the six and a half foot tall ghoul who just stands in your way and looks at you as you pass.  You never know when he'll pounce, so it's best to just leave quickly!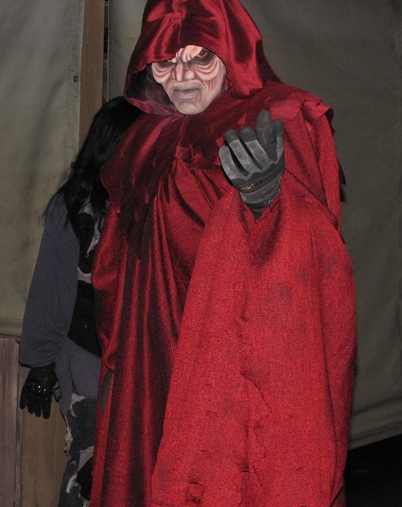 At one point I was heading to my next destination and studying the park map as I walked.  All of a sudden I heard the most disturbing noise of bare metal scraping across the asphalt walkway.  I looked up to see a creature who had been running full force at me and then suddenly dived onto the street on his hands and knees and began sliding down the street at me.  Several other guests screamed and scattered and I just froze helpless.  The monster, also called a "Slider", scrambled to his feet and began chasing the screaming guests.  I composed myself and ventured forward.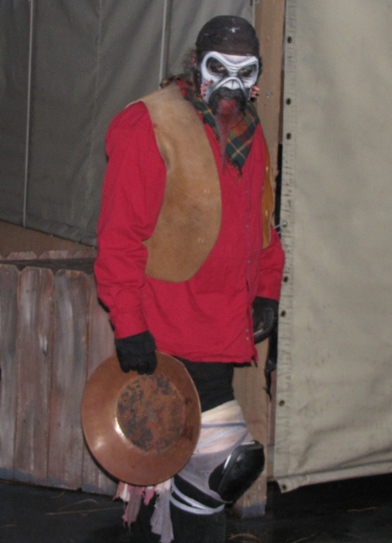 Costumed characters have been one of the hallmarks of Knott's Haunt.  The sheer number of characters, creatures and monsters is overwhelming.  Knott's has a small army of makeup artists that each night prepares all the various performers for their terrifying romp.  From street performers to the characters inside the mazes, the "talent" is one of the most important parts of making Haunt the success that it is.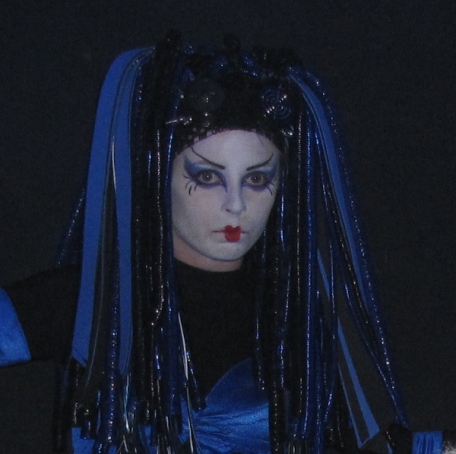 One note is that as with most professional theme park Halloween events, the monsters never actually touch you and guests are cautioned not to touch them either.  Most of the monsters and characters don't even make a sound (except for an occasional growl or snort).  They don't need to.  After all, the fear is all inside you, right?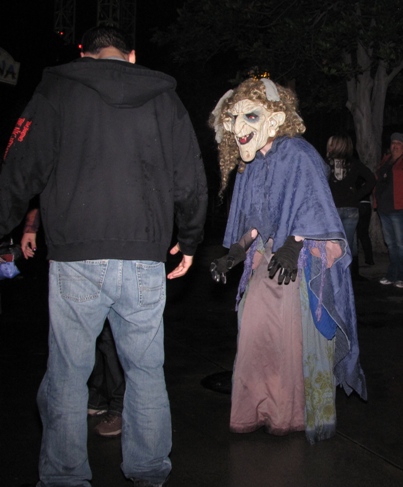 Several of the rides have also been re-themed for Haunt with appropriate decorations, characters and effects.  Knott's has a great log ride, but this year it's been transformed into "Sleepy Hollow Mountain".  The mild Mine Ride has been taken over by most folk's worst fear as the "Black Widow's Cavern".  Lines are always long for these attractions, but some of the best scares are there.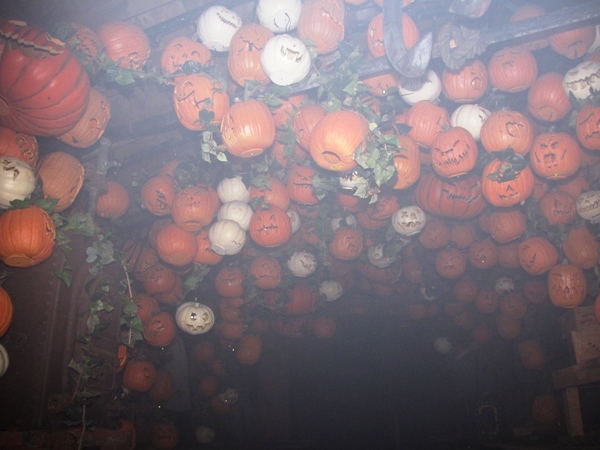 Shows have been a large part of Knott's Halloween Haunt.  Headliners of the past have included Wolfman Jack, and for 15 years Elvira®, Mistress of the Dark performed on the main stage.  Elvira was the central host for Haunt for many years and one of my personal favorites (I even got her autograph when I worked there).
This year, television star Ed Alonzo performs at the Good Time Theater in his "Psycho Circus of Magic and Mayhem".  Ed is really funny and a bit twisted.  His magic act is inspired and it's quite creative the way he mixes video and other special effects into the illusions.  There's even dancing girls and pyro!  What more could one want?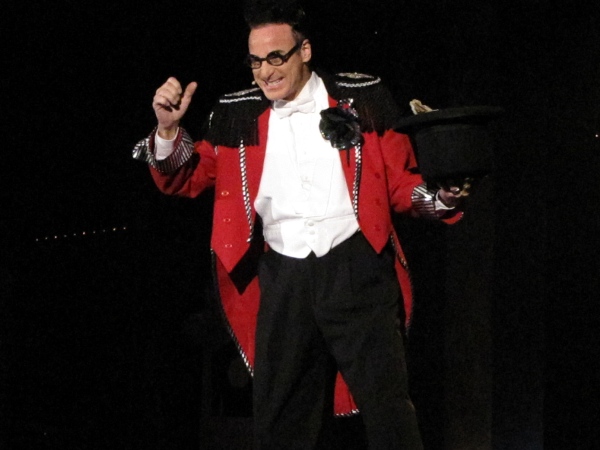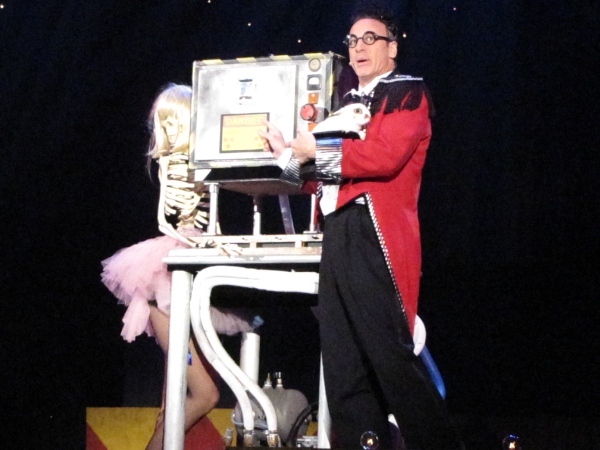 The signature show at Haunt is "The Hanging".  This show has been going on since 1976 and has evolved into a song, dance and slasher parity of popular culture celebrities and events.  Each year the town mayor of Calico (the Western area of Knott's) plays host to a collection of characters and eventually each one meets their demise.  The most despicable pop person winds up getting the noose.  The Hanging is well written, hysterically funny and wonderfully satirical with digs not only at pop culture and politics, but also at Universal and Disney.  Of all events and attractions at Haunt, "The Hanging" is the #1 must see.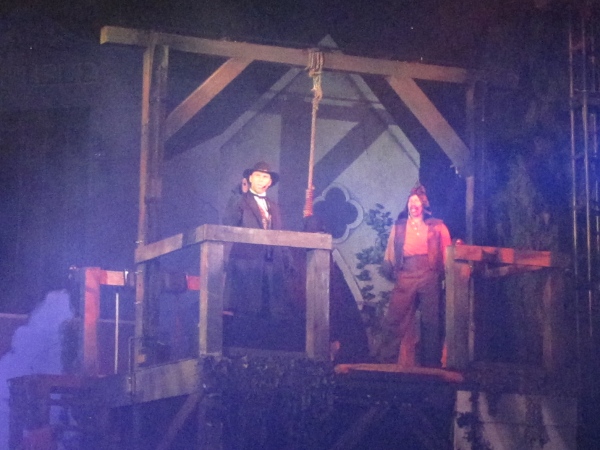 Each year I can measure my age by how many of "The Hanging" jokes I understand.  When I worked there, I got all of them.  Ten years ago I only got about 50%.  This year, well, it's embarrassing.  Sound designer and engineer Rob Perez helped me with most of the references.  Even without knowing all the references, the show is still excellent.  I just feel like next year I may need a pop culture reference guide.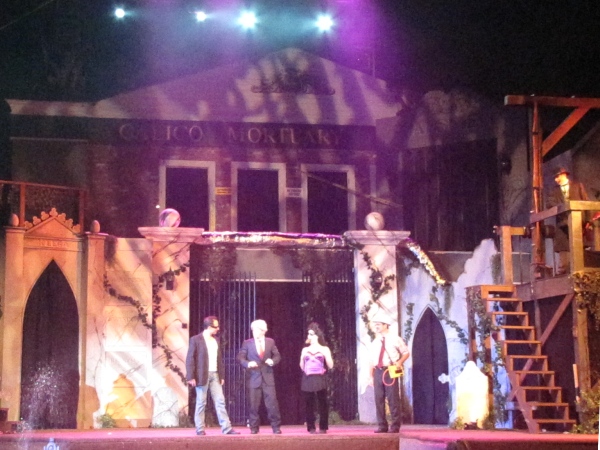 My water fountain show at Knott's (which was called "Laser Music Madness" for Haunt) was retired several years ago (to make room for a new roller coaster).  Each year at Haunt I visit the site near the old lake where the fountain used to be and recall fondly times and friends past (that's what us older folks do).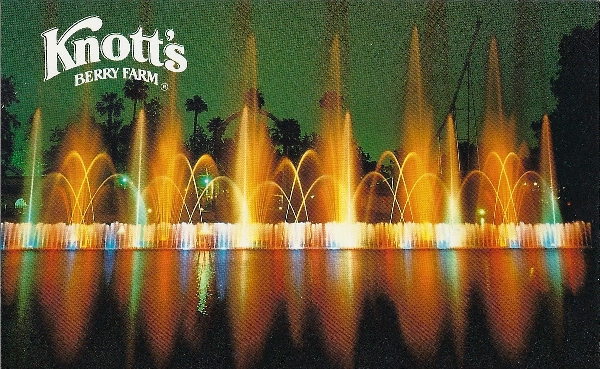 But this year part of my legacy returned!  During "The Hanging", the performers started making reference to Disney and the "Wonderful World of Water" (pun).  The next thing you know, a miniature dancing waters style fountain appears in front of the stage.  It waves and spins jets of water from side to side accompanied by a parody of Disney's "World of Color" theme.  I roared and applauded.  It was wonderfully cheesy.  I found out later that the jets used for the fountain in "The Hanging" were from my original fountain show!  What a wonderful tribute.  I'm so proud.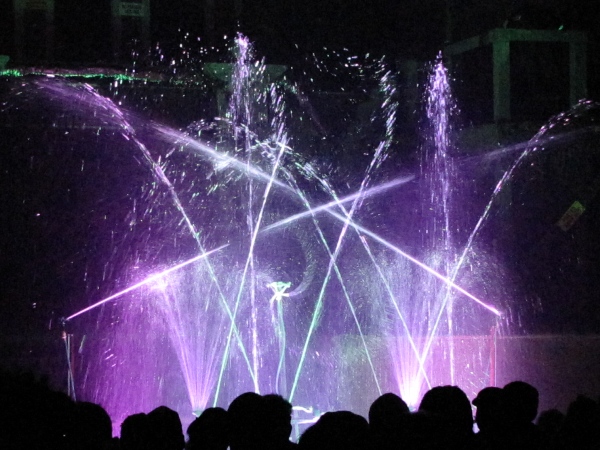 There are also several other smaller shows including "Inferno" (which features fire jugglers), "Zamora's Sideshow of the Horrors" (broken glass walking, etc.), "Blood Drums" (a steel drum troupe), "Hacks!" (improv comedy) and the "Hypnochick".  As they say, there is something for everyone.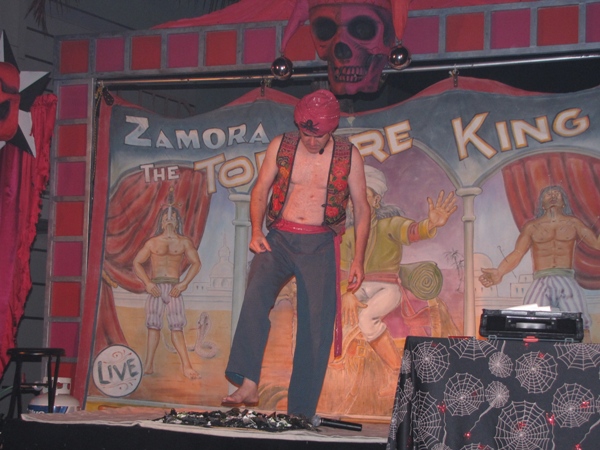 As the evening progressed I managed to visit all the mazes including "Fallout Shelter (in 3D)" and "Virus Z" (both new this year), "The Labyrinth", "Dia de los Muertos", "The Slaughterhouse" and "Corn Stalkers".  It's almost too much to comprehend; each maze has so many different scenes and effects.  By the end of the evening I was dizzy with everything that I had encountered.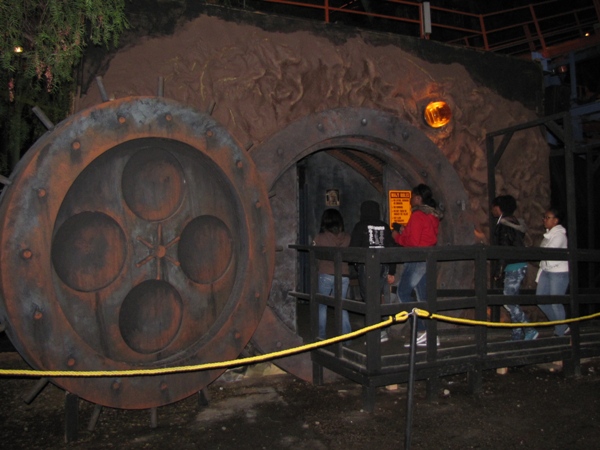 Most of the other regular Knott's attractions are also open.  And there are plenty of food options available from full meals (I recommend the Fireman's Brigade Barbeque near Ghost Town), to quick service to snacks.  Don't forget to get the signature Knott's Boysenberry Punch (yum!) and a funnel cake (best anywhere).
All in all, it's tough to get to see everything at Haunt in one evening.  The smaller weekday crowds helped, but even so I couldn't catch all the attractions and shows.  I have previously taken two evening to see everything at Haunt and that allows you enough time to really enjoy everything.  Otherwise plan your activities and watch the queue line sizes.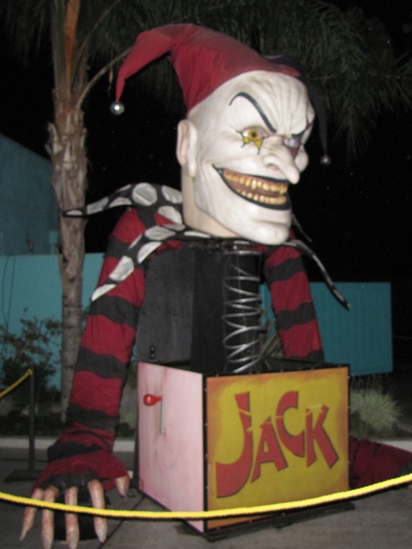 Haunt ends promptly at closing time, so I made my way to the entrance area a little ahead of time (I didn't want to lose the atmosphere).  Just before heading through the exit I turned around and fondly looked at the Ghost Town sign.
I'll be back next year.  After all, as they used to say at Haunt, "Everyone has to go sometime!"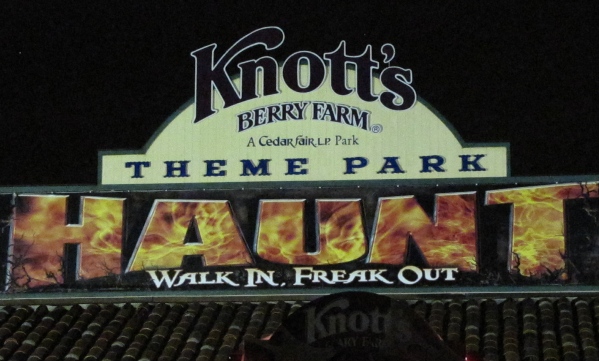 (Photography by W. Toigo and Knott's Berry Farm.)
Category: Disneyland