There will be plenty of opportunity for basketball fans to get their fix Thanksgiving Weekend at Walt Disney World.  The Harlem Globetrotters return to the ESPN Wide World of Sports complex for two games Saturday, November 27, 2010.  The Globetrotters game is embedded in the middle of the 5th Annual Old Spice Classic November 25-28.  The Classic is a preseason NCAA Division I Men's Basketball Tournament featuring 5 NCAA Tournament teams.  Continue after the break for more details on both events as well as video highlights from the Globetrotters previous performance at Walt Disney World.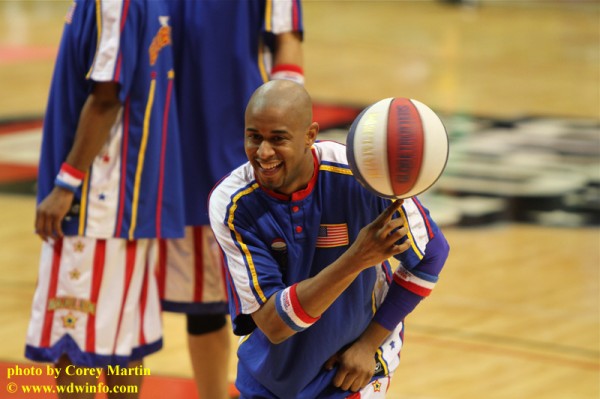 The Harlem Globetrotters played at the re-launch of ESPN Wide World of Sports Complex in February 2010 in a game that featured a bevy of ESPN on-air personalities and sports celebrities.
The Harlem Globetrotters Holiday Special Event occurs the Saturday after Thanksgiving with an afternoon matinee at 2 pm followed by an evening game at 7 pm.  For those not in the area, one of the games will be broadcast on ESPN2.  Tickets are currently available, and can be purchased through all Ticketmaster outlets.  Ticket prices range from $25 – $75.  Our family watched the broadcast of the Globetrotters game from Walt Disney World in February, and really enjoyed it – especially seeing "Flight Time" and "Big Easy", two of our favorite competitors from The Amazing Race.
For those looking for more competitive basketball, the Old Spice Classic will feature some of the top NCAA Division I Men's basketball teams in the country with a field including 5 previous NCAA Tournament teams.  Boston College, California, Georgia, Manhattan, Notre Dame, Temple, Texas A&M and Wisconsin are all in the 2010 field.  Teams will compete in a 3-day tournament with the winner crowned in a championship game on Sunday, November 28th.  For more event information, schedules and to purchase tickets, visit oldspiceclassic.com.
Category: Disney World