Grammy-winning, Emmy-winning, and 4 time Oscar-nominated musician and songwriter Danny Elfman is scheduled to make a rare appearance on Thursday, October 21, 2010 at the El Capitan Theatre.  The event is part of the opening night festivities for the re-release of Tim Burton's "The Nightmare Before Christmas."  Elfman composed the score for the 1993 film, and is also the singing voice for the Pumpkin King himself, Jack Skellington.  The opening night festivities will be hosted by filmmaker Don Hahn – producer of beloved Disney films such as "Beauty and the Beast" and "The Lion King", and director of the recent documentary "Waking Sleeping Beauty."  Continue after the break for full details of the event.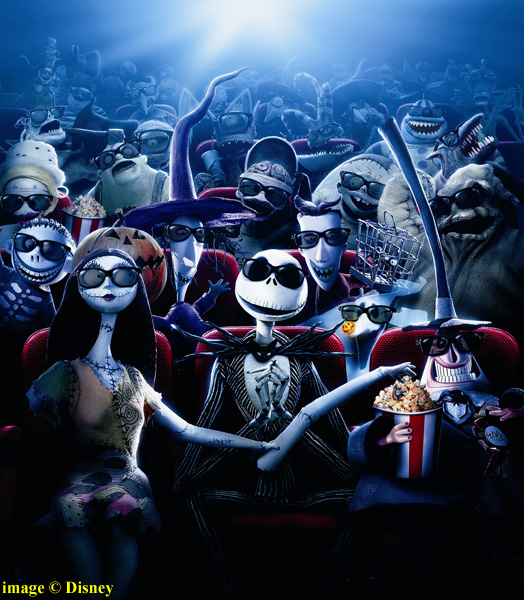 For the past few years, the screening of "Tim Burton's: The Nightmare Before Christmas" at El Capitan has become a Hollywood Halloween tradition; this year Disney plussed the experience even more.  In addition to the Digital 3-D version that debuted in 2006, there will also be new 4-D effects including wind, snow, and fog.  The film runs from October 21-31, and tickets can be purchased at the El Capitan box office (6838 Hollywood Blvd), online at www.elcapitantickets.com, or by calling 1-800-DISNEY6.
Disney's Soda Fountain and Studio Store, located next door to the theater, will offer a special "Pumpkin King Dinner" on select days for $25.00/person (including tax and gratuity; reservation must include movie ticket).  Price includes dinner (view menu here), cupcake decorating, commemorative photo, and special gift.  Seating is limited and reservations are required.
During Danny Elfman's appearance on Thursday, October 21 at 7:00 pm, he will premiere material from the soon-to-be-released "Danny Elfman & Tim Burton 25th Anniversary Music Box" a collection of 16 CDs containing over 19 hours of music from all 13 Burton/Elfman films.  Also included in the set is artwork by Tim Burton, a working zoetrope with Burton/Elfman artwork strips, a 250+ page book with foreword by Johnny Depp, and a bonus DVD featuring a conversation between Danny Elfman and Tim Burton as they discuss each film and score of their 25 year collaboration.  Danny Elfman's work with Tim Burton began in 1985 when he was pulled from his band Oingo Boingo to score "Pee-wee's Big Adventure" and continues to this day with Burton's upcoming stop motion feature, "Frankenweenie" to be released by Disney.
Category: Disneyland, News