We've wanted to visit Discovery Cove ever since we first heard about it, and it was everything we were looking for while on vacation – intimate, uncrowded, and relaxing.  Continue after the break to learn more about our day in paradise snorkeling with tropical fishes and rays, swimming with dolphins, and drifting down the laziest of rivers at this Orlando oasis.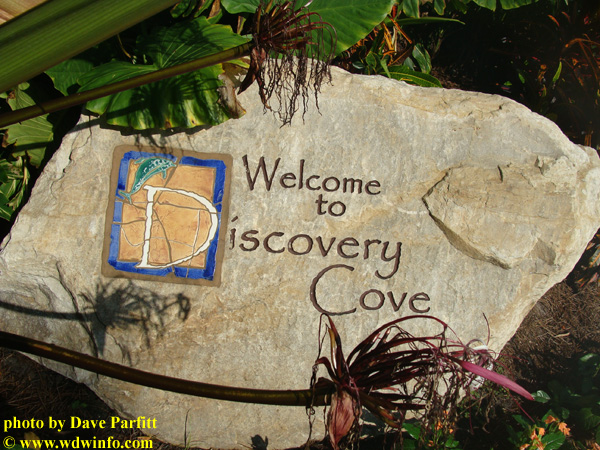 Let me state upfront that Discovery Cove is not an inexpensive experience; admission rates vary seasonally but hover around $250-$275 per person, including the dolphin experience.  Attendance for the "boutique" park is limited to around 1,000 guests in order to limit crowding and ensure an intimate experience.  Therefore, partly because of the limited ticket supply, discounts are few and far between.  However, if you are diligent and keep your eyes open, deals can be found.  Last summer, a special discount was offered through the Discover America website – the official travel and tourism website of the United States.  Around 300 Discovery Cove tickets including the dolphin experience were offered for $179 until they were gone.  Knowing we wanted to go, I jumped on them.  It was still a splurge for our family, but consider this – a 1 day Discovery Cove ticket price also includes unlimited admission for 14 days to one of Discovery Cove's "sister" parks: SeaWorld Orlando, Aquatica, or Busch Gardens Tampa.  As we were going during a hot, hot August, we chose the Aquatica waterpark for our other park admission during our vacation.  As a 7-day, non-parkhopping Magic-Your-Way ticket to Walt Disney World can cost ~$250 for ages 9 and up, $179 was palatable for admission to both Discovery Cove and Aquatica.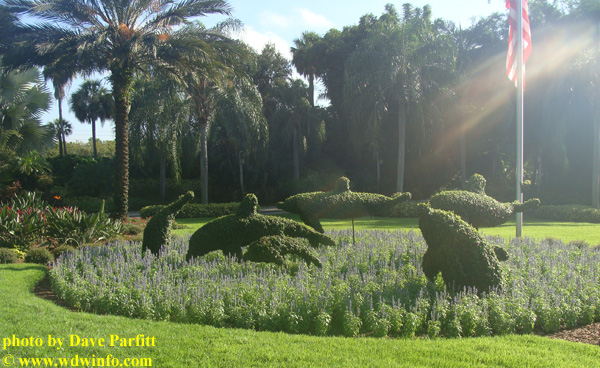 The hours for Discovery Cove are 9 am-5:30 pm.  We wanted to make full use of our day, and arrived promptly at 9:00 am.  Our family checked in and received badges with a map of the park.  Next, a time was assigned for our family's dolphin experience; 3:00 pm – excellent, we looked forward to having it cap off our day.  We exited out the back of the reception hall, and were engulfed by the lush landscape.  I exhaled and instantly started to relax.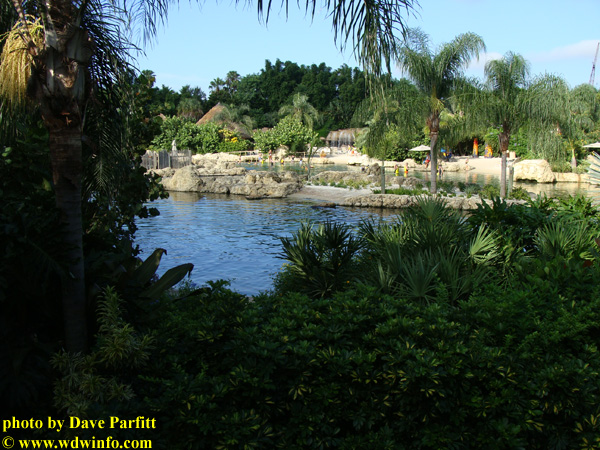 A winding tropical path served as a transition area and surrounded us with copious varieties of tropical plants.  We stopped for our complimentary family portrait that we could pick up later in the day.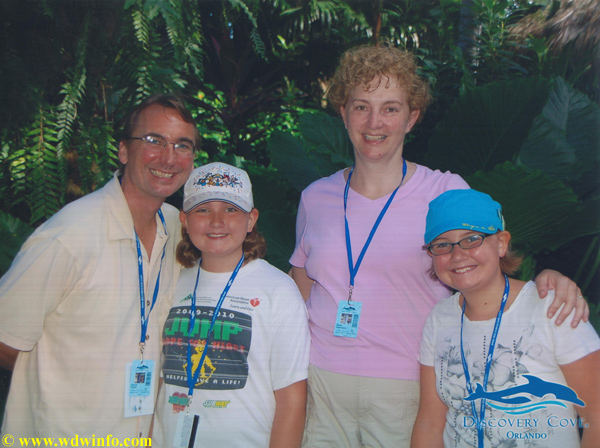 Included in our admission was a continental breakfast as well as a full buffet lunch and unlimited snacks and drinks (including beer and wine if you so choose) – we were ready to fuel up for our day of swimming.  Breakfast included a variety of pastries, muffins, and cereal.  Evie (our 9 year old) helped herself to 2 muffins, 2 cinnamon rolls, Frosted Flakes, and orange juice… sigh… oh well, it's vacation.  Breakfast options also included yogurt and fresh fruit.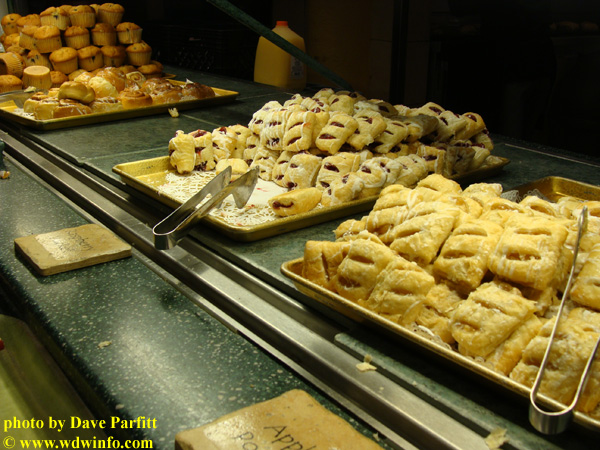 The grounds of Discovery Cove were gorgeous.  The Laguna Grill was covered with a thatched roof, and the outdoor seating area was surrounded by foliage and plantings in tile mosaic pots.  Immersion in the natural world was a welcome contrast to some of the hectic, jangled, overstimulating theme park environments of central Florida.  After breakfast we were fitted with swim vests, received masks and snorkels, changed into our swimming suits, and lathered up with the animal/eco-friendly sunscreen provided.  This sunscreen was essential for the unrelenting August sun.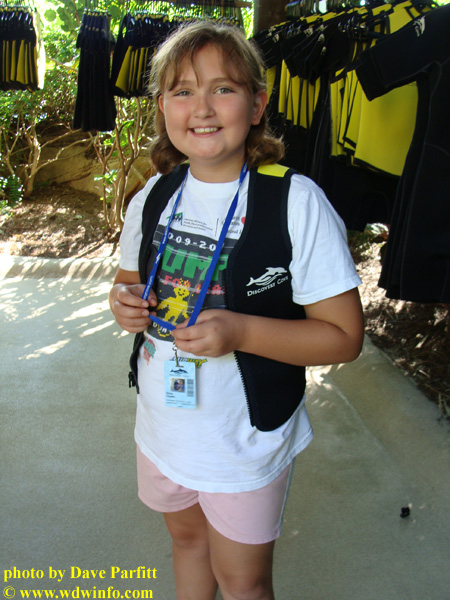 The area where we received our swim gear was the only time we experienced any crowding.  Everyone descended on the changing area and lockers at the same time, and our oldest daughter was a little overwhelmed with the people.  However, once we stowed our gear in a locker, we entered the water and any worries were whisked away in the tropical river.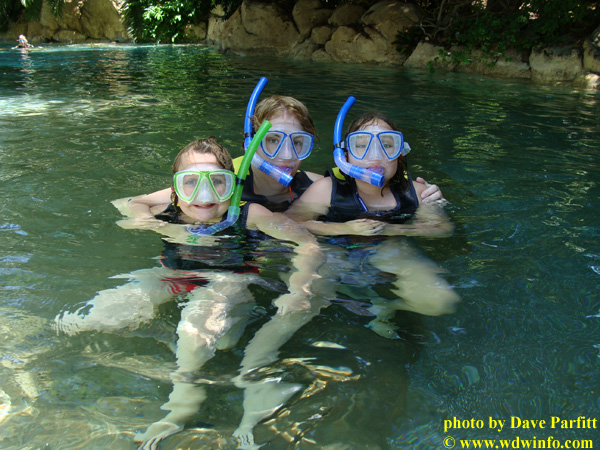 This was by far the most extensive "lazy" river our family had ever experienced.  The river was warm pool water (not salt water), and flowed through different environments of the park including: a sunny, sandy beach (where we entered), a cave underneath a waterfall, and finally a dense tropical forest.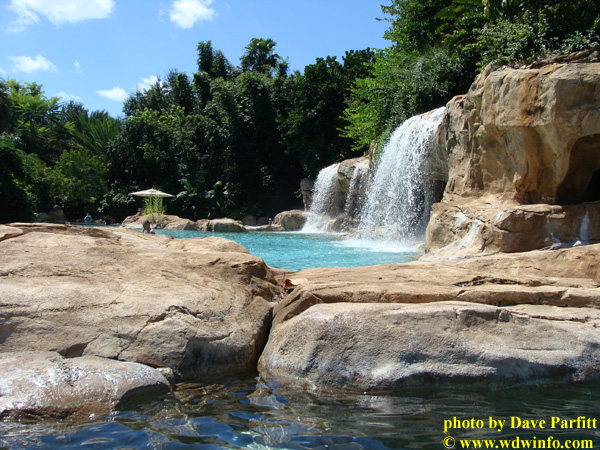 As the river meandered through the park, you passed through the aviary and alongside the coral reef – where swimmers could gaze through windows at schools of tropical fish.  Some portions of the river were deep, and flotation devices were available free of charge.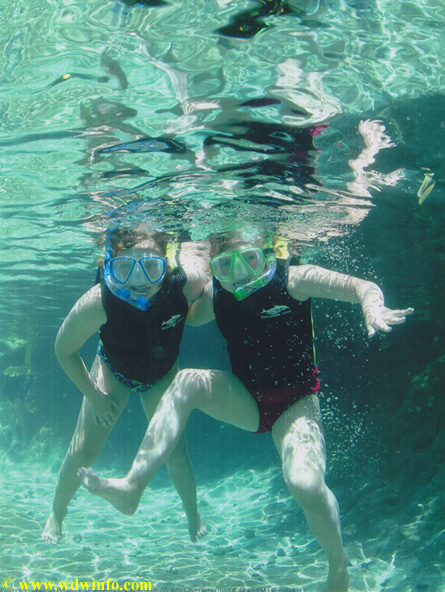 The river was an excellent way to orient ourselves to the layout of the park and just cool off.  After one circuit, we decided to go back to the Explorer's Aviary.  We drifted along until we reached the bird sanctuary where we were surrounded by brilliant colored birds flying overhead and a chorus of birdsong filling our ears.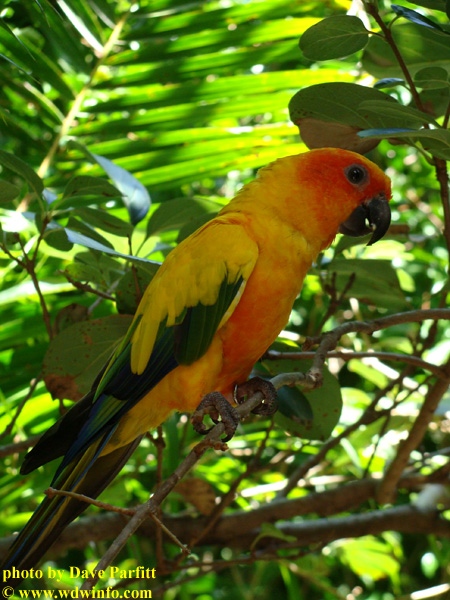 The aviary housed over 90 species of birds, and guests were encouraged to touch and mingle with the feathered friends.  Discovery Cove animal trainers were stationed within the aviary and answered questions about the birds and also passed out food.  If you were lucky, a bird would land on you and take food from your hand.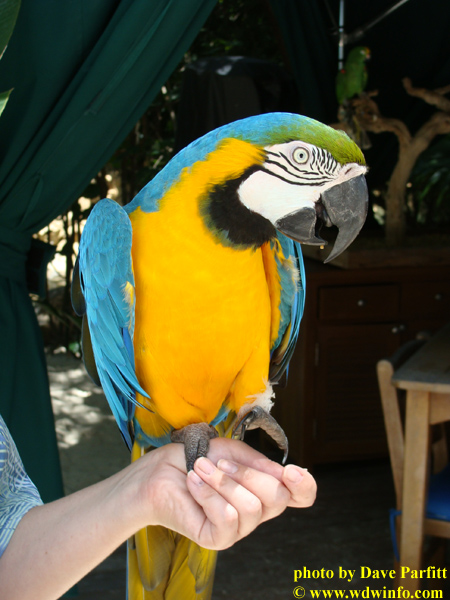 After enjoying the birds, we hopped back in the river and floated to the coral reef.  It was fun to let the lazy river transport us where we wanted to go.  The Tropical Reef was where we snorkeled with the sea creatures.  The water in this salt water swim area felt cold, but was maintained at 76 degrees (F) the optimal temperature for the animals in the environment.  We quickly adjusted to the water temperature, and were transported into another world filled with darting fishes and graceful rays.  There were over 10,000 tropical fish of various colors including parrot fish, angel fish, and butterfly fish, but the stars of the show were the rays.  They commanded full attention when they swooped past.  It was mesmerizing to watch the animals and explore the man-made coral formations in the crystal clear water, and the Tropical Reef quickly became a family favorite.  Discovery Cove recently announced the addition of a new Grand Reef for 2011, and I can't wait to go back to see the new area once it opens.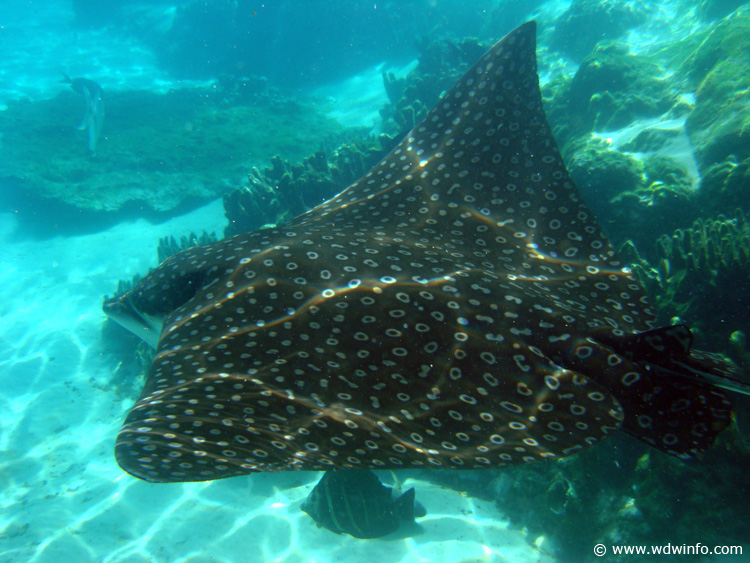 The up-close animal encounters were our favorite parts of Discovery Cove, and they were plentiful throughout the day.  As was the food, and it was time for lunch!  The buffet lunch had an assortment of salads (shrimp, Cobb, and chicken Caesar), hearty entrees (salmon, pasta primavera, and moho chicken and rice), burgers (cheeseburger, turkey, and veggie), and kids' fare (hot dogs, chicken fingers, etc.).  There was also a wide variety of desserts to pick from including: chocolate cake, cheesecake, red velvet cake, cupcakes, key lime pie, and fruit.  We selected our food, found a shady table, and were serenaded by a steel drum calypso band.
After lunch we made our way to the ray pool – a shallow saltwater lagoon filled with Cownose rays.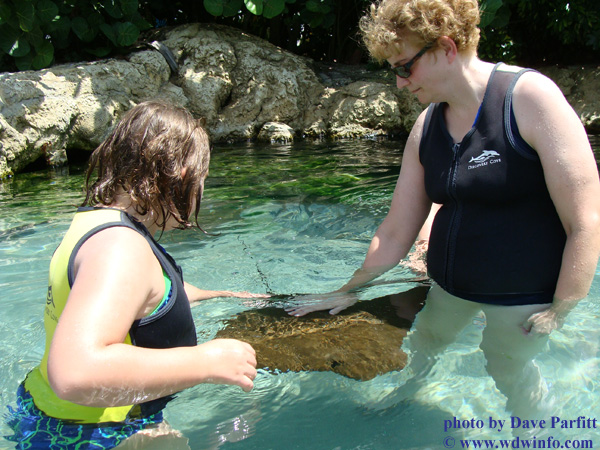 Our family chuckled at how the rays were like family cats winding around your legs and rubbing up against us.  Their skin was soft and velvety, and there was plenty of opportunities to stroke them.  They swam between us and next to us flapping their fins to give a splash.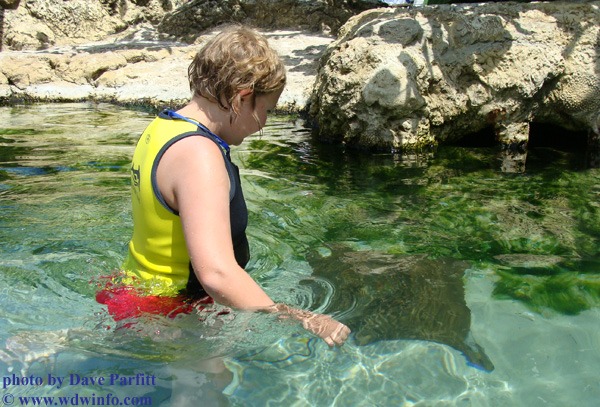 Before we knew it, it was time to make our way over for our dolphin encounter.  The 30-minute dolphin experience started with a talk by a trainer who educated our group about the animal we were about to meet.  We were then broken up into "pods" of 6-8 people, walked down to the lagoon, and waded into the water.  We met a single dolphin, gave it a rub-down, hug, and kiss, and ended our encounter with a dolphin fin tow ride.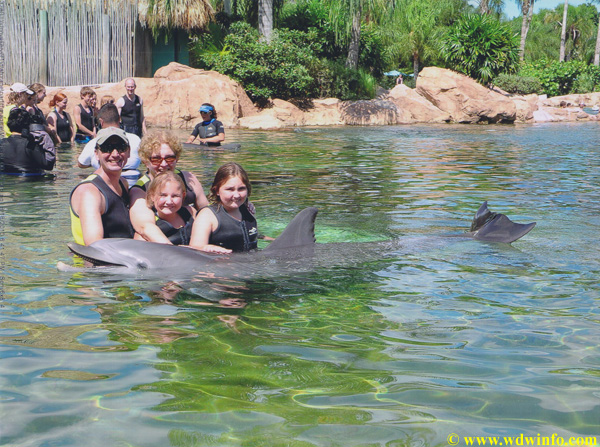 The dolphin encounter flew by in the blink of an eye, and afterward we realized our day at Discovery Cove was drawing to a close.  We talked about how we wanted to spend the remainder of our time.  Our girls went back to the lazy river while my wife and I glided hand-in-hand through the coral reef.  Before long, the lifeguards were beckoning that it was 5:30 pm and the park was closing.  It was the perfect end to our day in paradise.  Was it worth the money for this family splurge?  Every bit!
Have you gone to Discovery Cove?  What was your experience?  Log in with your DISboards username and password to leave a comment below.
Disclosure: As of December 2009, the Federal Trade Commission requires disclosure of any payments or considerations.  Everything described in this article was paid for by David Parfitt and his family.
Category: Sea World