Sure, we know Walt Disney World caters to children and families, but there are many places to relax with an adult beverage or two.  Resortwide, there are nearly 300 expert wine sommeliers – more than any other location in the world, and it's not just wine where Disney excels.  As one might expect at Disney, even the cocktails are themed.  Luciano Sperduto is the Assistant Director of Food and Beverage at the Walt Disney World Swan and Dolphin Resort, and Doug Draper is the General Manager of Todd English's bluezoo.  Together they told me about the philosophy behind their beverage program at the resort that includes some of the most unique cocktails I've ever seen.  Continue after the break to learn more about concoctions such as the bacon bourbon, Bazooka Joe martini, and the Burnt Orange.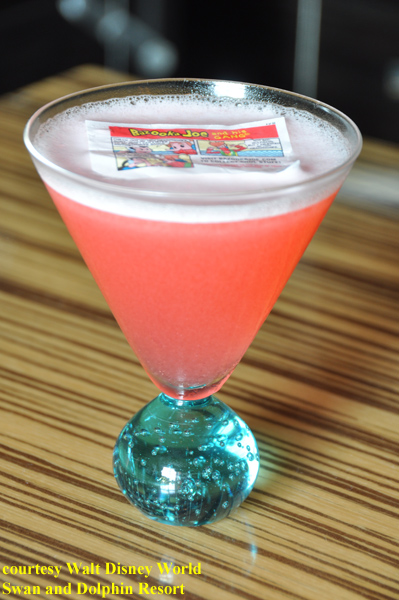 Image: bluezoo's Bazooka Joe Martini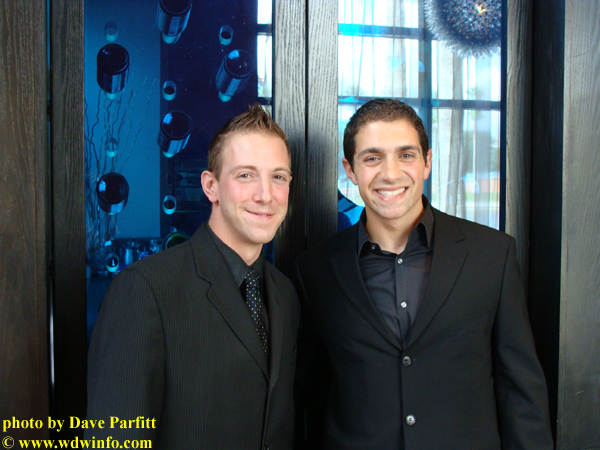 Image: (left) Doug Draper, General Manager of Todd English's bluezoo and (right) Luciano Sperduto Assistant Director of Food and Beverage, Walt Disney World Swan and Dolphin
Luciano Sperduto is the highly trained expert who leads the innovative beverage program.  He's a certified expert wine sommelier, but does not stop at the expertise in wine.  There is also a sommelier-type title for spirits and cocktails called B.A.R. (Beverage Alcohol Resource) certification.  The Swan/Dolphin's Sperduto is one of only 54 B.A.R. certified professionals in the country.  He completed the rigorous accreditation process that included blind taste-testing numerous spirits and cocktails as well as passing the bartending practicum (where can I sign up for these classes?).  Luciano uses his knowledge to develop signature cocktails themed specifically for each of the 17 different restaurants and lounges throughout the Walt Disney World Swan and Dolphin Resort.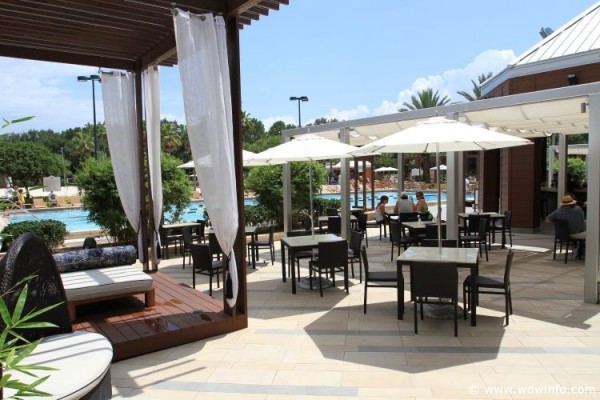 Image: Cabana Bar and Beach Club
Like a Walt Disney Imagineer, Sperduto researches the backstory for each drink and comes up with an appropriate theme for each establishment.  For example, the Cabana Bar and Beach Club has a sleek, contemporary South Beach style adjacent to the Dolphin pool.  The illuminated bar serves drinks from a tiki themed cocktail menu.  Sperduto dug up the original mai tai recipe right down to the authentic tiki mugs to serve the drink.  Shula's Steak House has more of a men's club feel filled with dark woods and leather chairs.  Shula's drink menu contains classic cocktails such as a Moscow Mule served in a traditional copper cup with crushed ice and fresh ginger beer.  Todd English's bluezoo does an eclectic modern mixology in their ultra lounge.  Here you find mixologists using liquid nitrogen and new age nuances for cocktails putting a new spin on traditional drinks.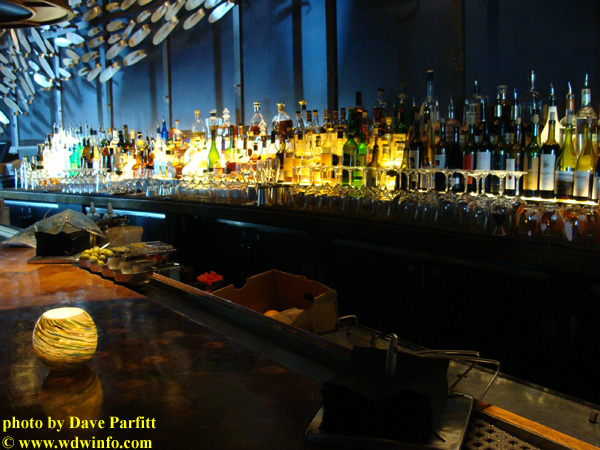 Image: Bar at Todd English's bluezoo
Doug Draper is the mixologist in charge of the drinks you find at bluezoo, and commented that they search for different interpretations on traditional cocktails.  He'll take the base spirit and infuse them with a different flavor in order to add a twist to the experience.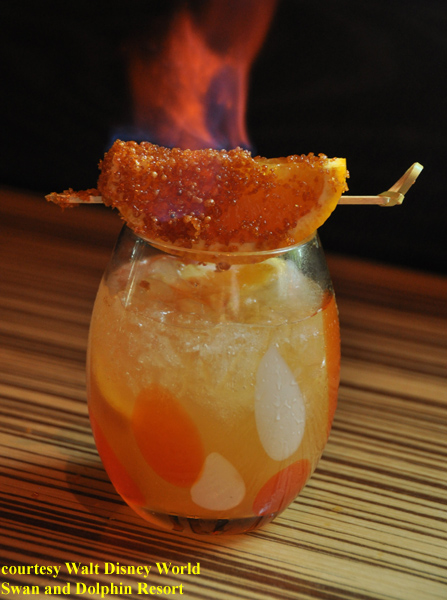 Image: bluezoo's Burnt Orange cocktail
Draper collaborated with the Swan/Dolphin's 2x World Champion Pastry Chef Laurent Branlard to create the Burnt Orange cocktail.  Branlard developed a special sugar used to brûlée an orange that is then muddled into the drink.  To that base, Draper adds high-end tequila, Grand Marnier, and tops it with a second brûléed orange.  When it's served, guests smell the caramelization of the sugar and flaming orange.  There is a complete sensory experience in addition to the alcoholic cocktail itself.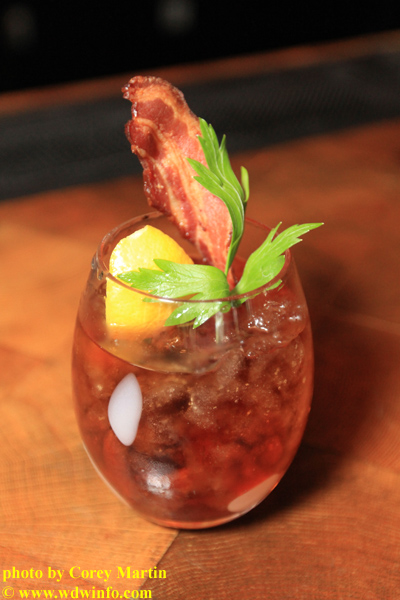 Image: bluezoo's Bacon Bourbon
Doug noted, "We're really into bacon."  Of course, who isn't?  However, at Todd English's bluezoo, their chef heavily utilizes Mangalitsa pork into their recipes.  The Mangalitsa is a Hungarian woolly pig known for leaner meat, and at bluezoo they use it to create their own in-house bacon and pork belly.  This inspired Doug to make a traditional, bourbon soaked southern barbecue, and he infused the bourbon with bacon adding more of the smoky flavor to the spirit.  Draper also created a barbecue bourbon where the liquor is infused with the barbecue sauce.   Draper's betting these are flavors guests can only experience at Todd English's bluezoo as he doubts anyone has barbecue bourbon or bacon bourbon at home.
If you want to find out more about these cocktails, and maybe sample some as well, Doug Draper will be educating guests in his "Modern Mixology" seminar October 8th and 9th at the Inaugural Walt Disney World Swan and Dolphin Food and Wine Classic.  This event is a mini food and wine festival occurring on the causeway between the two hotels, and taking place alongside (but separate from) the Epcot International Food and Wine Festival.  In addition to showcasing the Swan/Dolphin's numerous sommelier and beverage experts, it will also highlight the chefs and cuisine of the resort's numerous signature restaurants.
Category: Disney World