On September 24th and 25th, 2010, Disney's official fan club, D23, celebrated the history of the original Disney theme park with an event in Anaheim called Destination D: Disneyland '55.  Disneyland Correspondent Tom Bell was on hand to cover the event, and said one of the highlights of the first day was a concert called "E-Ticket: Music from Disney Parks" featuring Disney songwriting Legend Richard Sherman along with a number of special guests including actor, singer, and puppeteer, John Tartaglia.  Before the concert, John chatted with me about a range of topics from Disney to performing on Broadway to his new Off-Broadway production "ImaginOcean." Continue after the break to read (and listen to) my interview with Broadway and television star John Tartaglia.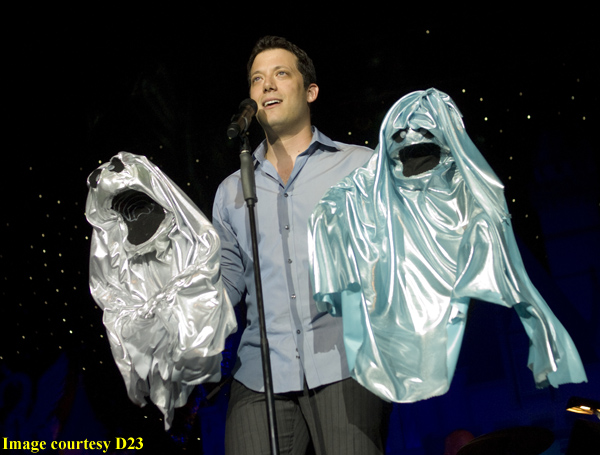 Image: John Tartaglia sang "Grim Grinning Ghosts" with puppets Friday, September 24th at Disneyland during D23's Destination D: Disneyland '55 fan gathering

1. Click here to listen to the interview with John Tartaglia



John Tartaglia may be best known to Disney fans as "Johnny" from Playhouse Disney's "Johnny and the Sprites", but he is also an acclaimed Broadway star receiving a Tony Award nomination in 2004 for his role in the musical "Avenue Q."  He made no secret of his love of Disney – especially the theme parks.  He started our conversation talking about extending his trip to Disneyland to play in the parks, and how on the day of his concert he got up early just to get some rides in before rehearsal.  "Any excuse to go to a Disney Park is a good excuse!" John exclaimed.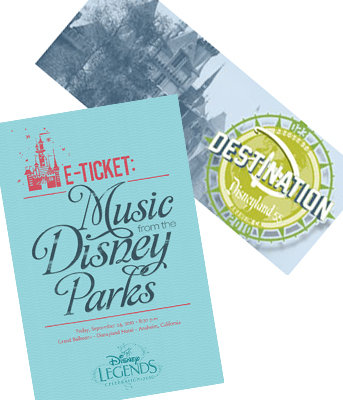 The concert, "E-Ticket: Music from the Disney Parks", was held Friday, Sept. 24th and included an appearance by Disney Legend Richard Sherman.  I asked John his reaction to performing with someone responsible for so much of the iconic music of Disney and the theme parks.  John said it was an honor because he was such a huge fan of Richard Sherman's work.  He also said this was not their first meeting:
"I got to actually meet Richard back at the 50th Anniversary of Disneyland, and he was very gracious and so kind.  It's so nice to work with someone who's done so much to impact the world and the kids of the world.  I'm very lucky to be able to do that."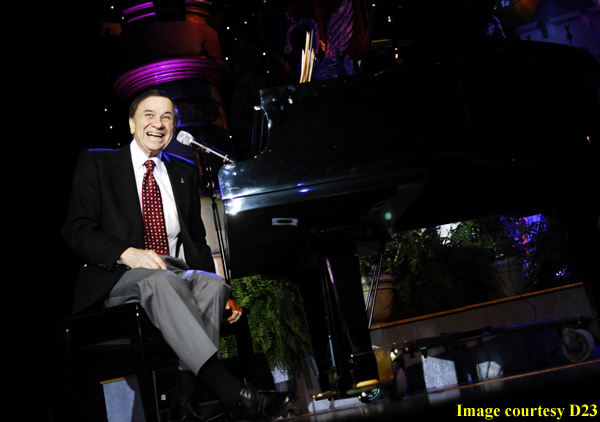 Image: Disney Songwriting Legend Richard Sherman headlined the "E-Ticket: Music from the Disney Parks" concert on Friday, September 24th at the Disneyland Hotel
John Tartaglia was practically a kid himself when his career started on "Sesame Street" at the age of 16.  His television show "Johnny and the Sprites" ran on the Disney Channel from 2005-2009, but he is extremely comfortable performing on stage in front of a live audience.  He was part of the original cast for the Tony Award winning Broadway musical "Avenue Q" (2004 Tony Awards for Best Musical, Book, and Score), and was nominated for the Tony Award for best actor (won that year by Hugh Jackman in "The Boy from Oz").  His Broadway credits also include Lumiere in "Beauty and the Beast" and Pinocchio in "Shrek the Musical".  I asked if it was difficult transitioning between children's television and Broadway theater?  He said they both have challenges, but John enjoyed the variety of having multiple venues for his skills in live acting, television work, and puppeteering.  Regarding the rush of appearing on a Broadway stage, he struggled to put words to the experience.
"There's nothing like Broadway.  There's this great energy that happens between the audience and the people up on stage, and when you realize the history of Broadway, and you realize how many other great people have been up there, and the fact that you get to be part of that and share in that, it's just amazing."
"Avenue Q" was John's first Broadway show, and many of his friends told him to treasure that first night because you could never recapture those feelings.  The show was particularly special to him because he had been a part of it from its inception including: the readings, workshops, Off-Broadway performances, and, ultimately, Broadway itself.  "Avenue Q" was never intended to end up on Broadway, and knowing he was the first person to ever speak those lines and sing those phrases on a Broadway stage made it that much more magical to John.
Image: John Tartaglia's ImaginOcean currently plays at New World Stages Off-Broadway
Similar to "Avenue Q", John Tartaglia's current production has ended up somewhere he never thought it would.  "ImaginOcean" is currently performing Off-Broadway in the New World Stages, but was originally created for Royal Caribbean Cruise Line's "Oasis of the Seas."  The show was so well-received by the cruise ship audiences the opportunity arose to expand it into a proper show and move it to an Off-Broadway theater.  "ImaginOcean" is a 1 hour musical designed to be a first musical for children.  Oftentimes, there are children 2 years old or younger in the audience.  The story centers around 3 fish that live in the ocean together and go off to find a treasure.  Along the way they find friendship, acceptance, tolerance, and appreciation of each other's differences.  The story illustrates things that make the fish unique as well as the things that unite them.  The production is done entirely in black light puppetry and appears to be floating under water.  For those familiar with "Voyage of the Little Mermaid" in Disney's Hollywood Studios, there are some similar black light puppetry effects that simulate an underwater environment in that show.  Also, because John is such a fan of Disney Parks, "ImaginOcean" incorporates many interactive elements and theater effects to play with the audience such as: squirting water, glow in the dark bubbles, characters coming out over the children's heads, etc.
Much of John's career has involved puppetry including: "Sesame Street", "Johnny and the Sprites", "Avenue Q", and his newest show "ImaginOcean".  His interest in puppets was sparked watching the Muppets, and from an early age he wanted to be a puppeteer.  John elaborated,
"I watched the Muppets religiously as a kid and became completely entranced by them.  I knew it was something that I always wanted to do.  I had performed as a kid and always wanted to be on stage.  I was definitely a performer from birth, and puppetry was just one more way to have an excuse to perform characters and voices – you can get away with a lot with a puppet on your hand.  It allowed me to say things and do things I wouldn't have otherwise to get a laugh.  It was a great way to hone my character skills."
Because of "Avenue Q", John's introduction to a large audience was with a puppet on his hand, and now puppets are commonly associated with him as an actor.  However, he's not concerned about type-casting,
"I'm thrilled.  Some people may feel really resentful or pigeon-holed, but I'm very thankful.  It's allowed me to be unique and do my own thing.  I'm very happy because, basically, I'm doing exactly what I wanted to do."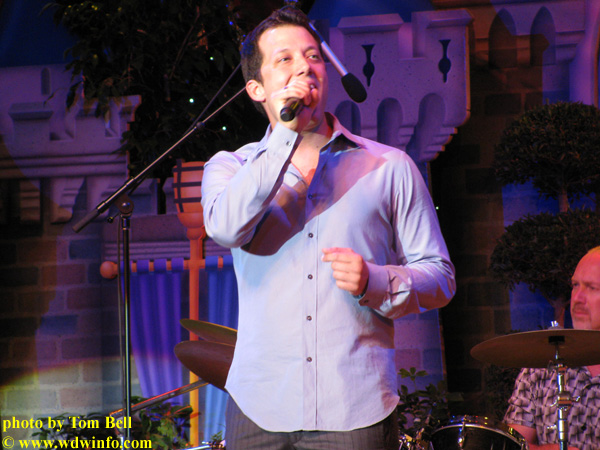 During Tartaglia's concert performance on Friday evening, he sang the theme song to the Haunted Mansion "Grim Grinning Ghosts (The Screaming Song)" with two ghost puppets.  The lyrics to "Grim Grinning Ghosts" were written by Walt Disney Imagineer X. Atencio who actually presented earlier during the Destination D event.  Next, Tracie Thoms ("Cold Case" and "Rent") joined John for a duet rendition of  "Golden Dream" (theme song from Epcot's "American Adventure" and exit music for Disneyland's "Great Moments with Mr. Lincoln").  Regarding Tartaglia's perfomance, Disneyland Correspondent Tom Bell said,
"Aside from Richard Sherman who is in another category all together, I think John Tartaglia was the best thing about 'E-Ticket: Music from the Disney Parks.'  He seemed very genuine when sharing his memories of Disneyland and you could tell he was really excited to be included."
As we wrapped up our conversation, and before John left to get back to his concert rehearsal, he shared his thoughts on seeing the World of Color nighttime spectacular at Disney California Adventure.
"It was just unbelievable.  I had seen a little of it on YouTube.  I wanted to see right away what everyone was talking about.  Certainly I thought it was beautiful when I watched online, but I didn't really appreciate it for what it was when I saw it last night.  It's just overwhelming.  It's just a beautiful, beautiful show.  It's something you have to see in person to understand it."
I want to thank John Tartaglia, the creator, writer, and producer for ImaginOcean playing Off-Broadway in the New World Stages for taking the time to speak with me before the "E-Ticket: Music from the Parks" concert on Friday, September 24th at the Disneyland Hotel during D23's Destination D event.  For more information about the D23's event, be sure to check out Tom Bell's reports from Day 1 and Day 2 of Destination D: Disneyland '55.
Category: Disneyland