See all of those runners in the photo below?  There are 14,000 of them, if you want to be precise – and that is a 4-lane road they are on.  They all gathered at 4AM on September 5, 2010 to run in the 5th Anniversary of the Disneyland Half Marathon at the Disneyland Resort in Anaheim, CA.    If you aren't a runner or fast walker, it's okay to keep reading.  I'm not one either and I'm not usually into it, but this event is different and if you are up for it, I'll take you through a story.
This isn't about all of those faces you see in the race photo below.  It's really about one guy – who's practically a brother-in-law to me, Thomas Moore.  He's a Disneyland geek, like you and me, but he's also what Disney considers to be a Legacy Runner.   These Legacy Runners are the men and women who have participated in and finished every single Disneyland Half Marathon.   There were around 570 of these folks in the crowd this year – which says a lot for the popularity of this event!    I'm proud to say that we've been there to cheer on all but his first adventure and this year was no exception to that.  Now, we don't get up at 4 am and head to the corral area with him these days, but we are there for as much of the race as a spectator on Disney property can be.
Come along with me as I take you through an ordinary guy's journey on this wild ride called the Disneyland Half Marathon.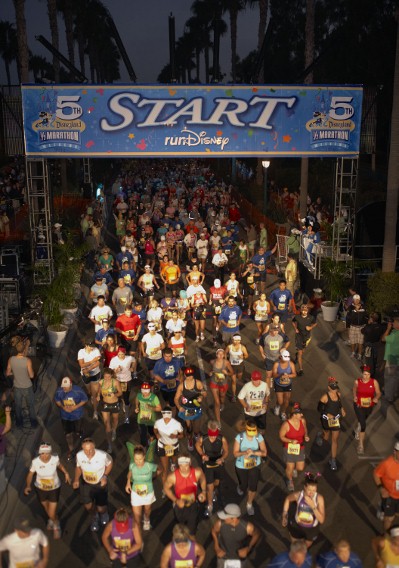 You've actually met Thomas before, if you read my blog on doing the Disneyland 5K.  His wife is the one that coerced us into that experience.  You should really read that one, too, as many of the things we saw were also part of the course for the Half Marathoners.   If you need to do that now, I'll be here when you come back.
…………………………………………………..Okay.  Ready?
The background scenery in the photo below is actually the 2nd level of the Disneyland Hotel Valet Parking Garage.   It's just covered in AstroTurf to make it look cool.    Let me try to explain how to read his bib he is so proudly Vanna Whiteing, as it's used for a couple things.  Runners, feel free to laugh if I get it wrong.
There were two bib types given out for this race.  The top left corner shows that Thomas is a Legacy Runner.  When he stumbles across the finish line and heads to the medallion rack, they will know to direct him to the special Legacy medallions that were made for these runners.  The bottom left shows Thomas' Corral assignment.  This is determined by the finish time that Thomas had in his last Half Marathon – something participants are required to enter upon registration.  The lower the letter, the faster the runner.  He's in B – that means he's not too shabby and should have an approximate finish time of around 2 hours and 30 minutes or so.  First timers actually go into the last corral, which I think is letter G.  Being in the last corral doesn't mean you'll come in last, though.  Each runner's time is judged by the transmitter they wear on their shoes – but you'll see that in a few photos….  Start in the last corral, do your best, and your time will move you into one of the other corrals next year!
Now, let's get back to that bib.  The runner's number and his first name are in the middle.  These are critical to keep track of him via computer, to make sure he can find his official race photos, and also for the crowd to give him encouragement throughout the race.    I'll talk more about that when we are in the heat of the race in a few photos.   Anyway, 36 hours after this photo was taken, this happily smirking guy got his road grit on and took it to the streets of Anaheim.  Keep this vision in your head, since he was icky afterward.  I didn't take photos.   Neither did his wife.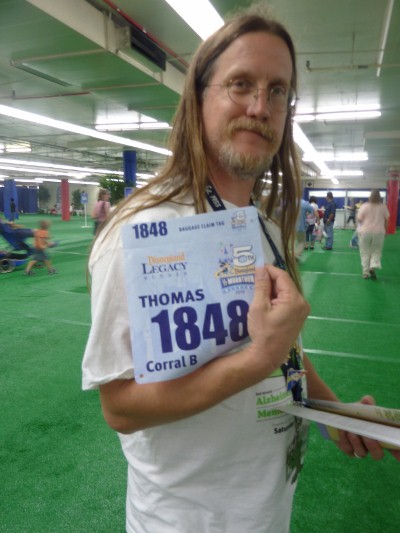 After we picked up everything for the race, it was time to plan pre-race activities.  One thing that Disneyland offers each year is Pasta In The Park.  Since a lot of runners come for just the brief duration of the event, this is really a great option when they otherwise might not have time for a full day of theme park attendance.  For $85 per adult and $65 per child age 3-9, you get a Twilight Ticket for park entrance into Disney California Adventure, an all you can eat pasta buffet in Soundstage 17 – the empty "Who Wants to be a Millionaire" building, and a chance to spend time with characters, a Fastpass, and priority viewing for World of Color.  We have never taken advantage of this event, as we have annual passes and don't think the cost for the meal alone is a value.   If you are only in for the day and have never seen a Disney theme park, I would say to go for it.
If you want to grab that ever-so-important pasta meal the night before the race and don't have a theme park ticket, you'll probably end up going to Naples Ristorante e Pizzeria.  Fair warning, though – make your reservations EARLY!  This is the most popular place to eat for race participants and lines can get long.  If you eat early (like we did) and don't have a large group, you shouldn't have too many problems, though.  For folks with park tickets, they can carb up on the tasty chicken Alfredo pasta that can be found at Redd Rockett's Pizza Port in Tomorrowland or the Plaza Inn on the end of Main Street, in the Hub.    We had some pretty tasty offerings at Naples, such as the gnocchi below, and our 5 runners were thrilled.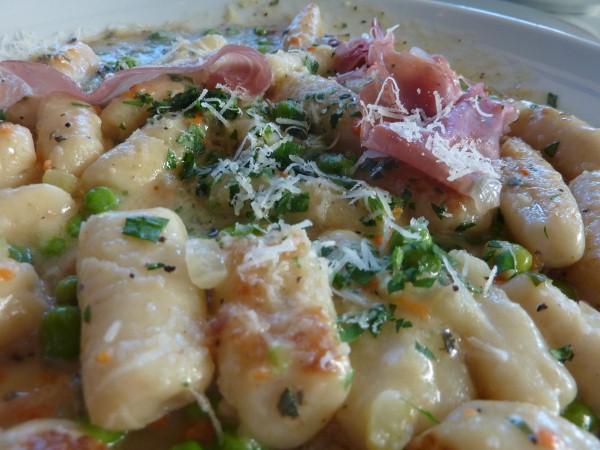 We retired to the Grand Californian for a quick viewing of World of Color from its Viewing Platform and called it a night – after all, 4:30 am comes awfully early for many – including us.  We were lucky enough to stay on Disney property, since it has the best access to getting a runner to the corrals in the morning.  It really doesn't require any brain power.  Thomas was out the door and to the corrals in a matter of 5 minutes or so.  Thomas likes to point out that folks who are staying off property really have to pay attention to how the road closures will affect their ability to get to the starting area in reasonable time, as the roads shut down around the parks and throughout Anaheim at 4:00 am.  If it's your first time doing the race and visiting Anaheim, this is important to find out BEFORE you settle on your hotel – especially if you are planning on arriving the day before the race.  That advice being given, we were still up and out the door by 5:30, thanks to our happy location.  You wouldn't believe how many runners are still scrambling through Downtown Disney to get to the corrals at the Mickey and Friends Parking Structure at that hour.  The race starts at 6:oo am people!  What are you doing next to World of Disney at 5:55 am????  Considering that is where we had planted ourselves, those folks were seriously late.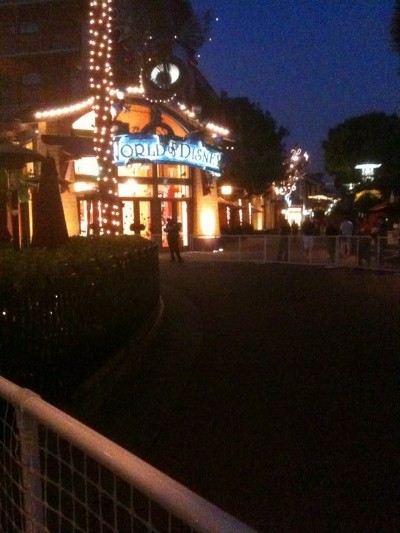 Okay, so this was where we tried to stake ourselves out – until they came over and reminded us that we would be completely stuck there until the very last person had passed through the California Adventure gates and through the Esplanade.  While the promise of a never ending supply of pastry, food, and coffee was indeed tempting, the awareness that there are no potties inside the La Brea Bakery promoted us to move over to the final viewing spot seen below – a few feet down the path and right in front of the security tents.  This way we could escape as needed!
Our wait was soon over, because the first of the corrals was being emptied – the Masters were coming.  Those folks are the ones who are "in it to win it".   The rest of the corrals were going to follow quickly!
Now, to be truthful, I wanted to show you the first runners that passed us by.  As you can tell above – we were there early.  We saw the pacing bicycle start the race.  We saw every "awesomely cool" racing wheelchair design pass us.  We saw the eventual winner out front.  I even saw the Disney Ninjas.  All of those photos stank like anything.  Sorry.  What I did get for you were a few photos of runners that I thought captured the spirit of the race.   I tell you, though – the company selling the red polka dotted running skirts makes a killing on these Disney races!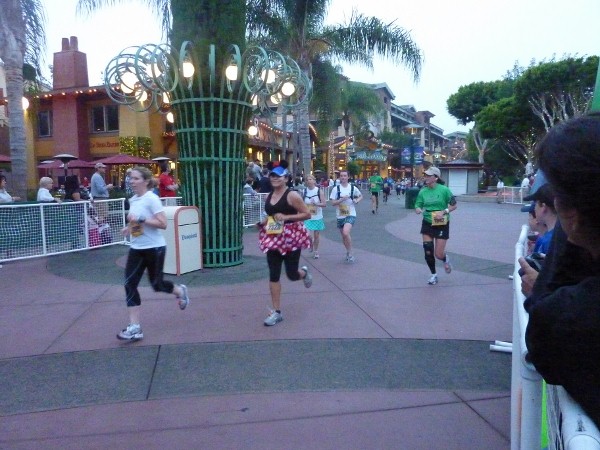 This group of slower runners was done as most of the Snow White characters.  It's a shame someone had to run in front of the Magic Mirror just as I took the photo (behind the girl in the light blue t-shirt). That was probably the most creative costume I saw!!!
Remember my comments about transmitters on the runners?  If you look really closely, you can see the orange tags on their shoes in this photo.  These are the radio transmitters that track time and allow folks in the crowd and at home to keep up with their runners via text message or email reports.  The runners pass various stations and the tag sends their number to a computer, thus allowing the tracking and other really cool things to happen.  Thomas talks about this more in our interview.  All I can say is we used the text messages to keep track of our folks to know when they were hitting the finish line and it worked really well.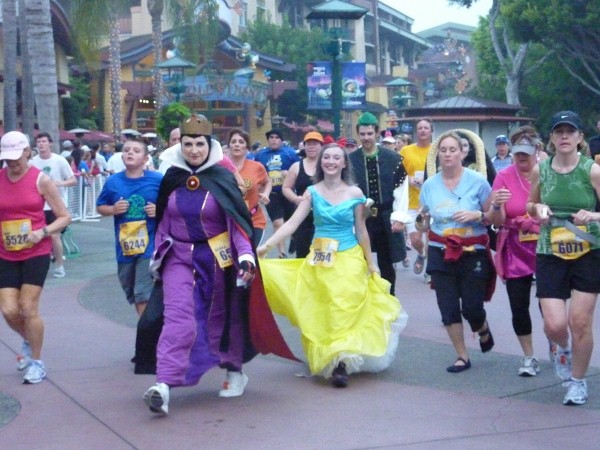 And of course, this wouldn't be a blog for the DIS without a shout out when one of our W.I.S.H. board members comes by!  As I mentioned in my Disneyland 5K blog, these folks are such an inspiration.    Many runners use internet boards, such as the DISboards,  to keep their motivation high, and ours are no exception!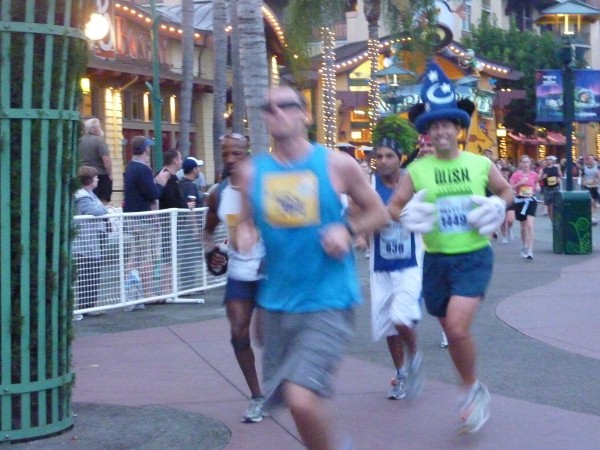 So now, you are probably asking where our hero, Thomas, is in all of this – why no photo of him?  Frankly – we barely got a glimpse!  Although we had been in touch before the start of the race – he thought we were still on the La Brea Bakery side.  Doh!  He crossed over and called to us as he went zipping by!   No photo op there!   He was doing extremely good time, however.  We had gone to the website given to us before the Expo and signed up for email tracking of our runners.  Sure enough, we received notification that he was doing a reasonable pace and was going to shave some time off last year's run.  Once we had seen our other runners pass by, we headed back to the hotel for breakfast.  I stopped to take a photo of where the runners come out of California Adventure.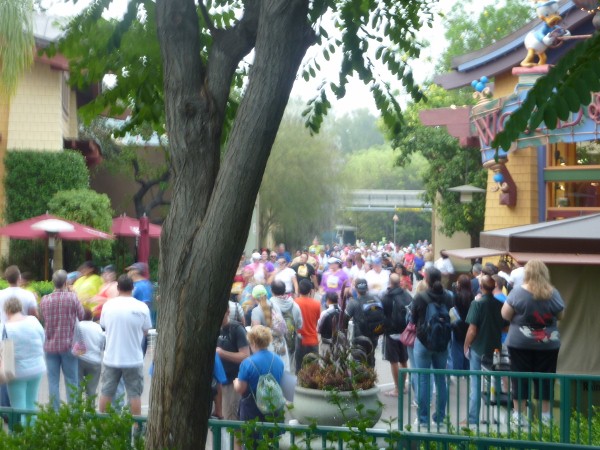 Now at this point – we only have the map and the tracking device to find out where Thomas is.   Therefore, I present to you the map of the course.  They were all headed into Disneyland Park when they passed us and from there, into the wild streets of Anaheim.  The following map is courtesy of DisneyRunning.com, where you can find maps and information from all the previous 5 races!  You can tell by the purple dotted line where our runners were scheduled to go.   Mile markers are even included in the little purple circles.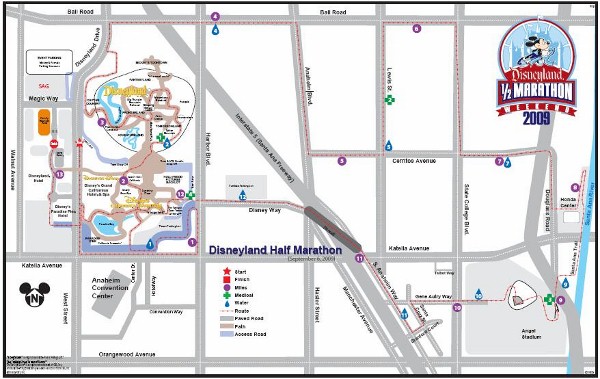 Several miles into the race, we get a call from Thomas – his calves are acting up.   There went his record time.  Most importantly, we wanted him to get back in one piece and not by the medic vehicle.  It would be a bummer for him to run the last 4 of these and not finish this one for his special medal!    During breakfast, we watched the text messages as he passed the various mile markers.  As far as we knew, he hadn't stopped at the medic tent by Angel Stadium, so he was doing alright.    Here's a peek of what Thomas and the other runners got to see as they ran through Angel Stadium – courtesy of another runner friend, Lalaine Grimm.    You can see the other runners as they pass the Left Field Bleachers and are now in front of the Left Field Grandstands.  That big pile of rock work you see in the middle of the photo is the "Outfield Experience".  It's made up to look like the rocky, California coastline and has waterfalls and 6 geysers that erupt up to 90 feet high during the games.   They also shoot off fireworks from it – but not during the Half Marathon.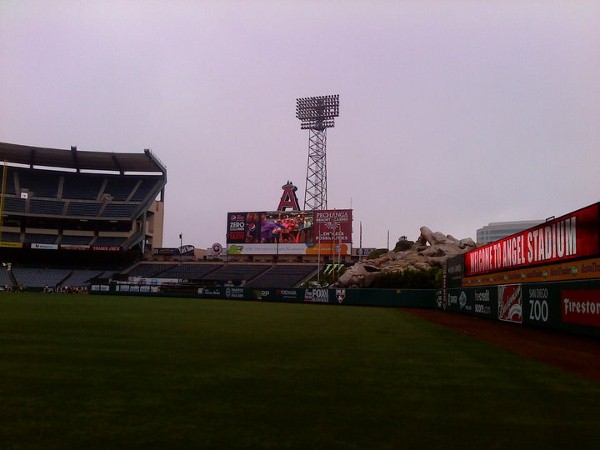 Thomas says that the road back from the stadium is direct and pretty bleh.  He does say that the thing that really makes the Anaheim roads the best are the folks who come out to cheer them on as they run.  Bands, cheerleaders, and community members all lend a voice.
Remember how the participant's names are on their bibs?  This final stretch is the part of the race where that comes to be the most effective tool in the runner's arsenal!   Thomas says it's one of his favorite things about running these kinds of events.  As a cheering person, we are always amazed at how much runners perk up when we call out their first name and tell them they are doing great and that they can keep moving!   They perk up, smile and pick up their pace.  It's so inspiring that someone would take time to give them a personal boost!
And that brings us to the return to Disney property and the final stretch down the service road the runs between the Paradise Pier Hotel and the Disneyland Hotel's  finish line.  This year, local cheerleaders and plenty of fans were along this route – with many fans paying to line this route.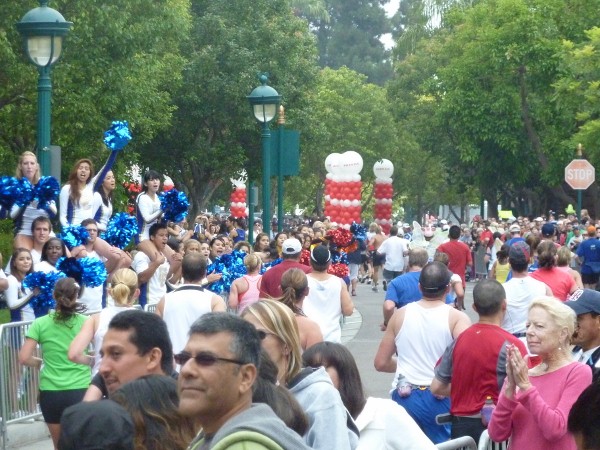 This section of the race is where the folks who purchased the more expensive ChEAR packages got to hang out!  What the heck is ChEAR (besides a cute play on the whole Mickey Mouse EARS thing and the word CHEER)?  It's a special benefit designed for the folks that come in support of these runners.   It has several tiers with different benefits.  For $35 (Silver), you get a backpack, special Mickey clappers – which we thought were way cool, a stadium seat, and a t-shirt.  $75 bought you the Gold package with the addition of reserved bleacher seating and a 1-day park ticket that you could use until the December 10, 2010.  The ultimate, though, was the decadent Platinum package, which gave you all the previous stuff, as well as special VIP sofa seating (yes – real, cushy couches), continental breakfast, reserved (extra fancy schmancy) port-a-potties,  and reserved parking at the Disneyland Hotel.  If you are there by yourself to cheer a runner on, that package sounds pretty worth it.  For a family of 5, not so much.  Maybe it's the sofa and potty envy talking…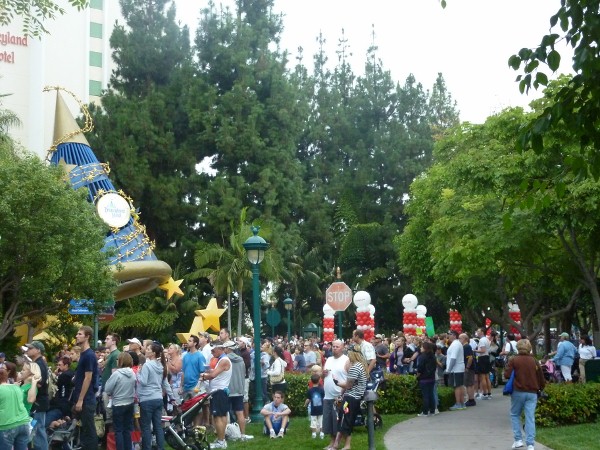 So here is what you've been waiting for – THE FINISH LINE!!!    Since I took this at 2 hours and almost 47 min after the start of the race,  I can tell you that Thomas made his projected time after all.  He came in needing to find the medic tent, but he still made it!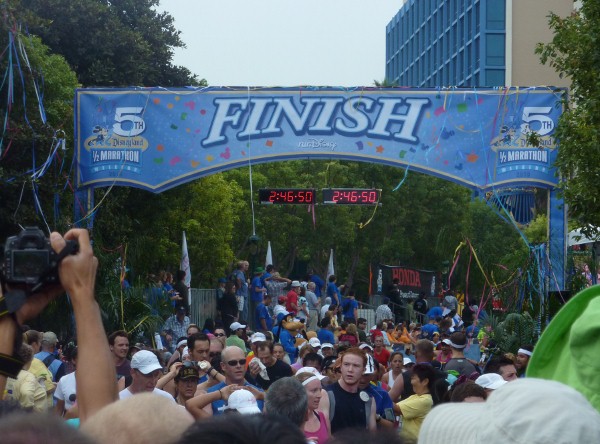 The Lilo Parking Lot was converted into a meeting zone for after the race, with a stage set up at the epicenter.  See that jumbo screen in the middle?  Once the awards were given, they switched it over to showing both live and clip video of the runners crossing the finish line.  The DJ was spinning lots of motivational music for the runners – including the piece that Disney used to track their Celebrate and Year of a Million Dreams promo commercials!  (It took me a while to figure that one out – the background noise was too harsh to Shazam it…)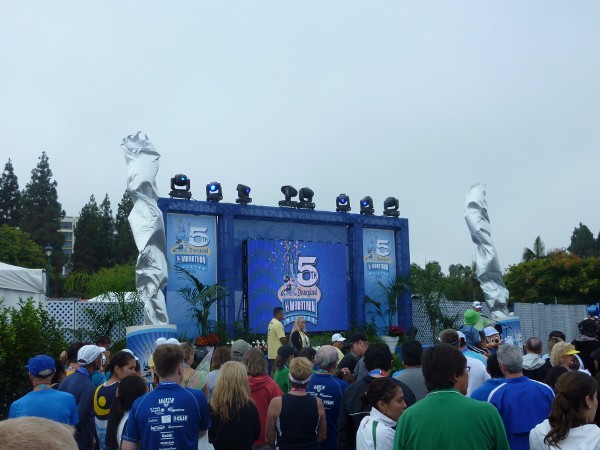 We found Thomas in the middle of all of this, his knees and shins desperately in need of some ice.   We made our way through the crowd (and all of the post-race offerings for the runners) to find the medic tent.  Man, they offer a lot of stuff – from fruit to medal engraving!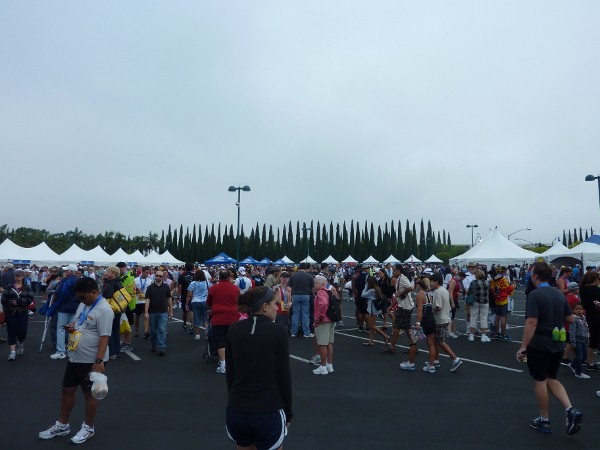 Along the way, we passed another benefit for the runners – the massage tent!  Yeah – that had a long line….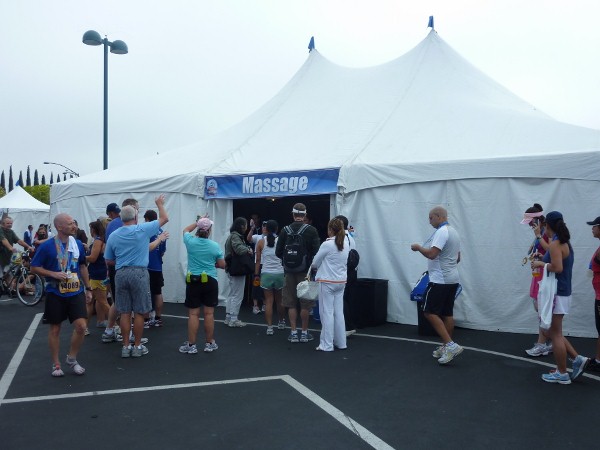 Thomas's experience with the medic tent was pretty amazing.  They really have care for the runners down to a mad science, with professional courtesy and devotion to the job.  He went in and came out with ice packs saran-wrapped to his knees within a matter of minutes.   We actually saw several folks come in and out with similar needs while we waited.   He said everyone who he encountered there was very pleasant and efficient.  There was no wait to be taken care of, no matter what the problem.  That says a lot for the folks that Disney has brought in to help with this race.
Now – for official business…
For those of you who stuck with me to see who the top winners of such a fascinating event actually were, here they are – courtesy of Disneyland photographer, W. Norton.   The winner of the Wheelchair Division was Scott Parson, 51, of San Jose, CA, with a time of 00:56:45.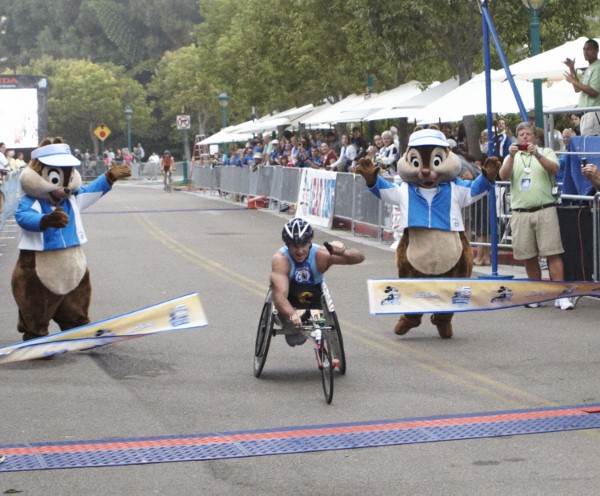 The winner of the Men's Division was Paul Ngeny, 31, of Auburn, CA, with in a time of 1:07:24.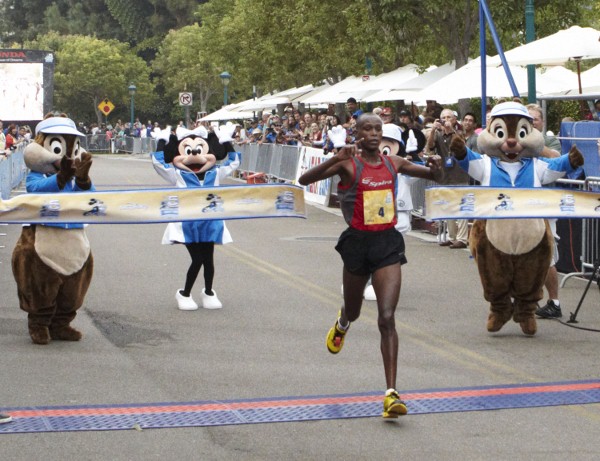 The winner of the Women's Division was Rachel Booth, 29, of Mountain View, CA, with a time of 1:15:19.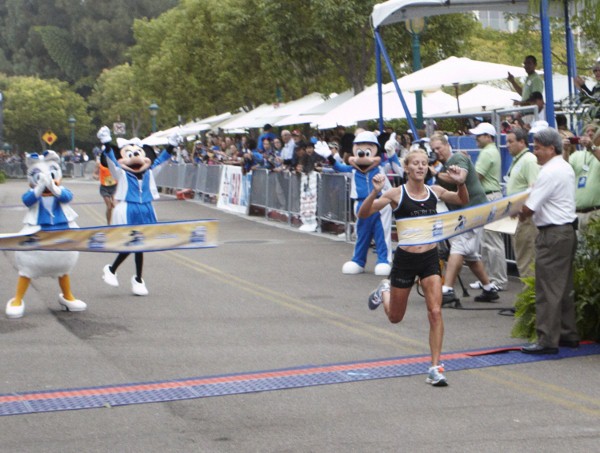 You know, I totally forgot to ask Thomas what his final time was.  For him, it wasn't really about time – although his calves took it upon themselves (about halfway through) to decide that he wasn't going to come out with the personal best he started the race out with.  Darn them.  Where was I?  Oh yeah.  It wasn't about time for him.  It was about the fact that he had done all 5 races.  Only 570 people can say that.  And being the Disney collector he is – he's going to do as many as he can until he can't run anymore.  What a way to earn a collection!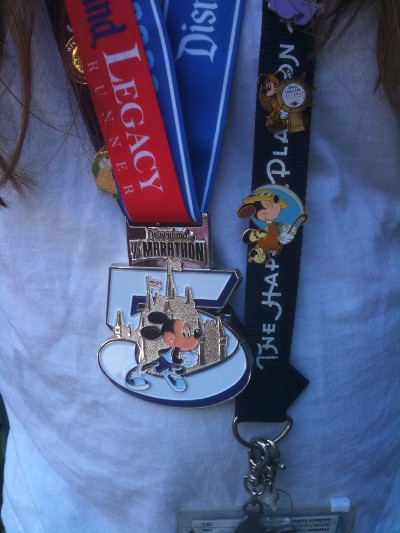 Congratulations to all who competed this year!
Photos by N. Johnson, L. Grimm, and by courtesy of Disneyland photographer, W. Norton.
Category: Disney World, Disneyland, News
Disneyland Podcaster for the DIS Unplugged