Wednesday night, September 15th 2010 was the grand opening ceremony/media event for La Hacienda de San Angel.  This newest restaurant to open in Epcot in the Walt Disney World Resort in Florida is located in the Mexico Pavilion in World Showcase.  The DISUnplugged was among the invited guests who had a chance to experience samples of food and drink as well as see the inside of the new venue and be a part of the grand opening ceremonies.  And I know the question on everyone's mind – yes, this time I found the shuttle!!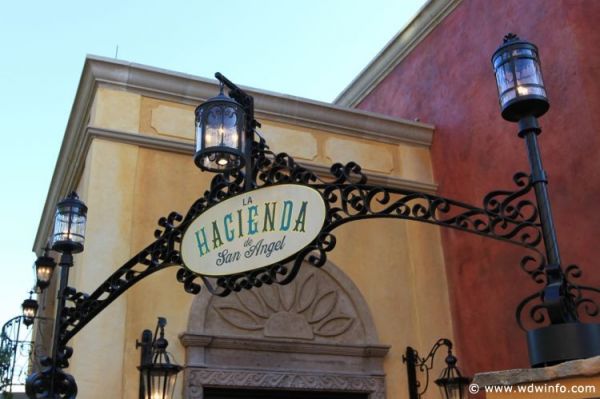 Corey Martin, Julie Martin and I arrived at Epcot and easily found the check-in desk for the event which was located to the right of the turnstiles.  After the cast members found our names on the invited guest list (yeah, no crashing for me) we were escorted to an area backstage where we boarded a van along with several other guests.  I had been back stage at Epcot when I was a cast member many years ago but seeing it this way was a whole new and very cool experience.  We had to travel all the way around the perimeter of the park to get the backstage area of Mexico so we had the opportunity to see the back side areas of most of the countries and pavilions of World Showcase.  This was a truly awesome experience for a Disney geek like me, and an incredible way to kick off the evening.
We arrived at our destination and walked back onstage behind the First Aid facilities next to the Odyssey building.  We were escorted to the newly renovated La Cantina de San Angel where we waited about 10 minutes before being welcomed into the space to start the event.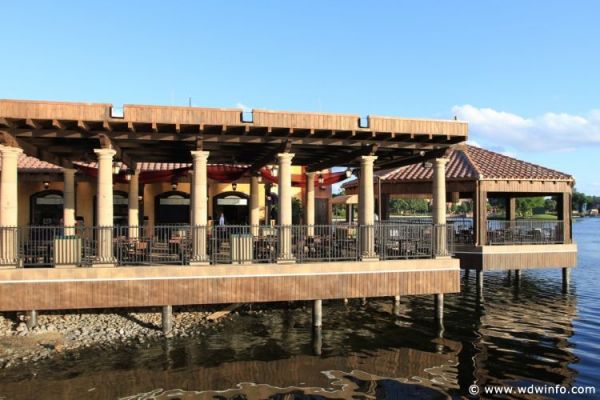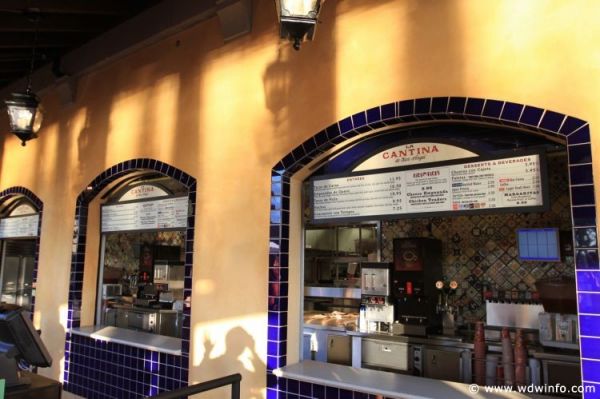 Once inside the open-air seating area the party began immediately.  Cast members in brightly colored costumes, as well as suits and ties, greeted us with smiles and heartfelt welcomes.  We weren't in the area for more than 3 seconds before servers approached us with all sorts of goodies.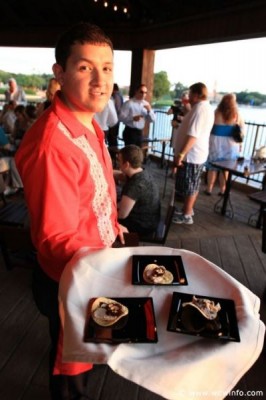 Drinks were plentiful and I tried the Orange Mango Fire Margarita.  It was incredibly flavorful and I knew one would be my limit if I wanted to drive home.  Julie tried the Rosita Margarita which was served with actual rose pedals.  I think she enjoyed these a little too much if you ask me.  Samples of the Classic Margarita were available along with beer, soda and water.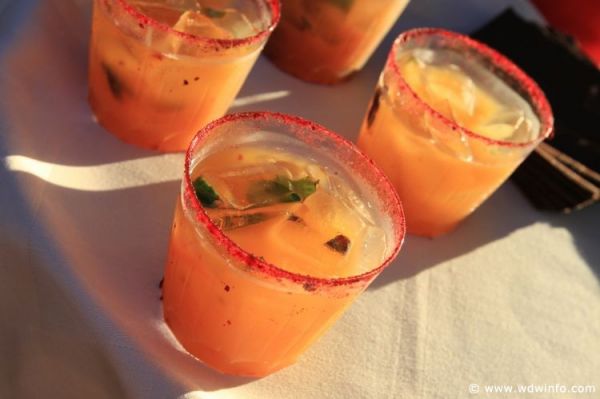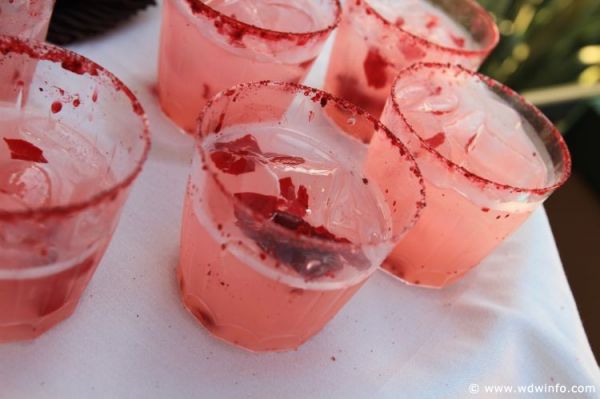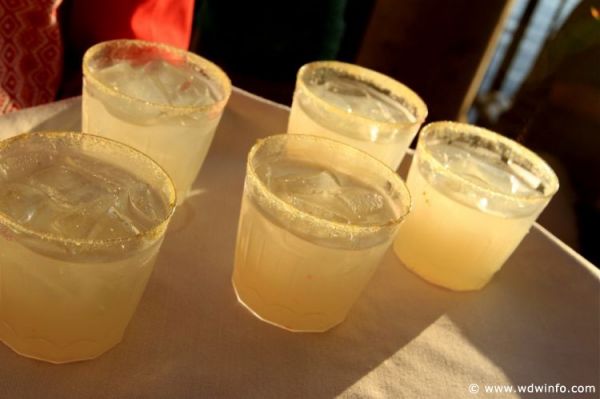 Then the food came.  And did it ever!!!  It seemed like every few seconds someone with a tray was offering me food.  I asked Julie to pinch me to make sure I hadn't died and gone to fat-guy heaven.
There were samples of their roast pork and chicken tacos.  These were wonderfully flavored with the perfect amount of spice.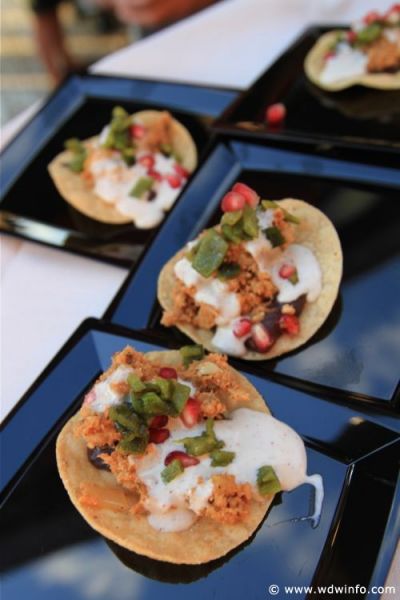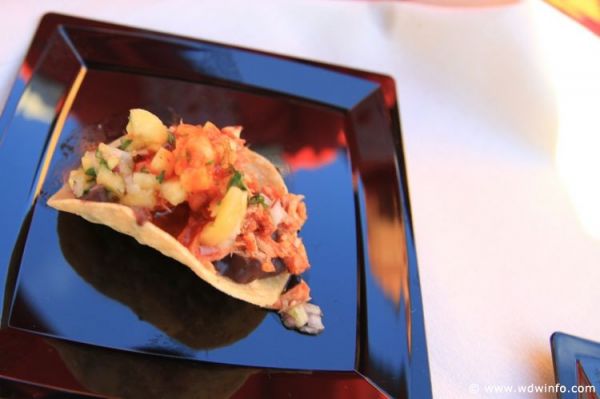 An incredible cheese empanada.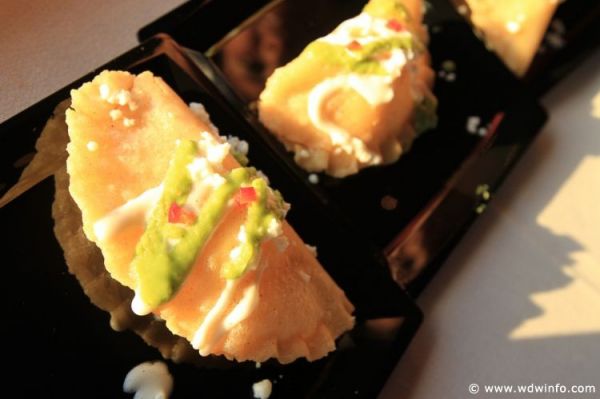 There was a sweet roasted peppers and mini chorizo dish that I am still having warm thoughts about.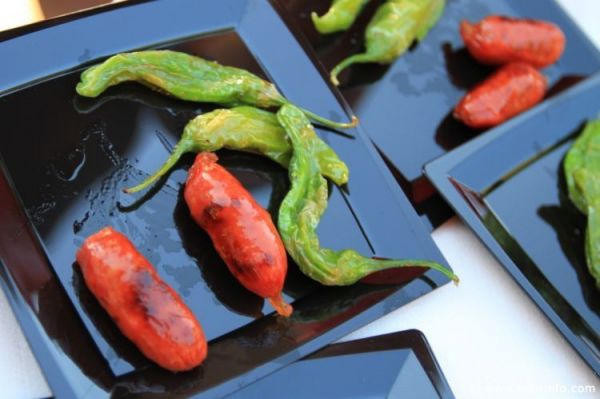 The winner for the evening was a fish taco made with shrimp.  These were so popular that they never seemed to make there way through the crowd.  I finally had to ask one of the servers if she would bring me a whole tray full.  Surprisingly she smiled and said yes, instead of throwing me out as I expected.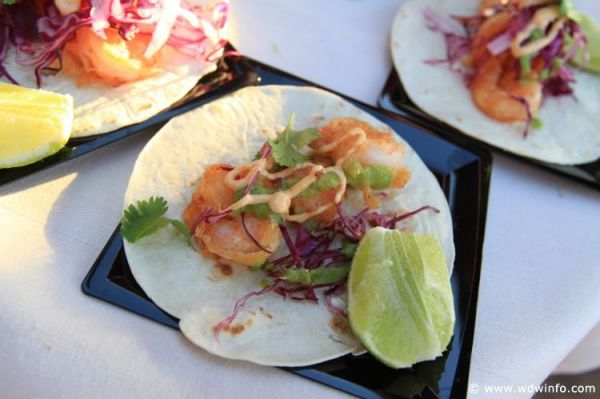 After stuffing us with food and drink we were led into the new restaurant by a lively mariachi band.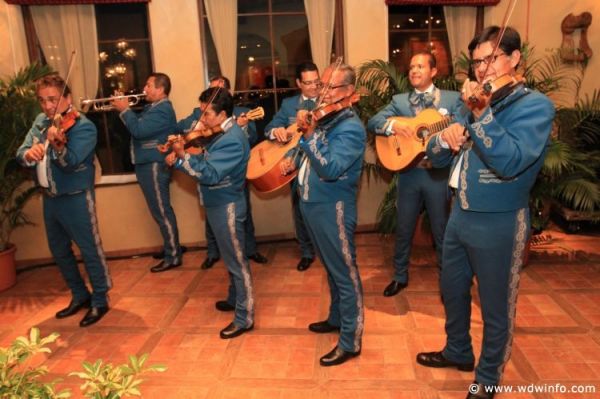 I must admit my first impression of the space was that it was rather crowded.  I realize they were trying to squeezing a hundred plus guests in but the booths and tables seem very close together and left little room to get around.
That opinion changed once I got into the other 'rooms'.  The space opened up with high vaulted ceilings and large tables and chairs.  It was tastefully decorated and wonderfully appointed.  I'm not sure who is in charge of this 'new direction' in restaurant decor for Epcot but they should be commended.  Between the new space at Via Napoli and La Hacienda de San Angel, Epcot has two beautiful new spaces that reflect an understated theming that isn't present in many other Disney theme park restaurants.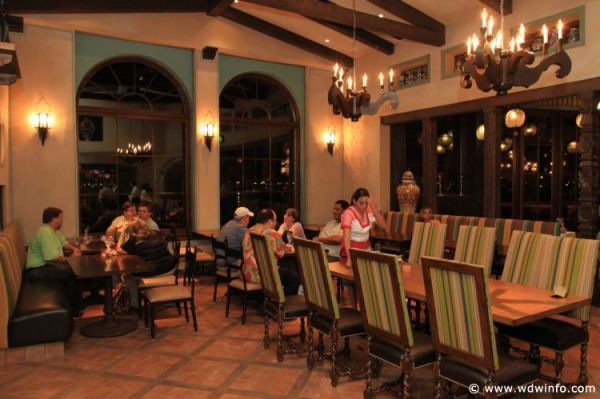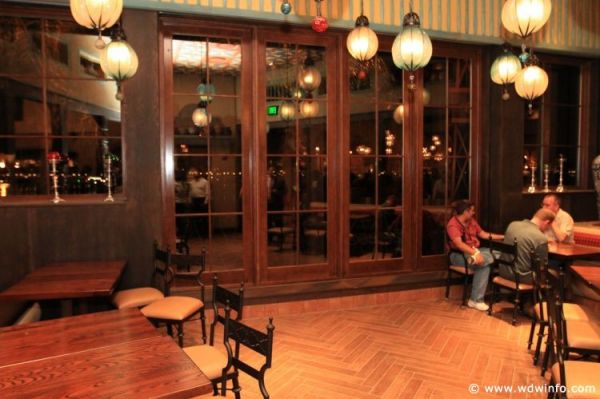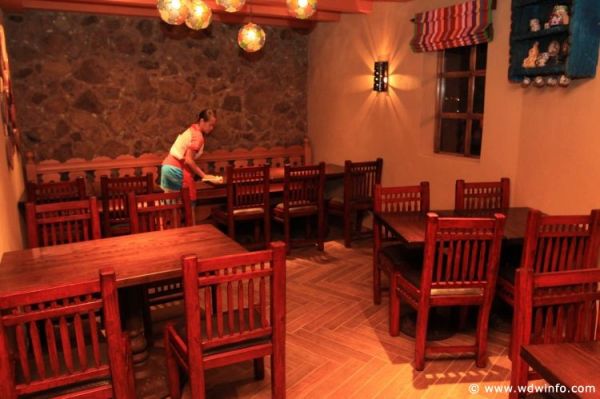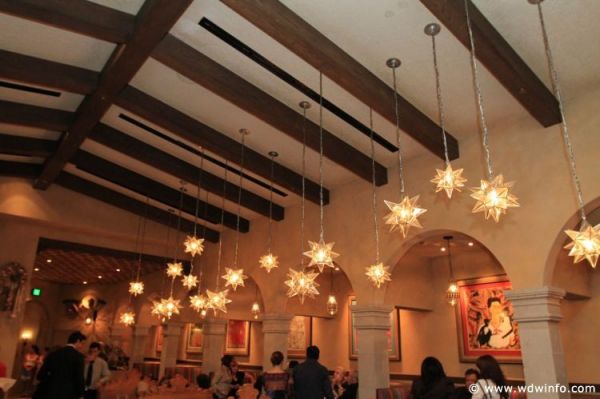 Huge floor-to-ceiling windows look out over the lagoon and promise spectacular views of the nightly fireworks.  While some cast members tried to convince us there wasn't going to be a bad seat in the house I have a feeling those seats closest to the windows will be highly coveted.
As the evening continued the ribbon cutting ceremony began.  Dan Cockerell, VP of Epcot said a few words and then introduced someone who talked about Mexico's bicentennial.  OK, I have to be honest, I wasn't really paying attention.  They were still bringing me food and I was in a beautiful restaurant on a comfy chair and it was air conditioned.  I'm sure whatever he said was very poignant.
Next Mickey and Donald came out in proper Mexican attire for the actual ribbon cutting, but first as a group we practiced how to count to three in Spanish to help countdown the ribbon cutting.  I am pretty sure everyone can count to three in Spanish, especially the many invited guests from…wait for it…..Mexico.
After we practiced three times, Mickey and Donald cut the ribbon and the obligatory confetti was shot into the air.
Soon after the ribbon cutting was over I decided to leave, but most guests remained and the food and drink were still coming. I was handed our press kit upon leaving which included a picture of the new restaurant in a beautiful silver frame.
As I walked to my car I reflected on what a nice evening it was and how Disney really knows how to throw a party.  I also thought to myself that I really hope La Hacienda de San Angel can maintain the quality of the food I had this evening.  I would love nothing more than to have a really great Mexican restaurant in Epcot.
Category: Dining, Disney World