STOP!  Before you decide to skip over this because you have absolutely no interest in another article on Disney-sponsored running events, take a minute and give me a chance.  I am not a runner; I never pretend to have any kind of athletic prowess.  I'm just a short, overweight mom, who decided with her dear friend to see areas of Disneyland that were not normally open to the public.  And thus – a 5K walker was born!  
By doing the 5th Anniversary running of the Disneyland 5K on September 4, 2010, a RunDisney event, it is my chance to introduce you to another wonderful way to see Disneyland with your family and get some decent and rewarding exercise in too!  Come along as I show you the entire race and some of the sights along the way!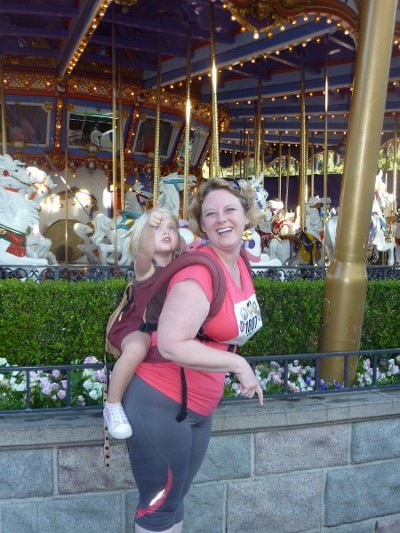 This is actually our second year participating in the Disneyland 5K.  We learned last year, that if you want to participate in this type of event, you want to register early – up to 7 months before the race actually takes place.  For instance, the registration for the 2011 5K opens on January 3, 2011, and it usually fills by March or April.  Once you register, emails will keep you updated, regarding weekend check-in requirements and Expo activities, as well as training tips and course updates.     There are really only two things you have to do before the event – fill out a waiver to bring with you and worry about getting physically ready for the event.   For us, this mainly meant walking our oldest to school instead of driving, since she was also doing the race with us this year.   
The course is really the big draw for any Disney athletic event, since it takes the participants both Onstage and Backstage when the park is closed to the public.  The course changes up a bit every year, based on construction activities and the like.  This year, the course was to take us to Disneyland first and the finish line would be Paradise Park in California Adventure.  That seemed like a pretty good sell to us and we were definitely looking forward to seeing what Disney had planned.
Finally, the day came and we made our way over to the headquarters of the race – the Conference Center at the Disneyland Hotel!  The geek in me loves that the area to pick up your registration packets is actually the valet floor of the underground parking for the hotel.   They actually carpet the driveway and Astroturf the whole parking level!   To make it even more Disney, the ramp down to the level is actually done up in red with lane lines – like a high-school track.  They even put silhouettes of the Fab Five in running poses on the wall – you can see them on the right wall in this year's photo.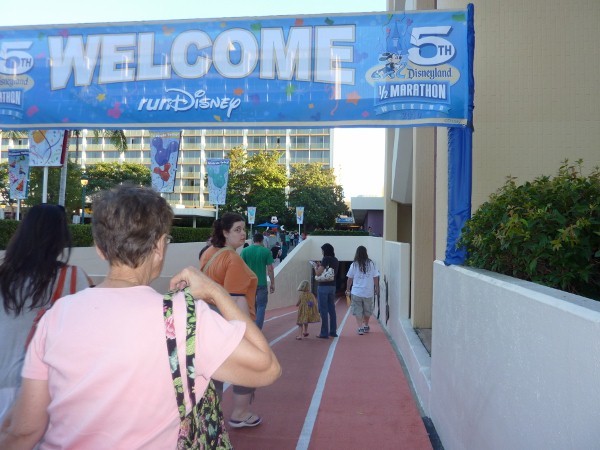 Once underground, we had to follow the signs to the correct set of booths – set up by race type and participant number.  There were plenty of friendly staff and volunteers to direct you, as well as find your paperwork.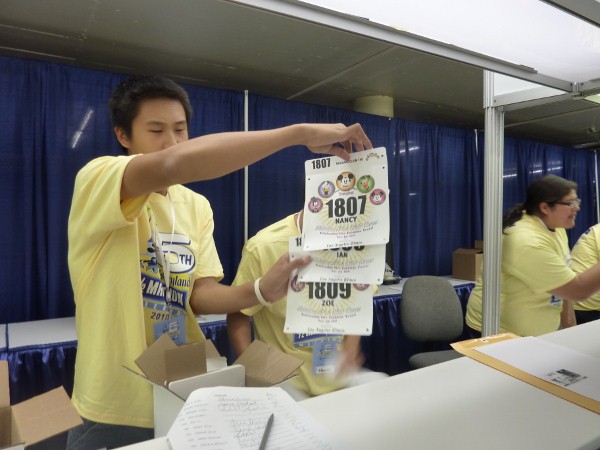 This year's bib design was super cute – reflecting the fifth anniversary of the races and using the Fab Five.  The t-shirt that comes with your registration also used the same design.  Notice – my first name is on my bib, nice and big.  This is so the spectators and Cast Members can cheer you on by calling your name, should you pass them in the race.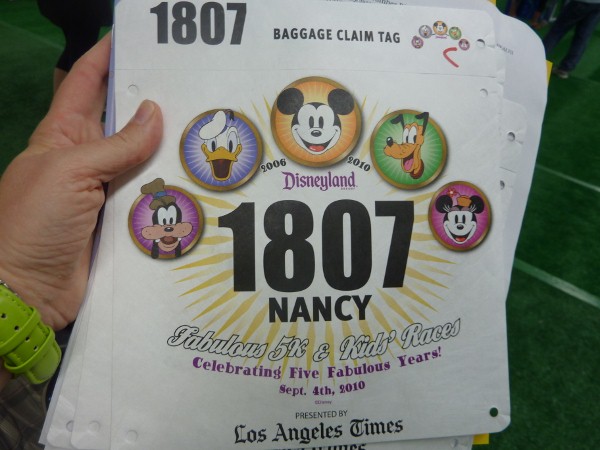 After picking up the packets, we then headed off to the Expo area to pick up our commemorative T-shirts and enjoy the Expo offerings.    A good thing to know is that if you are doing the 5K, they don't offer kid's shirt sizes and you can't exchange shirts for another size.  (The shirt is ordered when you sign up for the race.)   Due to a severe case of child-wrangling, I didn't take any photos inside the Expo this year.  There were wellness booths, running supplies and attire (including top of the line shoes, sunglasses, and gadgets/accessories), ABC Television giveaways, and samples of fitness supplements – Vitamin Water, Clif Bars and Blocs, etc. 
They even had electrolyte-filled Sport Beans made by Jelly Belly!  Yeah.  I didn't believe the jelly beans either and they are much tastier than normal ones.   This can lead to bad things if used improperly.  Trust me.  That is a story for another time, though.   We did find out that just one works really well for pulling a grumpy, small child out of a blood sugar drop though…
They also had a wonderful photo opportunity set up for us to get that classic group shot.  Meet our compatriots in this adventure: Shannon McSmith-Moore and her husband Thomas!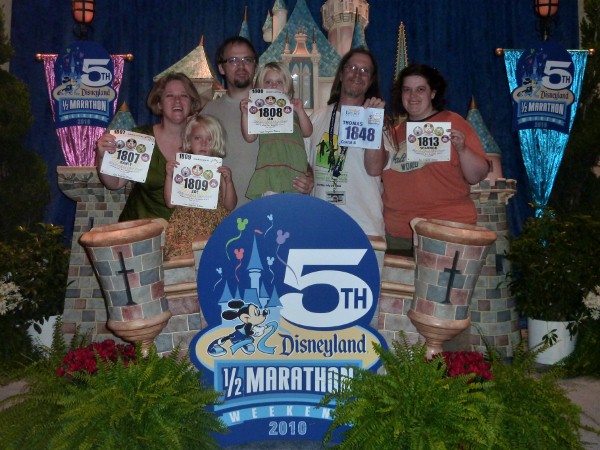 After the Expo and a lovely dinner at Storytellers, we hit the hay early.  5:30 AM wake-up comes awfully early with small children!   
When morning came, we got everyone dressed and came to the "corral" or prep area/holding pen.   It's much less formal than normal races and is in the Pinocchio parking lot, next to the Mickey and Friends parking structure.   In fact, if you don't know where you are going, you can just follow your ears and let the DJ's music guide you in.  See, don't we all look awake and happy to be up at that hour?  Frankly, little Lily has the only 6:30 am-honest face in the photo!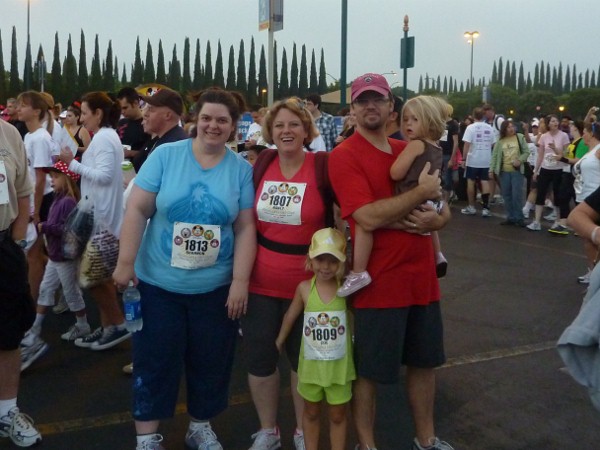 Now we didn't have anything with us, like extra clothes or baggage, since we were staying at the Grand Californian, but other folks staying off-site do.  Therefore, your registration bags double as a bag-check bag.  You just have to visit the nice volunteers in the tent below to drop it off!    According to the race materials, you have to come all the way back here to get them back by 10:00 AM or else they get sent to Lost and Found.  After all, there are almost 5000 people registered to do this race.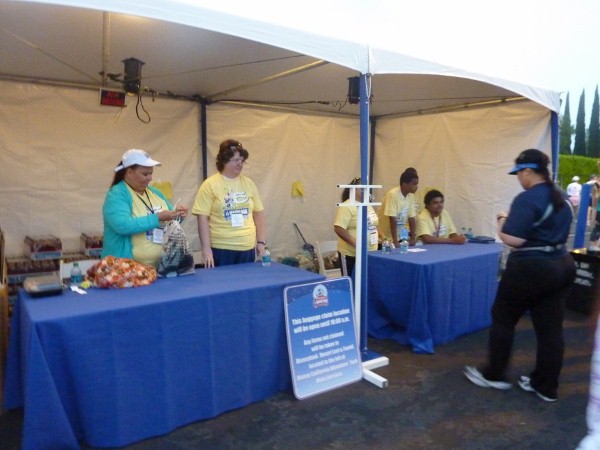 Once you get your stuff dropped off, or not, you get the chance to check out the source of the music.  A Disney DJ is there, along with a couple "Streetmosphere" actors, pumping out the tunes, so that you can get a little burst of energy and enthusiasm.  They tried to get folks up and dancing…. or at least try to.   The Streetmosphere guy obliged…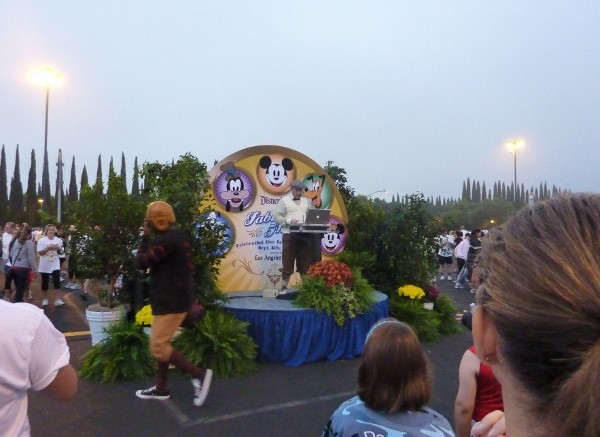 I went around and checked out the "competition".    Of course I happened to run into some of our other DISBoards members from our W.I.S.H. forum – We're Inspired to Stay Healthy!   These folks have a lot of heart and are participating in the Disney athletic events to inspire their desire to improve their health!   Many have couch to marathon stories and I love to meet them!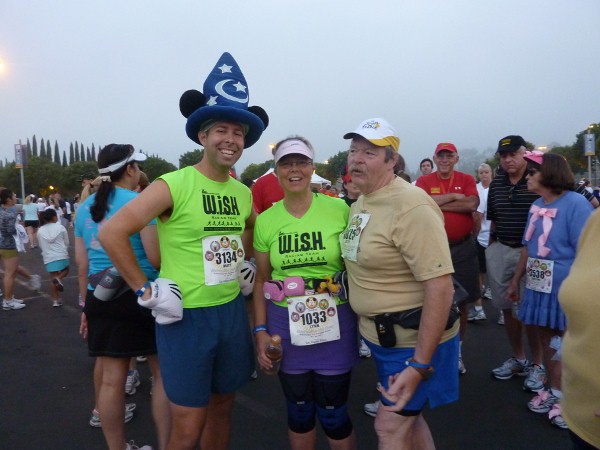 After mixing and mingling, it was 6:45 and time to move into the starting zone.   We strapped Lily on my back and headed for the parking lot tram road.  This would be our entrance route to the parks.  The seasoned runners and those who were actually competing for the finish were placed in the front of the herd, the ones who will be running were asked to fill in next, and the walkers at the end.   This photo definitely puts the number of participants in perspective, considering we have to walk all the way to the garage building in the background before looping back toward the park.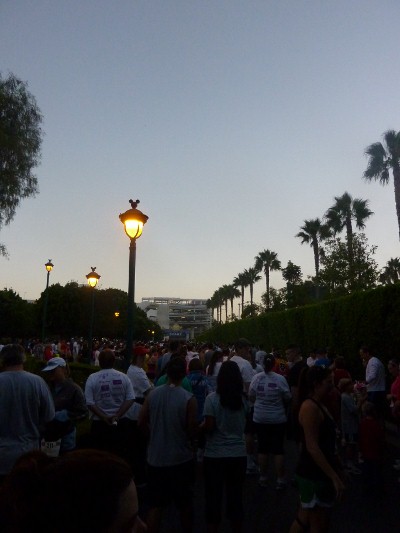 Surprisingly enough, the sun started its main rise as we crossed the start line, where members of the Fab Five cheered us on – even calling out names of participants that passed below them.   Notice the great view the folks lining the parking garage railing must have of all of us!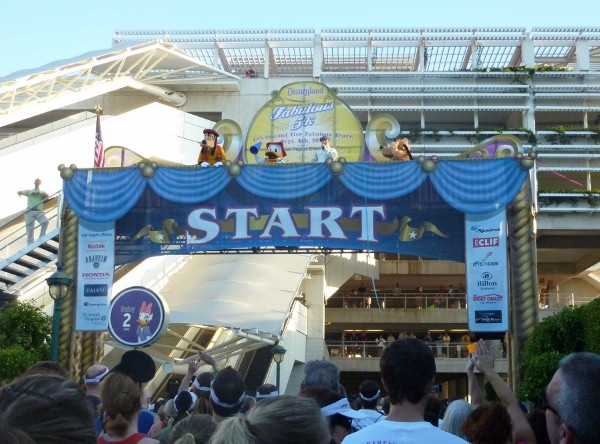 The runners in the back of the pack had a harder time getting through the narrow passage of the tram routes.  We've learned that you may as well walk most of that first leg of the tram route, if you don't want to weave and bob around folks.  Then, there were several parts of the course where they had narrow the participants through a passageway, such as the side entry gate of Disneyland Park.  The main turnstiles are just to the right of our location.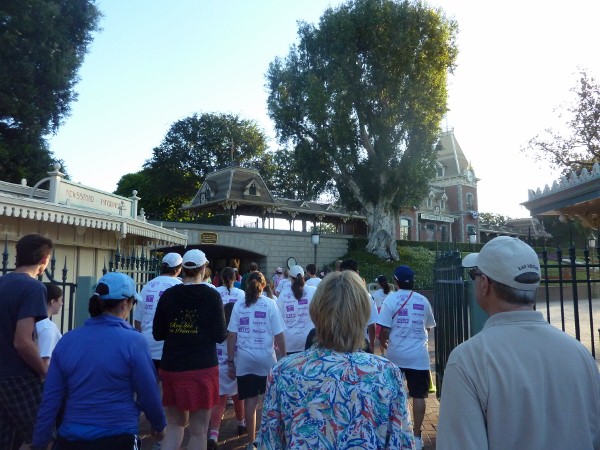 As we entered Disneyland, the morning crews were still putting the final touches on the park before opening.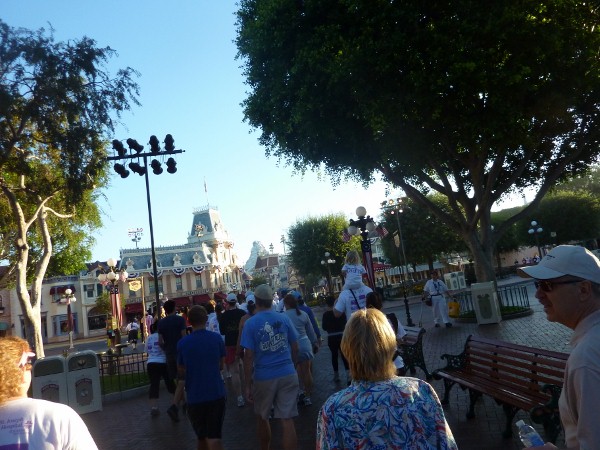 To make the event fun and interesting, several Disney characters and personalities were stationed along the way for photo opportunities.  The first element of Disney fun we encountered on Main Street was a serenade by the famous Dapper Dans!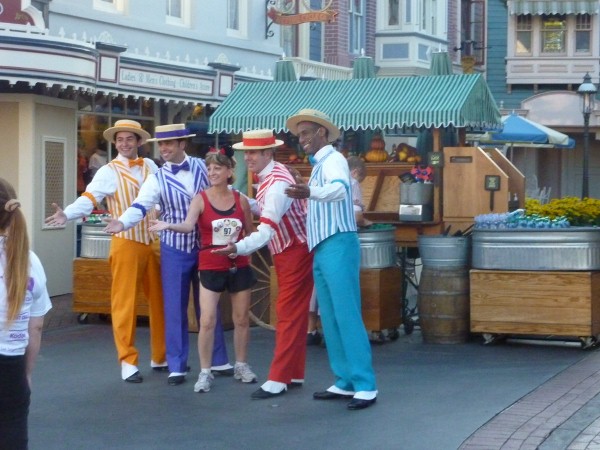 Cast members were also stationed along the route to give us a boost and make sure we didn't stray from the marked course.    They each added their own personal touch to this duty, such as this security guard who had Zoe give him "four"!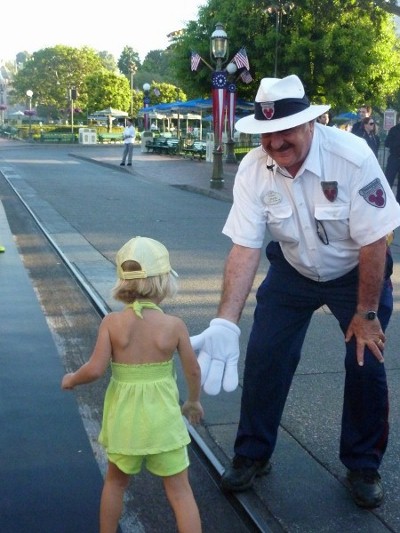 Leaving Main Street, we circled the hub clockwise and went through the fort into Frontierland.  There, Pocahontas and Meeko posed for photos with an enthusiastic family of participants with the Mark Twain Riverboat in the background.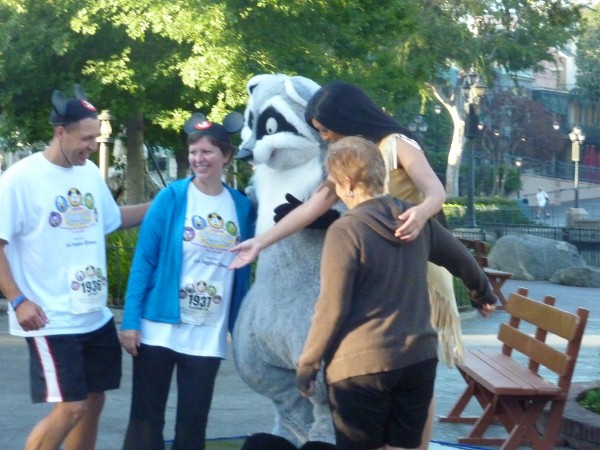 Our path turned to the right and we headed past Big Thunder Mountain Railroad and rounded its backside, past Big Thunder Ranch.  There we found Mile Marker 1.   Okay – 25:37 is not my best time, but you should try wearing a 30 pound bundle of joy on your back while being 35 pounds overweight….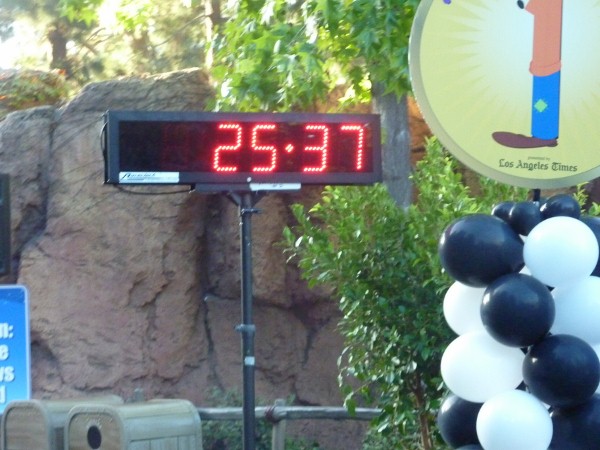 Before we could get to Fantasyland, we were detoured with an immediate left, through the giant wooden stockade gates, and through the sloping tunnel that leads under the Disneyland Railroad berm.   This was our first glimpse of "Backstage"!!!  And now I have to catch up with Shannon….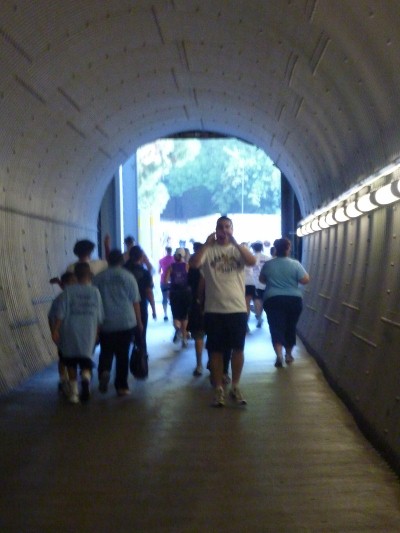 Now it just didn't occur to me take backstage photos at this point – you know, following the normal rules and all.  Our short backstage journey took us behind the Casey Junior Circus Train and we got to see the boat storage area of the Storybook Land Canal Boats before exiting "On-Stage" into Small World Plaza.   In the distance, we could see fellow participants passing through the, otherwise "empty" plaza, on their way to Tomorrowland.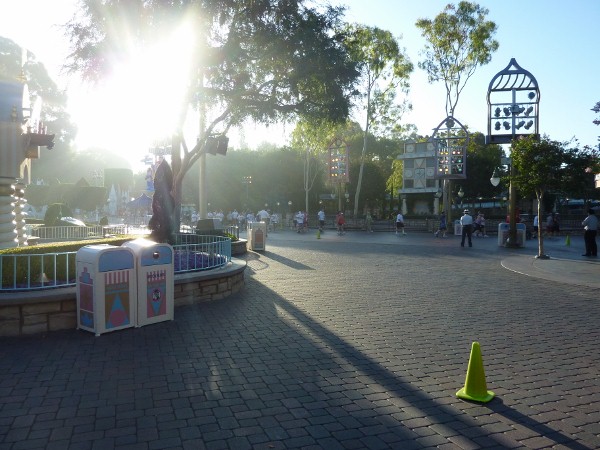 We turned left and headed under the bridge and into Mickey's ToonTown.   Daisy Duck was waiting and had taken time out of her busy day to take photos with folks as we passed through.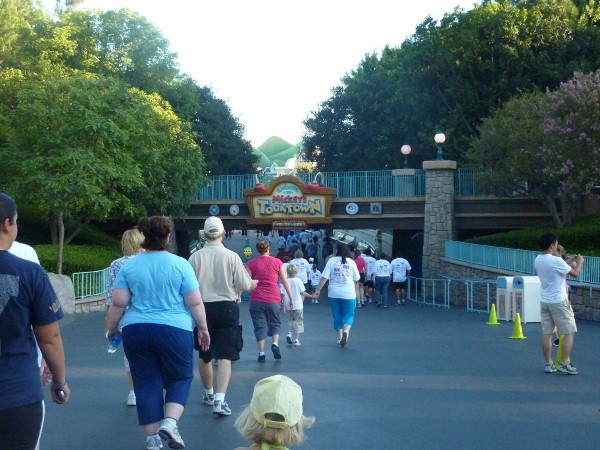 Once through ToonTown, another set of large gates – to the right of Minnie's house – was open to reveal our next access to Backstage.   Of course we couldn't resist having Zoe give a tug at them to show us how strong she was!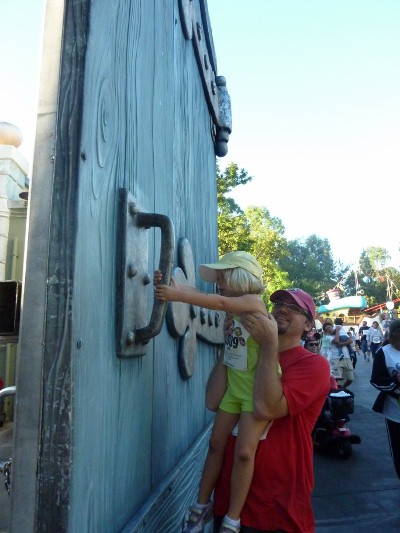 We then turned left and we walked past the back of Roger Rabbit's Car Toon Spin and It's a Small World.  There in front of us stood the building many folks would love to see – the Roundhouse.  It's a uniquely designed building that is the nighttime home of both the Disneyland Railroad and the Monorail.   Notice Monorail Red is still docked inside on the second level!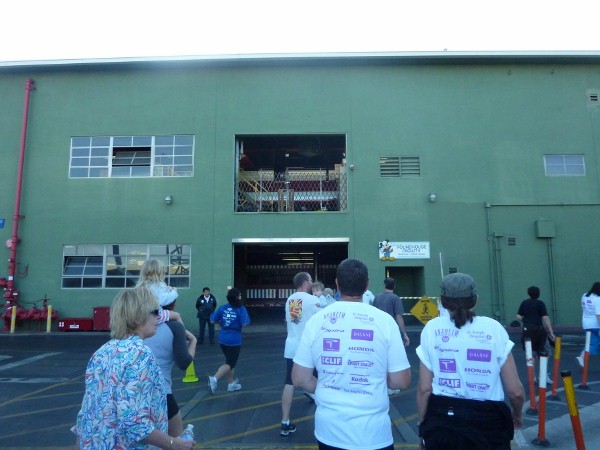 We turned left at the Roundhouse and found another photo opportunity waiting for us.  In fact, it was the only one we decided to stop at.  They had pulled out Engine #4, the Ernest S. Marsh, for us to pose with one of the engineers.  This is very special for us as a family, as I come from a line of train enthusiasts and we have photos of us in a similar position in the Florida Roundhouse.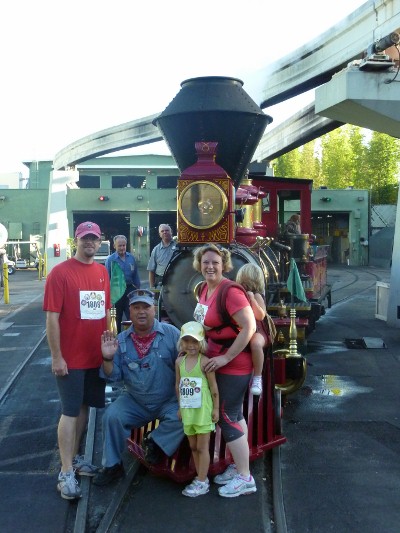 As we left the photo stop, we realized how much time we lost waiting for our photo.  We paid for it quickly  – that meant we had to do a little bit of jogging to catch up with Shannon and her parents.  Okay – a lot.  With that extra 30-pound training weight.  As we headed back south toward the gates to re-enter Small World Plaza, I couldn't help but think that this was a cool image to share – the switch for the monorail track over the switch for the rail.    I thought it was an interesting composition.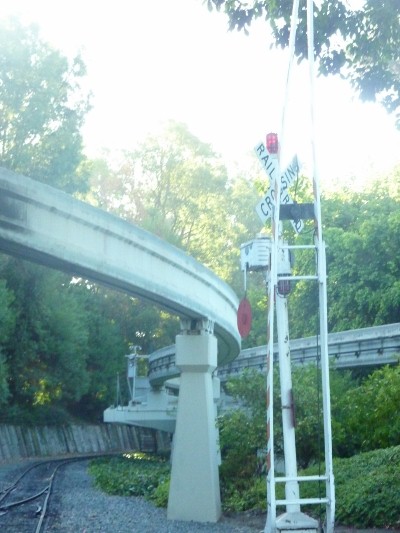 Our route took us back into Fantasyland with a right turn at the Mad Tea Party and a left at Mr. Toad's Wild Ride.  Dumbo was spinning for us, as well as the Carrousel.  My opening shot was taken at this time.   We saw that this was our chance to pass through the castle gates – where an ASI (Action Sports International) photographer would be waiting for us to pass through.  The photos they take throughout the course are available for purchase after the race.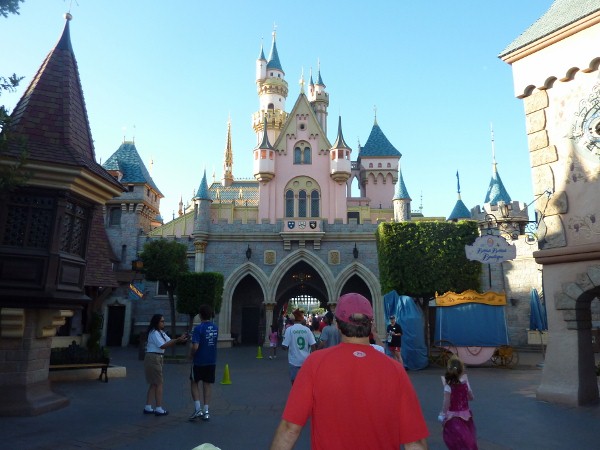 After exiting the castle, we took a left and went through Tomorrowland.  We passed Buzz Lightyear, who was posing for photos, and headed through the mist at Redd Rockett's Pizza Port and Backstage once again.  At this point, I'm starting to tire a bit.  We were impressed that Zoe hadn't had to be carried at all yet.  She was doing really well!  Our next landmark was the old Casting/Costuming building.  The first level consisted of little windows where Cast Members used to come to pick up their costumes for work.    At each backstage building, it was nice to see all the Cast Members who simply came out of their offices to watch and cheer – they really seemed to have fun watching us be these crazy walkers.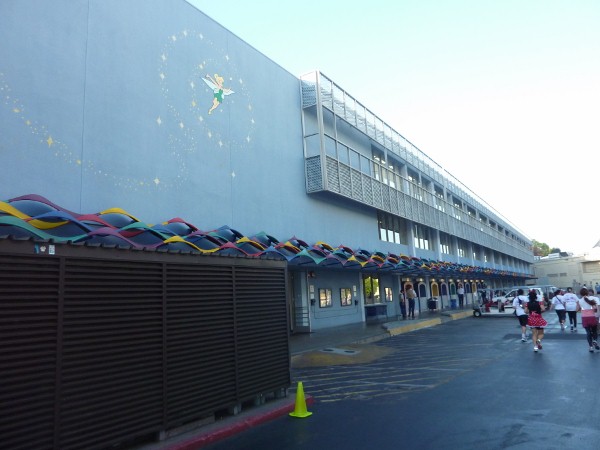 As we walked behind Space Mountain, we passed the Disneyland Fire Department, who took time out of their day to pose with guests.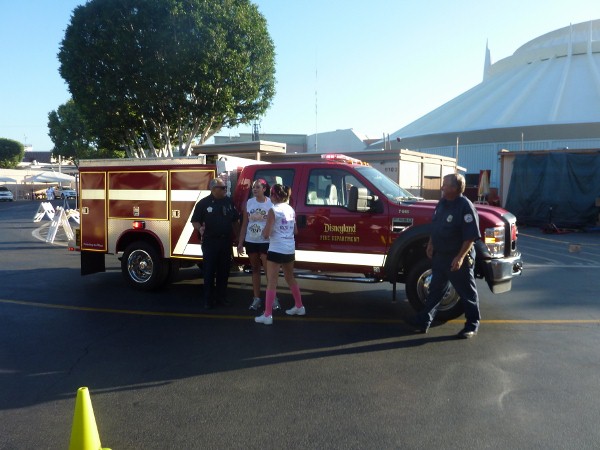 Directly in front of us appeared another set of large gates – it was Main Street and we were back at the front of the park.  At least I wasn't the only one toting a bambino through this!  Go Mom!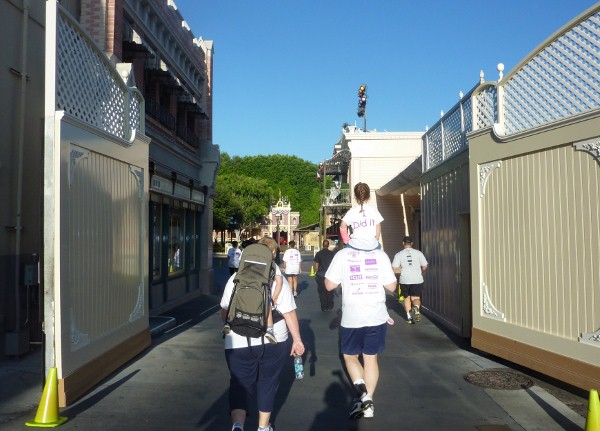 From here, we exited Disneyland and headed across the esplanade and back into California Adventure.  We hadn't quite hit the 2 mile mark yet, but it was coming!   Here we are, entering the park directly Backstage.  The building directly in front of us is Soundstage 12 – home of the Disney's California Food and Wine Festival tasting sessions.    Notice that the big wall in my Food and Wine blog is now gone!!!
Soon after, we found Mile Marker 2 and we caught up to Shannon at this point.   Okay.  I don't completely suck, but I am going slower than the minimum recommended speed.  It's nice that they really don't bring out the sweeper vehicles on this race.   We were certainly going slow enough to warrant it!  What's a sweeper vehicle you ask?  To a racer, it's certainly equivalent to wearing the infamous "Cone of Shame" to a dog.  The vehicle trails behind and politely tells you it's time to get on board and ride to a final area.  You won't be crossing that finish line….  Yep – we had to keep moving.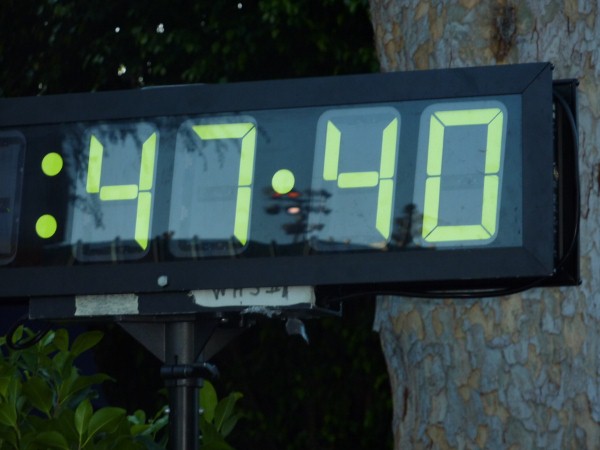 And move we did.  Right past some pretty odd things.  What is that anyway?  Have Chip and Dale met Flight of the Navigator?  Or is it a Tinkerbell or Bug's Land thing?   Whatever it is, it was just hanging out behind the Hollywood Backlot and the Tower of Terror.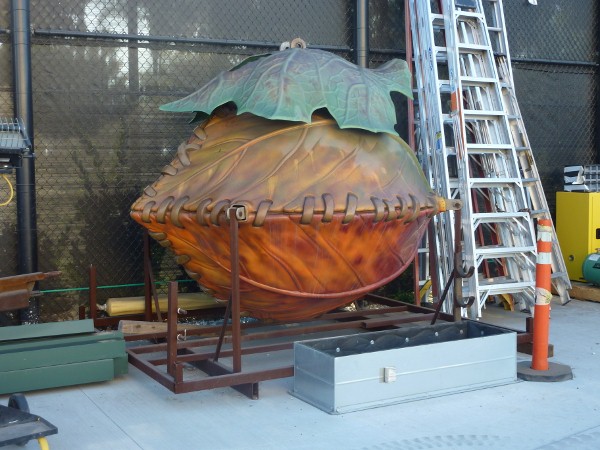 We rounded the bend, past the Tower and behind Tuck and Roll's Drive Em Buggies, and were greeted with the sight of Cars Land construction!!!   As my camera battery was hitting death's doorstep, I fired off my last two photo shots to show you what I think is going to be the background sets/possible show extension of Radiator Springs Racers.  Rumor has it that it has a great speed loop – very similar to the speed track at Test Track in Epcot at Walt Disney World.  This is just a shell, so we'll get a better peek next year on the race!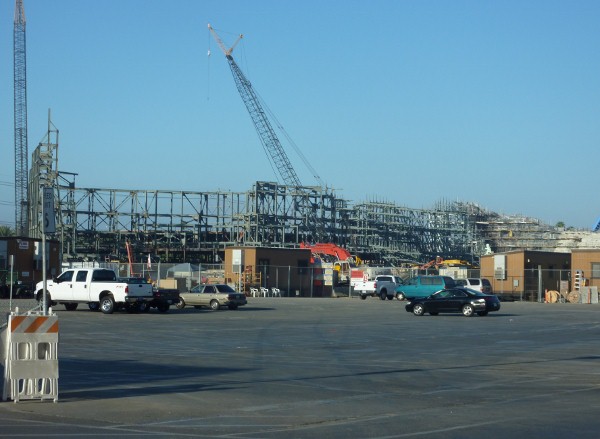 You can see how the rock work in Cars Land is starting to develop.  It starts with that framework in the above photo and layers are added.  I took this shot to try to give some location perspective.  I have no clue if that worked.  Boy the sky sure was blue by this time in the morning – It's nearing 8:00 AM!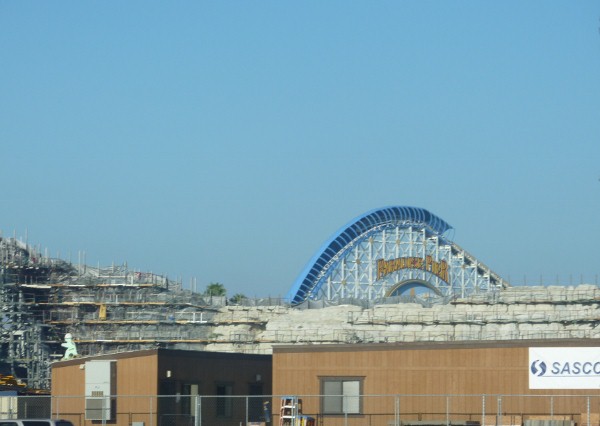 We then took a right and came out into A  Bug's Land, went through the cereal box gateway, returned to our normal size (because we were just bug-sized in Bug's Land, get it?  Okay – maybe that was lost in translation, but I thought it was funny), and started hustling ourselves left and down the path toward Paradise Pier.  We were getting close.  You could hear the announcer calling out names of people as they crossed the finish line.    This inspired Zoe to start heading off in front of us.  We were super surprised with her at this point.  I won't say she's whiny about walking too far or anything, but we were expecting to carry her for much of the race.  That's why the extra 30 lbs of Lily was on my back and not her Daddy's…  This was also the point in the race where the camera officially died.  So guess what – you get less-than-stellar photos taken from my iPhone!  I figured y'all wouldn't mind – at least you get to see the rest of the race, now that I've dragged you along so far.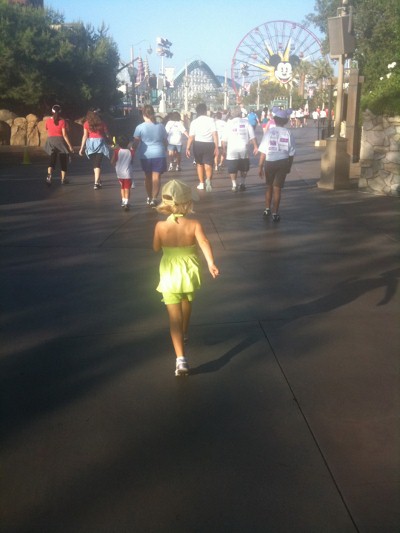 Look at her go!   Isn't she cute?  I think so.  I'm biased, too.
Okay – I'm done with that for the moment.   This next phase of the race was almost near-disaster for us!  We were crossing the Paradise Pier Bridge, next to Ariel's Grotto, when Zoe stopped to look at the World of Color fountains that were turned on for our pleasure.   Unfortunately, a couple of girls were taking photos of themselves on the bridge and didn't see her and she wasn't fully aware of them either.  Boom.  Crash.  Tears.  Okay, so it wasn't quite near disaster, but we did end up carrying a sobbing little girl most of the way around the Pier until Z got herself back together enough to finish the race on her own power.  Poor munchkin.  I slipped her one of those Jelly Beans.  That helped.  Remember what I said earlier about kids and crashing blood sugar?  Yep.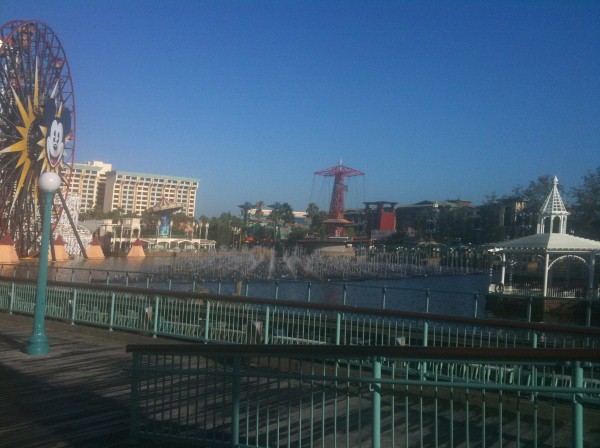 So I really didn't take any photos since we were dealing with Z, until I saw Mile Marker 3.   Eeew.  8 minutes over last year.  Not bad, though, considering I had an extra 30 pounds on my back, a husband, and a 5 year old in tow!   There were balloons, the DJ, characters, friends and family lining the end of the race course to congratulate us, and there an announcer who was doing a great job of calling out everyone's names as they went under the Finish line at Paradise Park.  Of course, it was easy at that point, we were all going so slowly…  They did make a big fuss over Zoe, as she walked between us.  Heck, they even got my husband's name wrong!  It didn't matter.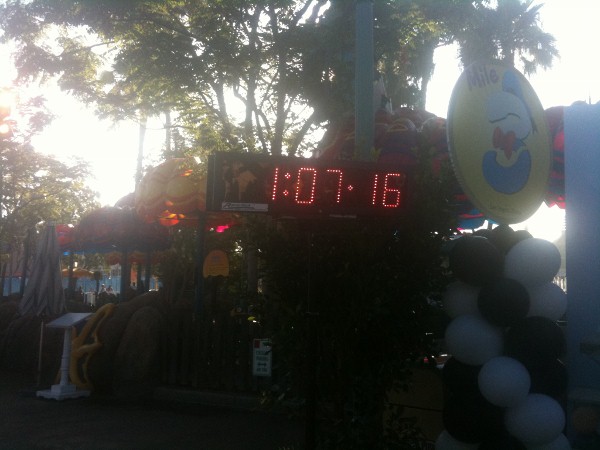 We finished the race.  Minnie had a photo with Zoe.  We went to get our final photo with our medals.   We all went to breakfast at Catal.  A win/win for everyone involved.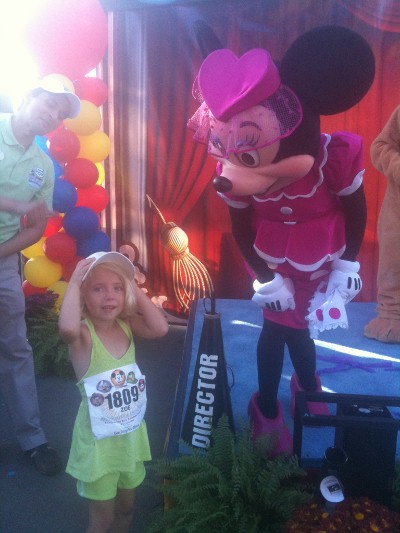 It was a great family experience and since the race is over, I think I may have noticed that walks to school in the morning aren't quite as much of a chore as they used to be.  Will we do this again next year?  You bet – although I wonder how we'll fare with Lily walking on her own. That may change our plan.   Tune in and see!
Category: Disneyland, News
Disneyland Podcaster for the DIS Unplugged