Date of Review:  August, 2010
Score:  89 out of 100
Pros:  Great location, excellent pool
Cons:  Beds and bedding left something to be desired, room service food was below par, service could be improved.
The Beach Club is a nice resort – it was never one of my favorites, but it also wasn't the scene of any horrendous experiences.  I haven't stayed here for about 5 or 6 years, but on previous visits I'd stayed on the Concierge floor (as I did for this visit) and always found it to be enjoyable.  While nothing awful happened during our 4 day visit, I can't say that I was overly impressed by the hotel.  I walked away feeling that it was nice, but no better than many other upscale (non-Disney) resorts I've visited in the past.
Arrival and Check In:
We arrived at the resort around 1 pm on the day that Disney's late summer 'free dining' promotion began.  The resort was a mad house.  The lobby was packed and seemingly so was every square foot of public space at the resort.  That made our concierge check-in experience that much nicer.  When you stay concierge at most Disney resorts, you are greeted in the lobby by a member of the concierge team and taken up to the club floor for check in.  No mingling with the unwashed masses here.
As I do with all my Disney reservations, I utilized online check-in.  If you take nothing else away from this review, let it be this – USE ONLINE CHECK IN.  Disney has perfected this service to an art form and the amount of time it saves you can be significant.  I've been very fortunate in all my reviews this year that my room has always been ready for me at check in.  I'm not sure if this has something to do with the online check in process, or if I'm just lucky, but as in the past, my room was ready for me upon arrival .  I have to be honest, being greeted in the lobby, escorted to the 5th floor, handed your keys and being shown to your room within the span of 15 minutes is an experience that everyone should have at least once in their lives.  It really does make you feel special, and extends a sense of welcome that's not common in most hotels, even when you're staying on the Concierge floor.  In all honesty, this was the last time I felt 'special' during my stay.
While concierge level is more expensive than non-concierge (generally you should expect to pay anywhere from $100 to $200 extra per night depending on the resort and time of year) – the rooms themselves are the same as non-concierge level rooms at the Beach Club.  These are large rooms by most standards that are extremely comfortable and nicely appointed.  The room includes a 42" flat screen television, 2 queen beds (1 king bed is also available), a nice size desk and entertainment center (which holds the mini-fridge, and VCR/DVD player).  The bathrooms are the split design – two vanities outside, shower and commode inside.  There is also a small table that slides beneath the desk that can be pulled out for room service meals, or in our case, as a separate work area for Walter.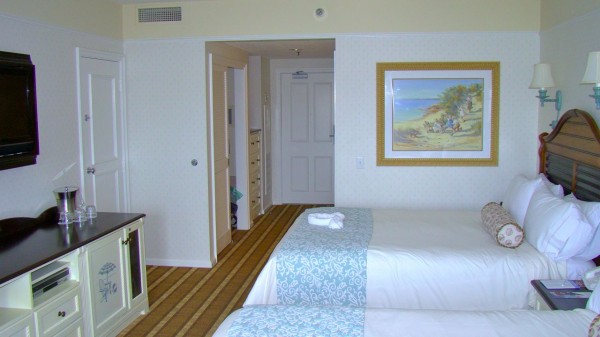 The ocean blue, deep brown and ivory colors are relaxing, and do a great job of conveying the 'beach resort' theme – as do the subtle extra details you find in the room.  Things like the seashells that adorn the top of the mirror, the lamp depicting Mickey Mouse on the beach sitting in a lifeguard stand, and the dark oak planks that make up the headboard on the beds finish off the 'beach' theme throughout the room without beating you over the head with it.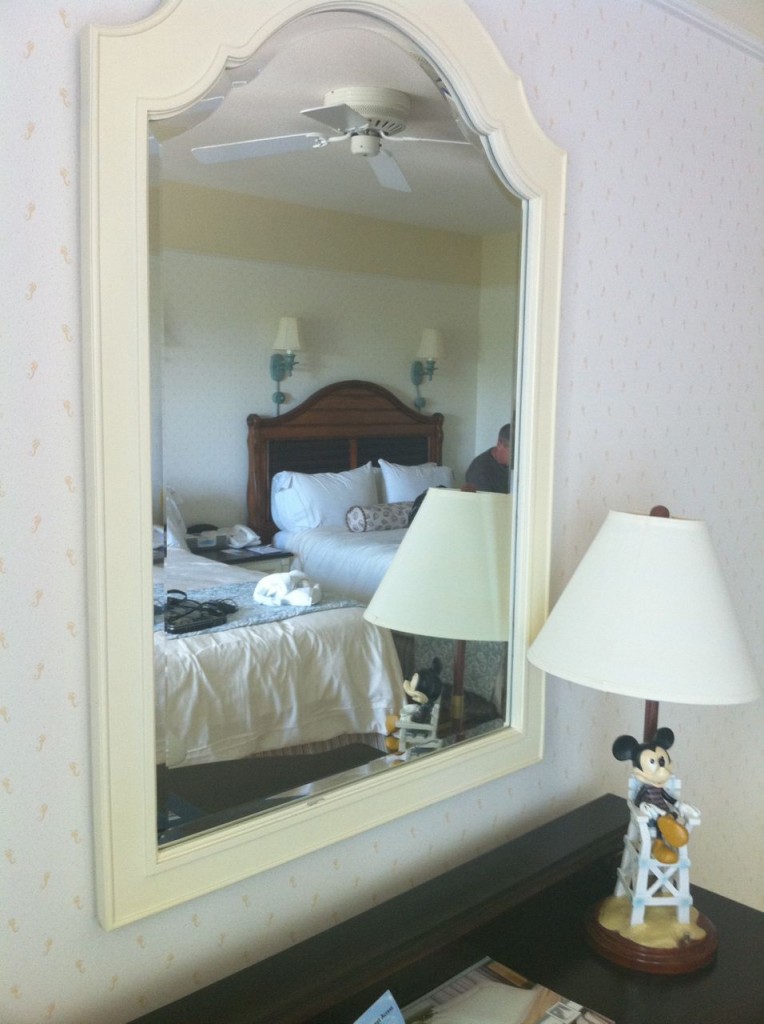 The beds are fairly comfortable, but not as comfortable as I've experienced in other Disney deluxe hotels.  While they were pillow-top mattresses, they felt as though they were past due for a replacement. Where they really missed the mark for me was with the bedding.  The sheets felt more like 'hospital issue' than 'deluxe resort'.  Since the majority of time you spend in a hotel room is sleeping, I put a lot of emphasis on the comfort and quality of the beds.  As I found with most things at the Beach Club, they were adequate for the intended purpose, but not exceptional.  The room does have ample storage that includes a closet, a large, 4 drawer dresser, with four smaller storage drawers within the entertainment center.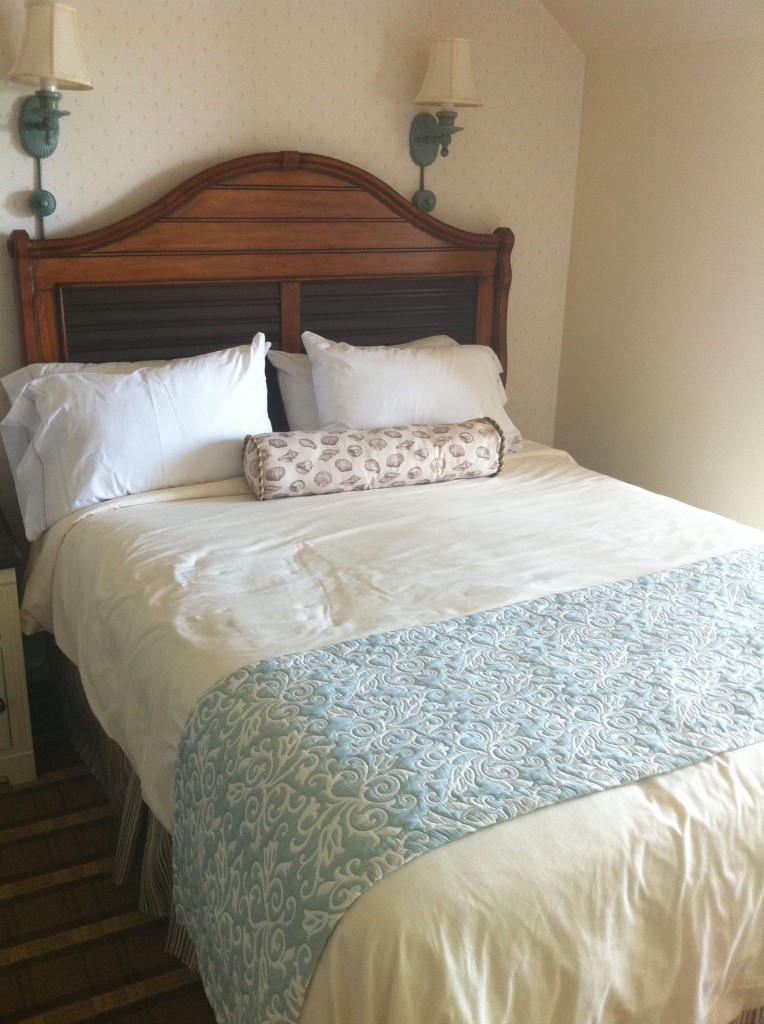 One thing that I did notice, and gave high marks for is housekeeping.  Our room was immaculate – not just when we checked in, but throughout our stay, and trust me – Walter and I make it tough on housekeepers.  You've never seen two people trash a hotel room quite like we can, so I tend to tip housekeeping generously, especially when they can keep up with us.
Dining & Merchandise
For dining options at the Beach Club you have the Cape May Café, Beaches and Cream as well as a quick-service counter located inside the resort's store on the first floor.  The counter service location offers breakfast as well as 'all day' items that range from flat bread pizzas to sandwiches and salads, soups and desserts.  There is also a drink station here where refillable mugs can be purchased (and refilled).  You will find some grocery items here, which is standard with most DVC resorts (the Beach Club is also home to the DVC's Beach Club Villas).   The 'merchandise' part of this location is downright depressing, as it embodies all that is wrong with Disney's current retail strategy.  That strategy can be summed up in a few words – 'sell the same crap everywhere'.  There is very little here to purchase that is unique to the resort.  Everything is pretty much the same generic Disney crap that can be found in every theme park and at the World of Disney.  What is most upsetting is the fact that Disney has done away with all resort specific logo merchandise.  It's no longer possible to purchase a polo shirt, t-shirt or coffee mug with the logo of your favorite resort emblazoned upon it. I know it's probably stupid, but there are very few decisions that Disney corporate has made lately that upset me more than this.  If you want to know why they're doing it – I'll tell you it in a nutshell – it's cheaper to produce in bulk than it is to produce for a specific location.  Instead of purchasing 10,000 crappy generic WDW t-shirts, they can produce 15,000 and save money.  By contrast, producing 5,000 'resort specific' shirts costs more.  Never mind the fact that they charge upwards of $20 for a shirt that's worth a quarter of the price – but that's a rant better left for the show.
A highlight of any visit to the Beach Club is a stop at "Beaches and Cream", the resort's 'soda shop' themed table service restaurant.  Here you can find standard fare like burgers, hot dogs and such, but the real star of the show are the amazing ice cream sundaes  – namely the gluttonous "Kitchen Sink" sundae.  As the name implies, it pretty much includes everything but the kitchen sink – except that it's served in a bowl designed to look like a kitchen sink.  This massive creation includes scoops of vanilla, chocolate, strawberry, coffee, and mint chocolate chip ice cream served with ALL the toppings in the house, topped with an ENTIRE can of whipped cream for $24.  Now, keep in mind this is designed to serve 4 people unless you're a complete pig.  As a diabetic, I consider this 'suicide in a bowl'.  The two meals we ate here were very good, service was excellent and the atmosphere is fun.  There's a reason this place is so popular and I like the fact that it has remained so consistent over the years.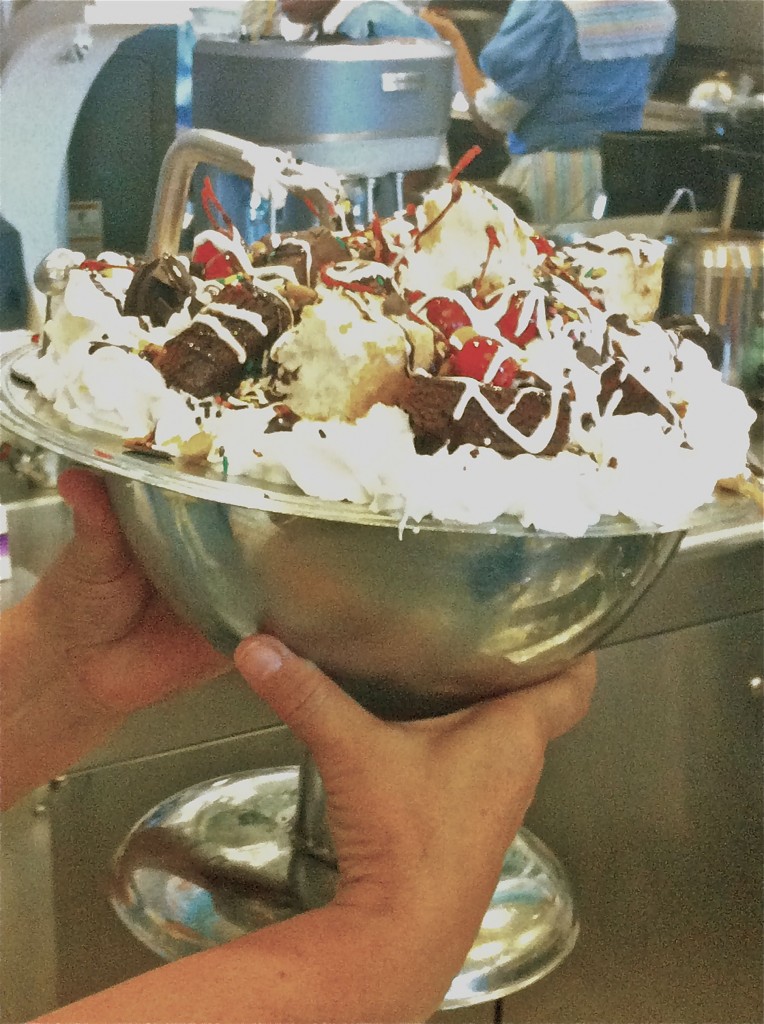 We ordered room service on two separate occasions during our stay – once for dinner and once for breakfast.  The dinner was a complete disappointment.  I ordered a Filet Mignon ($35.99) and honestly, it was the worst piece of meat I've ever been served.  It was grossly overcooked, and was a very poor quality of meat.  The next day I had a filet at Le Cellier that was $6 cheaper and infinitely better.  In my opinion, they should remove the filet from the room service menu if they're not capable of cooking it properly.   Thankfully, I also ordered the chili and chips ($10.49), and that was significantly better.
We did have a good breakfast via room service – two eggs any style with sausage, toast and breakfast potatoes were $12.99, and an order of French Toast with syrup ($12.99) as well as coffee ($6.99 for 32 oz) and orange juice ($4.49 for 20 oz).  The food was good – not exceptional – but not offensive.  If I have to round up my opinion of this resort in ten words or less, that would cover it.
Stone Harbor Club (Concierge level)
Guests who stay on the club level at the Beach Club have access to the newly expanded Stone Harbor Club lounge.  The lounge is open from 7 am-10 pm every day.  They offer coffee service from 6:30-7:00 am and 'Sunrise Starters' (breakfast items such as pastries, danish, bagels, cold cereal, juices, oatmeal, etc) from 7:00 – 10:30 am.  From 11:30 am – 4:00 pm – they offer 'Seaside Snacks' (small snacks, sodas, bottled water, coffee, tea, juice, iced tea), from 5:00 pm – 7:00 pm – Twilight Treasures (hors d'oeuvres, beer, wine, snacks) and from 8:00 pm – 10:00 pm – Regatta Delights, which include a variety of desserts and cordials.
I have to say that the staff working the Concierge floor were excellent.  They were professional, friendly and very helpful.  They were able to secure a last minute reservation at the Yachtsman Steak House for us by calling the restaurant directly, and they were also able to get us a last minute 'Concierge Safari' ($50 per person) at Animal Kingdom.  I often hear the question asked "Is Concierge worth it?"  If you are looking at it from the standpoint of "Will I save enough money having meals in the lounge to justify the added cost?", the answer is almost always no.  Concierge is not a service provided because it provides a discount – it's one of those things where you pay extra for the service and amenities.  As a good example, both a Honda and a Bentley will get you from point A to point B – the only difference is one does it in much nicer style than the other.  That's how you need to look at the added cost of Concierge.  If you're a budget conscious traveler, it's usually not something that makes sense.  Of course, there are those rare occasions (as was the case for us this trip) where the price of a room on the Concierge floor was not as expensive as it would be at other times.  On this trip, we paid $280 per night on a Florida Resident rate for our club level room.  It's not unusual for these rooms to go for upwards of $400 – $500 per night depending on the season.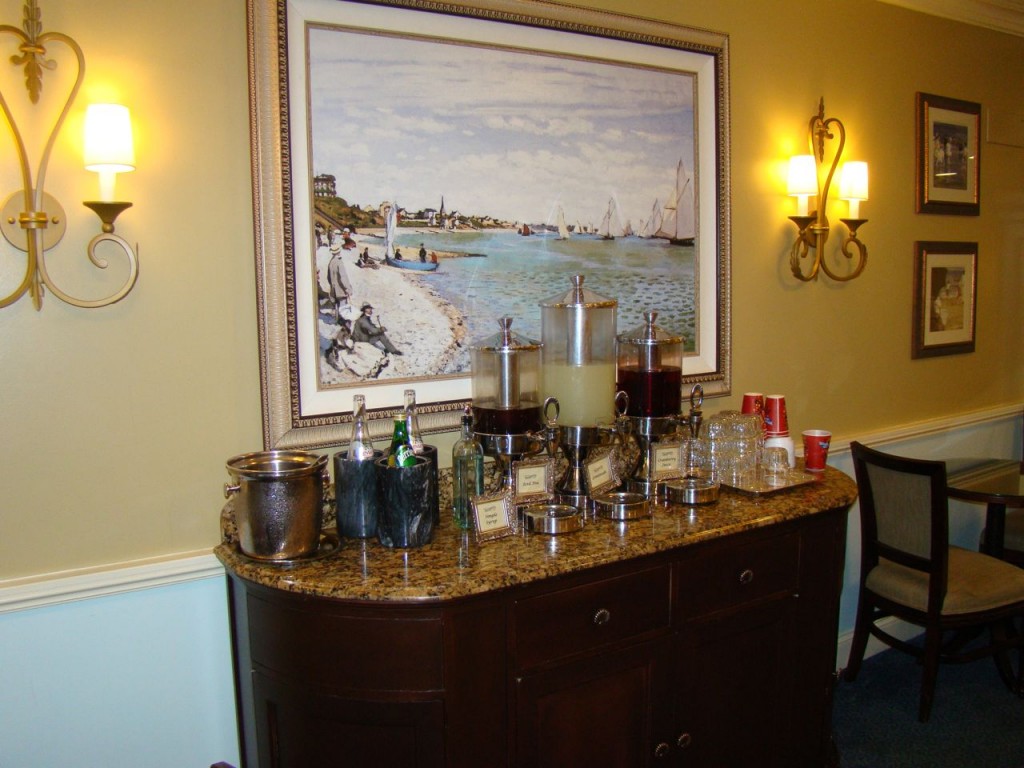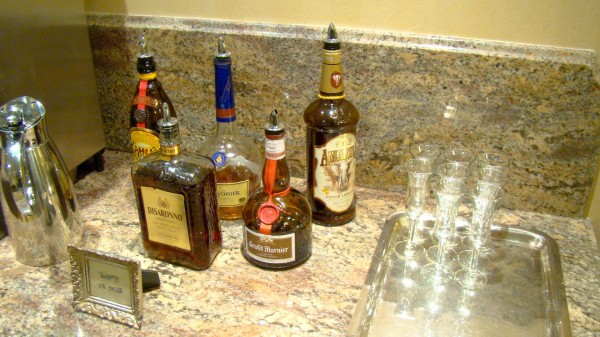 Recreation
There is no other resort I know of that has a pool quite like "Stormalong Bay".  This massive, sand-bottom pool has long been a favorite among frequent Disney visitors, and I don't doubt that there are more than a few people who book this resort specifically for this reason.  It's so popular that wrist bands are required to use it.  The resort has had problems over the years with guests from other resorts coming to the Beach Club (and its sister resort, the Yacht Club, as the two resorts share this pool) just to swim here.  Complaints ran high at one time with guests of the two resorts complaining that they could not get a lounge chair or a place to sit because the pool was overrun with guests from other resorts.  Nowadays, each person needs to show a room key with their name on it in order to receive a towel and wrist band.  This is a good thing, it's just a shame they have to do it.
Overall Impression:
The Beach Club is a perfectly nice resort – but it failed to leave me feeling as though I wanted to return.  The cast at the Beach Club were professional and friendly, but not on the level I've come to expect from Disney – it was more on the level I've come to expect at Hilton or Sheraton.  Perhaps I'm jaded because I fondly recall the days when Disney service was the envy of the industry.  In some sections of WDW however, those days seem as though they are a bygone era.  Gone are the days when cast members routinely tried to go 'above and beyond', replaced instead by perfectly nice, competent people merely doing their job.  Even on the concierge floor, while the cast was very nice and very professional, I simply did not get the feeling that I was at a Disney resort – but rather at any upscale resort where the service is good.  Some may say that my expectations are too high, and frankly – I think that's why Disney's service level has declined in recent years.  People have stopped demanding that level of service from them.  When you charge the premium that Disney charges for their resorts, you have to expect something beyond good proximity to the parks.   This is not to say that I think people shouldn't stay at the Beach Club – it's just a personal observation.  Will I go back to the Beach Club again? Probably.  Will I be excited about it – probably not.  This resort scores an 89 out of 100 .
Category: Disney World, Editorials