A Total Recall of his Forbidden Journey
Part 1 of 3: From Films to Theme Parks
Recently, I spoke with theme park designer Thierry Coup, Vice President of Creative Development for Universal Creative and the executive in charge of all media production for Universal Parks and Resorts.  He is the brains behind the new Wizarding World of Harry Potter land at Universal's Islands of Adventure, and, specifically, the wildly popular Harry Potter and the Forbidden Journey attraction.  Coup began his career in film, and has amassed over 25 years of experience between film making and theme park design.  In addition to the new Forbidden Journey ride, he was the creative lead for the Amazing Adventures of Spider-Man 3D attraction – proclaimed by some fans as the best theme park attraction anywhere.  Continue after the break for part 1 of my conversation where Thierry Coup described his film background and making the jump to designing theme park rides.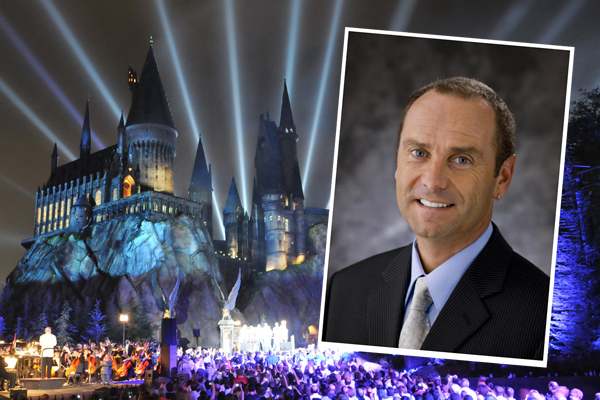 Image: Hogwarts Castle during the opening festivities of the Wizarding World of Harry Potter; inset: Thierry Coup, Vice President of Creative Development, Universal Creative.  Photos courtesy of Universal Orlando Resort; montage by Dave Parfitt.
Thierry Coup started his career creating special effects for feature films such as, Back to the Future (1985), Dick Tracy (1990), and Total Recall (1990).  He worked before CGI or computer effects dominated the field, and Coup's knowledge of film-making tricks helped with ride design since film, video, and animation are such a large part of the theme park experience today – especially with the Spider-Man and Harry Potter rides.  In the early 90's, Coup was not looking to leave film, but after wrapping Total Recall, Walt Disney Imagineering called and asked for a visit.  They wanted to see if he had any interest in working with theme park design.  "I had no idea what it was about, and never really thought about it," Coup remarked.  Disney showed Coup their ideas for re-imagining Tomorrowland at Disneyland, and he was intrigued by the possibilities.  Coup reflected on that first meeting with Imagineering,
"There were a lot of really big design challenges – which I liked; I'm always up for a challenge as far as design goes.  So yeah, I just kind of took it as a test, and, I really loved it."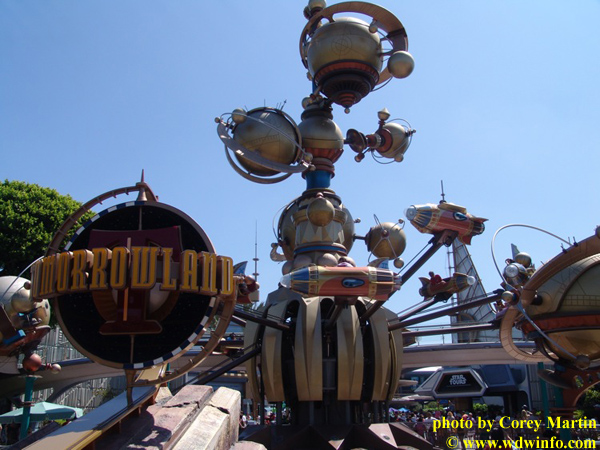 Coup appreciated the permanence of the three-dimensional worlds he created.  Unlike film, where images appear on a big screen only to inevitably disappear, with theme parks Coup said, "You get to be as creative as you want to be, utilize technology, and innovate and create places that will be there for the guests and spectators to enjoy for many, many years to come."  He relished dreaming up adventures and environments that transported guests to another space or time, and then actually seeing the guests experience and interact with these places he created with his team.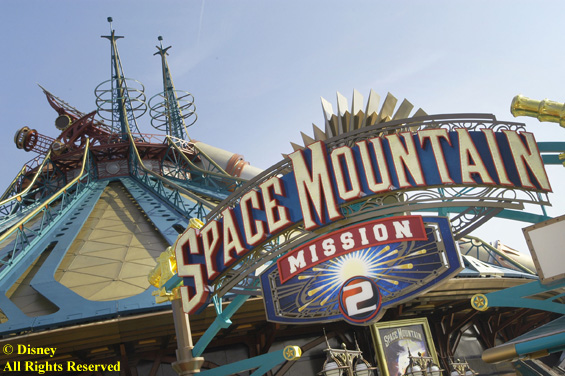 After Coup redesigned Tomorrowland at Disneyland with a retro-futuristic feel, Disney asked him to apply his concepts to the design of the same land at Disneyland Paris (EuroDisney at the time).  At the European theme park, the land fully embraced Coup's retro-futuristic design concept, and was called Discoveryland.  Coup's particular responsibility in Discoveryland was Space Mountain – often described by fans on message boards as the best Space Mountain in any Disney Park.  As a Frenchman, Coup took pride in using Jules Verne's designs as the inspiration for that attraction.  After Space Mountain, Coup dipped into his film special effects knowledge for work on attractions at France's second Disney theme park, the Walt Disney Studios Park.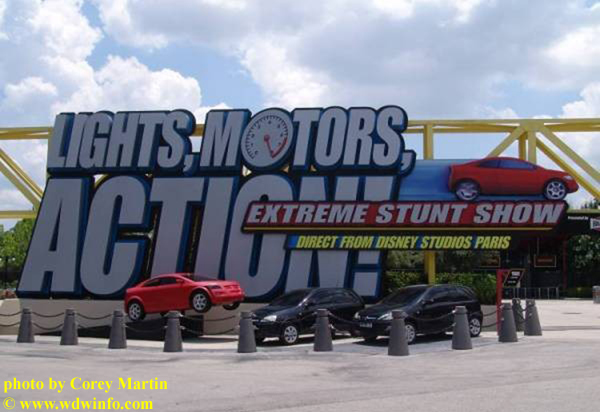 Coup blocked out the Armageddon – Les Effects Speciaux attraction, a special-effects show based on the 1998 Touchstone film, Armageddon.  He also spent time designing and installing the Moteurs… Action! Stunt Show Spectacular, the largest live show Disney ever put together for a theme park.  "It's a great show with a giant cast, huge stage, stunt cars", Coup explained, and eventually the show was brought to Florida as the Lights, Motors, Action! Extreme Stunt Show.  Coup was not involved in the Florida version, as he had already moved on to his next career challenge.
In Part 2 of my conversation with Thierry Coup, he described his move from Walt Disney Imagineering to Universal Creative to be part of the design team for their new Islands of Adventure theme park that would open in 1999.
Category: Universal / Sea World, Universal Orlando