In May 2010, Disney Editions released a new book titled "Walt Disney Imagineering: A Behind the Dreams Look at Making More Magic Real" written by Melody Malmberg with a lot of help from the Imagineers.  This is a sequel to the book published almost 15 years ago with the similar title "Walt Disney Imagineering: A Behind the Dreams Look at Making the Magic Real."  Melody Malmberg is a former Imagineering show writer and the primary author of the book (along with a number of other Imagineers).  She has maintained her friendships and numerous connections at Imagineering, and, therefore, provided insight into the world of Imagineering few get to see.  Mel Malmberg recently spoke with me, and you can continue after the break for my interview and review of the book.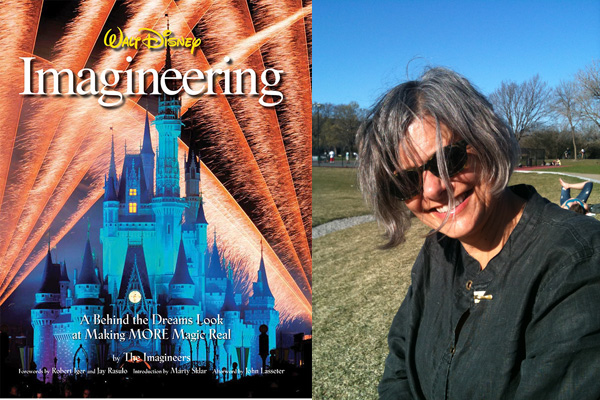 Image: (left) book jacket courtesy of Disney Editions, and (right) Melody Malmberg (photo provided by the author)
Let me start by saying the book is gorgeous and visually stunning – definitely fit for displaying on one's coffee table.  I enjoyed how the book started with an e-mail exchange with Mel pitching the idea to her publisher.  That opening exchange set the stage that this book really would give a behind-the-curtain peek at the inner workings of Imagineering.  Malmberg makes it clear from the outset however that this book is not an all encompassing history of Walt Disney Imagineering, but, instead, a continuation of the story between 1995 (when the first Imagineering book was published) and the present – and there's plenty of story left to tell including four new theme parks, resort hotels, Disney Cruise Line, scores of new attractions, and new technology.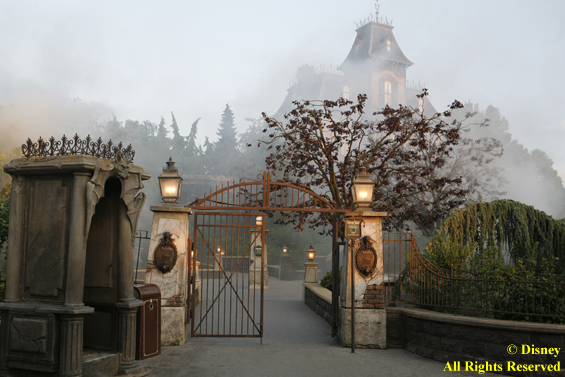 Image: Phantom Manor at Disneyland Paris
Because the book emphasizes Imagineering's work since 1995, there's a large emphasis on Disney Parks the American audience may not be as familiar with.  Of course, Disney's Animal Kingdom (opened 1998) and Disney California Adventure (opened 2001) are well-represented in the book, but a larger emphasis goes to Disneyland Park Paris, Walt Disney Studios Park (in Paris), Tokyo Disneyland, Tokyo DisneySea Park, and Hong Kong Disneyland.  I particularly enjoyed learning about the Asian Disney Parks, and this book is probably the best "travel brochure" I've seen for those parks.  Even Mel, who said she had yet to see Tokyo DisneySea in person, commented, "it makes me want to go to Japan every time I look at the pictures."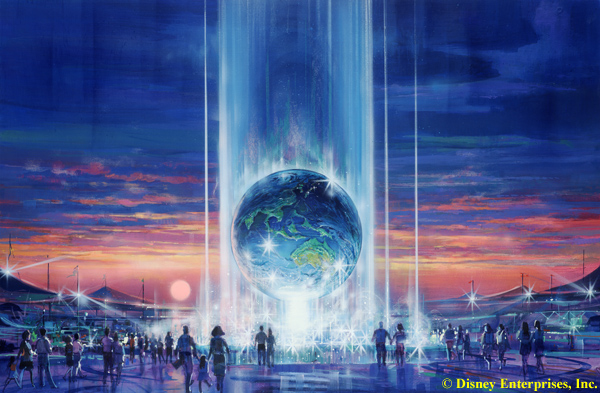 Image: Nighttime view of the Aquasphere at Tokyo DisneySea Park. Artist: Dan Goozee
The book is broken down into three main sections: theory, tools, and portfolio.  Each section is prefaced with a two page illustration by Imagineer Dan Goozee of the AquaSphere at Tokyo DisneySea.  His original nighttime view painting of the Aquasphere concept highlights the theory, a rendering with detailed notes illustrated the tools, and finally, a photograph of the completed AquaSphere at dusk opened the portfolio section.  Using artwork and photographs of a singular attraction from concept to reality gave insight into the process of Imagineering (without being boring, as Malmberg noted), and allowed for great continuity throughout the book.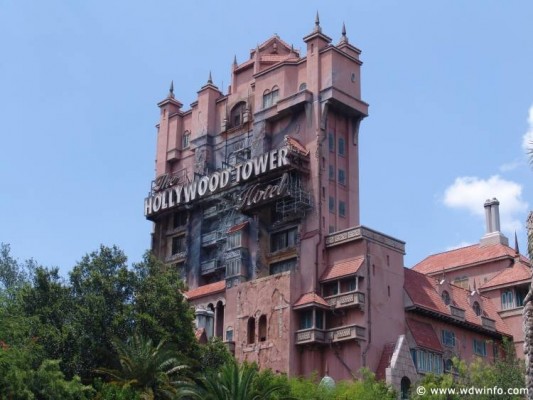 Image: Twilight Zone Tower of Terror at Disney's Hollywood Studios in Florida
The theory section emphasized the importance of not just a unique, creative idea for a project, but the importance of a great story.  This is something discussed a lot on the DIS Unplugged, and Mel shared a wonderful story about how these tales do not always translate across cultures.  The story created for the Twilight Zone Tower of Terror attraction simply did not work for Tokyo DisneySea, and, therefore, a whole new backstory was created conjuring up a brand new character, Harrison Hightower III, and his Hightower Hotel.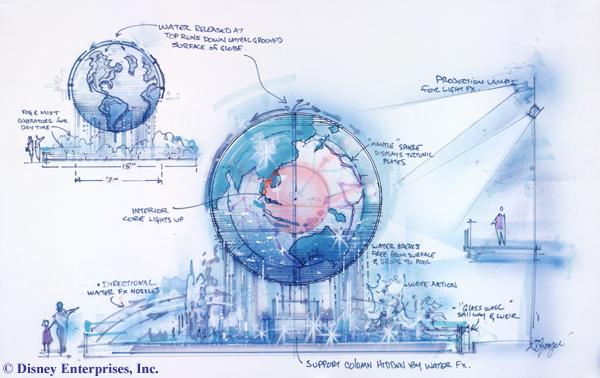 Image: Concept drawing for Aquasphere, Tokyo DisneySea Park. Artist Dan Goozee
Research is such an important tool for the Imagineer, and the book gave rich examples of the lengths to which Imagineers go to ensure an authenticity.  Kevin Rafferty, Senior Concept Writer and Director for Walt Disney Imagineering, has a piece in the book about a trip the Cars Land team took down Route 66.  They followed the same route as the original Pixar animators in order to inspire more sights, sounds, textures, emotions, and details that could be added to the three-dimensional world the team was re-creating.
Image: Concept drawing for Cars Land a new land being developed for the Disney California Adventure theme park
In the book you learn that Walt Disney Imagineering not only has its resident geniuses, but also consults with some of the best experts in the world.  Research and Development tells Imagineering to hire "research associates who know more about your topic than you do."  I was stunned to find out that some of these expert consultants included: preeminent science fiction author Ray Bradbury on the original concept for Spaceship Earth, conservationist Dr. Jane Goodall on Animal Kingdom, Pulitzer Prize winning presidential historian Doris Kearns-Goodwin worked on the updated Hall of Presidents, Tony Award winning composers for "Avenue Q" wrote Finding Nemo – The Musical, and for Mission: Space, Imagineers worked with astronauts at NASA.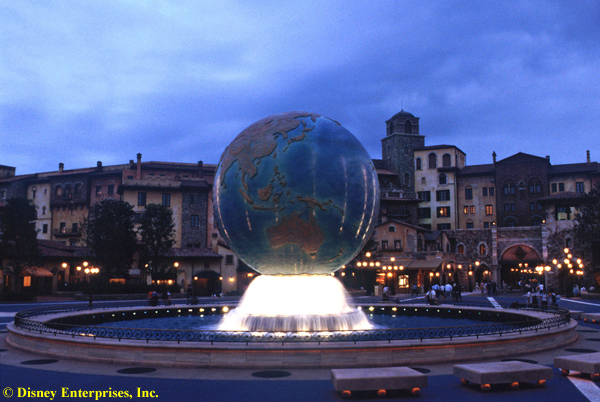 Image: The AquaSphere at dusk, with Hotel MiraCosta behind, Tokyo DisneySea. Photo by Pam Loudon
In the portfolio section, we're treated to a glimpse into Imagineering's culture – the hallway culture, so to speak; what it's like to work inside Imagineering, and the special significance of the "graffiti hallway."  The writing gives a rare look at a world that most Disney fans never get to see.  The book is stuffed with so many stories, so many illustrations, and even "special effects" such as a fold out storyboard for Finding Nemo Submarine Voyage, a layered Cinderella Castle rendering from concept to reality, and a booklet of art treasures selected by Marty Sklar from the Walt Disney Imagineering Art Library, that I'm sure most every Disney enthusiast would find something of interest or something they didn't know about, all contained in this book.  Even people that were not "hard-core" Disney fans would enjoy leafing through page after page of eye-candy illustrations.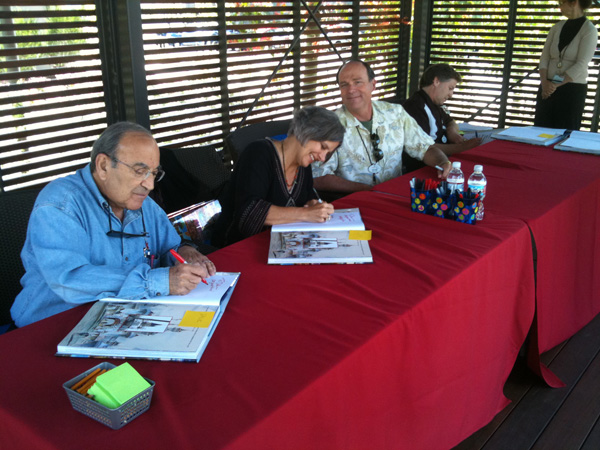 Image: Marty Sklar, Mel Malmberg, Kevin Rafferty, and David Fisher autograph copies of the book at Walt Disney Imagineering on July 26, 2010 (photo provided by Mel Malmberg).
As I said at the beginning of my review, it is a gorgeous book, and worth adding to everyone's collection.  To quote John Lasseter, Principal Creative Adviser for Walt Disney Imagineering in the afterword of the book:
Imagineering will always be scouting the next destination, scaling peaks of undiscovered mountains rising out of nowhere, and opening doors to magical places yet undreamt of – now and through stories yet to be told.
I, for one, can not wait to read the next book filled with stories that didn't quite fit into this tome – or stories that were, at this point, just a gleam in some Imagineer's eye.  Click on the link, if you'd like to listen to my
1. complete interview with Mel Malmberg
.
Category: Disney World, Disneyland, Editorials