In recent years, it has become the 'it' place to be among the Disney set – that elusive, hard-to-get reservation that, for an increasing number of people, has become the make-or-break experience of their vacation.  No, it's not a private audience with Walt's frozen corpse beneath Cinderella Castle, although the way some people behave, you would think so – it's a meal at Le Cellier, the steakhouse located within the Canada pavilion at Epcot's World Showcase.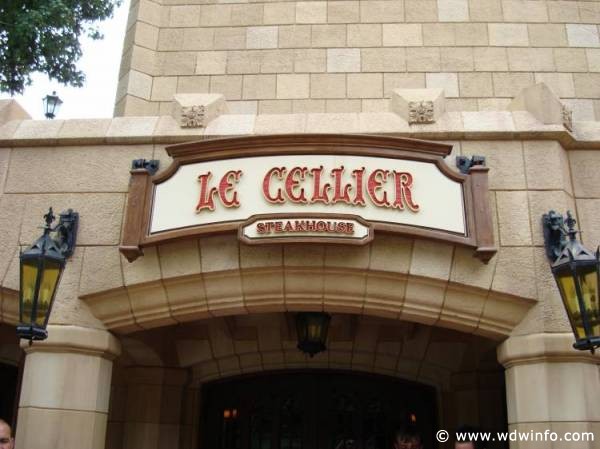 I remember back in the olden days when you could get a table at Le Cellier just by walking up to the podium.  In those days, the food was good, sometimes great, but it was always a personal favorite.  Then, seemingly overnight, the restaurant achieved some bizarre celebrity-cult status – becoming an obsession with many that frequent Disney discussion forums – ours included.  What was once a good meal suddenly became legendary – and like the lame and infirm on a pilgrimage to Lourdes – the place became packed.  So much so that it's nearly impossible to get a reservation here, even if you call six months in advance.  Our discussion forums are littered with stories of those who lament that it's been 'years' since they've been able to dine at the Mecca of all Disney restaurants.
And why is this?  What did this restaurant do so perfectly, so exceedingly well that it's become arguably the most popular restaurant in Orlando?   To listen to some people, you would think that one bite of the Filet Mignon cures cancer.   But even more importantly, why is it that every other restaurant in World Showcase hasn't had this magical secret of success bestowed upon them ?  Why is it that so many of those restaurants peddle what could charitably be called slop, while somewhere within their midst a dining establishment has discovered the secret to culinary immortality?
There are several reasons for Le Cellier's success in my opinion.  First and foremost, the restaurant has (at least in modern times) always been a great place to eat.  The steak was good, the cheddar cheese soup was a guilty pleasure and the nice dark, cold, cave-like dwelling that houses the restaurant was a wonderful respite from the Orlando heat.  When compared to the vast majority of restaurants that surround it, Le Cellier looks great by comparison.
Second, in my opinion, this is a 'meat and potatoes' restaurant, and we are a 'meat and potatoes' culture.  Americans by and large are not always willing to try new things, especially when it comes to food.  We tend to look at 'French food', 'Moroccan food' and even 'British food' with a type of suspicion normally reserved for escaped convicts and sex offenders.  Now, before the emails start flooding in, I'm not saying EVERY American is like that – but let's be honest – we're not a culture known for embracing culinary risk.  We don't really think of Canada as a 'foreign land' or even a foreign culture and they are far more similar to Americans than any other country represented in World Showcase, so it stands to reason their food would be more like what we're used to than say, France or Norway.
Another factor that's led to the high demand for this restaurant can be tied closely with the increasing popularity of Disney's dining plan.  Even before 'free dining' became the cry of the downtrodden tourist, Disney's dining plan had more than a few fans that were more than happy to pay what Disney was charging for the service.
Of course, when free dining was introduced then all hell broke loose.  Now people could, at least in theory, eat at Le Cellier for free!  The rush was on.  Not since the Vietnam war were so many Americans so anxious to go to Canada.
So you can imagine my surprise when I was able to secure a lunch reservation to Le Cellier with only two days notice.  Whenever I plan on spending time on property, I attempt a reservation at Le Cellier.  I patently refuse to wait 6 months to eat anywhere – so if I get lucky, great – if not, there are plenty of other places to eat.  This time though, I got lucky and had an 11:30 am lunch reservation.
We were there for the first lunch seating of the day, and it was quite a spectacle.  Crowds of people gather in the smallest public space known to man (the lobby of Le Cellier) and are made to sing allegiance to Canada before they can be seated (I'm not kidding, the restaurant begins each day by making starving, hot, tired and cranky tourists sing 'O Canada').  Of all the popular, must-do things at Walt Disney World, this is the only one that requires you to swear allegiance to another flag.
I will say up front that I defiantly refused to sing the Canadian national anthem – sorry, I only sing to one country and it's the one I live in – the greatest nation on earth if for no other reason that it lets me stay here even after hearing me sing.  Yes, I drew the cold eye of the Canadian he-woman that led us in song – and I'm pretty sure he spit in my cheddar cheese soup as punishment for not denouncing the home of the brave by swearing my allegiance to the home of the dozens.  (don't send hate mail, I love Canada and I love Canadians – honestly, okay, well MOST Canadians)
After this bizarre ritual concluded we were shown to our table, which was in some section of Canada – I think it was Manitoba, or maybe Mazatlan, I always get them confused.  All I knew is that I was starving and was being made to perform like a circus animal before I could eat.
For those who've never had the pleasure of dining at Le Cellier, the restaurant is divided up into sections – each representing a province within Canada.  It should also be noted that the restaurant can hold the entire population of Canada, which I believe is about 75 people.
We were greeted by our server, Melissa from Winnipeg, who was without a doubt one of the most charming servers I've ever had the good fortune to meet.  When I say we were well taken care of during this meal, I mean it.  No drink went unfilled, no request unheeded, and no detail unattended.  If I were going to base my opinion of Le Cellier only on the service, this would have earned 4 stars before the appetizers arrived.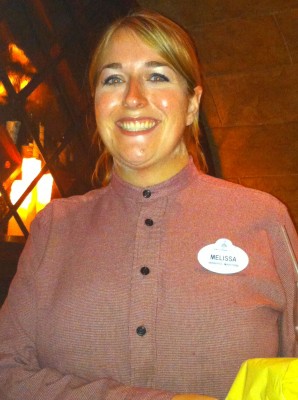 There were three of us at lunch, two of us ordered a bowl of Cheese Soup ($6.99 for a bowl, $5.49 for a cup), while Walter had the Roasted Prince Edward Island Mussels ($11.99).  The cheese soup was excellent as always.  Now, when you dine with Walter enough you eventually learn how to decipher what is the sum total of his dining vocabulary – which is the word "good".  Everything is "good".  You have the mono-syllabic, grunted version of 'good', which means it's not good; you have the half-hearted 'good' said with a slight inflection, which means it's actually good.  But only on a rare, very rare occasion is 'good' joined with the word 'very' – and if you get the two of them with the inflection, well, then we have a rave.  Walter declared the mussels 'very good' – WITH THE INFLECTION.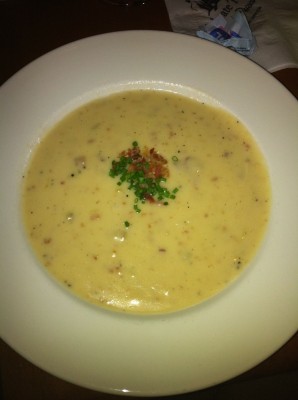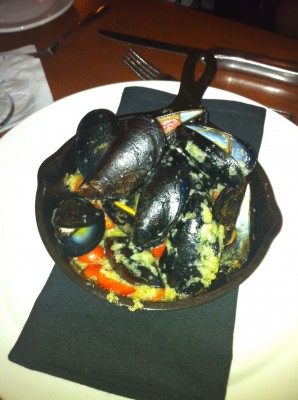 Where the cheese soup is concerned it should be noted that among the bread brought to the table is a piece of 'pretzel bread' – warm, soft, delicious pretzel bread that is even more delicious when dipped in the cheese soup. Then again, you could pretty much dip a steamy piece of crap in the cheese soup and it would taste good, so there's that.
With appetizers out of the way, we were on to our main courses.  Alex ordered the Le Cellier House Burger ($12.49) and Walter and I both ordered the Filet ($25.99).  It was roundly agreed that the meal was excellent. Now, to be honest, my expectations going into this meal were higher than normal.  In fact, I would say that my expectations going in were on par with what they would be for an audience with the Queen given the raving that occurs on our forums about this place.  With that said, the meal absolutely met my expectations.  It was superb – the meat was perfectly prepared, very tender and absolutely worth the $26 they charge for it.  I've paid much more for much worse.  Add to that the fact that not only were we not rushed, our server encouraged us to take our time and enjoy our meal.  I do not recall a time at a Disney restaurant where that's happened.  I'm not saying they always rush you at Disney restaurants, but I've never had a server openly suggest that we take our time.  Perhaps it's the knowledge that even if you live another 40 years, you won't get in the place again – or maybe it's just great service.  Either way, it was a special 'little touch' that made a great meal into a great experience.
It was recently announced that dinner service at Le Cellier would fall under the 'signature dining' category, requiring two table service credits from the Disney meal plan.  Many were upset by this, but honestly – if my lunch is any indication of what a dinner service is like here,  than this IS a signature restaurant and it should be a two-credit meal for dinner (lunch will continue to be a 1 credit meal).
But all of this begs the question – is Le Cellier worth the hype it receives? – if I'm going to base it on my experience at lunch, yes – it deserves the same hype as California Grill, Citricos and the Yachtsman Steakhouse receive.  But what it doesn't deserve is the ever-increasing sense that failure to eat at Le Cellier 'ruins your vacation'.  To some, that statement may seem over the top, but I assure you, more than a few people have said just that – if they don't get into Le Cellier, their trip is ruined.  Let me put it this way – if not getting in to Le Cellier is going to ruin your experience at Walt Disney World, then there is something wrong with you that no discussion forum and no restaurant can cure.  You need help and should seek out a competent professional.  Take a breath – take a Xanax, take something – but failure to eat at Le Cellier is not the do-all, end-all of a Walt Disney World experience.  It's a great restaurant to be sure, but there are other great restaurants on property as well that will deliver excellent service and an excellent meal – I just named three of them and that is by no means the exhaustive list.
I look forward to dining at Le Cellier again in the future – I still won't wait six months to do it, but I'll look forward to it nonetheless.
Category: Dining, Disney World