Saturday, August 14, 2010 was the Last Tour to Endor – a private party hosted at Disney's Hollywood Studios.  This party was part of the festivities for Star Wars Celebration V.  Be sure to check out Kathy Werling's article, for a full recap of the special event complete with many photos.  One of the special shows created just for the evening took place on the Indiana Jones Epic Stunt Spectacular stage and was called: Raiders of the Lost Jedi Temple of Doom: A Fan Film of Epic Proportions.  This show was a "mashup" of the worlds of Indiana Jones and Star Wars, and was full of geeky humor.  Continue after the break for a scene by scene video of this unique show.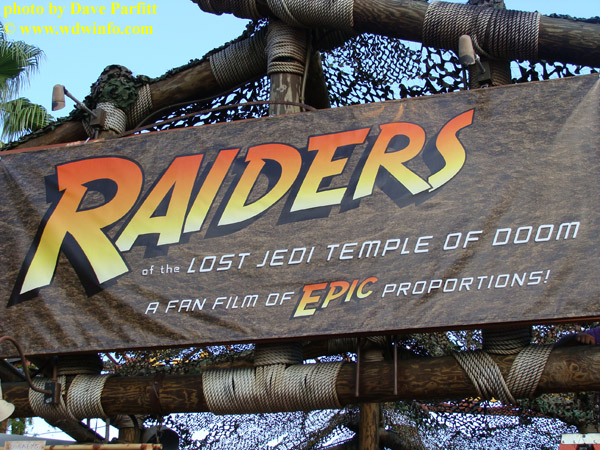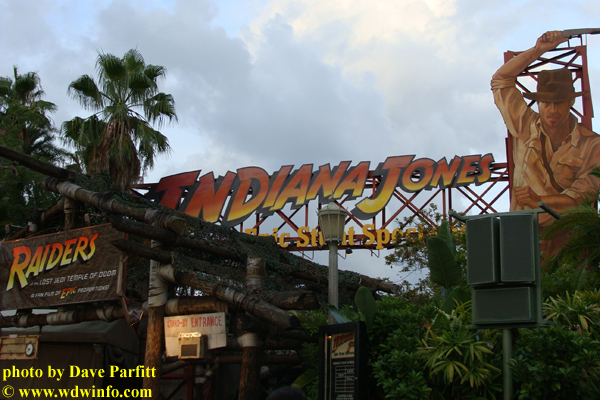 We attended the first show at 8:20 pm (only three shows were scheduled for the party).  We arrived at 8:00 pm, and got the last seats available for the show.  After that it was standing room only, and the theater was absolutely packed.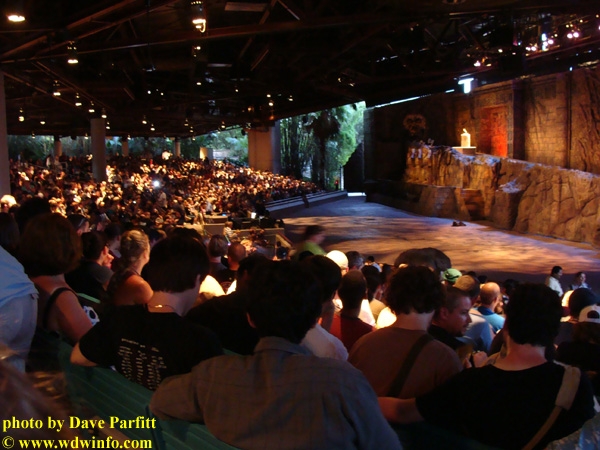 The story of the show revolved around two winners of a Lucas fan film competition brought to Disney's studio backlot to create the world's greatest fan film.  Because the filmmakers couldn't decide if they should make a Star Wars or Indiana Jones film, they did both – combining the worlds of Indiana Jones and Star Wars.  Before the film could be produced, "extras" were picked from the audience.  For the first show these randomly selected people just happened to include Star Wars film actors Jeremy Bulloch (Boba Fett from the original Star Wars trilogy), Warwick Davis (Wicket the Ewok from "Return of the Jedi", title characters in "Willow" and "Leprechaun", and Professor Flitwick in the Harry Potter films), "Star Wars: The Clone Wars" voice actors Dee Bradley Baker (all the Clone Troopers), Matt Lanter (Anakin Skywalker), and Ashley Eckstein (Ahsoka Tano).
The show opened with Indy dropping into a temple to retrieve the Golden Lightsaber.  Along the way he's confronted by the bounty hunter Boba Fett who confused him for Han Solo (a running joke throughout the show).
Scene 2 was set at Tosche Station on the desert planet of Tatooine.  Indiana Jones met Princess Leia, was joined by C-3PO and R2-D2, and along the way Han Solo and Chewbacca join the fight.  The scene culminated with a menacing Darth Maul challenging our hero.
As the final scene was set up, the celebrity "extras" – Jeremy Bulloch, Warwick Davis, Dee Bradley Baker, Matt Lanter, and Ashley Eckstein – chatted with the audience.
The climax of the show occurred in the final scene, 'Imperial Assault", when Indiana Jones fought Darth Vader in an "Epic" Lightsaber duel.
This show was a blast.  Full of kitschy humor and nerdy Star Wars references.  I really hope Disney decides to bring back this show for Star Wars Weekends.  It would be such a shame if more people did not get to see it.
Category: Disney World