If you are planning a trip to Walt Disney World in Florida, a little advance planning can go a long way. You don't need to have a minute by minute plan for your day to enjoy the park, but it does help to have an idea of where the attractions, bus stops, guest relations, attractions, restaurants are located before you arrive.  This time, I'll focus on Epcot.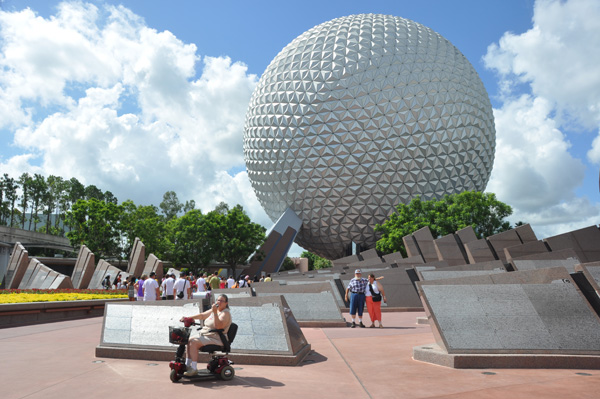 When planning a trip to one of the Walt Disney World theme parks the question of "Should I drive or let Disney do the driving?"  always comes up. If you are planning on using Disney transportation, you should allow at least an hour to get to your destination. Taking the bus doesn't work for everyone. If you are traveling with small children you will need to fold up the stroller before you can take it on the bus. If the bus is crowded, you may need to stand. If you are traveling with someone using an ECV or wheelchair you may need to wait for a bus that has availability. Also be aware at park closing the lines can be long to board a bus. The buses and tram at Epcot will operate for 1 and ½ hours after park closing. To me nothing beats going to my own car at the end of the evening and driving back to my Disney resort.
At Epcot there are 12,706 parking spots. There is a parking lot tram, but be aware it doesn't run all day. There are two handicapped parking lots, near the front of the lot – one on each side facing Spaceship Earth. If you booked your trip through AAA, you should have received a Diamond parking pass.  That will allow you to park closer to the entrance at Epcot. You will need to show this to the Cast Member in the lot and they will direct you where to park. Don't forget to write down where you parked; if you forget where you're parked, but you remember what time you parked, a parking lot Cast Member can tell you what rows to look in.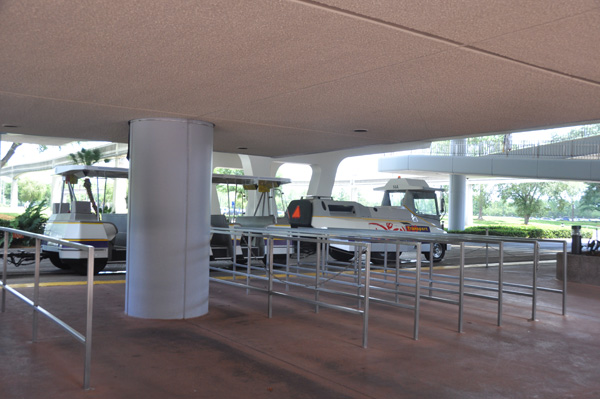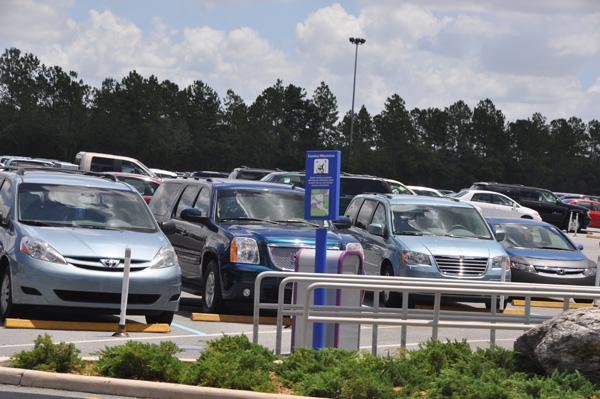 You will need to pass through a security check before you get to the ticket windows and turnstiles.  You will need to show the Disney security guard what you are bringing into the parks.  A good tip is to pack your items in clear bags so you can easily pull them out. There is a special gate you can walk through if you don't need to get your bags inspected.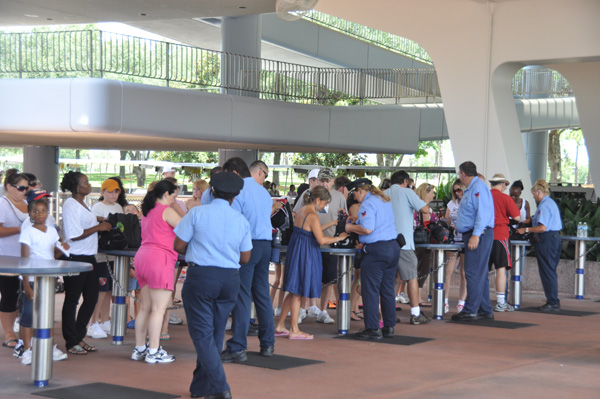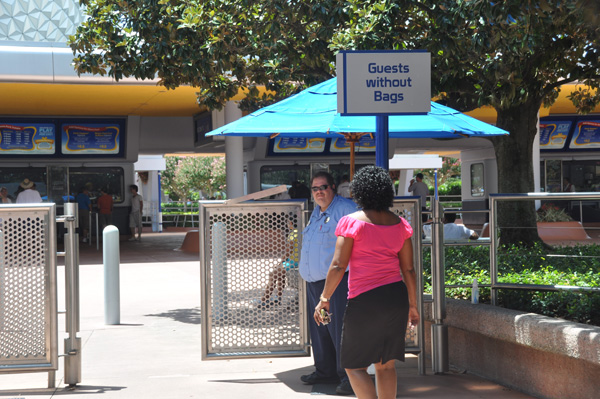 Hopefully you purchased your theme park tickets before you arrived at Epcot.  It really does save time buying them in advance. If you do buy them in advance, make a copy of the tickets in case you lose them, leave a copy at home and take a copy with you in your luggage. The lines can get long in the morning when the park first opens.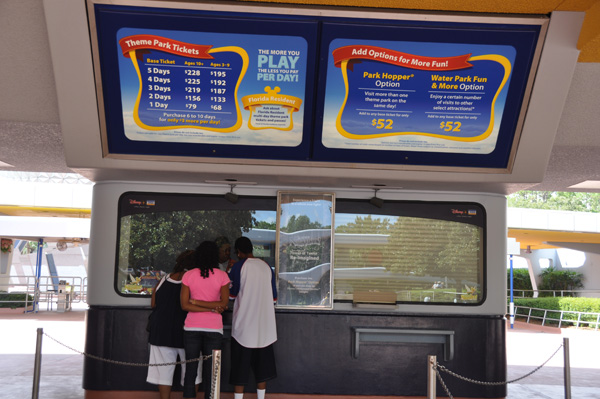 You can have your packages shipped to the front of the park.  This is a great way to shop without carrying the bags through the park with you.  You can pick them up at the window by the entrance to the monorail.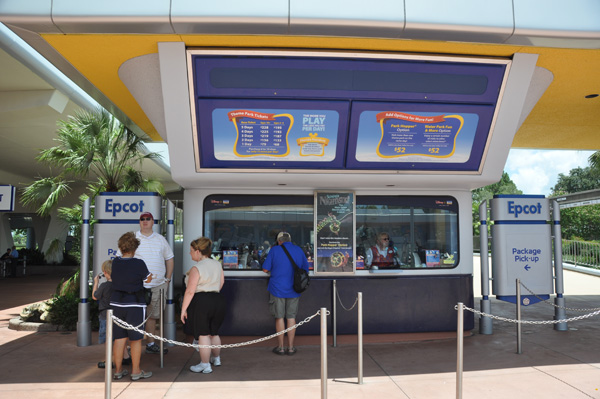 There is a special Will Call window if you need to redeem your Give a Day, Get a Disney Day vouchers.  Every Disney theme park  has a Guest Relations window outside the park if you should need their services. The Guest Relations window at Epcot is also where you will go if you are taking a guided tour. There is a sign indicating where you should wait for the tour. It is over to the right as you face the turnstiles.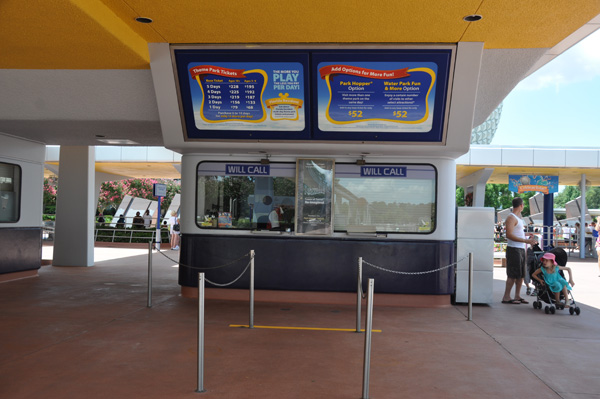 Finally, you are at the turnstiles waiting to get in.  Adults and children over 9 should be aware that you will need to scan your finger when the blue light comes on after inserting your ticket. Many people are surprised by this, but it only takes a few seconds.  Just remember to use that same finger the next time you insert your ticket.
Don't forget to look at a park map before visiting any of the Walt Disney theme parks.  It can help you plan your day in the park. They also have a Times Guide listing the parades, fireworks, and shows so you can see them during your visit. During busy times they will extend the park hours, so be sure to check so you can take advantage of the longer hours.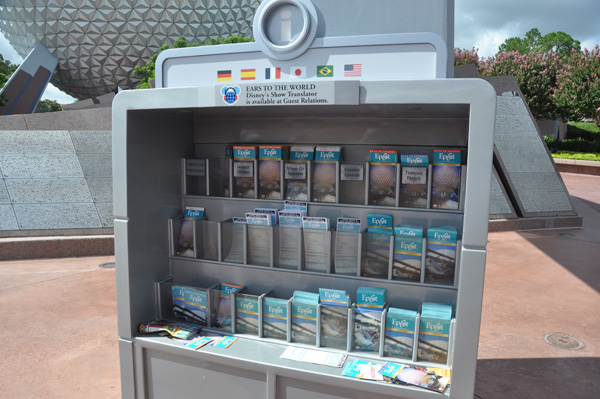 There is some construction going on at Epcot. You should check this list before your trip so you can adjust your plans.
There is a new shop called Karamelle-Kuche coming to the Germany Pavilion in September 2010. It will feature Disney cast members making fresh caramel corn, caramel apples, strawberries, marshmallows. The store will also carry gourmet caramels, cookies, brownies, fudge and cupcakes.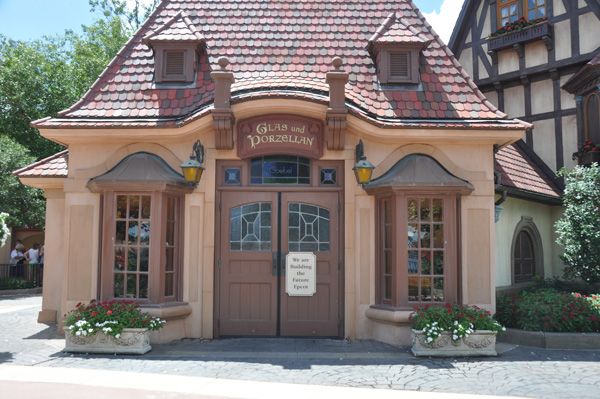 Visitors to Epcot's World Showcase will have a new dining option in the Mexico pavilion this fall. Cantina de San Angel, Mexico's quick-service restaurant, is being torn down to make way for a new, larger venue. The new 12,000-square-foot waterside restaurant will have 400 seats and will offer table service as well as counter service. The current restaurant is much smaller, at 3,500-square-feet and only offering 288 seats. The new venue is expected to be open September 24, 2010.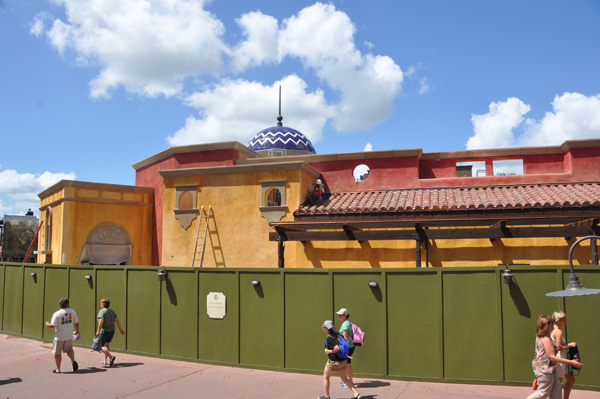 If you are looking for a new place to dine in Epcot Via Napoli recently opened. I had the opportunity to dine here and really enjoyed it. Why not take a look at the menu and see if it works for your family?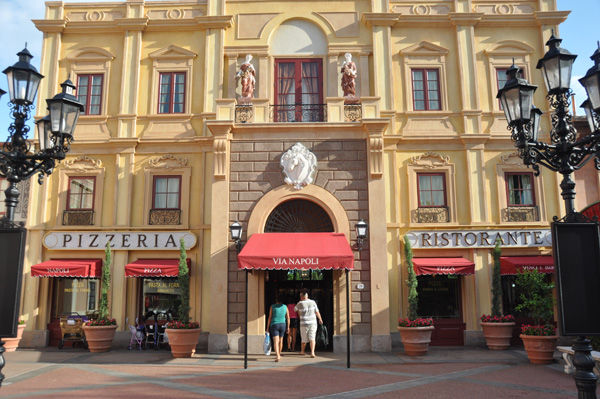 One last tip: Be on the lookout for photo spots.  These signs indicate a great place to take a photo.  These locations are noted on the park map.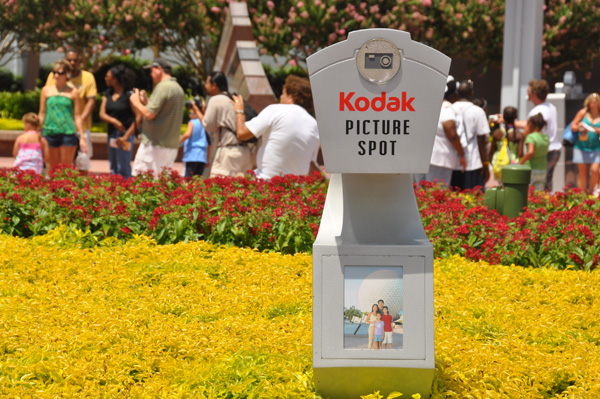 With a little advance planning you can maximize your enjoyment at Epcot. Don't expect to see everything in one day. That gives you an excuse to plan another Walt Disney World vacation!
Category: Disney World