World of Color, the new nighttime show at Disney California Adventure, marks a major advancement in the company's plans to rehab this much-maligned theme park.  When California Adventure opened in 2001, it was met with a wide spectrum of emotional responses – from love to abject disgust, depending on whom you talked to.  As a result, attendance at the park has never been what Disney hoped for and two years ago they announced a plan to completely overhaul the park with a $1.1 billion 'rehab' in an effort to boost attendance.  The $75 million World of Color show is the first major step in that direction, and is it ever a good one.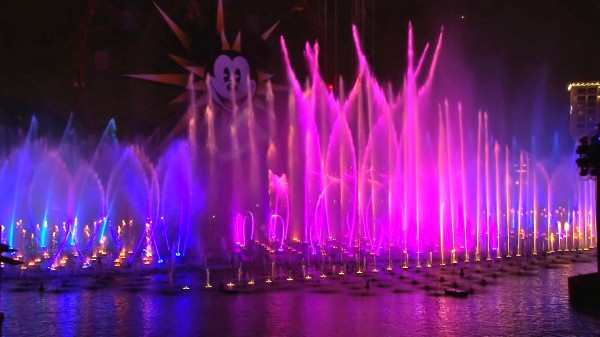 I'm not sure what my expectations were before seeing the show – I knew about it, I knew it was getting good buzz, but beyond that, I hadn't thought much about it.  After seeing it the first time – two things happened:  1) I knew I had to see it again and 2) It was better than Illuminations at Epcot – something I never expected to feel, as I've always considered Illuminations the best nighttime show Disney has ever produced.
What's truly amazing about World of Color is that there are no fireworks – at least not in the literal sense.  This is all done primarily with water.  The show takes place on Paradise Bay in the center of the park, and uses lighting effects, fog, lasers, fire and water – lots and lots of water.   At 26 minutes, this is a long show and there's no seating – it's all standing room.  When you consider that you need to arrive about 1 ½ before the show to have any chance of getting a decent spot – you will be standing for quite some time.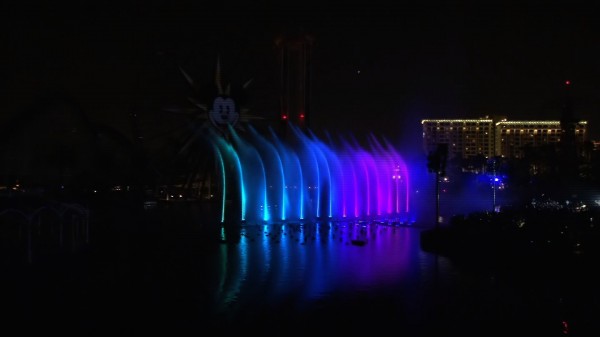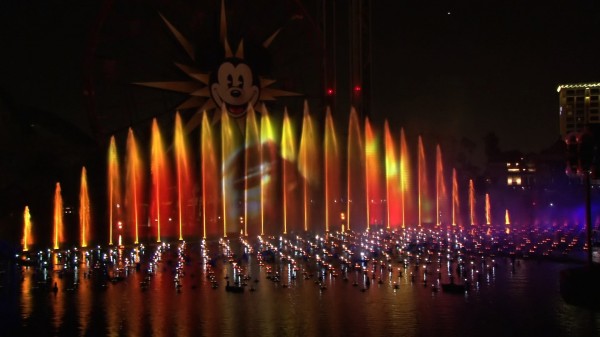 The show incorporates elements of some Disney's most famous (recent) films like The Little Mermaid, Finding Nemo, Toy Story, Aladdin, A Bugs Life and many others.  Scenes from these films are projected onto the water in much the same way as in Fantasmic.  Meanwhile, the 1,200 fountains that make up the show are swooning and blasting water in all directions, enhancing the effect with lighting and lasers.  The show truly is a testament to the brilliance of Disney's creative team.
Seeing this show should be at the top of the list for anyone visiting Disneyland, but you're not going to be able to just stroll up to the bay and enjoy it.  This is going to require some tactical planning.  First and foremost this show REQUIRES a fast pass – something that had many visitors at DCA more than just a little upset.  Disneyland resort guests who are staying at one of the three on-site hotels can get into the park 30 minutes early to get fast passes.  The areas around the bay are divided into colors (blue, red and yellow) – and your fast pass will tell you which section you're in.   Fast passes are issued right outside Grizzly River Run and the line for these passes can get obscene.  If you're staying on-site and want to see this show, take advantage of that 30 minute lead time you get – it could make the difference between a good viewing location and a lousy one.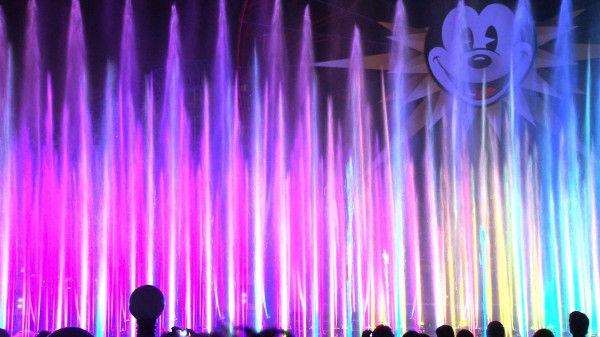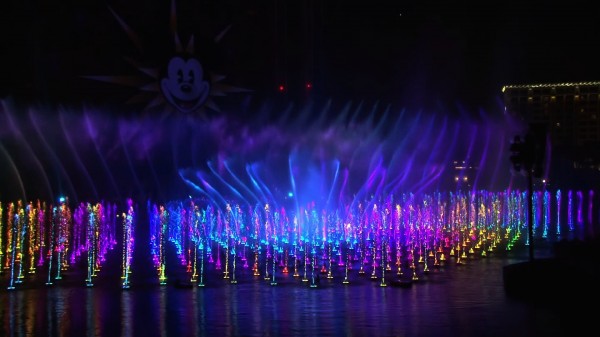 There's also the option of a "World of Color" dining package at either Ariel's Grotto or the Wine Country Trattoria ($36.99 for adults, $20.99 for children).  They both offer 'prix fixe' menus (meaning limited items) and guaranteed viewing for the show.  The "Preferred Dining" viewing area is good, but you're too close to the action to really appreciate the full scope of the show.  However, even with the dining package, unless you show up REALLY early for the show (and I mean like hours before), you won't get a great view of it.
That's the other thing – unlike many other Disney nighttime shows, not all viewing locations are good.  Disney will have to go back to the drawing board to create a better viewing environment for this, but in the meantime the 'blue' section is the best spot.  As you'll see from the video below, the best area to view this (in my opinion) is from the bridge that leads to Paradise Pier.  This is considered "blue" section viewing, but almost everyone heads closer to the water.  This show is big – not just in scope, but in size, and to get a complete view (or close to it), the bridge is the best spot.  On the video, I shot one angle from the bridge, and another from the 'Preferred Dining' viewing area.  I'll let the video speak for itself in terms of where the best area is to watch the show.  Also, the closer you are to the water, the more likely you are to get wet.  I wasn't aware of this, and my camera actually got wet while filming in the preferred dining area.  Fortunately, it wasn't too bad, but water and electronics are never a good mix.  For that showing we were on the third tier of the Preferred Dining viewing area.  The closer you get to the action, the more water will be involved.  Best to keep this in mind especially if you plan on brining an expensive still or video camera to capture the action.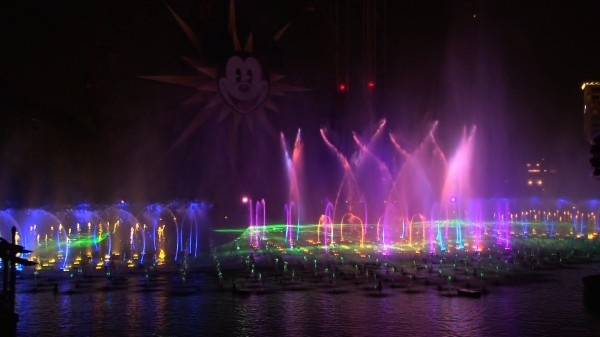 No discussion of World of Color could be complete without discussing the cast members who are responsible for managing the crowds.  In my opinion, these cast members should be given raises and medals (in that order) for demonstrating tolerance and professionalism on a level I could never muster.  Many people at the park on the nights we were there had no idea they needed fast passes to see the show.  I think Disney could do and should do a better job in communicating that– but that's beside the point.  The ABUSE I watched cast members endure from guests who wanted to see the show and did not have fast passes was unlike anything I've ever witnessed in a theme park.  Cursing, yelling, threatening was not uncommon.  I spoke to one CM who said she'd been hit, kicked and spit on.  Even still, she had a smile on her face; she was calm and polite to everyone who was screaming at her.  I watched as cast members were either abused or ignored as they repeatedly told the same people that they had to keep moving, or they had to move from the area where they were.  I counted 5 times in 3 nights where I saw security get involved – that's how bad this was getting.  Really people – BE NICE TO CAST MEMBERS.  They don't make the rules, they're not sitting around off hours thinking of ways to make your vacation miserable, they're not there to mess with you – they have a job to do.  If you have a problem with how things are being handled, take it to guest relations but LEAVE THE CM'S ALONE!!
With that said, I think Disney has done a brilliant job in managing the crowds for this.  Each show can hold a little more than 4,000 people in the viewing area (during the summer months at least, they're doing 3 shows a night to accommodate the crowds).  Between the issuing of Fast Passes, the way lines were organized prior to the start of the show, the way people were moved in and out of the area – this was more like a finely tuned military operation than a theme park event in the best sense of the term.  Universal Orlando should send people to California to take copious notes on how to manage crowds (you didn't really think I was going to miss the opportunity to make that dig, did you?).
World of Color is, in my opinion, the best nighttime show Disney has produced in the 20 years I've been visiting their theme parks.  And that's saying something, considering almost every nighttime show Disney does is better than the one that preceded it.  The bar was set impossibly high for the creative forces that conceived and executed World of Color, and they not only rose to the challenge, they've created a show that will be daunting, if not impossible, to surpass.  Although I'm happy with the way this video came out, it does not do the show justice.  This has to be seen in person.  Watching the video, seeing pictures or reading trip reports can not convey the emotion that's conjured during this show.  I'm not one to usually get sappy about these things – but this show really moved me and I would plan a trip to California just to see it again.  As a matter of fact, I already have!
CLICK HERE for the DIS Photo Gallery from World of Color
Category: Disneyland