When Disney comes to town with an event, expectations run pretty high.  What will be the next big thing?  How will they wow us?  Some of these events are expansive – crossing the country and hitting as many towns as possible.  Others only have a few stops.  Such was the case for the World of Color Road Show.  It hit only 4 cities – San Francisco, Sacramento, San Diego, and Los Angeles, but there was a twist.  It was designed to be seen (with an interactive experience) by fans all over the world!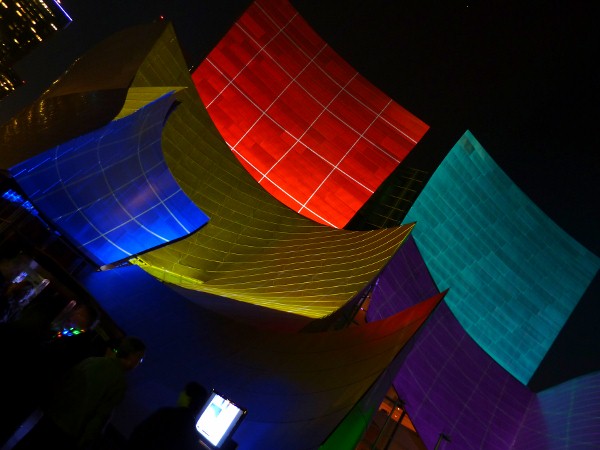 Imagine custom designed animation being projected onto iconic structures and then shared with millions via live streaming video technology.  Fans were able to tune in on specific dates and times and see the event as it happened (and then see encore presentations on following days).  They could even vote on what color would start each showing!  For the final showing, the Los Angeles Philharmonic Orchestra's Walt Disney Concert Hall was set to play host to the event.  Once I got the invitation, I thought – odd, but this is a "once-in-a-lifetime" chance to see something of this scale in person.  So I did a little research before packing my gear up, grabbing my friend Roxana, and heading downtown for the 9 pm showing.
Stick with my adventure and make sure you watch the full video of the event and an audio interview with 2010 Disneyland Ambassador, Quinn Shurian!
One of the first things I want to say about events when Disney comes to town is to do your research before you dive in.  Like I said in my previous blog, this was really meant to be watched online by fans around the world, not up close and live.  You should always check the event website before planning to attend a Disney function.  Disney will put up the type of info they want you to know.  In this case, everything on the Road Show web site reflected watching it on the internet.  Other events are meant to be attended in person.  "Know before you go" is a great (and hopefully not copyrighted) lesson to learn here.
Of course, that didn't stop passers-by and families from wandering down and watching it from the steps of the LA County Courthouse, across the street.  This was something that folks just seemed to "stumble upon".  We were lucky enough to be invited guests, so we had the opportunity to really enjoy it up close at the steps of the Hall itself.
Now, just to walk around and stand before it, you realize that the Walt Disney Concert Hall is a pretty impressive building.  Designed by architect Frank Gehry, its unique roof boasts layers of futuristic "sails" and "peaks".  It was these features that were perfect projection screens and that seemed to make it a "no-brainer" to choose this building for the final display of "Sky" animation.   Here's a look at it in its normal nighttime state: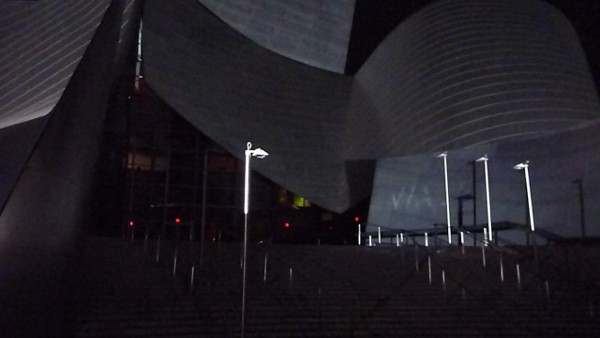 And here it is as I found it upon my arrival!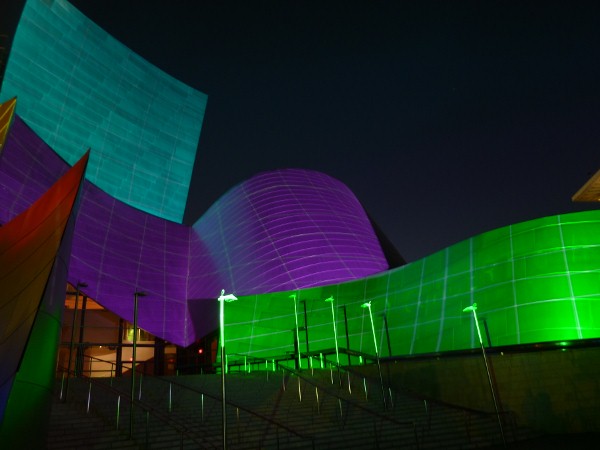 If you take my first photo and combine it with this one, you can see why I loved the wash of colors that they used to accent the different projection areas.  But these colors didn't stay that way, once the show was a "GO" at 9 pm.  Everything went dark and a very non-Disney techno beat started pulsing through the air.  Interestingly enough, the opening animation was non-traditional for Disney as well!    How do I put this….  it was oddly amazing.  Talk about animation that really matched the intensity of the music.  It was a mix of very futuristic images in 3D, that almost felt like you could relate them to various technologically oriented Disney "properties", like Tron, the extinct Disneyland attraction Adventures in Inner Space, and some of those bizarre tunnels that had weird projections that you used to ride through.  It now occurs to me that the opening piece in Fantasia, Tocata and Fugue in D Minor, was also an abstract animation piece in the same vein, although not so futuristic.   When I spoke with Disneyland Ambassador, Quinn Shurian at the event, we both described it as "out of box"!    If you look at it closely, the robot/spaceman that manifests itself and walks away looks suspiciously like ASIMO – the robot in the Honda exhibit on the second floor of Innoventions out here at Disneyland!   Roxana and I both actually enjoyed this portion of the show – that it showcased the unusual and unique 3D aspects of the animation.  We both thought that the quality of the projection was impressive – that in person, they could get the 3D to appear that clear on such a large surface area.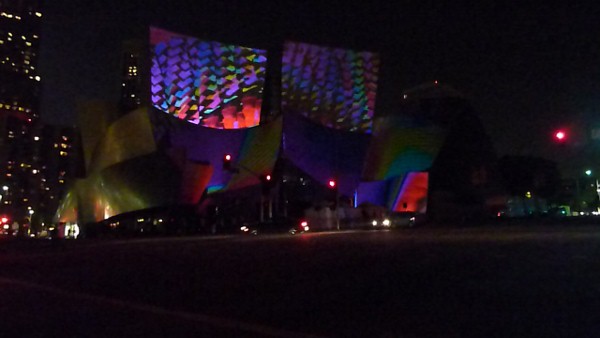 Interestingly enough, when I went onto the DisneyParks YouTube Channel to see if they had already posted the Los Angeles footage, I found that Disney chose to omit the techno-portion off of their YouTube video version!   I'm really glad I taped it for you in its entirety, because it was pretty cool.  I will warn you, if you have made it this far in the article and you haven't actually watched my video link, you will either love it or hate it.  There isn't really a middle ground.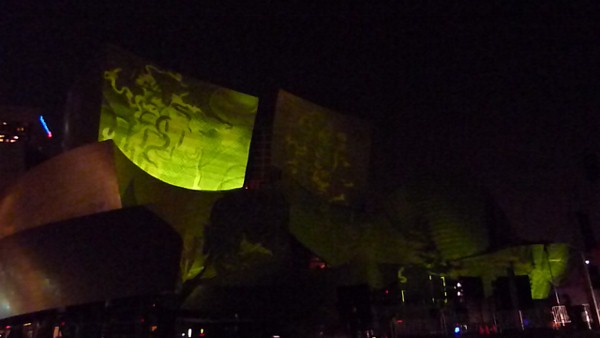 I think the most important thing to understand is that the first part of the show was really developed to showcase the projection technology that is used in the World of Color Show at Disney California Adventure.  Disney animation is projected on massive water screens and needs to be of the utmost clarity.  The techno-wizards that Disney has selected to animate these screens got a chance to "show their stuff" in that opening sequence.  Remember how I said there was an interactive component to this?  The folks watching online had an opportunity to vote on which color would open the performance.  It wasn't obvious (to me, at least) where that color choice took place, until we saw multiple sets of footage that I show.  It was in the techno sequence – where the "pipes" were growing.  Look carefully at our video, as we have included each color in the footage!
Once the technology showcase animation was completed, the more familiar Disney animation took the stage.  The opening sequence was of the constellation of Diana the Archer, shooting a star across the sky/screen.  This opened to a view of the galaxy that reminded me very much of the interior shots in Space Mountain.    Next came an interesting sequence of scenes to continue the "Sky" theme.  Roxie and I both agreed that these were some pretty creative choices of traditional Disney moments, although I felt that the use of the Bambi/Faline escape sequence was just put in to show how cool the different building facets could appear as rock outcroppings…
The building's unique features were one of the things that Quinn and I also discussed – how the animators use each specific facet of the building's structure as a purposefully designated screen.  You can see this in the following photographs.  In the opening Disney archival animation of Diana, as well as the example shown of the Blue Fairy casting her spell on Pinocchio, the side wall was used as a transitioning "scene starter".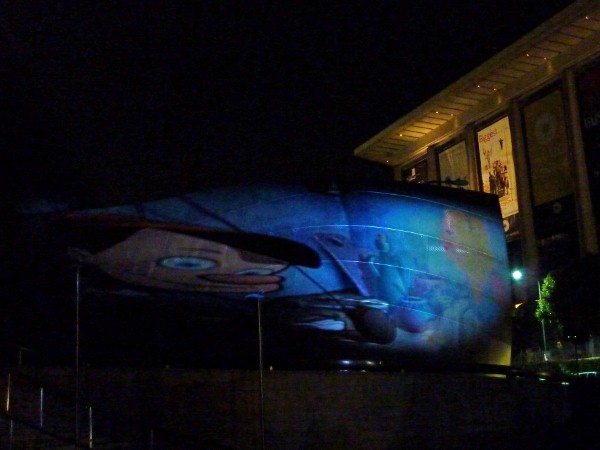 It also became a "set" for other action – as in Aggrabah, in the Aladdin sequence.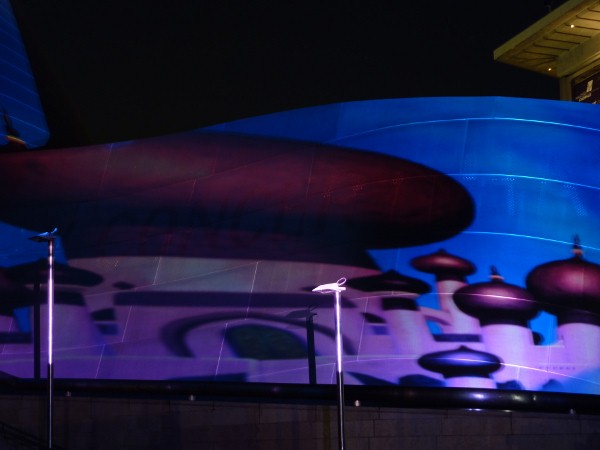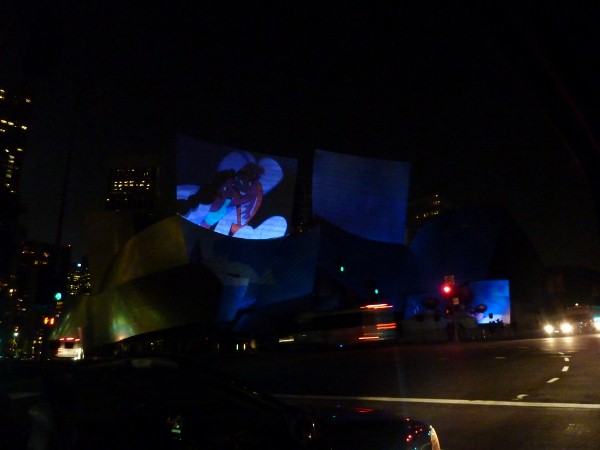 I found that it was difficult to photograph the actual moving animation as it was projected, due to the light levels and basic skills of my particular camera, as it moved so quickly in the darkness.
For those who are geeky about their animation trivia (I wouldn't know anyone here like that, nope, not me…), the animation sequences in order were:
Diana (Fantasia)
Space
Blue Fairy and Pinocchio (Pinocchio)
Bambi and Faline (Bambi)
Butterflies (Bambi or Silly Symphonies – I couldn't quite tell – could even be Fantasia  in the Nutcracker Suite Symphony, where the fairies change the seasons…)
Pegasus Family (Pastoral Symphony – Fantasia.   Did you notice you were looking over the golden baby pegasus' shoulder on the left screen?)
Whole New World sequence (Aladdin)
Zeus and the Lightening Bolts (Pastoral Symphony – Fantasia.   Did anyone else think they used some underlying music from Hercules in that beginning?)
Sorcerer Mickey (Sorcerer's Apprentice – Fantasia)
Genie (Aladdin – We unfortunately can't show this surprise in our final edit, due to special licensing for only the live performance!)
The Broomsticks (Sorcerer's Apprentice – Fantasia)
The whole production took around 8 minutes and was repeated every 15 minutes.  That 7 minutes was enough to walk across the street to see it from the courthouse steps and take in the whole perspective of the building.  I think it took about 5 cycles to really notice everything.  Hopefully you enjoyed it as much as I enjoyed bringing it to you!
1. Listen to 2010 Disneyland Ambassador
, as he talks with me about the World of Color Road Show!
Category: Disneyland, News
Disneyland Podcaster for the DIS Unplugged