The Disney Cup International youth soccer tournament was played last week (July 12-17, 2010) at the ESPN Wide World of Sports Complex with more than 200 elite teams from around the world competing.  For one team, the Haiti National Women's 17 & under (U17) team, just making it to Disney for the tournament required many hearts and one goal.  The devastating earthquake that killed over 200,000 in Haiti just 6 months ago did not leave this team untouched.  The earthquake claimed their coach, family members, friends, and took away many of life's basic necessities such as food, water, and shelter (to this day 1.2 million people are still homeless in Haiti).  Continue after the break for more details including a video showing how these young women have continued to persevere.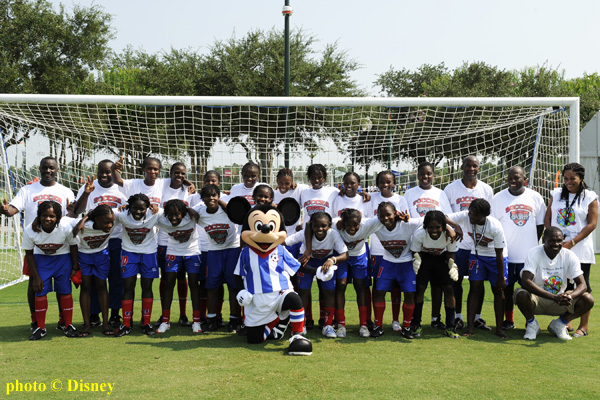 In March, less than two months after the quake, the Haiti Women's U17 played against the United States Women in Costa Rica for a spot in the U17 World Cup.  Haiti lost that game to the US, did not qualify for the U17 World Cup, but something amazing happened after the game.  It started with a hug.
The final score in that March game was 9-0, and when the whistle blew Haitian keeper Alexandra Coby collapsed on the field, overcome by emotion.  Coby had lost both of her parents in the earthquake, was homeless, and faced returning to the devastation.  US Goalkeeper Bryane Heaberlin made her way to the other end of the field, where she embraced Coby.  Tears fell for both, and soon the remaining US players joined Heaberlin, Coby, and the rest of the Haitian players in the embrace.
Afterwards, Heaberlin received an e-mail via Aaron Heifetz, Press Officer for the US Women's National Soccer Team.  It was from Abby Wambach, star player on the US National Team, Olympic gold medalist, and hero to many of the US U17 Women.  Aaron Heifetz shared that e-mail from Wambach with us, and it read:
"You can imagine how amazing I think what you all did after the Haiti game was and how much it means to me, and to this country.  It is rare to have moments like that show up, but even more rare to actually do the right thing when they arise.  It takes people who think outside of themselves to do what you all did.  I believe it truly shows one's character.  And to do it in the way you did was simply one of the most gracious things I've seen in a long time.

Honestly, today I feel very proud to be an American.  It gives me something to strive towards. It gives me strength in knowing that what I do every day will be taken over by good people that respect this life and game.

The example that you all showed is exactly the kind of thing that makes this game so special. We have the ability to do so much. Keep up the good work, and keep making us proud. You all are an inspiration."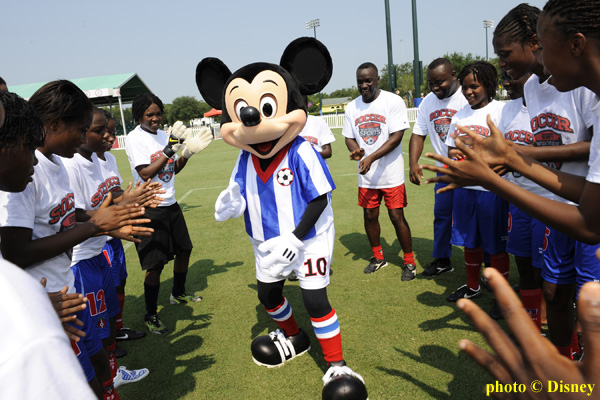 When Heaberlin returned home, she took Wambach's advice to keep up the good work, and worked to take something from that game beyond soccer.  She created the Bryane Heaberlin Foundation with "Many Hearts, One Goal" as its focus to help Haiti through soccer.  The foundation accomplished its first goal of flying the entire U17 Haitian Women's National Team to Orlando to compete in the Disney Cup.  The second goal of Heaberlin's foundation is to continue to help the members of the Haitian U17 Women's National Team with contacts, resources, and assistance to ultimately attend and play collegiate soccer in the coming years.  Finally, "Many Hearts, One Goal" wishes to continue to aid the members of the Haitian team, as well as the entire Haitian Football Federation, in recovering and rebuilding after the earthquake.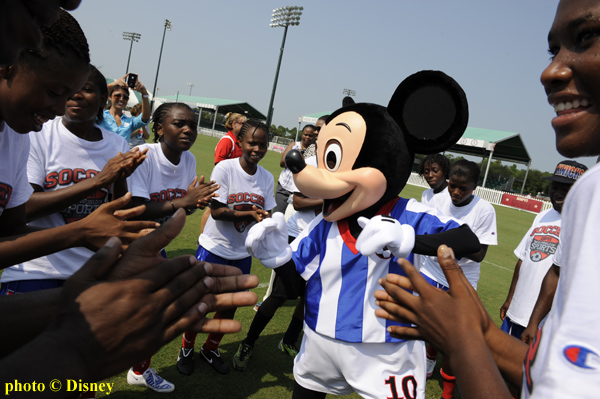 While coming to the US for a short period of time doesn't solve any of the problems back home for the Haitian team, it brings hope to those who otherwise might not have any.  Their drive serves as an inspiration for us all.  Haiti ended the Disney Cup tournament in first place in its group with 2 wins, 1 loss, and 2 ties.  If you wish to learn more about Bryane Haeberlin's foundation you can visit many-hearts-one-goal.org.
Category: Disney World