On Saturday, July 17th, Disneyland celebrated its 55th Birthday.  They celebrated the day with several merchandise releases, a couple of emotional ceremonies and even a few surprises.  It was a hot day in Southern California, just like opening day in 1955, but we braved the heat and enjoyed Disneyland's birthday party.  Read on for some pictures and highlights from the day.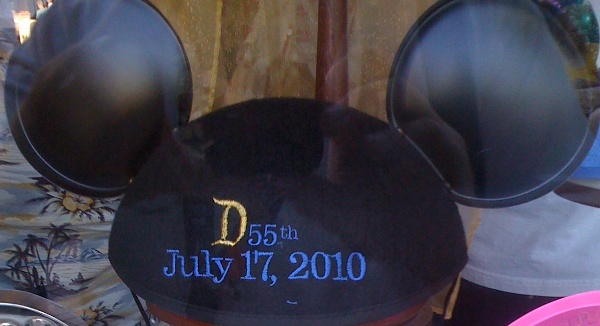 The morning began with Cast Members up and down Main Street, some wearing Mickey hands, waving and making sure everyone knew that today was Disneyland's big day.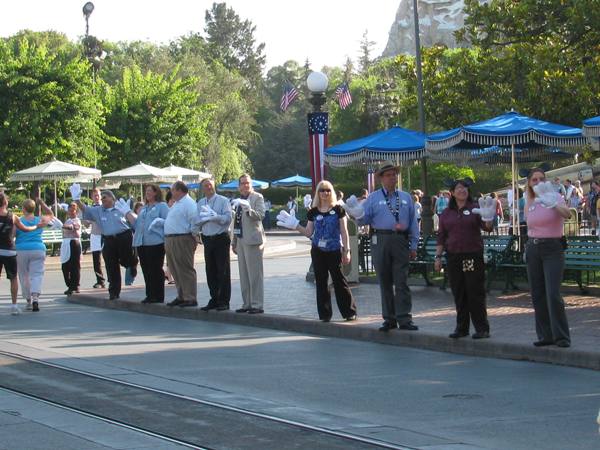 At noon, there was a re-dedication ceremony in Town Square (audio of the ceremony is below). The Disneyland Band marched in, then Disneyland Ambassador Danielle DuBois welcomed everyone and introduced George Kalogridis, President of the Disneyland Resort.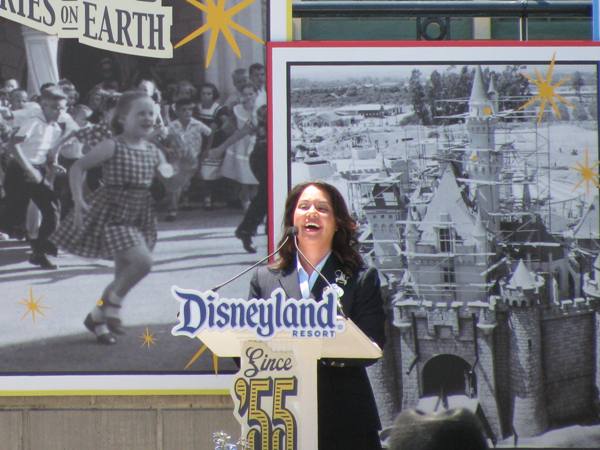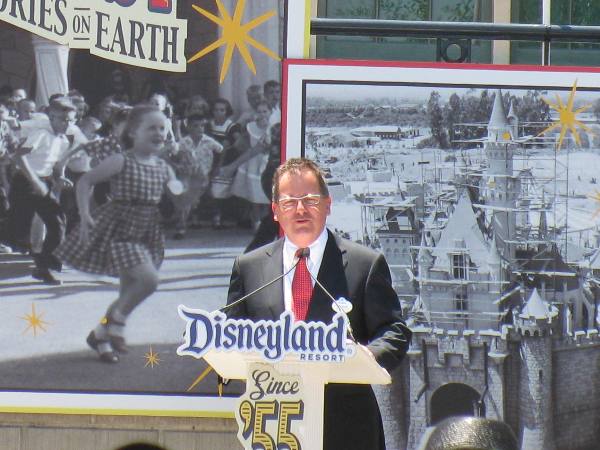 Kalogridis said a few words, then introduced Robb Fischle, who works for Disneyland security and was one of the children that ran through Sleeping Beauty Castle and into Fantasyland 55 years earlier.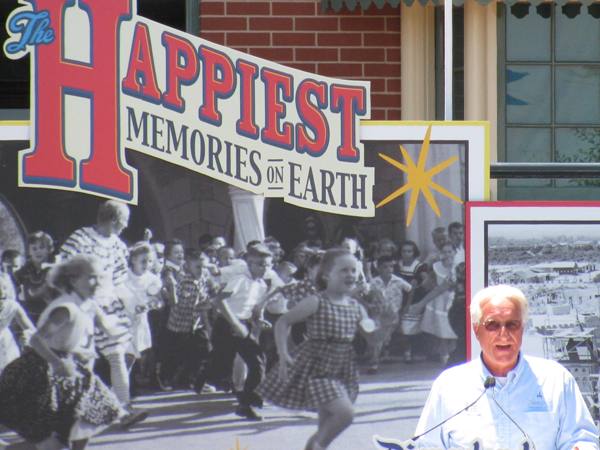 Following that, we were treated to children singing a multi-lingual version of "When You Wish Upon A Star".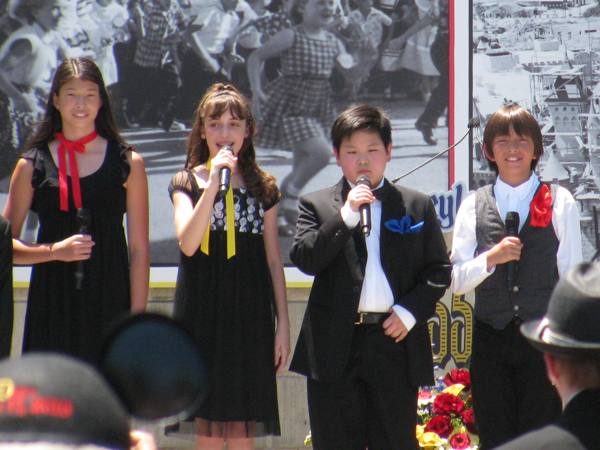 Walt Disney's opening day dedication speech was played, then the small group of children were joined by a full choir to finish out the song.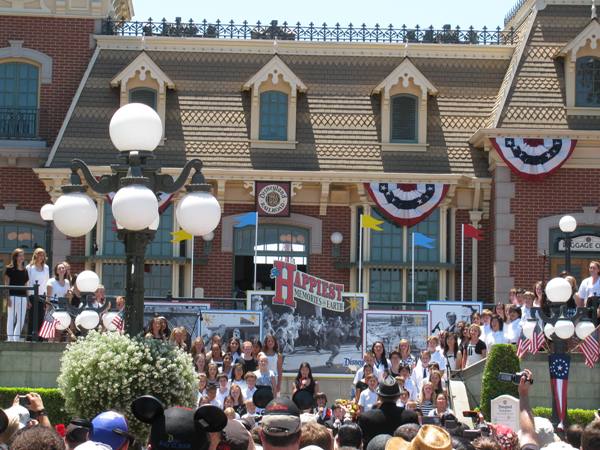 Disney characters, doves and confetti completed the ceremony.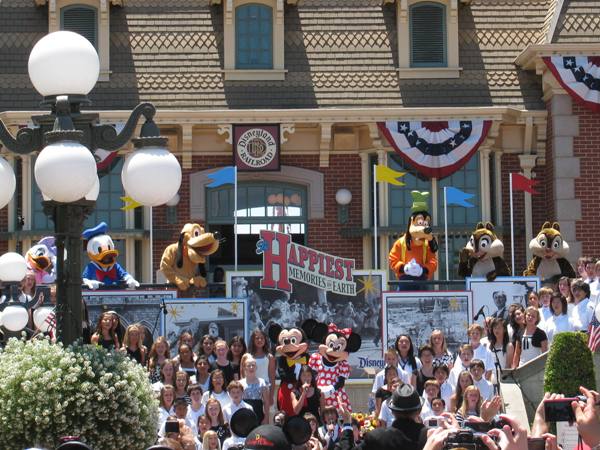 for audio from the ceremony recorded by Disneyland Correspondent Nancy Johnson.
At 4:15 guests around the Park were invited to join in the singing of "Happy Birthday" to Disneyland.  We had heard rumors that the Cast Members had a couple of surprises up their sleeves and were told that Town Square was once again the place to be.  It began innocently enough with the standard rendition of "Happy Birthday", but then characters and Cast Members poured in from both sides of Town Square.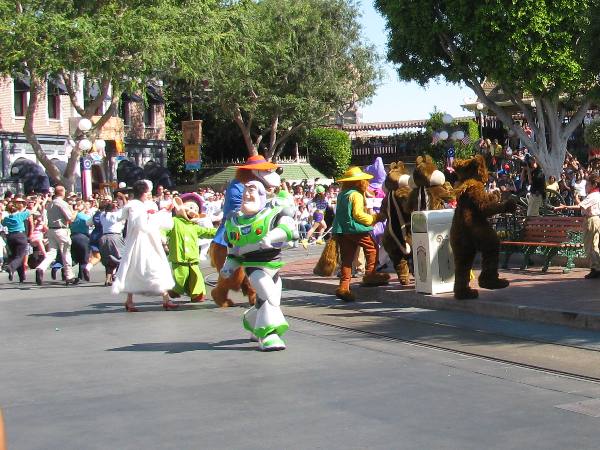 There were rumored to be 55 characters, some of which aren't seen in the Park often.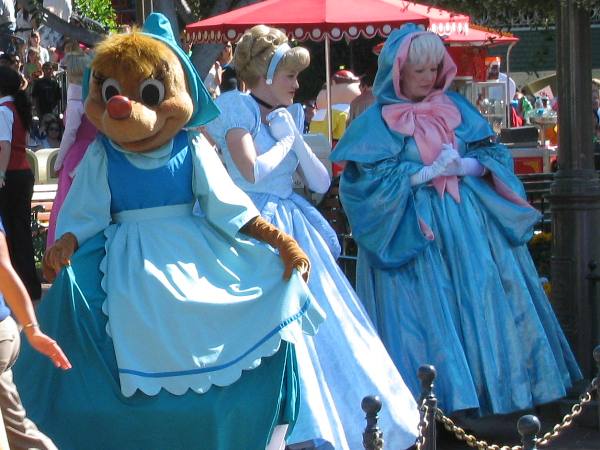 The characters filled the middle of Town Square, while the Cast Members danced in the street to a remix of "A Dream Is A Wish Your Heart Makes".  When the event was over, some of the characters hung out in Town Square greeting guests.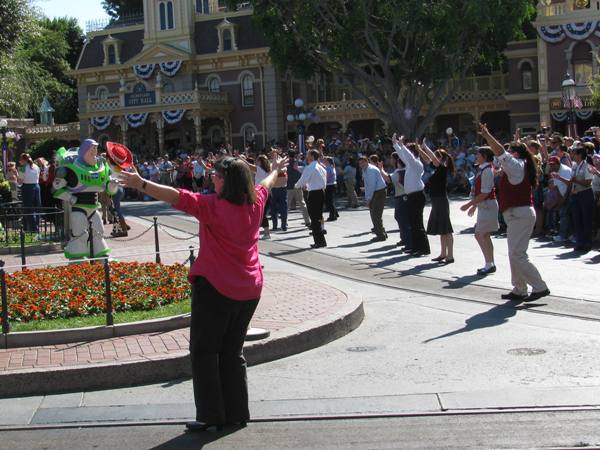 Another surprise for the 55th is that the Main Street Cinema has stopped showing Mickey Mouse cartoons, and is now showing films of the opening day broadcast and other historical footage, including the opening of the Matterhorn Bobsleds.  This change is expected to remain in place throughout the summer!
For not announcing any plans until the very last minute, I'm pretty pleased with the effort Disneyland made in celebration of 55 years.  Here's to many, many more.
Category: Disneyland