On July 17th, Disneyland celebrates its 55th Birthday.  There were rumors that there wouldn't be much celebrating, but in today's DisneyParks Blog, Disneyland laid out their plans for their 55th Anniversary festivities.  Read on to see what Disneyland (and the DIS Unplugged) has in store for you.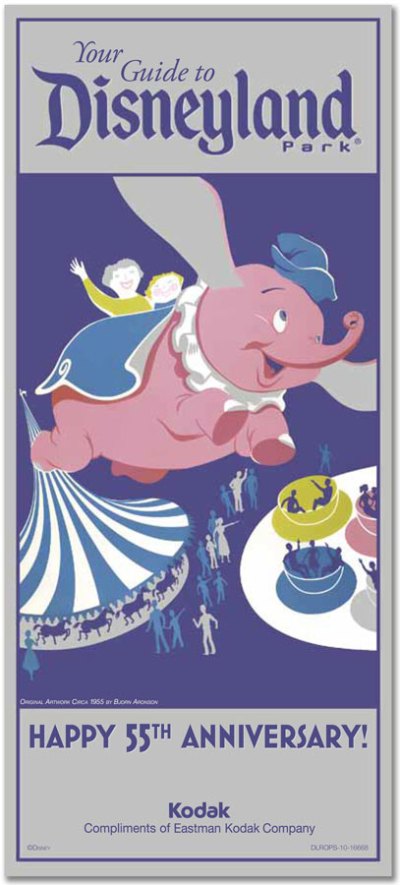 Disneyland's 55th Anniversary celebration begins with special park maps (see preview above) that will be available all week long.  Also available now through the 17th, select dining locations will offer commemorative 55th Anniversary cakes and select merchandise locations will offer candy packaging and cupcakes with the 55th Anniversary logo.
On the 17th, the festivities kick into high gear with a dedication ceremony at noon in Town Square.  At 4:15 pm, guests are invited to join Cast Members in singing Happy Birthday to Disneyland.
There will also be some special merchandise events happening throughout the day on the 17th, including:
-A 55th Anniversary Art & Collectible merchandise event with artists Dave Avanzino, Jody Daily, Kevin Kidney and Noah at The Disney Gallery from 9 am – 11 am.   Some of the  merchandise being offered includes aloha shirts and ladies tees, a ceramic classic popcorn box and cup, as well as one-of-a-kind, original and limited edition artwork.
-Disney Vault 28 in Downtown Disney will host the release of a very special collection of Dooney & Bourke handbags themed to Disneyland park's 55th Anniversary.
-Several of our headwear locations will offer "premium" embroidery on a standard Mickey Mouse ear hat, which will read D 55th – July 17, 2010.
-Annual Passholders receive free "basic" embroidery on ear hats (same day purchases only).
-Disney Design Group artists Thomas Scott, Eric Caszatt and Lin Shih will be on hand at D Street in Downtown Disney for a special Vinylmation signing from 1 pm – 4pm.
I will be at Disneyland on the 17th and will provide you live coverage on both Facebook and Twitter and will follow-up with full coverage here on the blog soon after.
Prior to that, the DIS Unplugged will post a couple of special Disneyland 55th Anniversary blogs.  On Friday the 16th, Disneyland Correspondent Nancy Johnson will give you a photographic restrospective of Disneyland's opening day.  On Saturday the 17th, I'll share some Disneyland memories from some of your favorite DIS personalities.
Be sure to check back as the week progresses, as some of the information, especially about the merchandise events, is still incomplete.  The DIS Unplugged will provide you updates as the information comes in.
Category: Disneyland