Disney Sports released an inspiring video with the story of 13 year old Chris Siders of Pensacola, Florida – one of the competitors in the Amateur Athletic Union's (AAU) 13U Baseball National Championship held at the ESPN Wide World of Sports Complex June 26-July 1.  Chris was diagnosed with Hodgkin's Lymphoma at age 11.  After multiple rounds of chemotherapy and radiation failed, he was placed on the Make-A-Wish Foundation's wish list.   He battled back to defeat cancer 3 times, and ultimately carried the torch for the opening ceremonies of the baseball tournament.  Continue after the break for the video.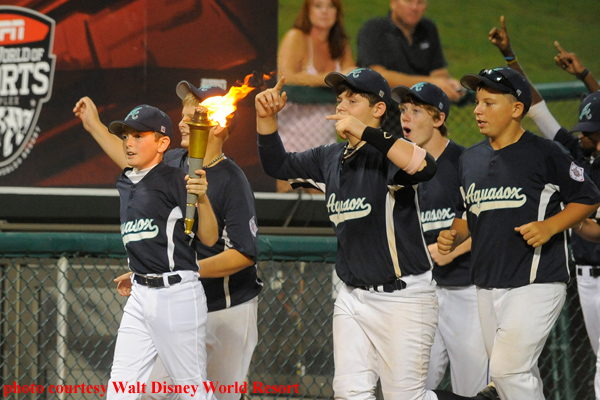 Image: Chris Siders (age 13) of Pensacola, FL torch bearer for the AAU Baseball National Championship opening ceremonies
Siders' AAU baseball team shaved their heads to support their teammate when he lost his hair and carried a cardboard photo of him to practices and games when he couldn't join them.   Siders defied the odds and now he's back playing baseball trying to win the AAU 13U National Championship this week at Walt Disney World.  Congratulations to all those competing in the tournament this week!
Update July 3, 2010: Chris Siders' Pensacola Aquasox made it to the quarterfinal round and were one of the final eight teams in the tournament when eliminated by the New England Nor'Easters from Lowell, MA.  The 13U AAU National Champtionship was won by Florida's Miami Outlaws.  However, even without winning the baseball tournament, Chris Siders definitely makes anyone's definition of a champion.
Category: Disney World, News