Retired National Football League quarterback Kurt Warner (two-time NFL MVP & Super Bowl MVP) treated 10 families with a child in medical crisis to a week in Orlando, FL as part of the outreach work of his First Things First Foundation.  All families stayed at Give Kids The World (GKTW) Village from June 17 – 24, 2010.  Continue reading after the break for more details of the trip.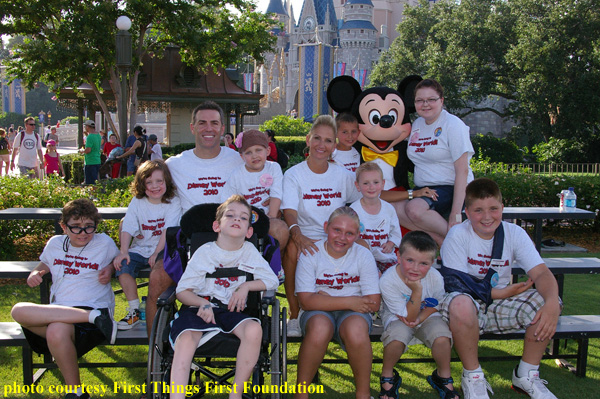 Image: Kurt and Brenda Warner along with Mickey Mouse welcome 10 special children on a week-long trip to Walt Disney World resort in June 2010.
This is the seventh consecutive year that Kurt Warner and his wife Brenda have led the trip along with their 7 children: Zack, 21, Jesse, 18, Kade, 11, Jada, 9, Elijah, 6, Sienna & Sierra, 4.  They first learned about GKTW 10 years ago during a trip to Walt Disney World.  In 2000, the NFL's St. Louis Rams won Super Bowl XXXIV led by Kurt Warner at QB – MVP of the game.  During the post-game celebration, Warner filmed the famous "I'm Going to Disney World!" television spot, went to the resort, and had his first meet and greet request with a Wish child who was staying at GKTW.  The trip had a profound effect on him.  Kurt Warner said, "GKTW is one of the most unique and amazing places I have ever visited!"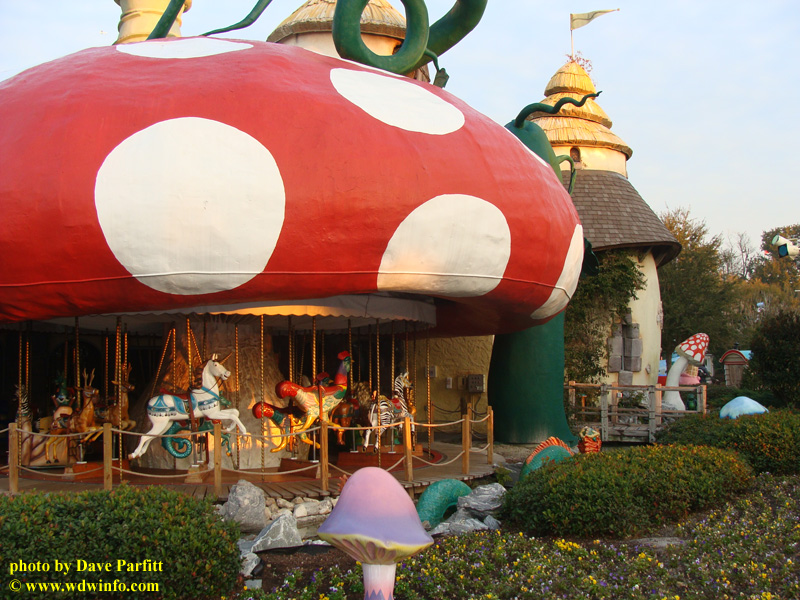 Like everyone staying at GKTW, the 10 families hosted on this trip face the challenge of a child with life-threatening illness.  In addition, these families are from the St. Louis, Arizona, and Iowa communities where Kurt Warner played professional football.  Airfare for the families was donated with a $25,000 grant from the Arizona nonprofit foundation For Those Without A Voice.  Kurt Warner described the trip as follows:
"The 'I'm Going to Disney World' trip is a week filled with laughter, fun, and everything Disney! For most families that would make for a great vacation by itself, but this trip also offers the families involved a chance to build relationships with others facing similar challenges.  It gives families a chance to set their challenges aside for a week and focus on just being a family.  For my family it shows us the amazing things God can do with each of us, regardless of the circumstances we may find ourselves in.  This week, every year, is one of my families' favorite weeks of the year and impacts us in a dramatic way through the relationship we are able to make with each child and family."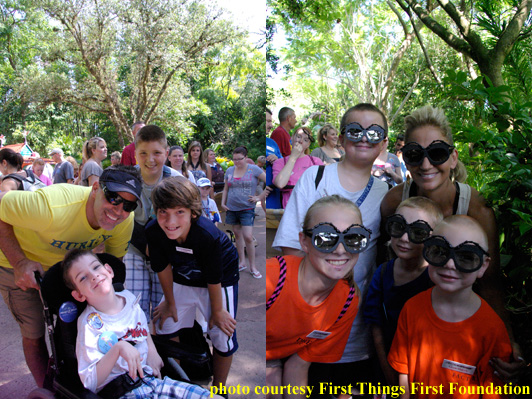 Image: Kurt Warner (left) and Brenda Warner (right) have fun at Disney's Animal Kingdom with 10 families hosted by his First Things First Foundation in June 2010.
The week kicked off in grand style with a Friday night welcome dinner at Epcot's World Showplace Pavilion where football Mickey and Cheerleader Minnie were on hand for photos with the families.  Following dinner was a performance of Illuminations: Reflections of Earth watched from the France Pavilion.
On Saturday the families enjoyed the day at Disney's Animal Kingdom where the group enjoyed Kilimanjaro Safari, It's Tough to be a Bug, and Festival of the Lion King.  Following the performance of Festival of the Lion King, the group had a special meet and greet with the cast of the show.  Then it was off to Kali River Rapids, Expedition Everest, and DinoLand USA before having lunch in the Rainforest Cafe.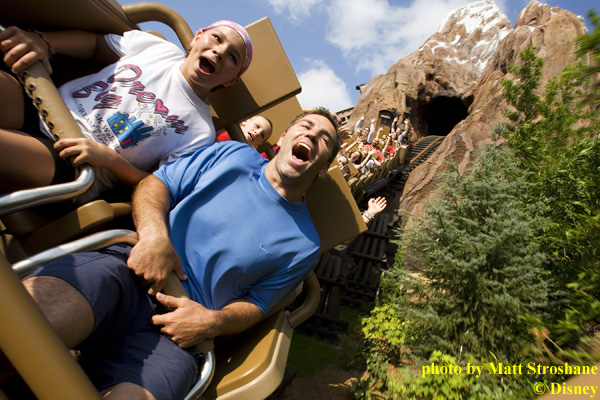 Image: Kurt Warner (right) takes a ride with Brianna Rogers Brooks (left), age 12, from St. Louis, MO, on Expedition Everest during his annual trip in 2006.
Disney's Hollywood Studios was on tap for Father's Day, Sunday, June 20th.  Like any good touring plan, the group went straight to Toy Story Mania before breaking up into the "big" and "little" kid groups.  Big kids enjoyed Tower of Terror and Rock n' Roller Coaster, and the little kids had fun at Playhouse Disney and Muppet Vision 3D.  The groups joined together again to take in Lights, Motors, Action! before lunch at the Prop Shop.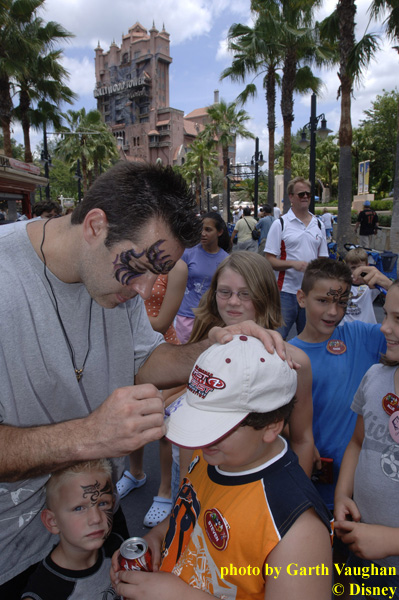 Image: Kurt Warner (left) gives an autograph to Steven Griffin, age 7, from Arizona, during a visit to Disney's Hollywood Studios in 2007.
On Monday, the Warners took their special guests to DisneyQuest at Downtown Disney for the morning where the attraction opened early just for their group to experience the Play Zones containing Pirates of the Caribbean: Battle for Buccaneer Gold, Virtual Jungle Cruise, CyberSpace Mountain, Mighty Ducks Pinball Slam, Aladdin's Magic Carpet Ride, the Create Zone, and other attractions.  The highlight for Tuesday was a pool party and BBQ at Give Kids The World's amazing new "Park of Dreams" waterpark complete with 80-foot long ship Serendipity.  The sail of the ship doubles as a projection screen to host "dive-in" movies.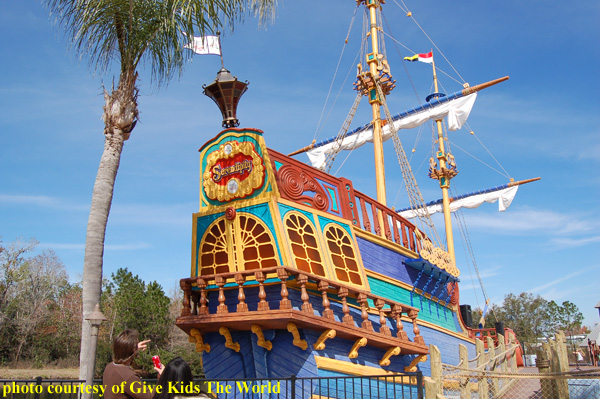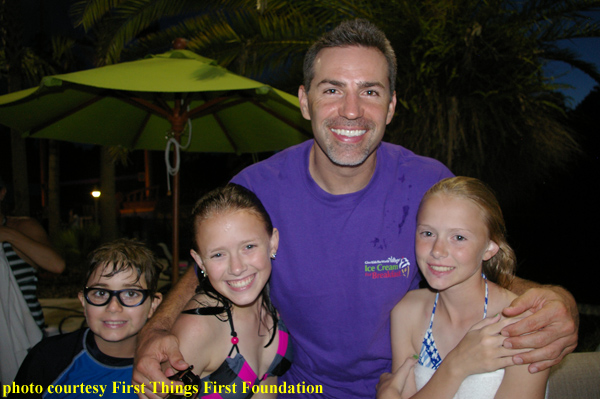 Image: Kurt Warner plays with kids during the GKTW BBQ at the Park of Dreams pool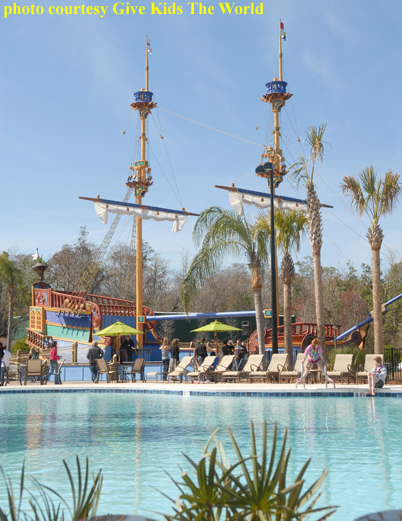 On Wednesday the group spent their final vacation day at the Magic Kingdom.  They took the monorail over from the Contemporary Resort, and rode Pirates of the Caribbean and PhilharMagic before dividing into groups.  Kurt Warner led a tour of the Magic Kingdom Mountain Range: Splash, Big Thunder, and Space Mountains, and Brenda Warner took her group to The Magic Carpets of Aladdin, it's a small world, and The Many Adventures of Winnie the Pooh.  The groups reconvened in the evening to watch the Main Street Electrical Parade and Summer Nightastic! fireworks presentation.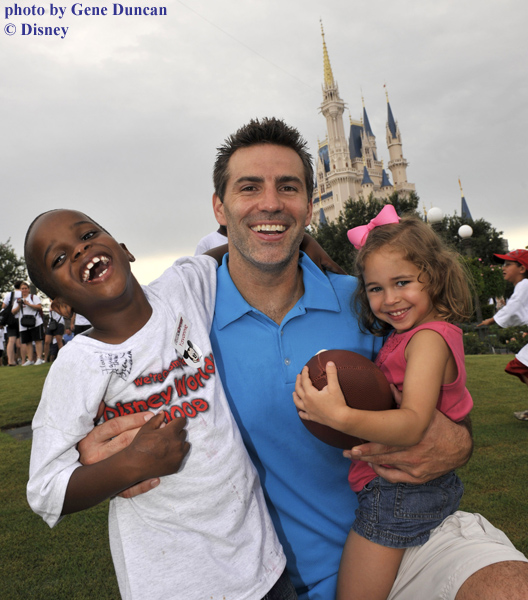 Image: Kurt Warner poses with Yavonnie Reese (left), age 6, from St. Louis, MO, and Abbey Burkhalter (right), age 4, from Collinsville, IL, during his 2008 annual trip at the Magic Kingdom.
The families returned home on Thursday, June 24th.  Kurt Warner summarized the week in the following way:
"It begins with the amazing amenities for each one of its special visitors… the Ice Cream Palace, the amazing pool, the Castle of Miracles. But, it isn't just about the resort.  What makes GKTW second to none is the hearts of their staff and volunteers. Together they provide a once in a lifetime experience for each and every family!  Thank you GKTW for the impact you have made on so many!"
Thank you Kurt and Brenda Warner, and your family, for taking the time to give back to families in your community in need, and helping to create memories for them that will be sure to last a lifetime.  If you're interested in learning more about the history of GKTW, take a look at our interview with GKTW President Pamela Landwirth.
Category: Disney World, News