Disney has added a new program to their Disney Endurance Series.  Finishers of the Walt Disney World Full Marathon on January 9, 2011 will gain free admission to any of the Walt Disney World theme parks on Monday, January 10.  Race organizers are calling this "Marathon Monday", and all you need to do is proudly wear your finisher's medal on Monday as your "ticket" to the parks (see below for details).  Need more inspiration?  Check out the design of the medals after the break.
Also, Disney Sports is allowing entrants to have a say in the design of the finisher's medal for next year's race.  Participants can vote on one of three medal designs.  To vote just click on the link here before July 28th.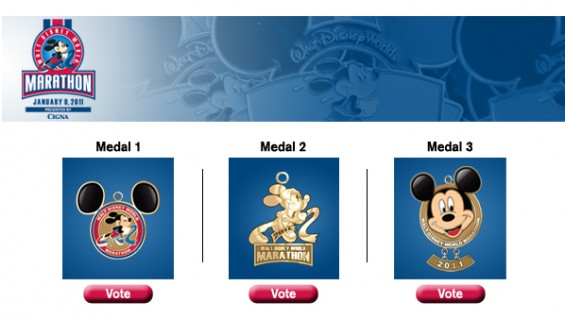 I think this is a brilliant idea by Disney.  So many race participants are proudly wearing their medals in the parks Monday after the races, it's nice to see an additional reward and benefit to finishing the event.  So what do you think?  Sign in with your DISboards username and password below to leave a comment.
Edited to add (July 1, 2010): Disney clarified the terms and conditions of this offer.  Upon successful completion of the Marathon on Sunday, January 9, 2011, you will receive a 2011 Marathon Mickey Medal (the "Marathon Medal"). Present your Marathon Medal, together with a valid government‐issued form of photo identification (e.g., driver's license, passport, etc.), at any designated Theme Park will call ticket window.  The name appearing on the government‐issued photo identification will be verified against the Official Race Results.  Upon confirmation of marathon completion, you will receive one complimentary 1‐Day Magic Your Way Ticket, which will entitle you to admission to any of one of the Theme Parks on Monday, January 10, 2011 only.
Update (July 30, 2010): And the winner is… yesterday the DisneyParks blog announced the top vote-getter for the new medal design.  Below is the medal all finishers will receive upon completion of the Walt Disney World full marathon on Sunday, January 9, 2011.  I love the new medal design – which is why it received my vote during the competition.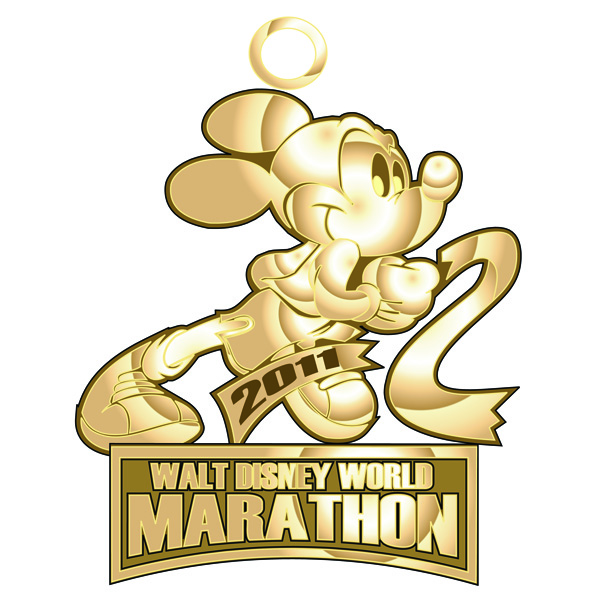 Image courtesy Walt Disney World Resort
Don't forget to wear your medal to the theme park the day after the race for free admission!
Category: Disney World