You would think a city like Orlando or the greater Central Florida area would have no trouble getting people to come, right?  I mean there are 7 theme parks at Walt Disney World, SeaWorld, and Universal combined.  However, tourism is vital to Florida's economy and big business for the area in general.  Therefore, when the U.S. Travel Association's International Pow Wow (the travel industry's largest generator of Visit USA travel) rolled into town, Orlando pulled out all the stops to showcase their newest resort hotels, theme park attractions, dining and shopping experiences.  Continue after the break to learn more about how the area marketed itself to the world.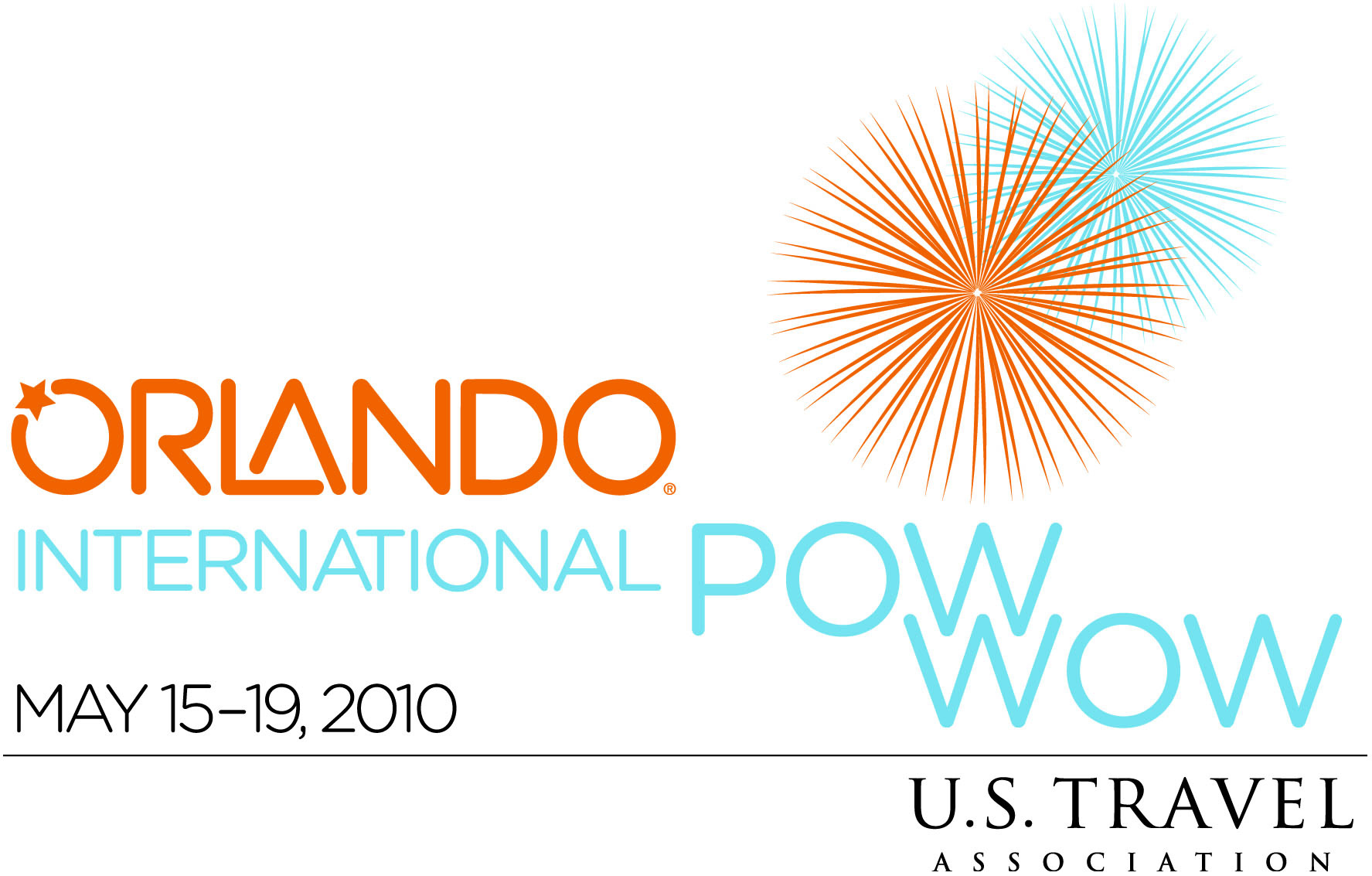 I was invited to attend Pow Wow as a part of the media contingent made up of international journalists from Europe, Australia, New Zealand, Brazil, Mexico, China and Japan, just to name a few countries I noticed.  We were hosted in part by the Orlando/Orange County Convention and Visitors Bureau, and the first event was the press brunch at Pointe Orlando.  Pointe Orlando is an upscale dining, shopping, and entertainment complex only minutes from the Orange County Convention Center (where Pow Wow took place).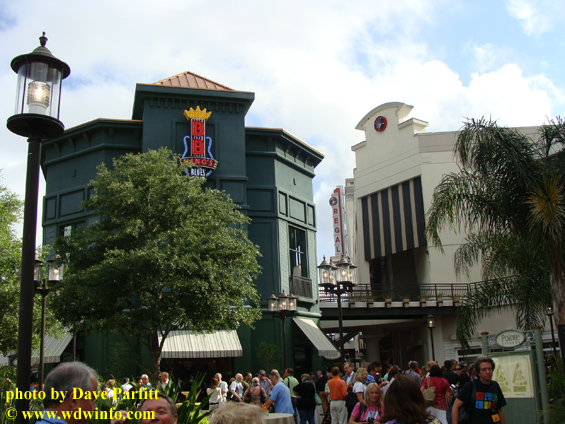 The media buses pulled up to Pointe Orlando, and dropped us off in a courtyard bustling with activity.  We were welcomed by characters and representatives from attractions throughout the area.
The Pirate's Dinner Adventure, Medieval Times, and Arabian Nights dinner theaters were represented.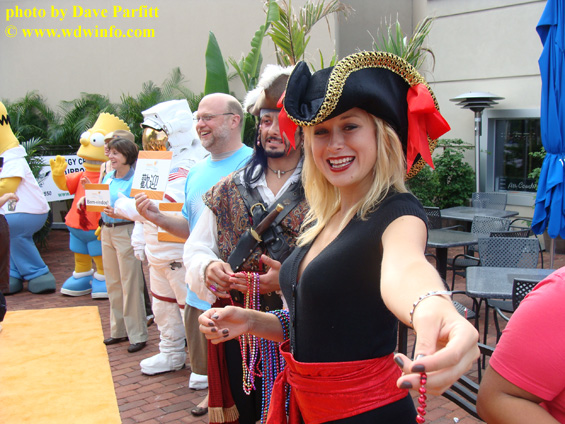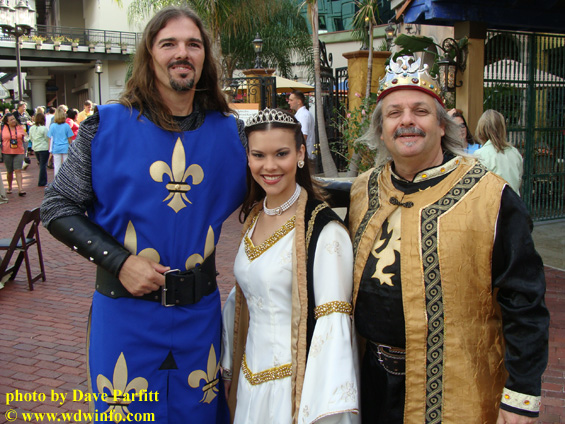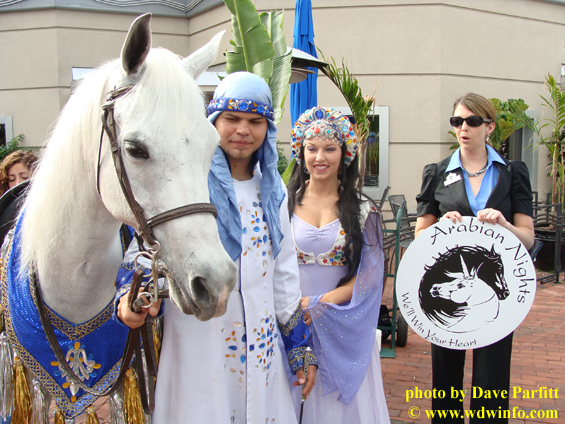 The Kennedy Space Center Visitor Complex Moon Man reported all systems were go.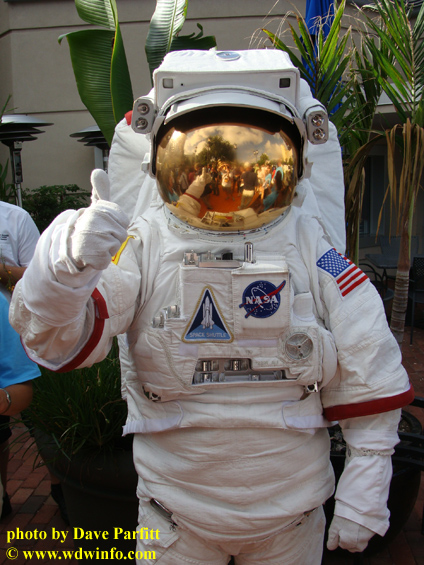 Our friends Mayor Clayton and Susie Story from Give Kids The World were on hand.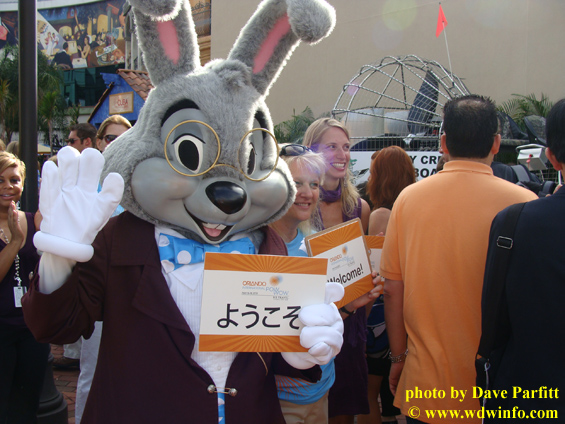 Homer and Bart Simpson from Universal Studios greeted arriving reporters, D'oh!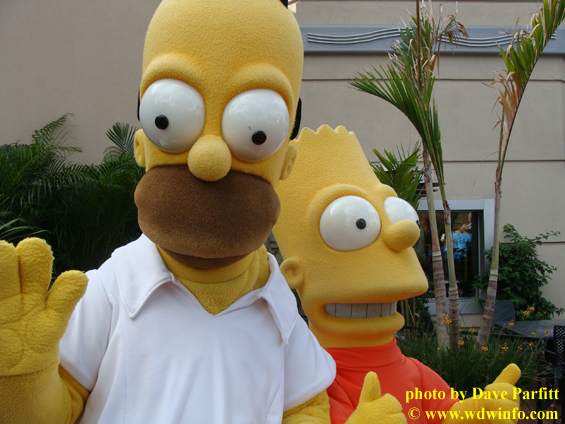 SeaWorld Parks and Entertainment brought animals from all parks.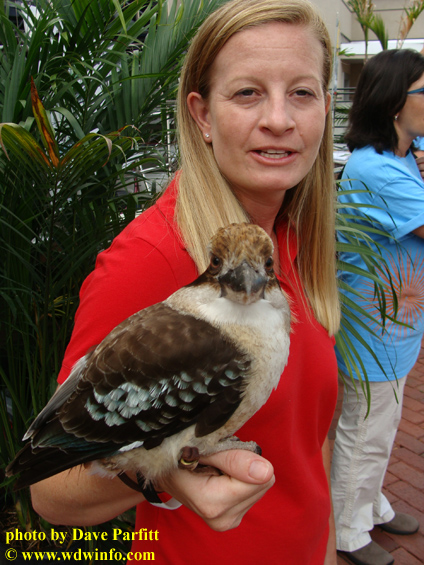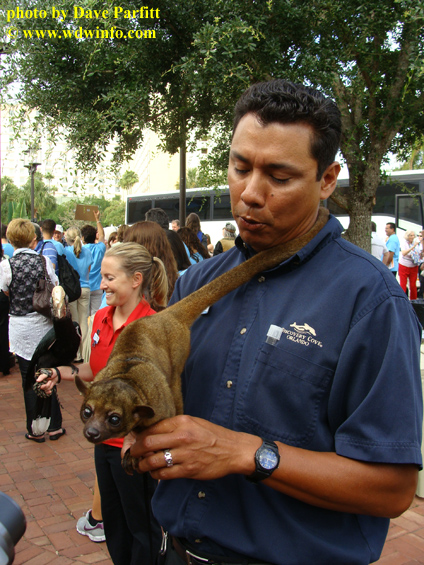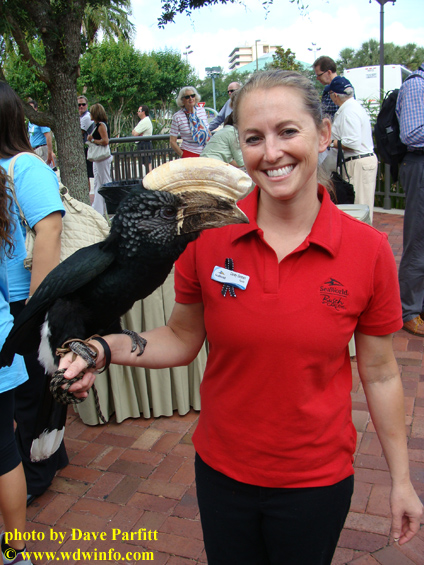 SeaWorld was not the only ones to bring animals.  Reptiles from Gatorland were brought in as well.  We were even able to pet the rare albino alligator with an incredibly soft, smooth, and supple underbelly.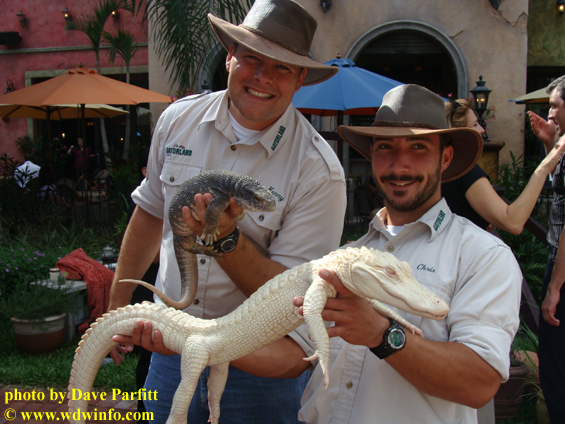 Representatives from various shopping outlets throughout the area told us where we could purchase the finest items.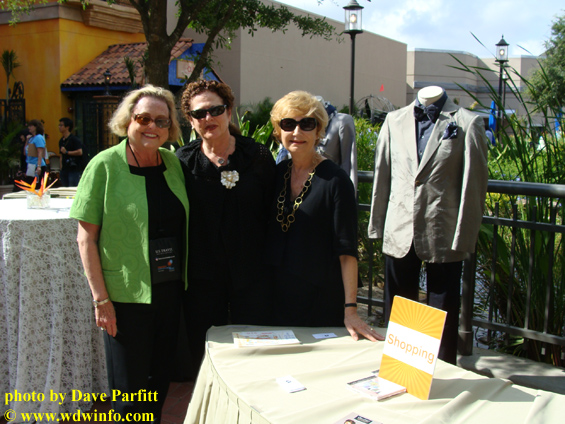 All the while we were serenaded by Latin guitars.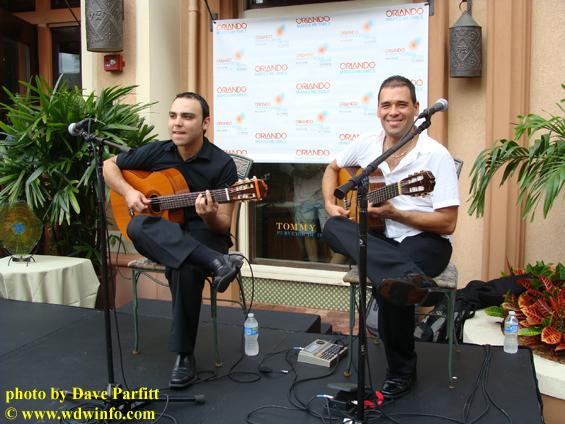 [Anybody notice a large area attraction missing?  Maybe one with a mouse?]
For brunch, dining buffets were set up in three different locations around the courtyard.  Cuba Libre Restaurant and Rum Bar featured Latin dishes described as a "contemporary interpretation of traditional Cuban cuisine."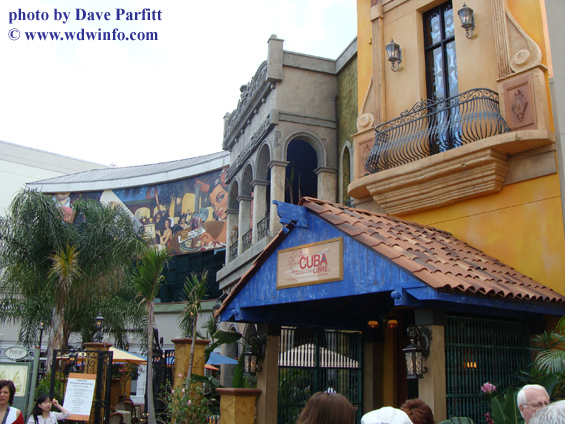 Cuba Libre's brunch buffet included: Polo Frito con Panqueques (chicken breast strips and cornmeal pancakes with a rum-molasses syrup; yum!), Huevos Enchiladas (scrambled eggs in enchilada sauce), Papas con Chorizo (mashed potatoes, chorizo sausage, with Monterey Jack cheese), and a plantain dish that was simply delicious.
A second brunch buffet was offered up by Tommy Bahama's Restaurant and Bar that served Caribbean-inspired ham, steak and eggs, salmon lox, egg fried rice, Caribbean Linguica sausage, sweet potato home fries (my favorite), chicken salad crepes, and corned beef hash.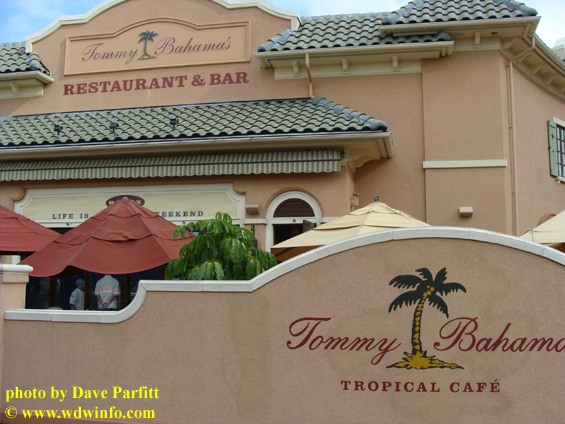 The third dining location was truly unique and set up inside Baterby's Art Gallery.  We passed a local artist upon entering the gallery, and were permitted to browse the space to learn more about area arts and cultural experiences.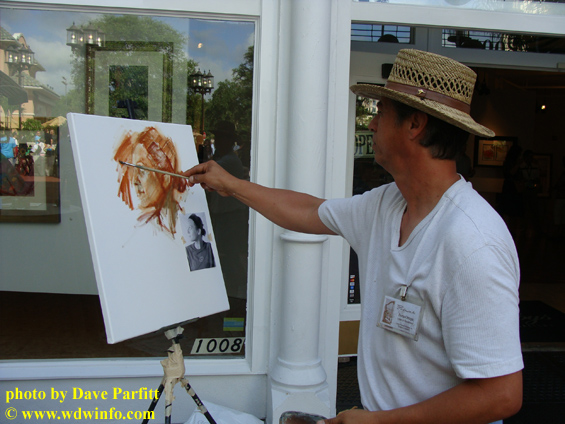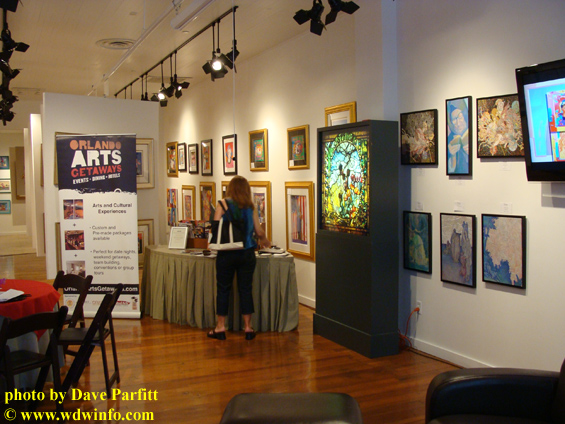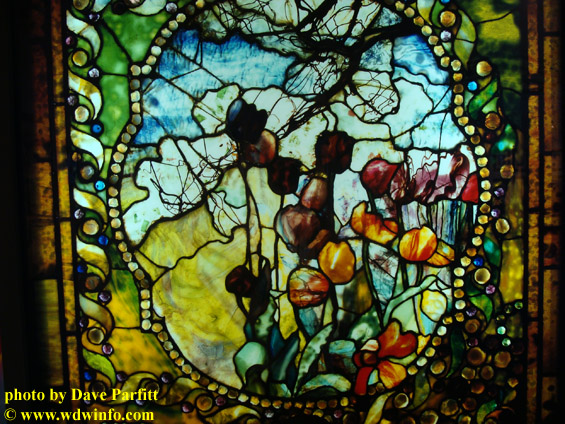 The buffet at this location was more of a continental breakfast with fresh fruits and cheeses, pastries and muffins, and hard boiled eggs.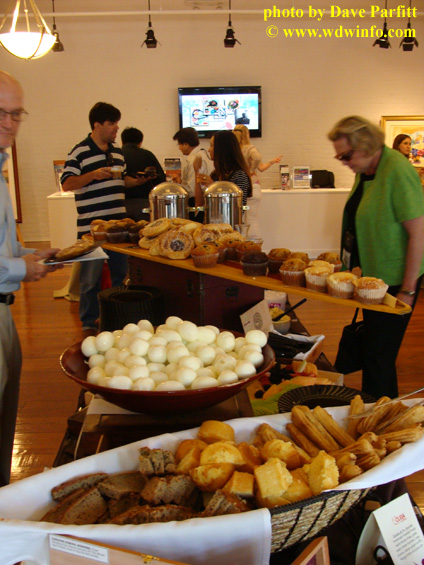 The minimalist food offerings allowed one to enjoy the art including beautiful pulled sugar sculptures on every table produced by the award-winning pastry chefs of the Walt Disney World Swan and Dolphin Resort.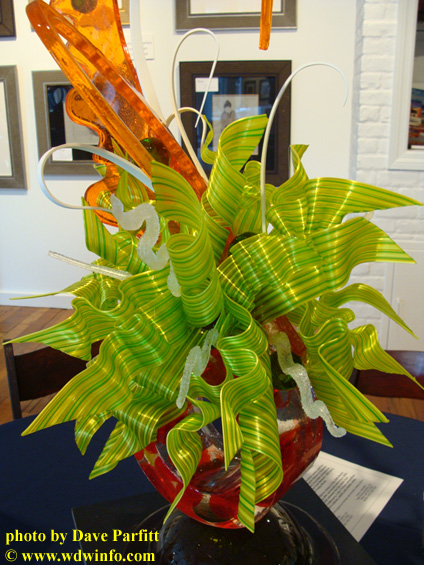 Finally, throughout the plaza drink servers walked around with mojitos, bloody marys, mimosas, and other various cocktails to drink.
After we sampled the cuisine and entertainment of Pointe Orlando, it was time for some rejuvenation offered up by the Ritz-Carlton Spa.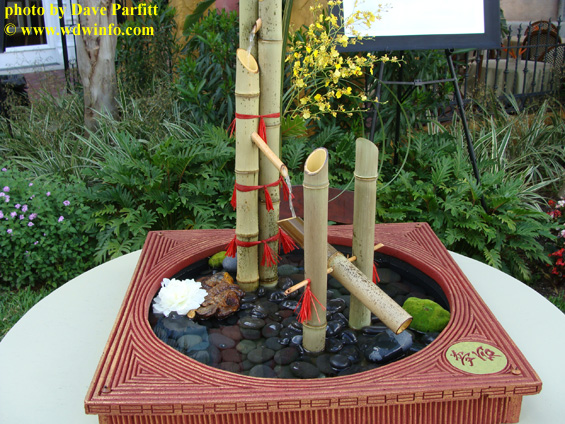 The journalists relaxed and soothed their aching muscles after the morning indulgences.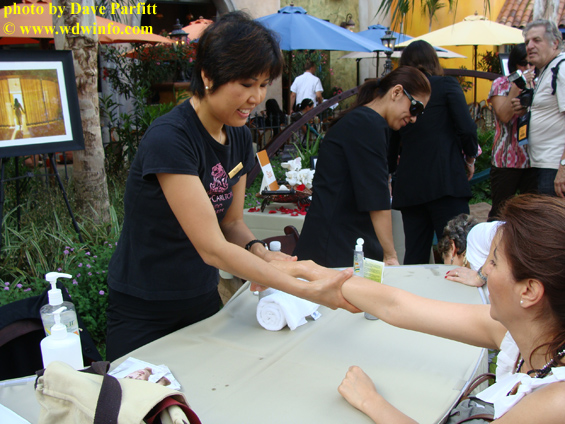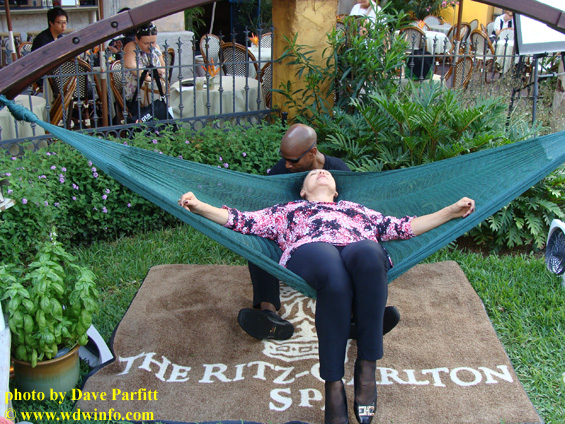 Next up were remarks from officials and politicians.  Reporters gathered with cameras, recorders and pads.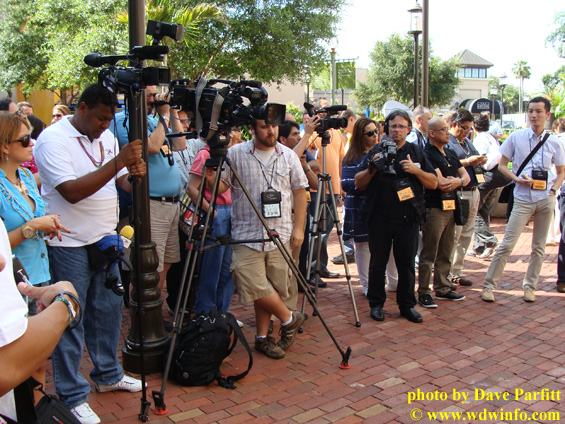 Gary Sain, President and CEO of the Orlando/Orange County Convention and Visitor's Bureau gave a few remarks.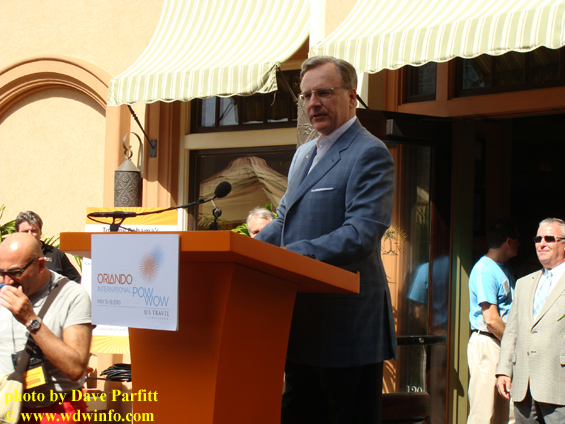 Mayor of Orlando Buddy Dyer welcomed the international press to the city (and asked us to spend a lot of money).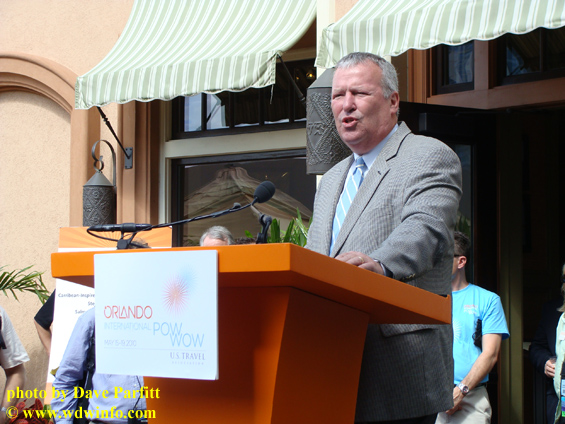 Finally, Roger Dow President and CEO of U.S. Travel Association talked about the importance of media coverage to stimulate travel to Orlando and the rest of the United States.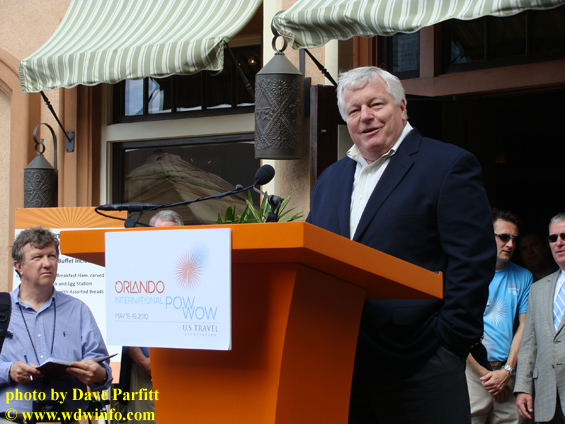 Gary Sain, Roger Dow, and Mayor Buddy Dyer at the press brunch.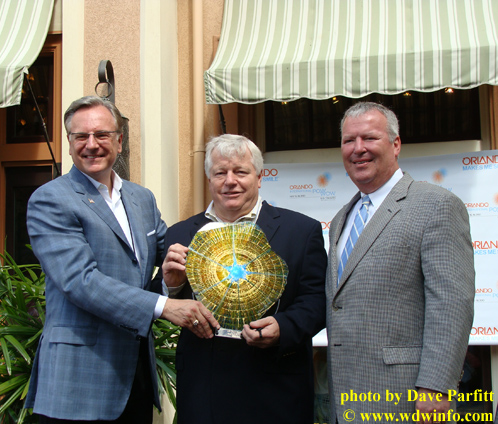 After Sunday's press brunch, the next three days were filled with media presentations and business meetings from more than 1,000 U.S. travel organizations from every region of the USA.  Of course, Florida and Orlando were particularly well represented with large, glitzy exhibit booths set up for the big three theme parks.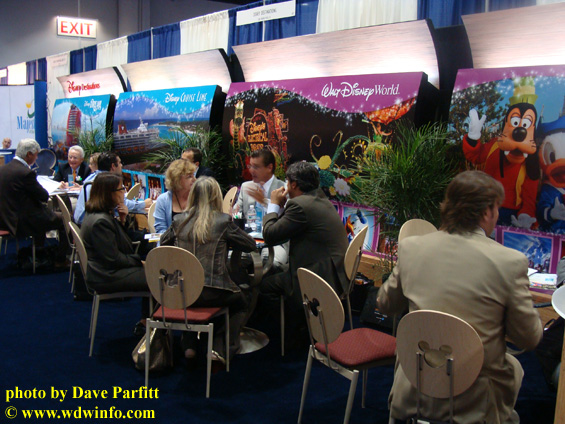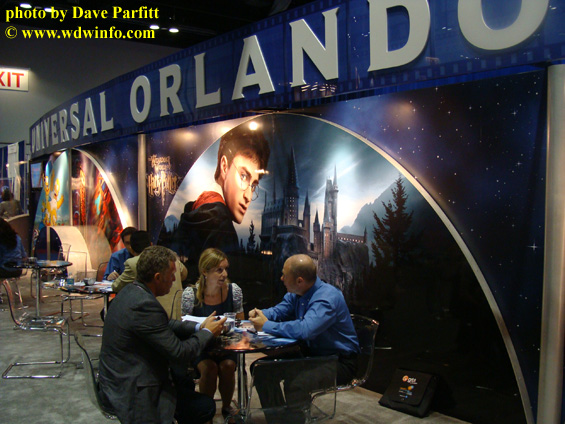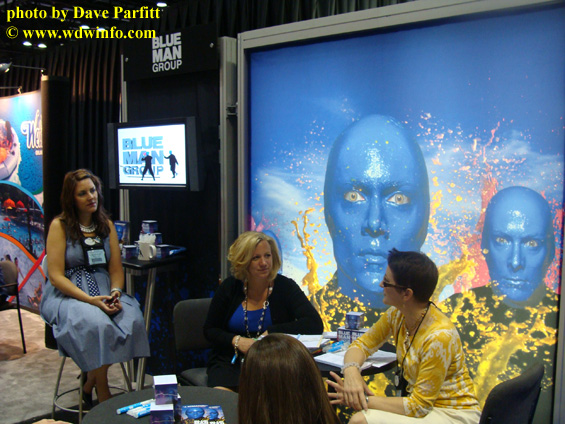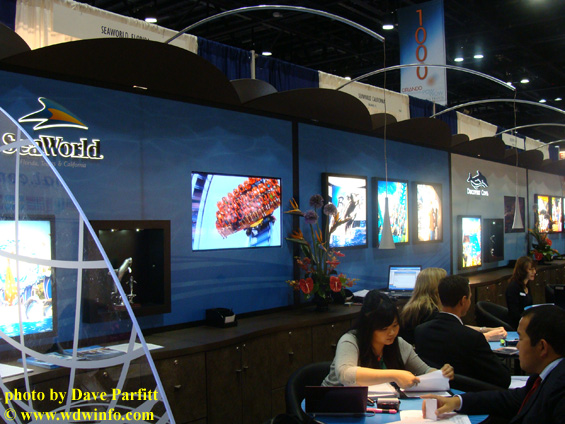 The rest of the Orlando area attractions were also trying to attract international tourist outlets to come to their destinations as well.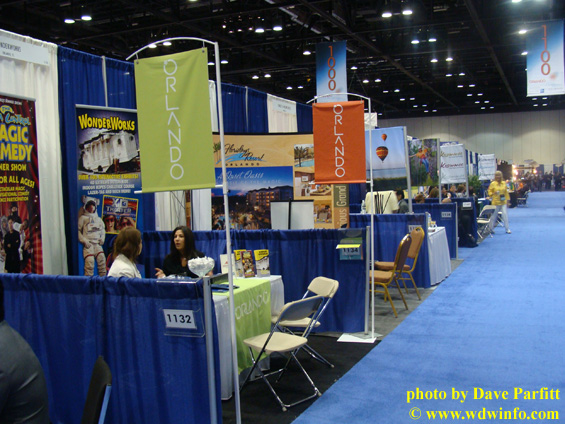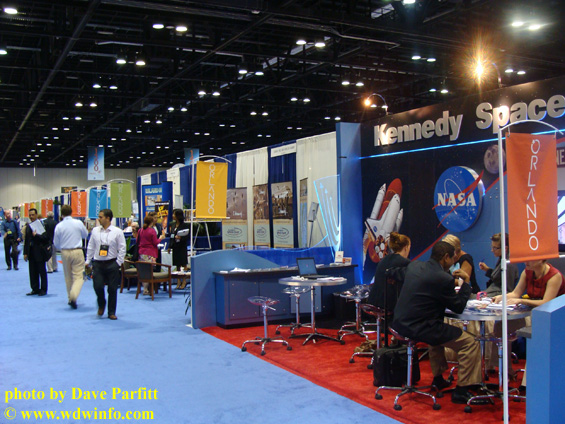 International Pow Wow was a golden opportunity for Orlando to present all it had to offer to the world.  However, I have to say my favorite part of International Pow Wow were the incredible parties every evening where Walt Disney World and Universal Orlando tried to "one up" each other.  In case you missed it, here are links to the over-top-party at the Magic Kingdom and Universal's Blue Pow Wow.  The convention closed with one final "Polar Opposite" blowout at SeaWorld, but unfortunately I flew out before the party and was not able to attend.  A mistake I will not make again.
Category: Disney World, Sea World, Universal / Sea World, Universal Orlando