Imagination.  That's been the driving force behind the Walt Disney Company since its inception.  Now, The Disney Store has called upon that force to create its next generation of shopping experiences.
Okay, hold on.  Did I really say that?  Shopping experiences?  That's what Disney is calling it.  The official press states that they want this to be the most memorable 30 minutes of a child's day, and since I am a veteran Disney Store Cast Member (#320), I had to see if this was really true – I'm a tough critic.    I've always said that one thing that The Disney Stores had forgotten over the last several years is that the stores are a temporary haven for those fans that cannot get to Walt Disney World or Disneyland often enough to fill themselves with the warm fuzzies that come from the "Magic" and "Pixie Dust" those places create.  This new generation of stores is supposed to be designed to get that back – Magic Moments and all!
I'm not writing this to plug The Disney Store or to try to sell you merchandise – Lord only knows if you people are reading this, you do that enough on your own without me to be there.  I simply found out this new concept store just opened this week, so I thought you might like to see a little bit of video and some photos of our experience.   The store is in soft opening (grand opening this Tuesday, June 29),  so I made my family get up early today and dragged them to the The Shops at Montebello (Montebello, CA) to put their new philosphy to the test!   After all, it is only about 30 minutes from Disneyland and might be a great little side trip, if you are a Disney Store fan!
We arrived well before the store opening (just because I thought  this might actually be something people might line up for), had muffins and played until the store was about to open.   If you are planning to do this, I would highly recommend the Marie Callender's muffins on the first floor of the mall, but I digress….   It turns out, showing up at store opening was something not to be missed.  As you can tell from my first photo, there was a large padlock outside the store – waiting, in true Disney tradition, for some child to come and unlock the magic.   Since we have two kids, the only other child in front of the store was approached.  Thankfully, she was shy and turned them down – Zoe was the one chosen to unlock the store!  They brought out a giant key, called the Key to Imagination, and the Cast Member helped Zoe turn the lock to unleash the Imagination of the store.  The video screen in the window showed a countdown clock, to help the ceremony progress.
When you check out the attached video, you can see that the store – dormant and waiting – came to life with music, animation projection, and colorful light.   Then, they actually presented Zoe with a small replica of the key!   This definitely gives you a peek into the fact that this store is aiming to go beyond its rocky history and revive the feel of the original Disney Store concept.   The key they gave her was definitely something to treasure – it's only the 5th one ever given out!
As you enter the store, two things stand out immediately.  First, the greeter concept has returned.  There is definitely someone manning the entrance to welcome you and introduce you to your experience.  The second is the physical change.  The entire store is decorated in an evening, woodsy/forest theme – dark green borders that were painted with silhouettes of famous Disney homes – castles, cottages, trees, the London landscape (as seen in the photo below), and even Notre Dame.  Animations will appear in the green spaces between these "landmarks" from time to time.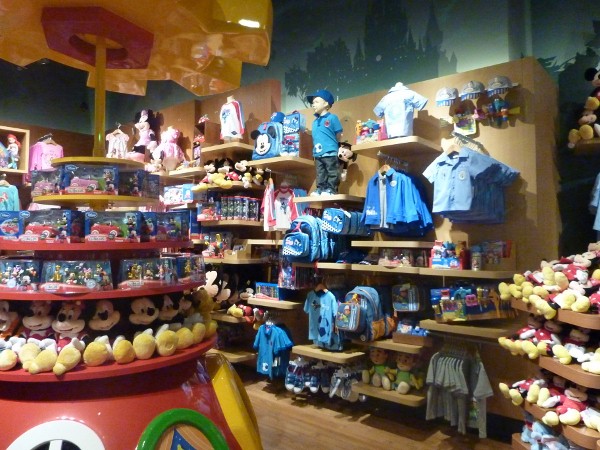 Previous versions of The Disney Store were always focused on being bright, light, and colorful.  This time, the store seems to be more of a palette for activity to occur upon.  I know this sounds really odd, but for as much is going on in the store design, the focus of your eye really does go straight to the merchandise.  This is true in the above photo as well as in…
The castle.   A girl's delight of a castle looms in this forest to highlight the princess area,  while seemingly white trees rise up from the fixtures.
As you can see in the photo, the castle walls are fixtures for princess costumes and accessories.  But then you step inside and take, for example, Ariel's or Tiana's crown or scepter off the wall and step up to the mirror.  Wave the scepter or wear the crown, as Lily is doing in the photo, and a miracle happens.
Magically – the mirror transforms into an animated storybook.  Technology (we think maybe radiofrequency ID) is able to scan/recognize the merchandise as being from a specific princess!  Once recognized, the story of the appropriate princess is told, much to the delight of the child in front of the mirror.  It's a translucent effect (so you can still admire the item you are trying on) and difficult to photograph  – we were able to catch it well on video though.   It was utterly charming.
The girls were frankly pretty fascinated with it for quite a while – if you have a Princess-freak Diva on your hands – you may be in trouble.  For us, it wasn't a fight to get them out, but they did have to make sure they watched all the video clips of the different princesses.   Another thing to keep in mind, these are also the only mirrors in the store.  If you are going to try on the adult clothing or new Disney Couture shirts they offer, you are going to have to squat a bit…
Since I mentioned them briefly, I want to pick up the topic of the trees.  They are made with white projection screens and they grow upward from the permanent fixtures.  When the store is open, they come to life, with leaves and a variety of Disney characters.
While we were there, we saw Fairies, Toy Story 3, and Bug's Life characters, and were told there were many more.  If you are moving around the store and shopping or checking out the other elements of the store, you miss a lot of the cool animations in the trees.  Seemed like every time I looked up, the Fairies were in the trees.  My husband, however, was paying attention.  I actually hadn't noticed the details until I checked out the video snippet we included.  Holy cow – my husband out Disney-detailed me.  Whod'a thunk it?    The video captured it really well!
Another good example of fixtures being transitioned into an interactive area is the Mickey Mouse Clubhouse in the Preschool area of the store.  The top of the clubhouse is a display for Mickey themed toys, while the Clubhouse is a crawl-though play-zone with buttons that make really great sounds!
Since I'm talking about how interesting the fixtures are,  let me show you the display fixtures.  Great, you say.  Why do I need to know about those?  Well, having worked in retail, I can appreciate the design.  They are made with changeable signage areas that can take them from being simple pricing, to having kitschy little details like this:
Since I just showed a photo of some of the merchandise directed at boys, let's jump back to the front of the store and look at the Boys/Pixar zone.   The only small oddity in the theming here (that really can't be helped) is the Ridemakerz mechanics area.  Even though it seems like an odd fit for the main forest theme of the store, it's also is one of the more popular areas for kids!    My first thought was "Wow – Ridemakerz got an even sweeter contract with Disney than I expected!!!"   Think about it.  First, 2 large stores – 1 in each of the Orlando and Anaheim Downtown Disney locations, and now having their products featured in The Disney Store.  If they were publicly traded, I might buy their stock…   But, I digress.   Let me tell you about what they uniquely offer at the Disney Store.
I got a chance to talk to Ryann, the Ridemakerz rep that is on hand for the next couple weeks, and she told me that, right now, this is the only place in the world that you can get CARS themed Ridemakerz vehicles – you can't even make them at either Downtown Disney locations.  There are 4 versions of Lightning McQueen (regular, Radiator Springs-Ramone custom paint job, Dynaco, and Stealth Ninja from Tokyo Mater – Mater's Tall Tales), 3 versions of Mater (regular, Mater the Greater, and Stealth Ninja Mater – both from the Mater's Tall Tales shorts), and currently 1 version of Sally.  Another is expected soon.   They even went to the detail of knowing which body style has which headlights that work.  For instance, in the regular version, only Mater's right headlight works, but in the Mater the Greater short film, he had no headlights at all in his "Evil Knievel suit".  I thought that attention to detail was pretty impressive.
I was actually surprised how much time and interest my girls showed in this area.  In fact, I found myself trying to figure out when I was going to come back and make my husband a surprise version of Mater……  Okay – guess that's not a surprise anymore – is it?  Sorry, honey..
So I guess now what you will ask is, what other merchandise is different?  Is this the usual Disney Store stuff?  Yes, and No.  There is certainly a lot of the normal things, after all, there are certain things the Disney Store is known for.  The stuffed animals are off in the back corner, with princess dolls here and there.  The kids' clothes are scattered with their appropriate themed toys and placed in age groups.  The big thing is what is actually featured near the middle of the store.  They are carrying higher end merchandise!  I found a couple lines of Vinylmation – including the brand new Toy Story pieces and some of the T-shirts, Pook-a-loos, Disney Couture clothing – in slightly larger sizes than at the parks, and other specially designed merchandise, like my sequined Minnie Mouse T-shirt!
Now that I'm done talking shopping, let's get back to the last couple things that were unique to the store.  The Theater and the Magic Key.  Both were nice interactive parts of our day – one was the most obvious thing in the store, the other the most overlooked.
The new theater design is something I think the store finally got right.  This time, it's actually a real theater, disguised as an outdoor gazebo/bandstand.  It's got tables for the kids to color, benches for parents to sit, and it's now a place where cast members can officially conduct fun events with the kids!
Why, there's even a touch panel for guests to control what is on the jumbo video screen.
Did I say that?  Guests can control their viewing?  Gone are the days of random looping of current Disney promotional materials on the video screen, your family can make the decision of what to enjoy, so if no other guest has chosen Squirrels in My Pants and you can't live without Candace shaking them out, go for it!  We certainly did….
While we were there, the store was having a Toy Story 3 event.  The kids were all gathered up into the Theater, where they played games, colored special pages, and earned Toy Story bandanas, stickers, and the like.  It was one of the highlights of their visit.   This really was the perfect forum and having seating for the adults made it wonderful.
Now, for all of you Disney fans that hate shopping and made it this far through my little tour, I really congratulate you.  You deserve one of the banquettes in the Theater, because I finally have something for you….
The final thing I will talk about is that most overlooked item – the Magic Key.  If you come in without kids, you can use this and cut your shopping time down to almost nothing.  Holy cow!   In a Disney Store?  Let's look!
This small wall kiosk can easily be walked past, if you don't have a Cast Member tell you it's there.  When you go up to the Magic Key, however, you will find that it contains a listing of every item in the store's inventory.    You touch the screen to quickly find items in different categories.   This is perfect for people who hate to shop.    Just walk up, pick a category, and all the items in that category will be displayed.  Touch them for product details.  Then, ask a Cast Member where you can find it!     For your convenience, we though you might like a little video demo of how this works, so we included that in the link.
We found this to be simple, but the Cast Members hadn't really started directing anyone to it.  Sure, one could say that it could reduce "suggestive or add-on selling", but actually, I don't see that.  Once you get over to the item you chose, there are plenty of great displays to make you want to buy more items.   If this system ever catches one, it could become a hit throughout the retail industry!
Now, there are some other pretty cool things that happen in the store for Magic Moments that I'm just not going to tell you about today – like what happens when the Villians take over the store a couple times a day.  (I'm not telling you because I don't love y'all anymore – it's because I wasn't there to see it happen…)  Honestly, I don't know what other tricks are up their sleeves.  All I know is that we had a great time doing this little tour of the Imagination Disney Store and got some fabulous memories bringing it to you!   If you are lucky, one will be coming to you in the future!!!!
Photos and video by N. Johnson and I. Johnson
Category: Disney World, Disneyland, News
Disneyland Podcaster for the DIS Unplugged