Review and photos by Kevin Klose
We recently decided mid-week to go to Shutters in Disney's Caribbean Beach Resort for dinner. We had not made an advanced dining reservation and were willing to take a chance on getting a table.
Shutters is located in the Old Port Royale building, at the back of the food court. We approached the three Cast Members at the podium and I asked if it was possible to get a table for dinner. We were told that there would be a 15 to 20 minute wait.
A 15 to 20 minute wait is not uncommon at any Disney restaurant so we didn't think twice when that information was shared. As we stood there waiting, it became obvious that we were the only people in the vicinity and from where we were standing, we could see that the restaurant was nearly empty.  Keep reading to find out if we got seated…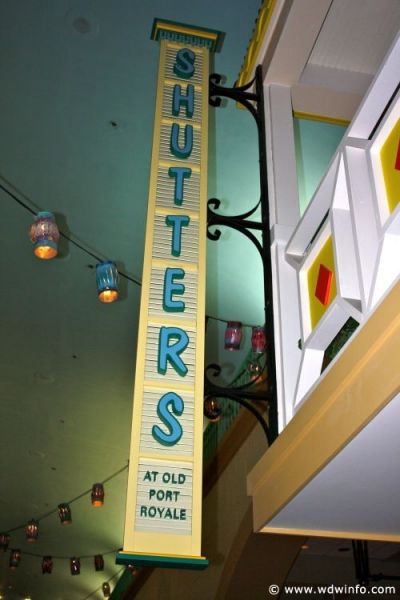 I understand that restaurants have staffing issues and took that into consideration until I saw a group of servers standing and chatting.
I went back to the podium and asked Flora, Fauna and Merriweather why we were waiting 15 to 20 minutes?  I was told that "We have to wait for a paper to come out of the box." At this point, one of the women picked up a black box and banged it on the counter. I had no idea what this meant and just stepped back. While waiting, I decided to wash my hands before eating. As you have to pass the dining rooms on the way to the restroom, I noticed that there were six tables with people at them in the entire restaurant. With at least 6 servers standing about, I went back and again asked why we were waiting. Again, the Cast Member picked up the black box and banged it on the counter. At this point, I'm perplexed.
About 5 minutes passed before the black box made a grinding noise and produced what looked like a register receipt. While standing not four feet from the podium….our pager went off. Trying not to laugh, we handed the pager back and were told, "Now you can be seated."
We were shown our table in a near empty restaurant and on our way noticed that several tables had not been cleared. We were seated next to one of the dirty tables and watched as the servers cleared used dishes and silver wear from occupied tables and put them on the table next to ours.
Watching all this happen…..we began the long wait for our server to arrive.
We waited 18 minutes before our server approached our table…wiping his forehead with a cloth and stating, "I don't know why she double seated me…do you know what you want?"
After such a glorious greeting…..we ordered three of the six appetizers / salads  offered.
We started with the Shrimp Fritters ($7.99), the Chorizo-Black Bean soup ($5.49) and the Lettuce Sampler Platter ($11.99).
I'll start with the Good Stuff. The Chorizo Black Bean Soup was okay. I didn't find a lot of chorizo, but the flavor was good. The soup is very spicy, but a decent cup of soup.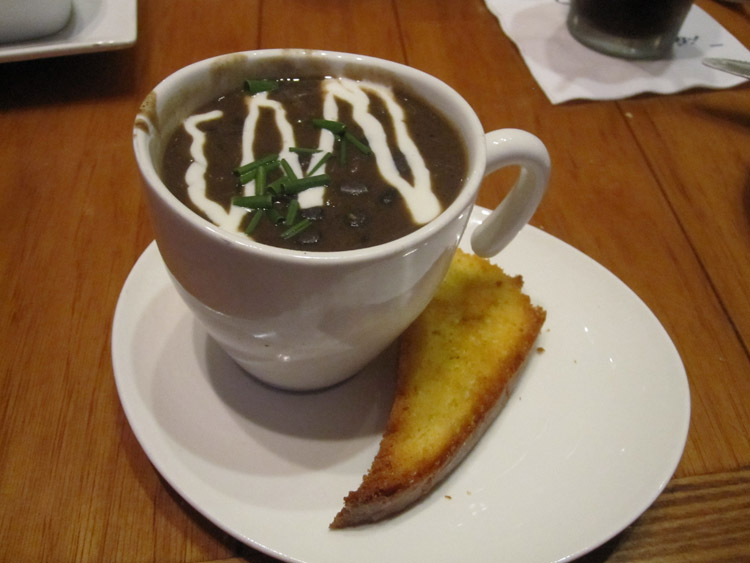 Now the Bad….the Shrimp Fritters were fried dough with corn. While they were on the table, John dared me to find any trace of shrimp. I couldn't. These were basically fried corn donuts. They were a bit greasy and flavorless unless dipped in one of the sauces. I'd tell you what the sauces were, but our server mumbled when he did stop by our table so I'm not sure what they were.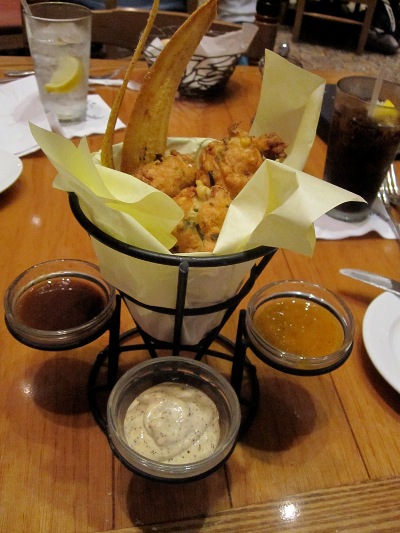 The Lettuce Wrap Sampler Platter was a small scoop of dry, flavorless pulled pork, "Chayote Slaw", cilantro sour cream, plantains, jerk potato chips and lettuce cups. This failed on almost every level.  The sour cream supposedly contained cilantro and the pulled pork supposed had "Mojo". We found neither and the jerk potato chips had no trace of jerk seasoning. At $11.99 this is grossly overpriced, not to mention being just plain bad.
After a disappointing first round, we were hoping for something better with our entrees.
We ordered the Caribbean Pork Ribs served with a mild Chipotle-Vanilla Glaze ($20.99) and the Land and Sea Platter, which is grilled Skirt steak with Chimichurri sauce and Shrimp in cilantro lime butter ($19.99).
The Caribbean Pork Ribs were placed on the table and we were immediately struck by the odor of a Yankee Candle. The fake vanilla odor was intense. The ribs were fatty and tough and more than one bite was impossible because of the perfume taste and odor. The vegetables served were summer squash and zucchini.  I have no idea how the kitchen made vegetables tougher by cooking them, but they did. We could not bite through either vegetable. They had the consistency of inner tubes. Plantains were served to us, but we had ordered the mashed sweet potatoes. Mumbles, the non-existent server did correct this and brought us a huge serving of what turned out to be the highlight of the meal. The sweet potatoes were cooked perfectly and were delicious. Of this entrée…. the sweet potatoes were the only thing eaten.
The Land and Sea platter was an all around inedible disaster. I was asked how I wanted my skirt steak done and I asked for it to be cooked medium.  I was served what looked like an autopsy. I have no idea how you can get a 1/3 inch steak charred on the outside and not have the center cooked at all.
The four "cooked beyond recognition" shrimp were under this greasy, bloody mess and were covered by a thin layer of greasy, green slime.  Due to over cooking the shrimp were little rubber erasers and the chipotle-lime butter sauce had a rancid taste. I put a shrimp in my mouth and pulled it back whole. Everything sat in a platter-sized BP Oil slick. The black beans and rice were almost as bad. The rice had the consistency of old leather and I don't believe it was freshly cooked on the day it was served. It sat on a ring of roughly 25 black beans. One gallon of black beans would not have been enough to revitalize the dried out rice. The plantains were adequately cooked….boring…but adequate. This entrée also went back uneaten.
After another long wait, our server removed two full plates of food from our table…never questioning why nothing was consumed or if there was a problem.
In order to offer a full review, we asked for a dessert menu. We were told we didn't need a menu and then our served mumbled something unintelligible. As we had no idea what he said and we couldn't have a menu…we skipped dessert.
This was far and away the very worst meal I have ever had on Disney property.
I would suggest that you dine ANYWHERE other than Shutters at the Caribbean Beach Resort.
It's my opinion that you would be better off lighting fire to $80.00. You'd get a better value than you would ordering this food.
Beware!
Category: Dining, Disney World
Leah grew up in a little farming town in Illinois, right on the Mississippi River. Her Chicago-born husband, David, left the city for her, and they're now raising their three children (Jacob, Jonah and Lydia) just 12 miles from her hometown. As the Senior Editor of the DIS (wdwinfo.com), Leah spends a lot of time writing about, reading about, and discussing Disney. So, it should come as no surprise that one of her family's favorite ways to spend time is going to Walt Disney World and traveling on Disney Cruise Line. She also enjoys shopping, watching movies with her husband and doing crafts with and for her kids.