An Onsite Report From Aaron DelPrince
We've waited anxiously for the new land in Islands of Adventure to officially open to the public.  Friday, June 18th was the date, and Lord Voldemort must have sent the Dark Mark into the air to summon not only the Death Eaters, but the entire Muggle world to descend upon the Wizarding World of Harry Potter (WWoHP).  Thousands of people, long lines, and impossible wait times were the theme for the day.  Frequent DISboards poster Aaron DelPrince (username ADP) – known for his DISboards live reports – was on property at Universal Orlando, and in Islands of Adventure on WWoHP's opening day.  Continue below after the break for a full report of his family's experience on opening weekend.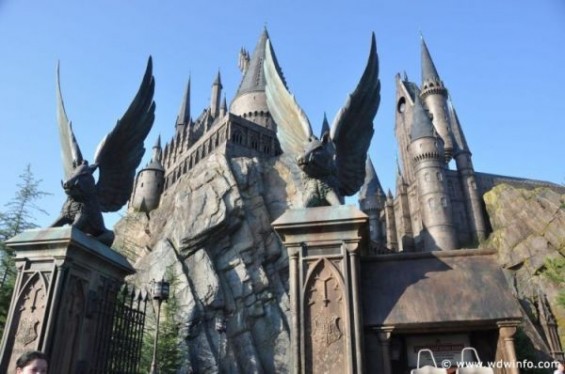 Friday, June 18, 2010
Aaron and his family (wife Kim and daughter, Anna age 10) were staying on property at the Portofino Bay Hotel, and it just so happened their vacation coincided with the Grand Opening of the new WWoHP.  They knew Friday, June 18 would be mobbed for the grand opening.  Therefore, they decided not to bother with WWoHP on Friday, but went over to Islands of Adventure (IOA) to get a sense of the scene and the crowds.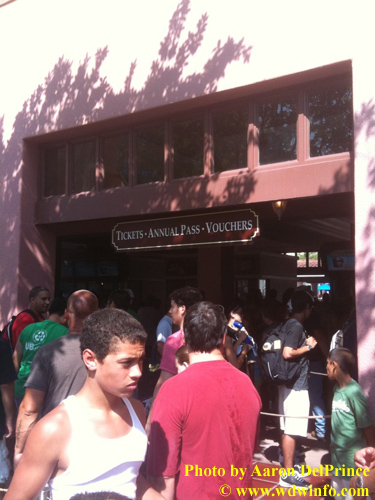 They arrived around 9:30 am.  The lines to get into the theme park were already well past the Hard Rock Cafe in CityWalk.  Ticket booths had 90 minutes waits just to purchase a ticket to stand in line to enter the park.   Additional kiosks were set up to expedite people entering the park, but the process was still tedious and slow.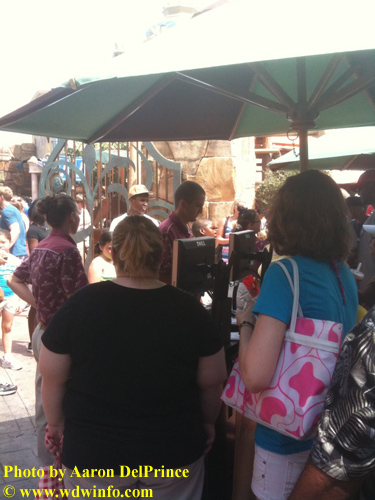 There was no escaping people assembled into lines everywhere.  There was a line to get into the theme park.  Once in the theme park, there was a line that stretched from WWoHP back around the entire theme park.  By 2:00 pm, Aaron said the line from WWoHP wrapped the entire distance around the park.  At this point, Universal Team Members were telling guests at the end of the line there would be an 8 hour wait to get into WWoHP, and they could not guarantee all guests would get into the WWoHP before park closing at 10:00 pm.  Finally, once guests made it into WWoHP, each attraction, restaurant, and shop also had a line.  The Orlando Sentinel reported a line of 200 outside Ollivander's Wand Shop, 150 waited to get into the Three Broomsticks, and many more stood in the heat to purchase butterbeer.  Regarding the crowds, the President of Universal Orlando was quoted saying, "It was a little more than we expected."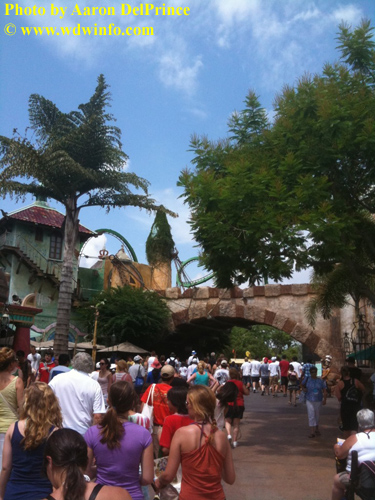 Aaron commented that Universal kept a tight watch over the lines to ensure no line jumping, and tried to minimize arguing and the potential for fighting.  The entire Lost Continent area was roped off to guests, but this raised problems for Aaron's lunch reservation at Mythos.  The DelPrince's were in the Jurassic Park area prior to their lunch reservation at Mythos, and were instructed by Team Members to turn around and backtrack through all of IOA to get to the restaurant.  At the end of Seuss Landing there was a rope blocking guests from entering Lost Continent.  Aaron explained to Team Members they had a lunch reservation at Mythos, security was called and then escorted Aaron, Kim, and Anna to the restaurant.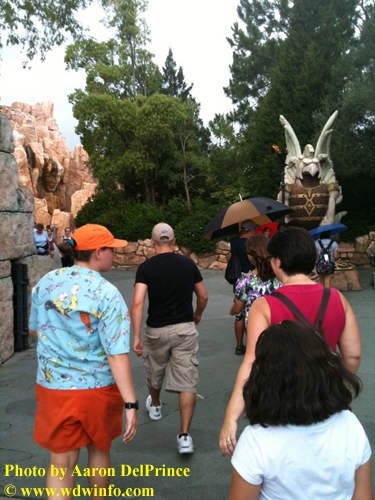 Aaron described the crowd waiting as excited with anticipation to see WWoHP, but also frustrated and discouraged with the long wait time.  The line was not moving very quickly at all, and people were resigned to the fact they would be waiting all day to see WWoHP.  Eventually, people abandoned the queue, and lines for other attractions in IOA started to build.  The wait time for Spiderman increased to ~90 min and Ripsaw Falls was ~100 min.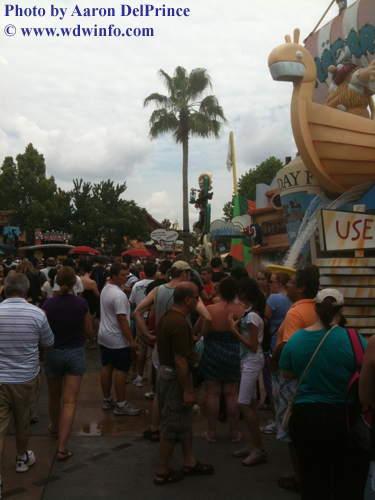 It was not only attraction lines in IOA with long waits, the Guest Services line also had a 60 min wait with people voicing their displeasure with their Grand Opening experience for WWoHP.
Saturday, June 19, 2010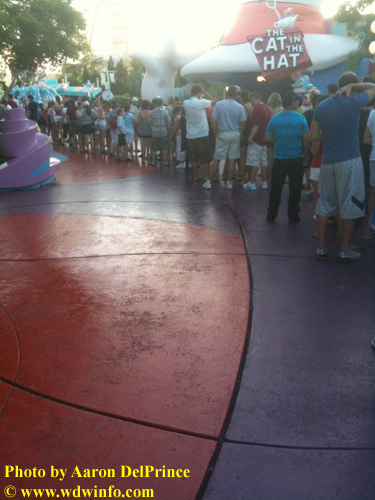 Saturday, June 19, 2010, Aaron, Kim, and Anna, planned to make use of their early admission benefit from staying at a Universal Orlando Resort hotel.  Unfortunately, communication breakdowns between the resort and the theme park led to another disorganized, frustrating experience.  Aaron was told by the hotel concierge WWoHP would open at 6:00 am for onsite resort guests.  He and his family woke up at 5:30 am, and made their way to the boat dock to take the water taxi to IOA.  Here they were informed WWoHP would not open until 8:00 am for resort guests.  Aaron commented, "There were a lot of angry people at the boat dock", but they decided to make their way over to IOA and get in line for the new land.  They entered the line ~7:00 am, and WWoHP actually opened earlier than expected at 7:30 am.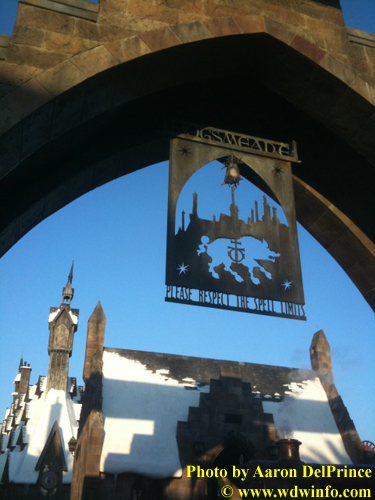 Once they entered WWoHP, their strategy was to ride Flight of the Hippogriff a couple of times because it was a tamer roller coaster more suited to their family.  That ride was walk-on, and they all rode it a couple of times.  Next, Aaron got in line for Ollivander's wand shop – a 30-40 minute wait at that point.  While Aaron waited in line for Ollivander's, Kim went over and waited 15-20 minutes to purchase butterbeer.  She bought a regular and frozen butterbeer, and brought it over to Aaron at Ollivander's.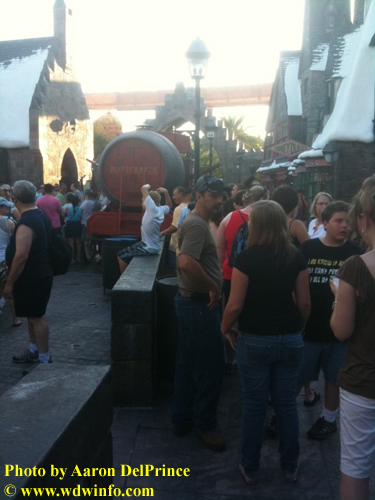 Aaron did not care for the taste of the regular butterbeer saying it was too sweet for him.  He preferred the frozen butterbeer, but still described it as a very heavy drink – almost like drinking frozen butterscotch.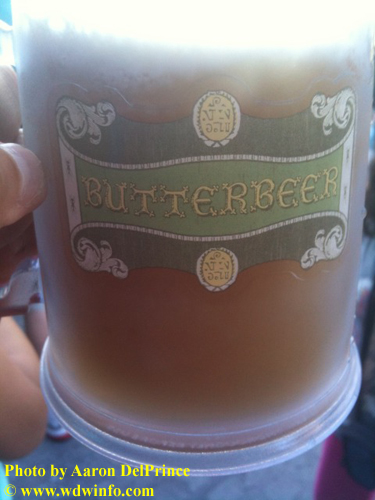 After 30-40 minutes, they gained admission into Ollivander's Wand Shop.  Their family was the first of the 25 people to be let in, and, therefore, right in the front of the shop.  Aaron believe this helped his daughter, Anna, be selected for the wand experience by the shopkeeper.  Aaron said the skit with the shopkeeper was "very cool", but Aaron also qualified his response.  He explained their family waited a long time for the wand experience (30-40 min), and some families may have to wait 2 hours to enter the shop.  The performance itself was a 5-7 minute show with one person out of the 25 in the shop.  Aaron said, "Quite honestly, if you're not the person picked it is not that exciting of a routine that they go through."  Keep in mind families do not need to go through Ollivander's Wand Shop in order to purchase a wand.  They can easily go over to the Owl Post, and purchase the same wands at that location – especially since only 1 in 25 will have the "wand select them."  Therefore, we strongly encourage all families to temper their expectations when it comes to Ollivander's Wand Shop.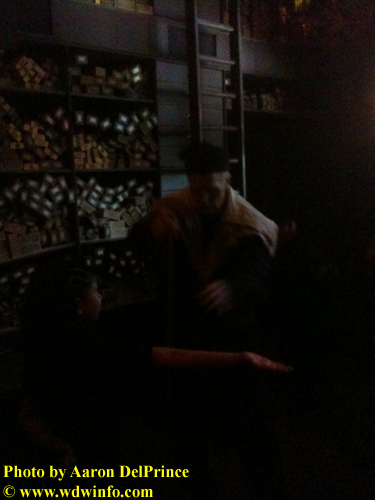 The DelPrinces also tried the signature attraction of the land – Harry Potter and the Forbidden Journey.  They waited approximately 50 min to experience the ride, but they noticed large gaps in the queue inside the castle.  Guests stopped inside Hogwarts Castle to absorb all the details.  Hence, there were large sections without people waiting, and by the time you reached the loading area nobody was waiting.  These gaps may contribute to the large backup outside Hogwarts Castle, and Aaron noticed many Team Members asked people to move along inside the queue.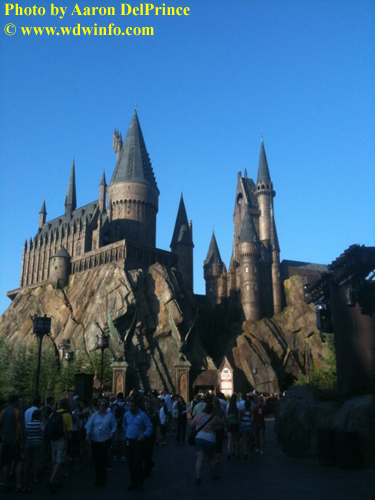 Regarding the Forbidden Journey attraction itself, Aaron thought it was a good ride.  He enjoyed how the ride vehicle made it feel as though you were riding on a broom, but thought the ride was similar enough to Spiderman that it was not the groundbreaking attraction Universal advertised.  The ride was very intense, and while his daughter Anna (age 10) rode it, she was intimidated and did not want to ride Forbidden Journey again.  His wife Kim, enjoyed the parts of the attraction where they were flying, but did not enjoy the parts of the attraction with the animatronics.  I asked Aaron how he would rate the attraction, and he said he would give it a 7 or 8 out of 10.  It is a long ride, approximately 3-3:30 minutes, but it is going to be too intense for some guests.  Also, prepare yourself for the crowd getting through the gift shop, Filch's Emporium of Confiscated Goods.  Aaron said this was the tightest space in the entire new land and very difficult to get through to exit.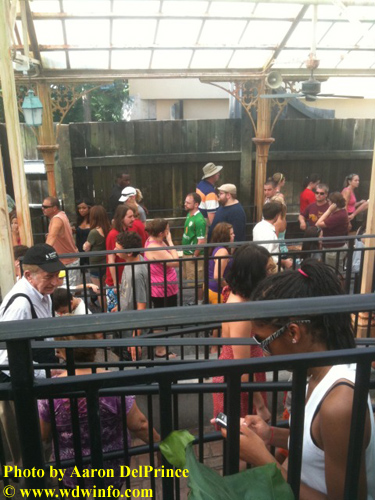 I asked Aaron what he thought of the overall WWoHP experience prior to the general public entering at 9:00 am.  He said the land was comfortable and did not "feel" crowded.  True, Ollivander's had a 30-40 minute wait and there was a 15-20 minute wait for Butterbeer, but Dragon Challenge and Flight of the Hippogriff were walk-on attractions.  Forbidden Journey was a 30-45 minute wait early in the morning.  Aaron said the shops were "somewhat tight" because they were small, but they were manageable.  At 9:00 am the land opened to the general public, and all the lines swelled for shops and attractions.  The wait for Forbidden Journey quickly increased from 45 minutes to 2 hours once the gates opened.  The DelPrinces exited WWoHP around 10:30 am (after entering near 7:30 am).  He said their family's reaction to the new land was that it was a beautiful, well-themed area, but they were not "blown away" by it.
Thank you to Aaron DelPrince for sharing his photos, and taking time out of his family vacation to tell us about his experience.  You can find complete coverage of the WWoHP on the DIS on this webpage.  I hope Universal's crowd management and organization improves before our trip in August.
Category: Universal / Sea World, Universal Orlando