On Sunday, June 1, 2008 a raging fire burned through the backlot of Universal Studios Hollywood.  The iconic King Kong exhibit was destroyed as four acres were scorched and burned on that day.  Larry Kurzweil, President Universal Studios Hollywood, said: "King Kong has been an integral part of Universal Studios Hollywood for decades and, after the 2008 fire, we knew he had to be reintroduced as a new, groundbreaking, thoroughly over-the-top experience." In the video after the break, Oscar® Winning Director Peter Jackson describes the new King Kong 360 3-D attraction.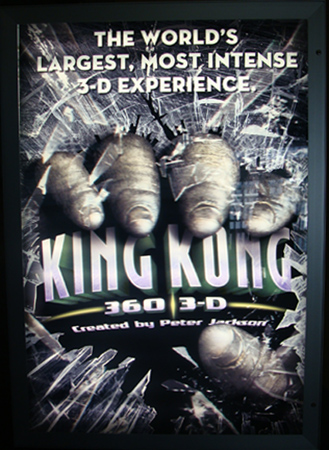 King Kong re-emerges this summer as a new signature attraction created under the direction of Peter Jackson on the Universal Studios Hollywood tram tour.
In the new attraction, guests will be given special 3-D glasses as they enter a darkened soundstage aboard the Studio Tour trams and will be transported— via the magic of Surround Digital 3D projection —deep into a tangled jungle location.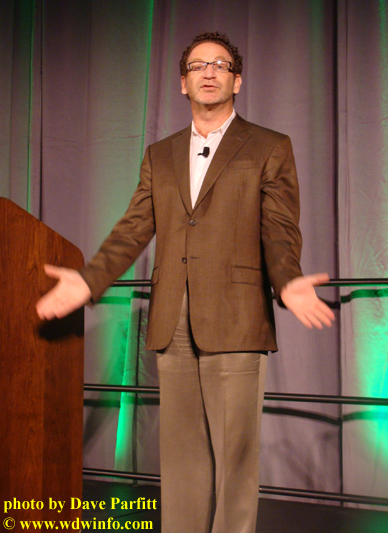 Image: Universal Studios Hollywood President Larry Kurzweil describes the new King Kong 360 3-D attraction added to the revitalized Studio Tour
Guests will survive a close encounter with a swarm of hungry raptors, only to be confronted by the terrifying presence of 35′ tall dinosaur behemoths, intent on attacking the tram and Studio Tour guests.  Suddenly, a 25′ tall gorilla appears – Kong himself!  The tram jolts and shudders as the guests find themselves caught in the middle of a titanic struggle between these colossal prehistoric foes – the great ape and carnivorous reptiles – action which sends the packed trams sliding ever closer to the edge of a bottomless chasm.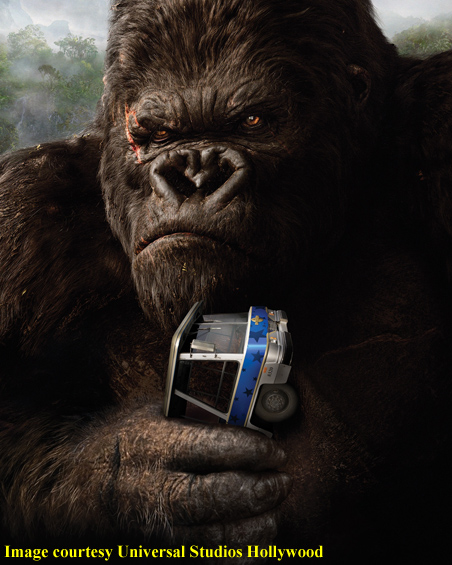 How real are the effects?  Peter Jackson describes:  "When the tails of the dinosaurs or Kong's hands sweep past the tram, passengers will feel air blow across their faces.  When the dinosaurs bang or try and push the tram, passengers will feel the tram being moved around physically."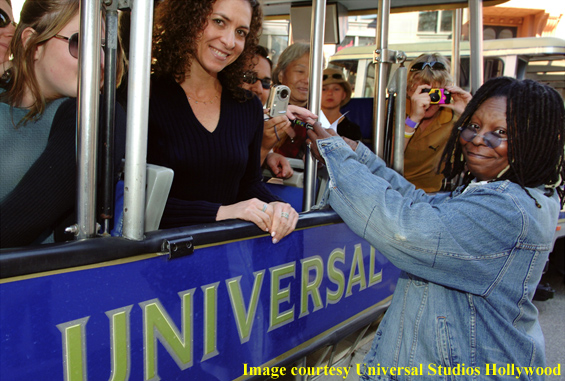 Image: Whoopi Goldberg is featured in narration for Universal Hollywood's Studio Tour
The addition of "King Kong 360 3-D" coincides with other enhancements to Universal Hollywood's Studio Tour.  Out of the ashes of the fire, Universal Studios engaged in the most extensive backlot construction ever in their history, and includes re-creations of legendary Hollywood sets as well as introduction of brand-new shooting locations.  Studio trams were updated to become "mobile movie theaters" with state-of-the-art flat-screen high-definition monitors and digital playback systems.  The new high-definition monitors feature commentary from filmmakers, actors and personalities.  Clips from numerous movie and television productions, corresponding to sites visited along the Tour route, add a new dimension to the tour of backlot attractions, sets and facades.
So what do you think?  Will you consider adding a trip to Universal Studios Hollywood on your next trip to California?  I know I will.  Log in with your DISboards username and password in order to leave a comment below.
Category: Universal / Sea World, Universal Studios Hollywood