Though it wasn't scheduled to open until June 11th when the Summer Nightastic promotion begins, the Silly Symphony Swings quietly opened Memorial Day weekend at Disney California Adventure.  The attraction is inspired by the 1935 Walt Disney cartoon "The Band Concert", where Mickey Mouse attempts to conduct an outdoor concert, eventually conducting in the middle of a tornado.  Continue reading for more details and pictures of this "reimagined" attraction.
When DIS Senior Editor Leah Zanolla heard that the Silly Symphony Swings were going to be opening soon, the emails started flying to the Disneyland Correspondents:
"Dear Nancy,
I understand that the Silly Symphony Swings will be opening soon, can you ride it and do a blog?
Leah"
"Dear Leah,
It swings, right??
Sorry, not gonna happen.
Nancy"
Determined as she is, Leah tried again.
"Dear Tony,
I hear that the Silly Symphony Swings are opening, Nancy said that you would do a great blog on it.
Leah"
"Dear Leah,
It swings, right??
Can you say protein spill?
Tony"
Leah figured it couldn't hurt to give it one more try.
"Dear Tom,
Silly Symphony Swings is open.  You've done such great blogs lately, that both Nancy and Tony said YOU should be the one to ride and do a blog.
Leah"
"Dear Leah,
Wow, such high praise from my fellow bloggers.  How can I refuse?
Tom"
Ok, so none of that really happened…yet, I found myself being the one in the line for the Silly Symphony Swings.
In July 2009, the Orange Stinger (which had opened with the Park in 2001) was closed to begin the transformation to the Silly Symphony Swings.  The construction was delayed a month or two by weather, but the result is beautiful.  While the ride mechanics (a wave swinger) weren't changed, everything else is different.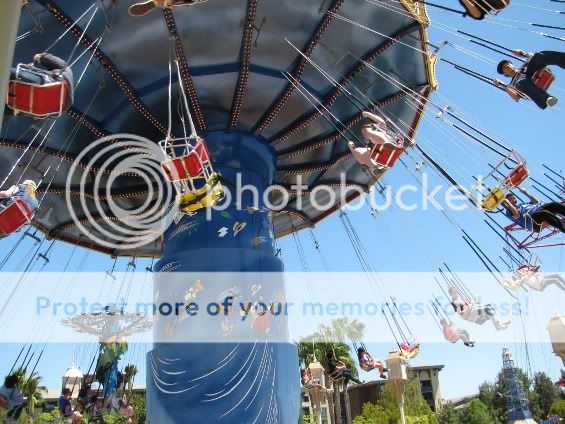 During the last few months of the Orange Stinger's "life" tandem swings had been added, so that smaller guests could enjoy the attraction.  The good news is that the tandem seats are still a part of the attraction.
You must be 48 inches tall to ride alone on the Silly Symphony Swings, but if you are between 40 and 48 inches, you can ride the tandem swings with a "responsible person".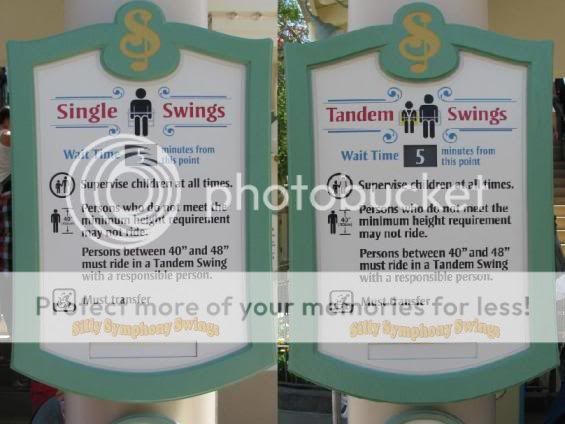 Once everyone is safely in their seats, the ride begins to the familiar strains of "The William Tell Overture" (aka The Lone Ranger Theme).
As the swings rise, the "tornado" concert is revealed.
While this attraction isn't a new "E-Ticket", it's a great addition to Paradise Pier and we enjoyed it (3 times).  We also enjoyed the new walkway they've added underneath the attraction.  It won't be great viewing for World of Color, but it's a nice place to sit in the shade and take in Paradise Pier.
Category: Disneyland