Beer on Main Street?  Contortionists?  Ice billiards?  Imagineers at your beck and call?  Parade floats not seen for nearly two decades?  Has the Mad Hatter taken over Walt Disney World?   No, but there was an over-the-top private party put on by Disney Destinations for U.S. Travel Association's International Pow Wow, and it was clear this was not your Father's Magic Kingdom.  Continue reading after the break for details and photos (including a sneak peek of the returning Main Street Electrical Parade) of one spectacular party.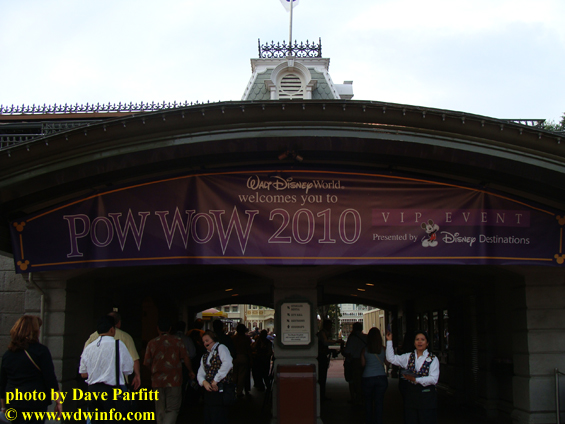 The Magic Kingdom closed to the public at 5pm, and re-opened for the party at 7:30pm.  Our hosts, Mickey and Minnie Mouse, welcomed guests from around the world in their native languages.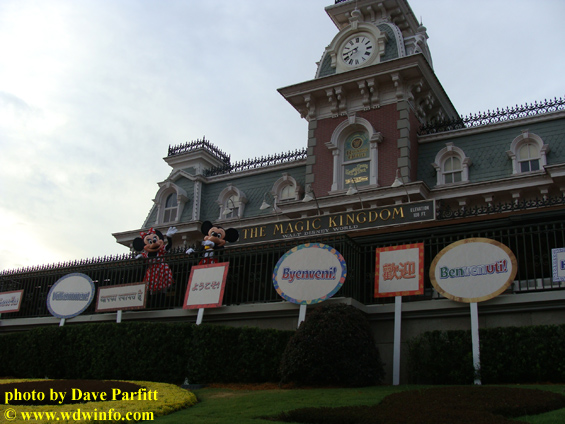 Approximately 5,000 guests attended this "intimate" affair.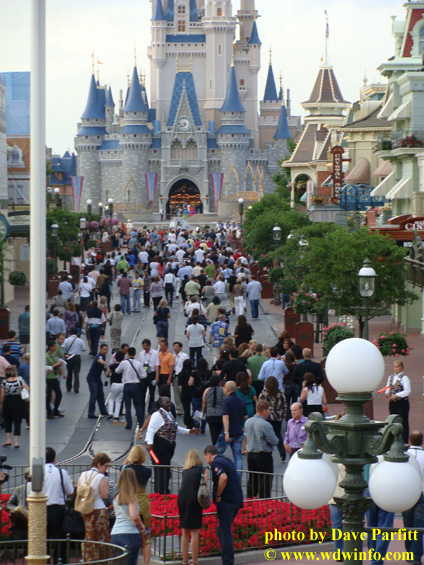 But what to my wondering eyes should appear?  When we passed through the tunnels and emerged in the Town Square we were met by servers with trays of alcoholic beverages.  In the Magic Kingdom!  On Main Street, U.S.A.!  Mmmmm, don't mind if I do…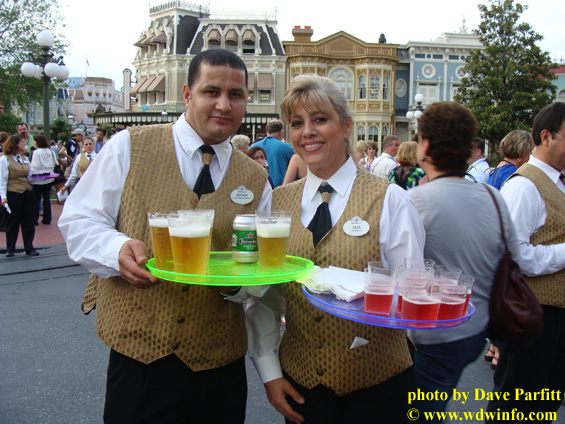 With beer in hand, I headed down Main Street, U.S.A. to the Hub – where heralders, a majordomo, and Cinderella welcomed us from her coach to her castle.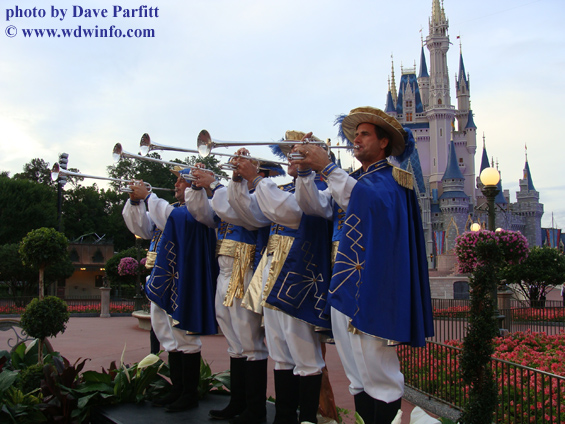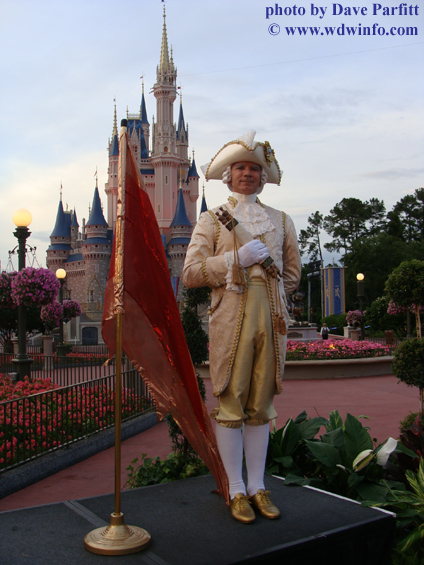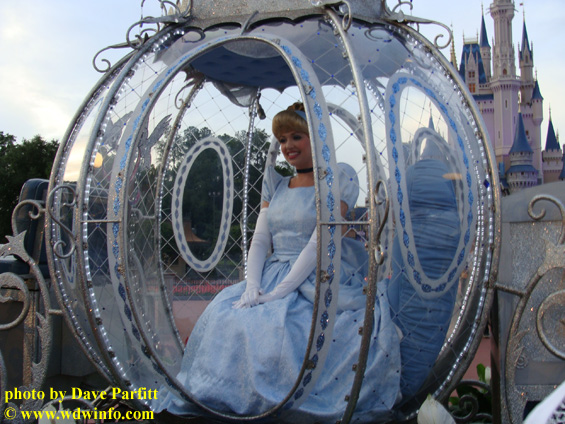 I turned right into Tomorrowland, and things took a decidedly strange turn.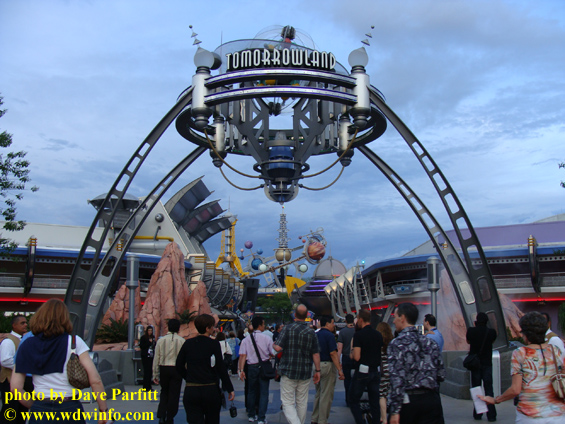 Waitresses with "torso tables" served alongside stiltwalking robotic androids.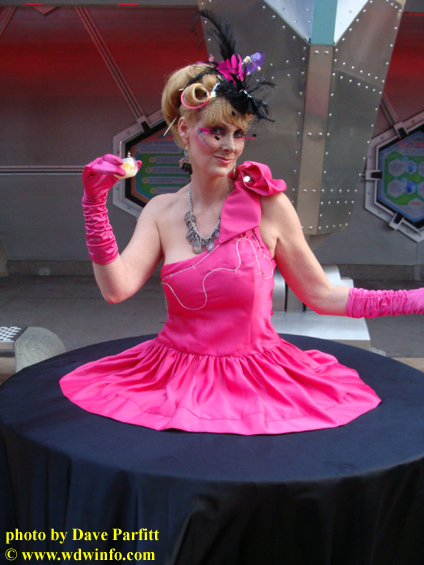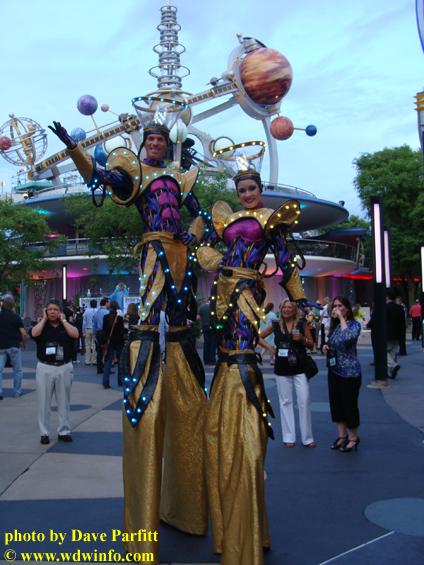 However, this sight was outdone by stiltwalking bartenders of the future who poured elixers into ice blocks containing mesmerizing dancers.  Was this the Magic Kingdom or the Whisky A GO GO?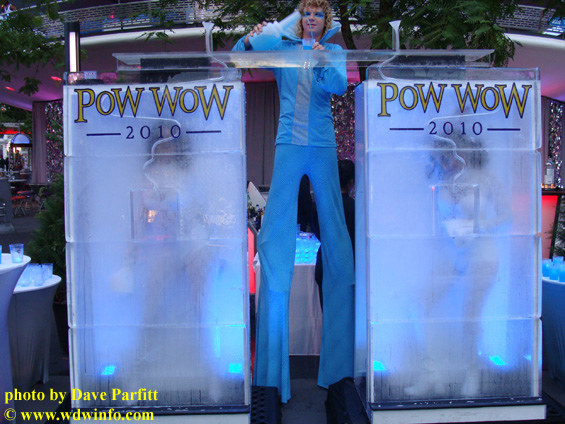 The bartenders served Tomorrowland's signature cocktail – Blue Moon made of Blue Curacao, Skyy-Infused Citrus Vodka and Lemonade.
Then there was food, elaborately displayed with multiple courses to be had.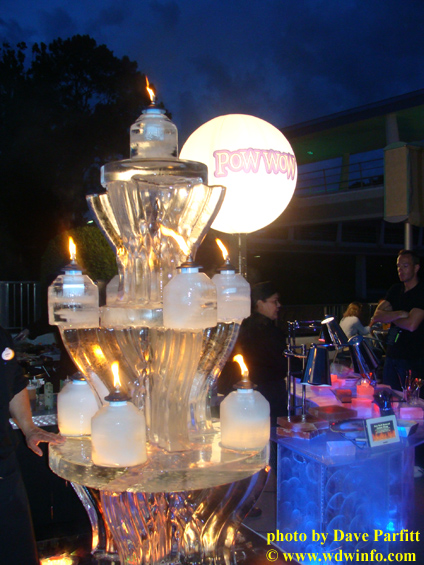 The "lite side of things" were three different salads course presented in plastic cones.  Jade was romaine, arugula, watercress, cucumber, green apple and Midori vinaigrette.  A tapas cone contained herb vinaigrette tossed ham, mortadella, salami, cappicola, provolone, roasted red pepper and olives with romaine.  Third was a sunset salad with red romaine, red oak, radicchio, red beets, and red Zinfadel vinaigrette.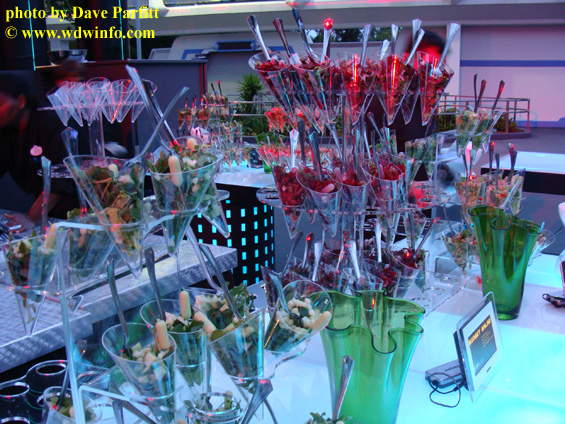 The second course was "Fusion to Go" with two different dishes.  Large, pan-seared scallops with organic fregola sarda and rainbow lentils with piquillo pepper puree was the first offering.  I'm not sure what all that other stuff was, but the scallop melted in your mouth.  Next was an Asian five-spice rubbed chicken over lo mein, water chestnuts, bok choy and straw mushrooms.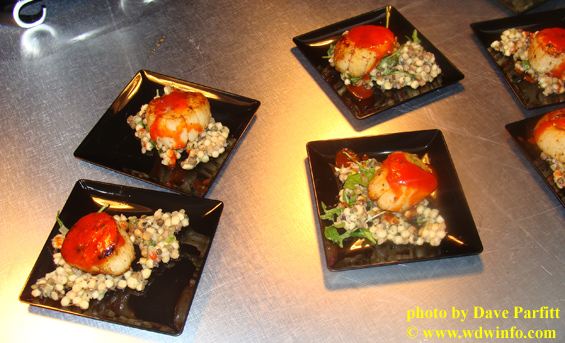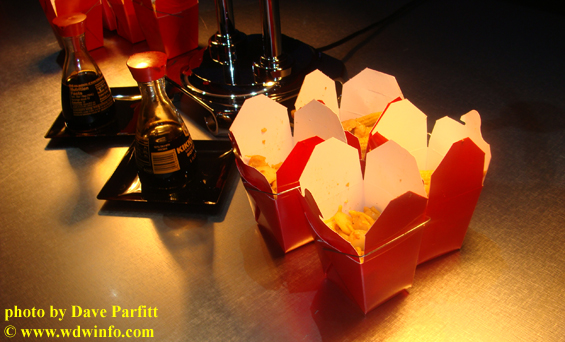 "Grilling and Chilling" was the meat course with a Rioja-infused beef tenderloin served alongside slow roasted yucca, caramelized onions, and a chimichurri drizzle.  This was a surprisingly tender piece of beef.  There was also a sea salt seared lamb chop with a sweet potato apple praline and pomegranate port wine reduction that was to die for.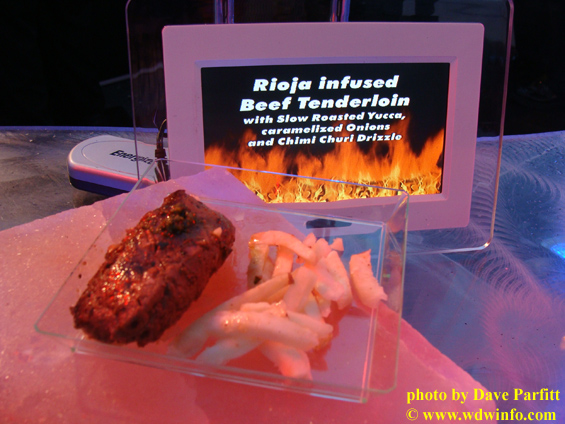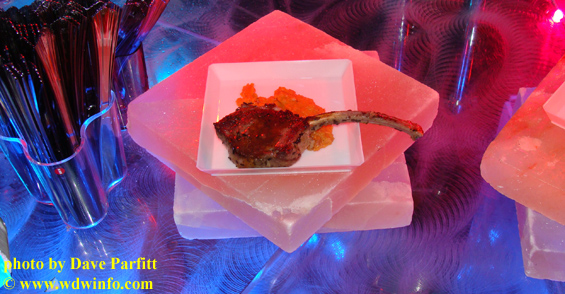 For dessert, "Sweet Elevations" were offered up with mini-confections including chocolate banana ganache torte, caramel tres leches, cosmopolitan cheesecake push ups, and fresh berries with coulis burst.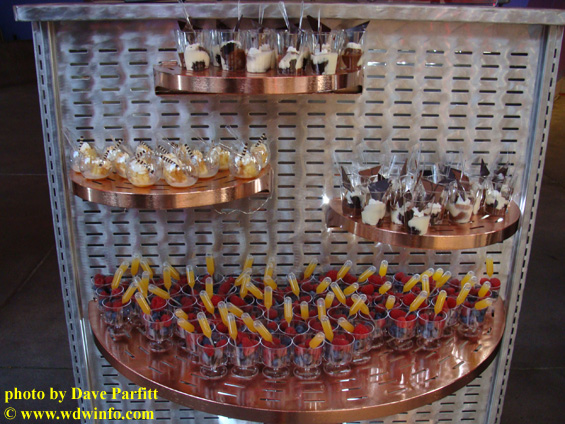 As we made our way out of Tomorrowland we passed performing contortionists and billiards tables made of ice (complete with ice pool balls).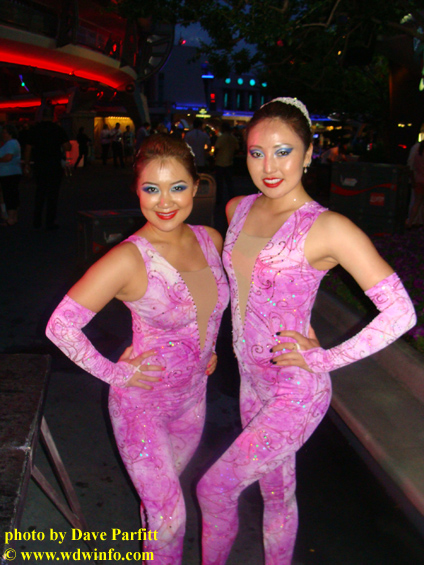 Next, it was on to Fantasyland where Wonderland awaited.  Tables were set throughout Fantasyland allowing guests to savor an additional series of courses.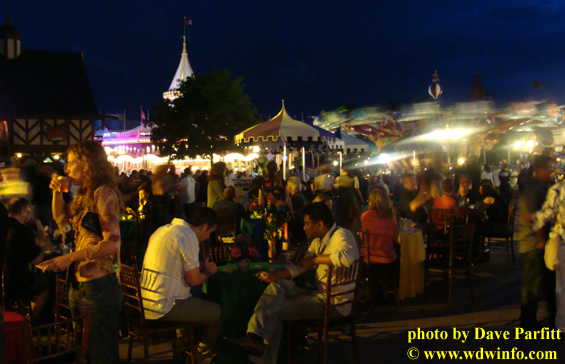 First I encountered the "Crustacean Station" near the Mad Tea Party tea cups with Alice in Wonderland inspired playing card soldiers dutifully serving crab summer rolls with wakame and thai chile along with plantains with tomato, peppers and garlic.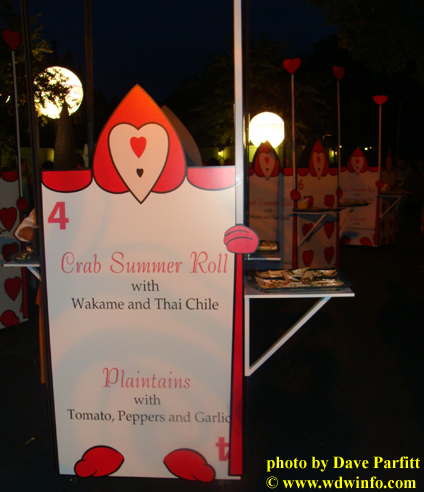 Chairs were stacked high to offer "smooth comfort" of smoked tomato cilantro soup with a duet of finger sandwiches.  [The soup was incredibly hot, surprisingly so for being served in a theme park.]  Grilled meatloaf grinders with wild mushroom ragout and fried onions came next (delicious!), followed by black bean and roasted red pepper grinders with chipotle ketchup and micro greens.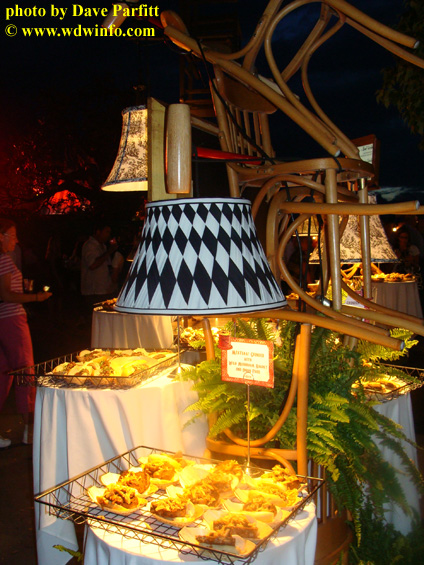 My favorite dish served in Fantasyland/Wonderland was in the "smoking hot" section.  Here we found a bite-sized barbeque spiced pork belly with creamy cheddar Mickey-roni (i.e., mac & cheese) served with a beer button (mini muffin).  This was fantastic; especially with the tabasco sauce sprinkled on top.  The other offering here was a smoked beef short rib with wilted greens and corn bread.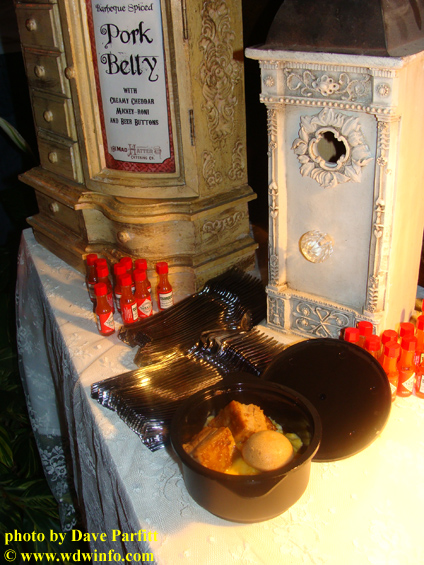 I can not say enough about the food displays Disney used for this party.  Elaborate props were set up to serve food using ride vehicles, attraction backdrops, and even parade floats.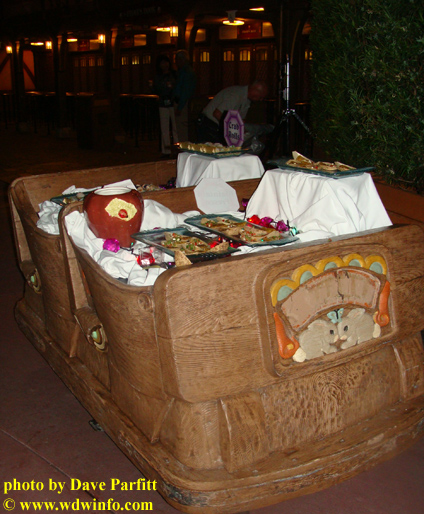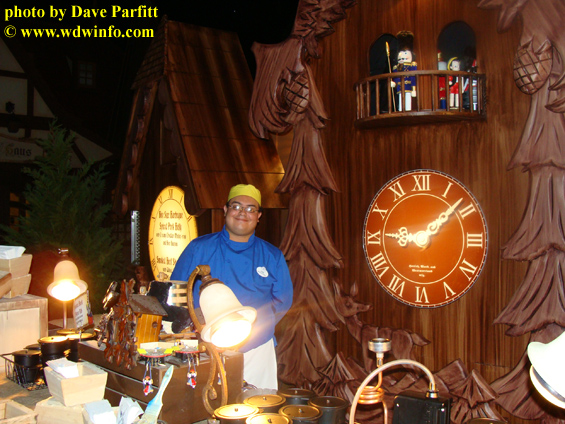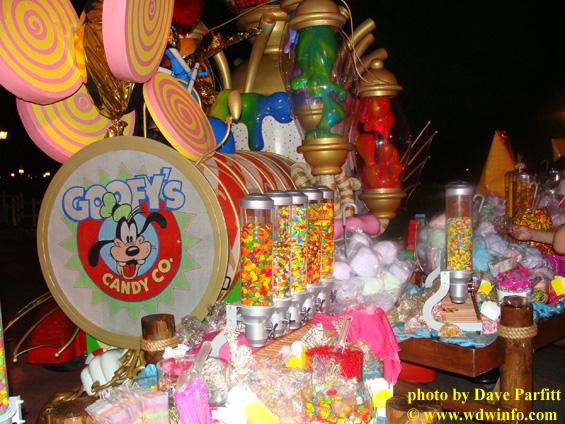 The dessert offerings of Fantasyland were "sweet temptations" – nostalgic treats of cotton candy, Mickey shaped rice-crispy treats, and penny candy.  These areas were surprisingly mobbed with guests – it's candy for Pete's sake!  However, I chose to partake of the ice cream vending carts that served Mickey premium ice-cream bars and sandwiches (among others).  Yummy!
Of course no Disney party would be complete without character appearances.  In addition to Mickey, Minnie, and Cinderella already mentioned, around Cinderella's Golden Carrousel were Donald and Daisy Duck, Chip and Dale, Pluto, and Goofy all boogying to the beat.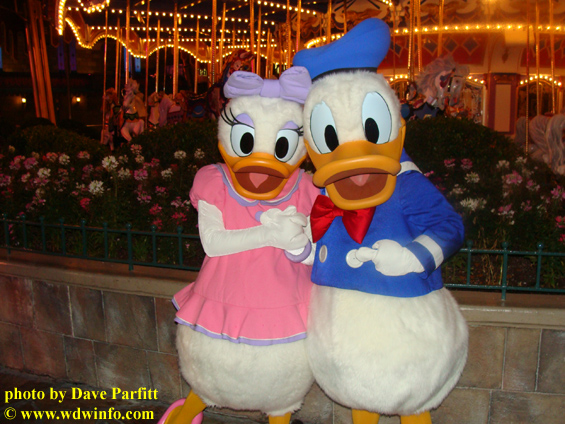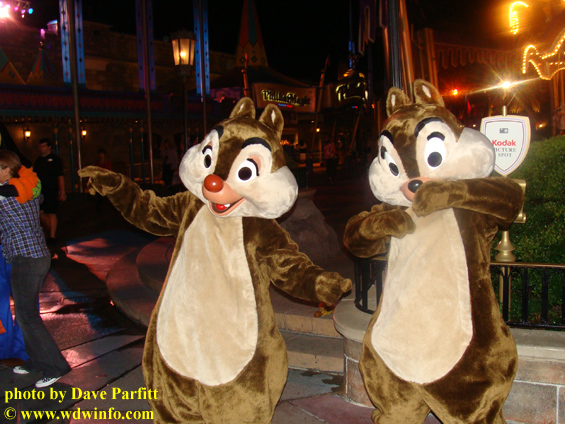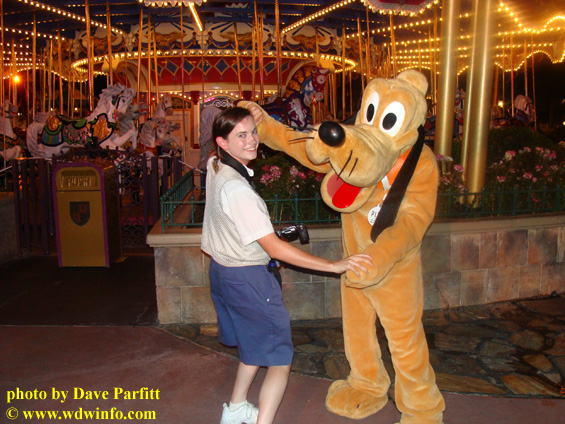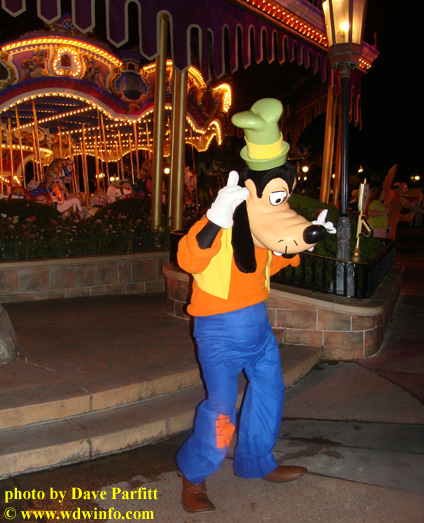 The Fairy Godmother could be found at Cinderella's Castle, Pinocchio and Gepetto in front of Pinocchio's Village Haus; Peter Pan and Wendy danced in front of Peter Pan's Flight, and princesses could be found around the corner on the path to Liberty Square.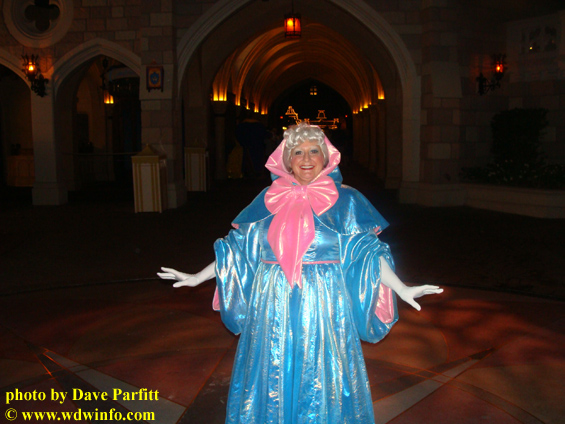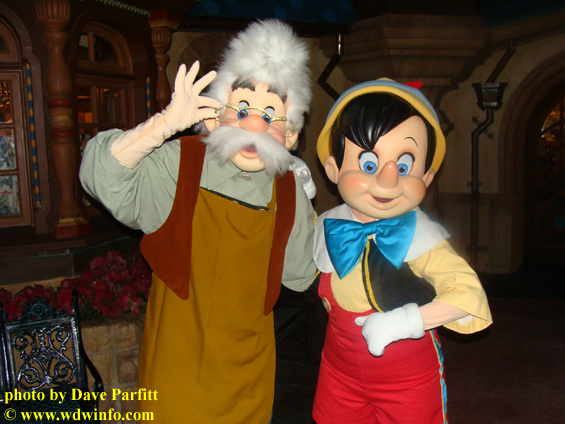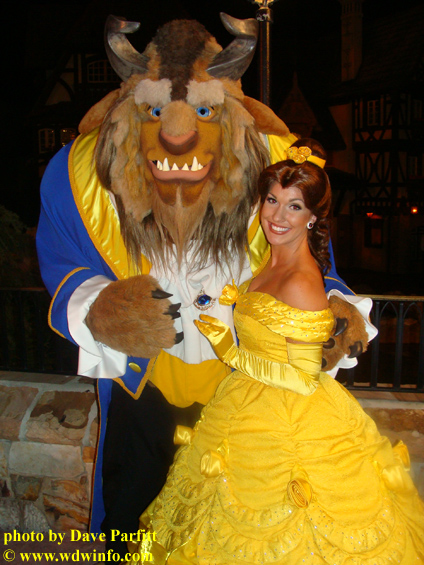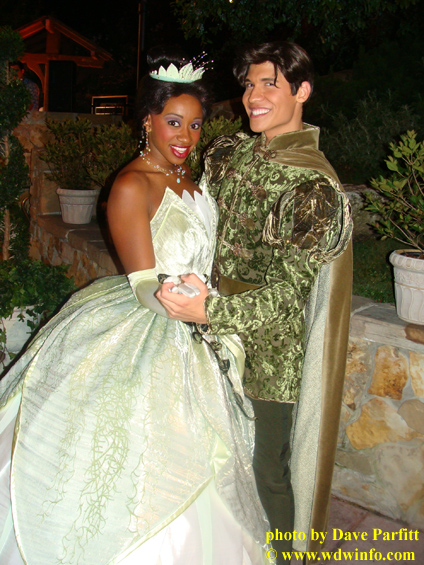 Even Princess Tiana and Prince Naveen from Disney's "Princess and the Frog" made an appearance.  Amazingly, PhotoPass photographers were stationed throughout the Magic Kingdom for the party – especially near the characters, and we were given a PhotoPass card and told we could download ALL photographs taken during the party for free as a complementary part of the event.
For me, as someone who appreciates the work and effort of those who design the theme parks, the highlight of the evening was an opportunity to meet with a number of Walt Disney Imagineers sprinkled like Pixie Dust throughout the land giving guests a sneak peek at the plans for the Fantasyland expansion.  Large screens were set up throughout Fantasyland with a continuous "slide show" illustrating renderings of the plans.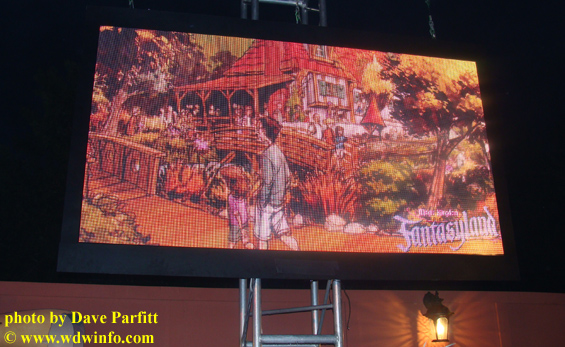 Even the castle was adorned with a screen showing what Disney is describing as the "largest expansion in the history of the Magic Kingdom Park."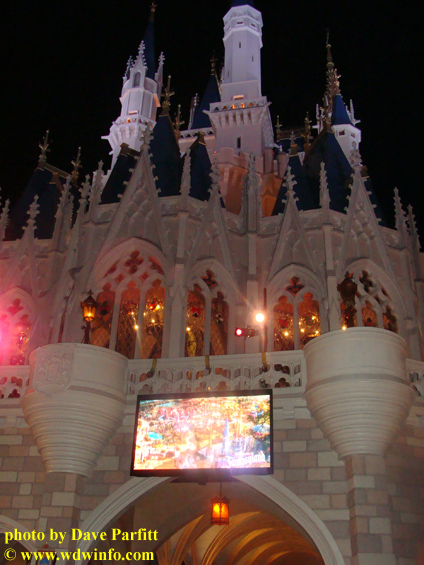 The Imagineers were wonderful to talk to, and it was great seeing them meeting with guests and sharing come of the concept drawings and ideas of the new attractions.  I first met with the Director of the project, Chris Beatty.  He is the designer of the concept of the Fantasyland expansion, and was full of energy and enthusiasm.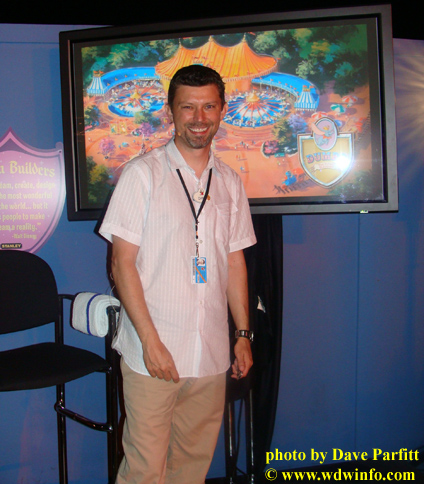 Next I met Imagineer Shannon Stewart, one of the project managers of the expansion.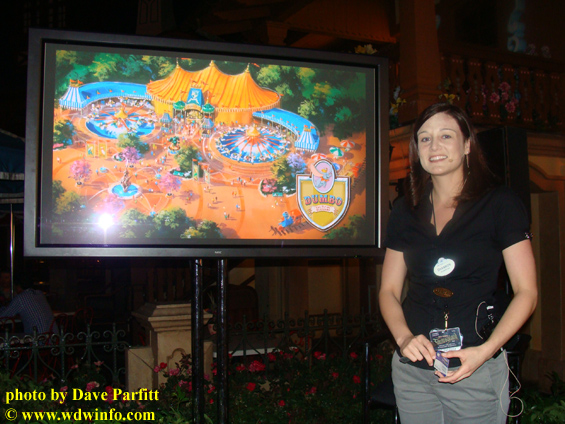 Jon Georges, Director Creative Development for Walt Disney Imagineering was stationed by the castle, and full of details about the plans for the "Be Our Guest Restaurant."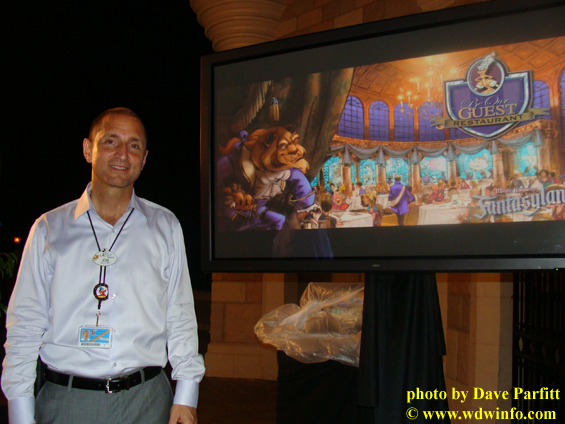 Imagineer Tim Warzecha, also a project manager, shared the plans for the new "Journey of the Little Mermaid" dark ride attraction.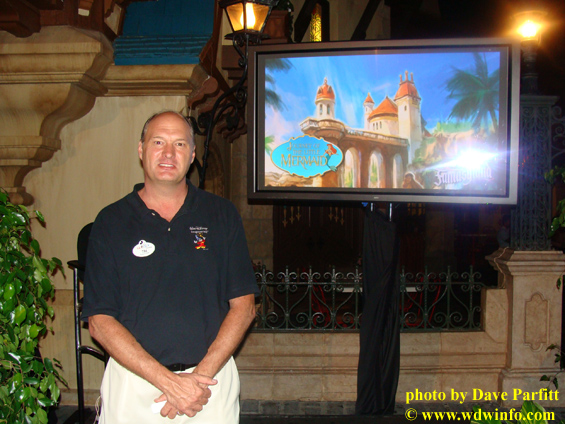 And behind "it's a small world", over by the Princesses (near the stroller parking) was Mark Kohl the Director of Project Management for the Fantasyland expansion.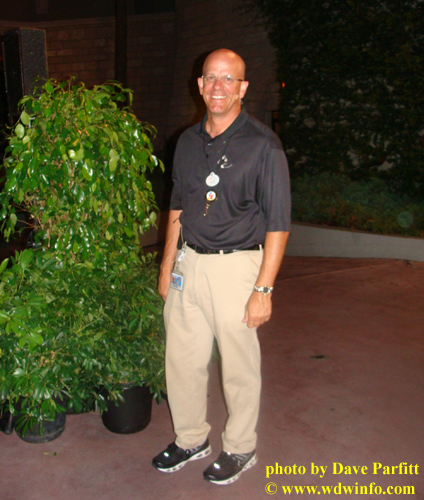 We had a wonderful conversation about the plans for Fantasyland as well as other projects being worked on at Walt Disney Imagineering.  At one point during the conversation Mark was pointing to goosebumps on his arms because he was so excited about the upcoming plans.
After talking with the Imagineers it was time to watch Wishes, my favorite nighttime fireworks show, but not before grabbing a cocktail in Liberty Square.  Hey, how often do you get to have a mixed drink in the Magic Kingdom?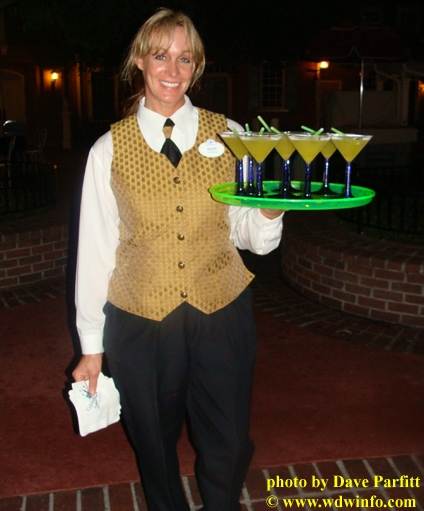 Here they were offering "Grim Grinning Ghosts" or "Green Grinning Ghosts" depending on who you talked to or how many Ghosts they had partaken.  These were made of green tea liqueur, pineapple juice, and ginger.
I made my way back to Main Street, U.S.A., nearly deserted 10 minutes prior to the fireworks start, and watched the lighting display and fireworks light up the castle.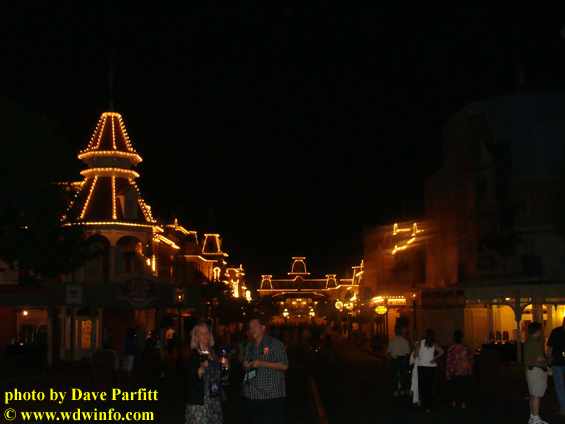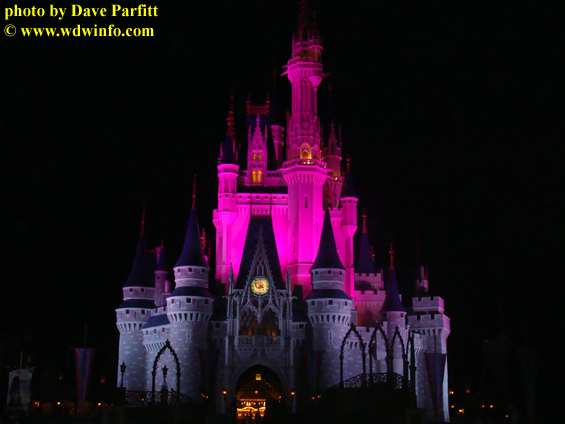 Wishes was as inspiring and uplifting to me as ever, but when the soaring music ended, another score I had not heard before started.  The music turned out to be "Baroque Hoedown", and the announcer said we would be among the first to see the return of the floats from the beloved "Main Street Electrical Parade."  When I turned around from facing the castle, I was stunned to see all the floats lit up by thousands of tiny lights.  Disney had quietly rolled out the floats, characters and dancers while we were all distracted by the Wishes fireworks show.  I don't often get surprised anymore in a theme park, but I was not expecting this at all and the effect was fantastic!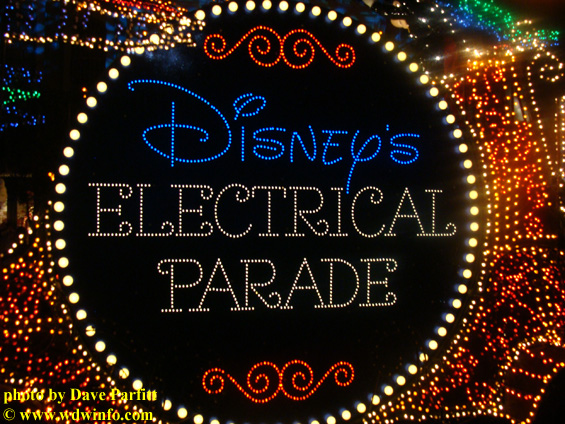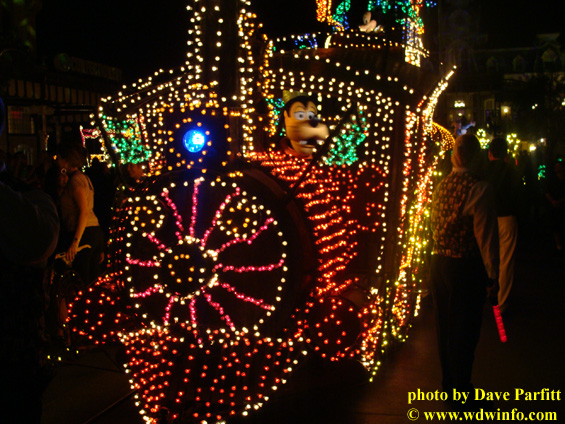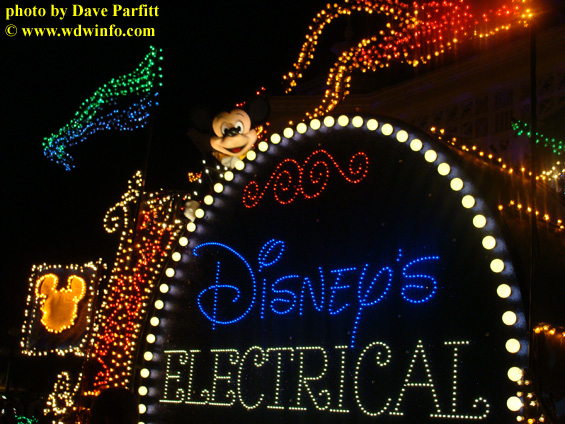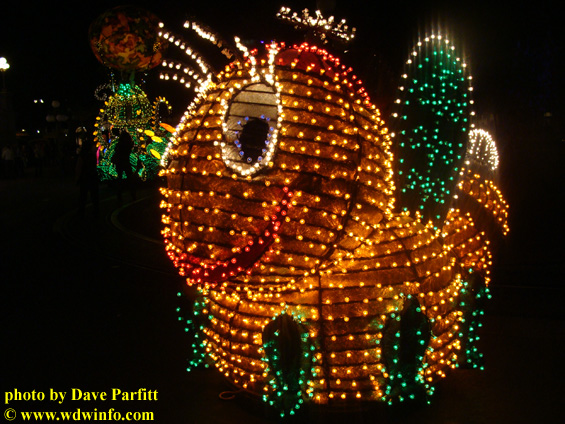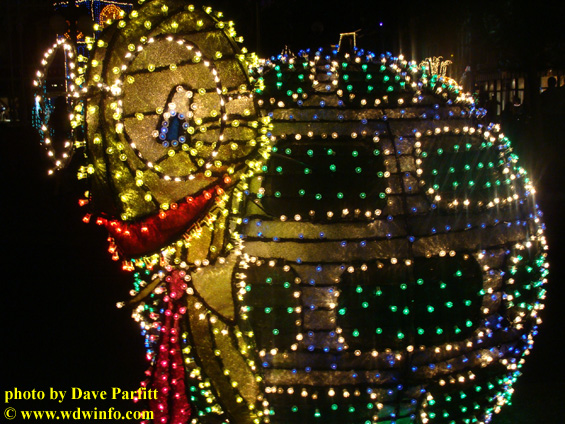 The signature new float leading the return of the Main Street Electrical Parade features Tinker Bell held aloft by a lighter than air balloon made of leaves.  This was a large float, with dazzling animated lighting effects, and full of detail.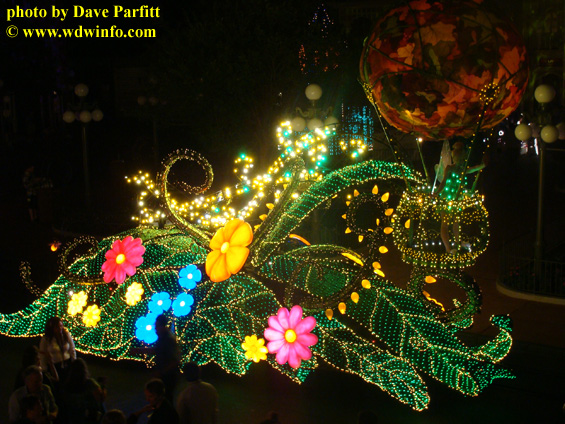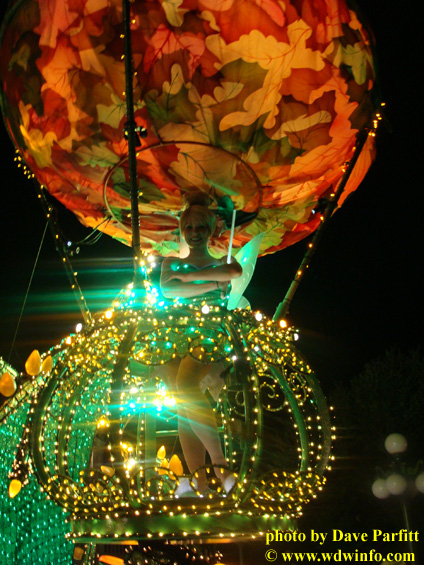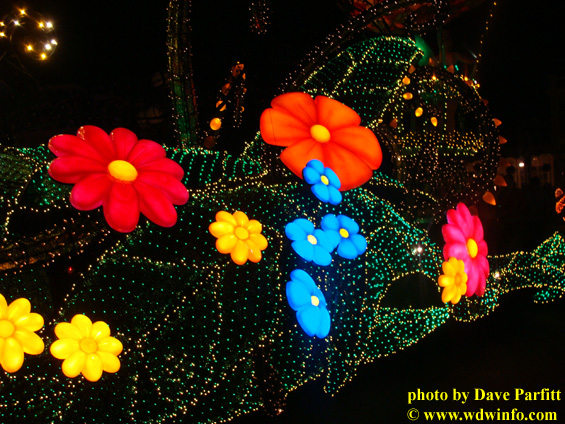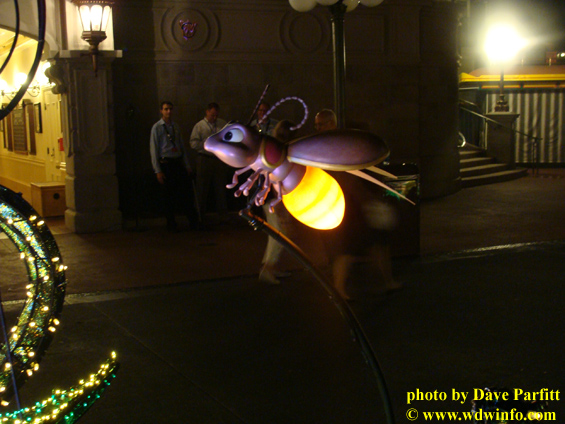 For more details of this new parade, be sure to read Kathy Werling's blog with her sneak preview of Summer Nightastic!
I have one last image to share, and this was one that has stuck with me long since the party has ended.  As I prepared to leave the Magic Kingdom for the evening, I walked up to the Walt Disney World Railroad station that overlooks Main Street, U.S.A., and saw this…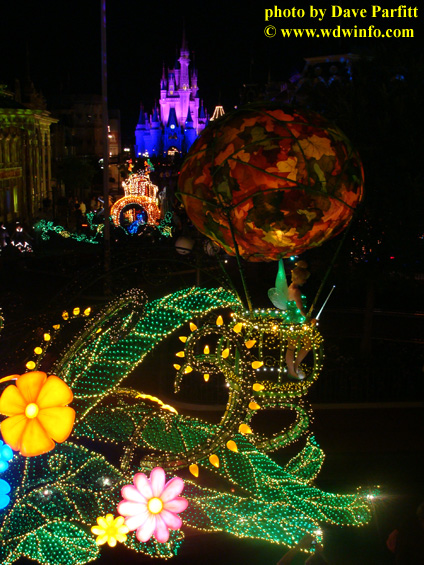 Tinker Bell glowed on her float, Cinderella in a lighted Pumpkin Carriage, Goofy in his whimsical winking train engine, and in the distance a shining castle saying good night.  Yes, Disney Destinations knows how to put on a party, and I'm sure it left the delegates from around the world attending International Pow Wow in awe.
Category: Disney World