Blog and photos by Tom Bell
After a lengthy rehab, Disneyland's Rivers of America are finally flowing again!  Several changes have been made.  Guests are being greeted with some new residents along the banks of the river, including some new critters and a new owner for the burning settler's cabin.    But it wasn't until this last weekend, with the return of the Mark Twain Riverboat, that activity was completely back to normal.
One of the biggest changes was the retheming of the river.  Kim Irvine, art director of Walt Disney Imagineering, says that Disney "never even named the rivers." People just took to the unofficial name and now, Disney has themed the river to match.  The river has been divided up into four distinct regions.  The four U.S. rivers that will be represented are the Mississippi, the Columbia, the Potomac and the Rio Grande.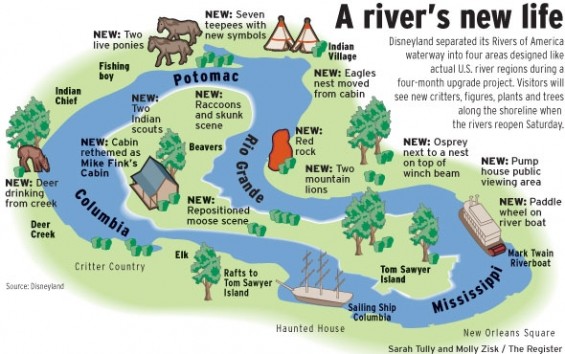 All of the additions can be seen from the various boats traveling on the waterway.
To see more pictures of the changes, check out this thread on the DISboards.
Category: Disney World
Leah grew up in a little farming town in Illinois, right on the Mississippi River. Her Chicago-born husband, David, left the city for her, and they're now raising their three children (Jacob, Jonah and Lydia) just 12 miles from her hometown. As the Senior Editor of the DIS (wdwinfo.com), Leah spends a lot of time writing about, reading about, and discussing Disney. So, it should come as no surprise that one of her family's favorite ways to spend time is going to Walt Disney World and traveling on Disney Cruise Line. She also enjoys shopping, watching movies with her husband and doing crafts with and for her kids.