On Tuesday, April 27, 2010, the United States Congress debated the educational value of keeping killer whales, dolphins, and other marine mammals in captivity in zoos, aquariums, and theme parks.  The hearing was triggered by a "perfect storm" of spring events including: SeaWorld trainer Dawn Brancheau's February 24th death by the killer whale Tilikum, the Academy Award® award win of The Cove (documentary film about dolphin abuse and capture in Taiji, Japan), and the government's announced revision of the Marine Mammal Protection Act.  Witnesses on polar opposite sides of the continuum including SeaWorld Curator Julie Scardina, Louie Psihoyos – director of The Cove, and several scientists testified on the quality of federally required education programs needed to house the animals.  The hearing also touched on the issue of the origin and source of animals in marine parks; a topic recently discussed on the DIS Unplugged.  Continue after the break for details – particularly as they pertain to SeaWorld.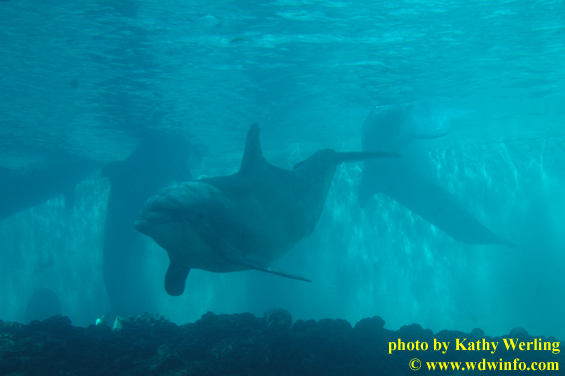 SeaWorld was not on trial per se, but received much attention during the testimony.  For background, the Marine Mammal Protection Act was enacted in 1972 (revised in 1994) by the National Marine Fisheries Service and permits the display of whales, dolphins, seals, etc. only if there are proper education or conservation programs.  Therefore, Congress asked what construes "meaningful public education" using these animals.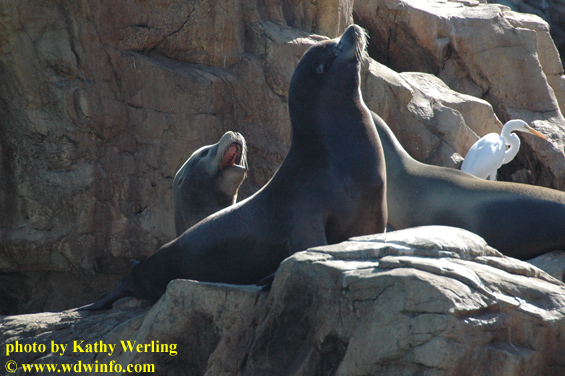 Are Current Education Programs Adequate?
Witnesses against marine mammal display presented an assessment of the educational programs of places like SeaWorld, and pointed out deficiencies in the educational materials.  Emory University's Dr. Lori Marino, Ph.D. reviewed some of the online educational materials provided by SeaWorld and other facilities and characterized them as "misleading or incorrect".  She speculated omissions were made "to allay any notions that they (marine mammals) are animals with such a complex intelligence that they may not be suitable for captivity."  However, Dr. Paul Boyle, Ph.D. Senior Vice President Conservation and Education for the Association of Zoos and Aquariums (AZA) pointed out their educational programs are lauded by organizations such as the National Science Foundation and National Science Teachers Association who see much value in experiencing animals first hand via informal learning programs.
Who Determines Appropriate Educational Programs?
While the federal government mandates facilities establish education or conservation programs in order to display marine mammals, there is no oversight of the programs since the law was enacted in 1994.  These facilities have largely self-regulated for the past 16 years.  A conflict of interest "to the detriment of the educational experience", said Dr. Naomi Rose, Ph.D., Senior Scientist for Humane Society International.  Julie Scardina, Curator for SeaWorld, did not deny the lack of government oversight of education programs, but noted SeaWorld undergoes a rigorous accreditation process every five years including a thorough evaluation of the education programs.  The AZA's Dr. Boyle encouraged Congress and the National Marine Fisheries Service to engage with zoos, aquariums, and SeaWorld in order to make their educational programs even more successful.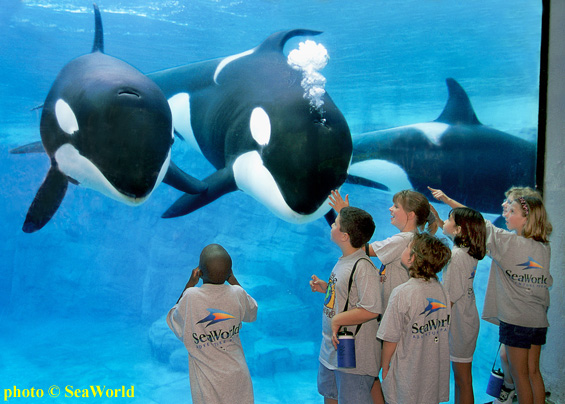 Image: An educational program on killer whales offered to campers at SeaWorld.
Are Conservation Programs Also Education Programs?
Congress did not ask witnesses to comment on conservation programs, instead focusing on education programs.  However, the Marine Mammal Protection Act requires education OR conservation programs in order to display these animals.  Animal rights groups cynically believe conservation efforts are only in place to breed more animals for the parks.  "Most of SeaWorld's breeding programs involve breeding non-endangered marine animals to replace captive animals that die in its facilities," said the Humane Society's Dr. Rose.  Conversely, the AZA's Dr. Boyle believes, "that education and conservation cannot be separated", and went on to cite many examples of their involvement in conservation efforts.
If we accept that conservation programs are education programs, then it would appear SeaWorld more than meets the criteria of "meaningful public education."  Julie Scardina outlined SeaWorld's financial support of conservation efforts, research conducted by its non-profit, independent Hubbs-SeaWorld Research Institute, and rescue and rehabilitation of more than 17,000 animals over the past 46 years.  In fact, on May 1, 2010, SeaWorld Parks pledged to aid animals currently threatened by the recent oil spill in the Gulf of Mexico.  Scardina closed her testimony with a detailed example of the rescue, rehabilitation, and release of J.J., an orphaned gray whale calf in 1997-1998.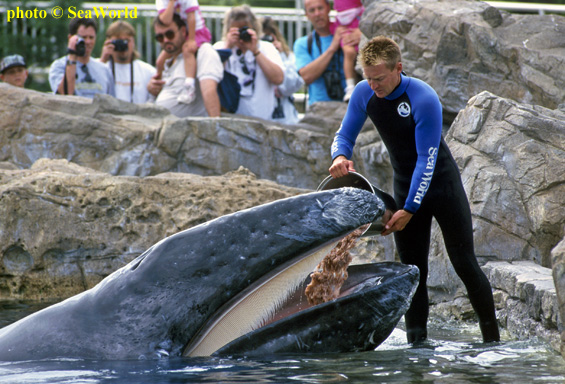 Image: A SeaWorld San Diego animal care specialist feeds J.J. the gray whale who was rescued from the beach in Marina Del Rey, CA.
Do The Shows Have Educational Value?
"Entertainment is not a dirty word," points out veterinarian Dr. Rae Stone of the Alliance of Marine Mammal Parks and Aquariums, and "entertainment enables effective education."  Undeniably, amusement park entertainment shows draw in visitors that are then exposed to education and conservation programs.  However, Psihoyos, director of The Cove, argues "the ethics of riding atop a wild animal in a spandex suit with loud music blaring cannot be reconciled under the banner of education."  Psihoyos believes we cannot understand the behavior of the animals in the wild by watching them perform "circus-like" shows.  As much as I enjoy the shows at SeaWorld, a part of Psihoyos argument resonated with me.  Are we truly respecting these magnificent animals by having them perform tricks in shows?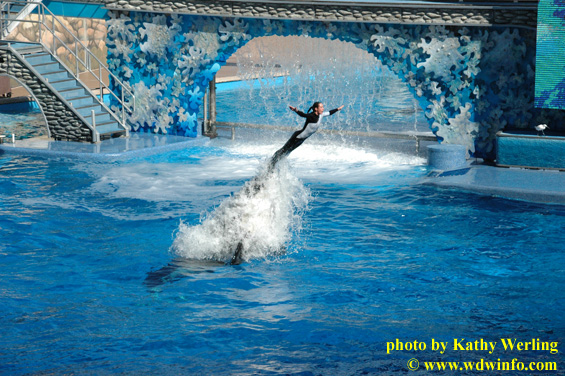 What is the Source of SeaWorld's animals?
During a previous discussion on the DIS Unplugged, there was confusion to the source of SeaWorld's dolphins and killer whales.  Animal expert Jack Hanna emphatically asserted 99% of the animals are born in the parks… 99%.  When testifying in front of Congress, Dr. Rae Stone of the Alliance of Marine Mammal Parks and Aquariums placed the number slightly lower stating, "almost 70% of the dolphins in our member institutions were born in a park or aquarium."  Director Louie Psihoyos implies in The Cove many of the animals performing in amusement parks are taken from the wild, and the Humane Society's Dr. Rose told Congress, "most of SeaWorld's marine mammals, as recorded in the Marine Mammal Inventory Report, were in fact purpose-caught from the wild as healthy juveniles or are captive-born descendants of such animals."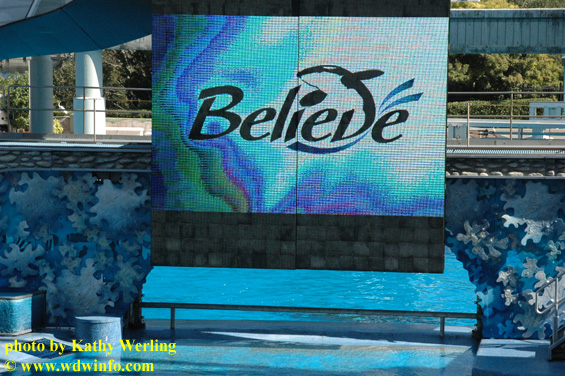 So where does the truth lie?
Fred Jacobs, Vice President of Communications for SeaWorld Orlando, responded "a little more than 80% of the marine mammals in our parks were born in our parks."  It would appear that the Humane Society's Dr. Rose's statement to Congress is misleading when she begins by saying most of SeaWorld's marine mammals were "purpose-caught from the wild".  My inspection of the Marine Mammal Inventory Report does not support Dr. Rose's claim.  Of SeaWorld Orlando's eight killer whales, two were captured from the wild.  The most recent killer whale collected was the male Tilikum captured in 1983 near Iceland, shipped to Sealand of the Pacific near Victoria, British Columbia and ultimately transferred to SeaWorld Orlando in 1992 when Sealand closed.  SeaWorld Orlando currently has 82 bottlenose dolphins on display of which 7 were captured in the wild.  The most recent bottlenose dolphin was captured in 1989, shipped to the National Aquarium in Baltimore, MD before transfer to SeaWorld Orlando in 1993.  In addition, no Beluga whales, Commerson's dolphins, or seals, and 4 of 64 California sea lions currently on display at SeaWorld Orlando were collected from the wild.  Finally, Jacobs elaborated it is against federal law to bring dolphins collected by drive fisheries as documented in The Cove into a US marine park, and said "There is no animal from a drive fishery in SeaWorld's collection.  Period."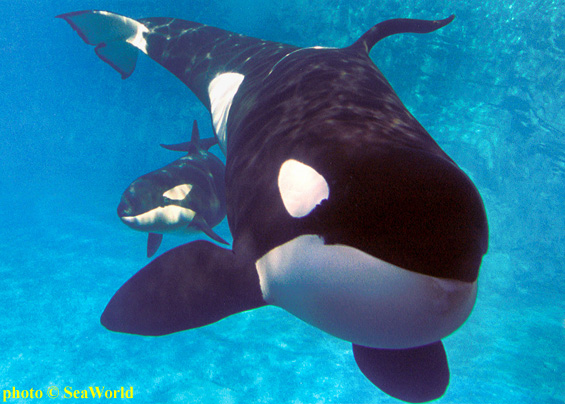 Image: More than 80% of the marine mammals on display at SeaWorld were born in the parks.
While SeaWorld certainly received a large portion of the attention last week in front of Congress, we should point out they are not the only major Orlando theme park that displays marine mammals.  Dolphins and manatees are on display in Epcot at "The Seas with Nemo and Friends", and for an extra fee guests can get up close and personal with a dolphin on the "Dolphins in Depth" backstage tour.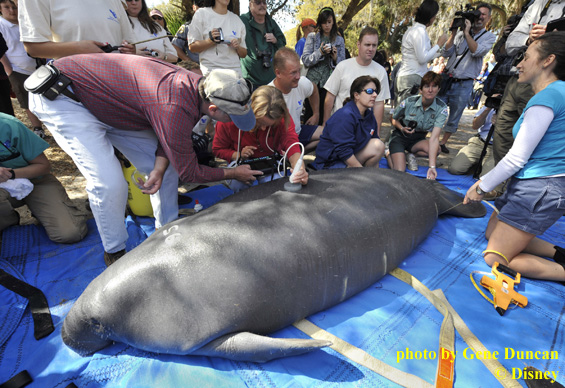 Image: Disney's Animal Programs prepare to release a manatee back into its natural habitat after caring for it from 2003-2009 at Epcot.
Now that Congress has heard testimony from all parties, what is the next step?  A spokesperson at the Committee on Natural Resources Communications Office said this oversight hearing was an informational hearing in order for Congress to gather background information, and, at this time, no legislative changes are proposed to occur as a result of this hearing.  So what is your opinion?  Do you think SeaWorld is providing "meaningful public education"?  Do you think Congress should have considered SeaWorld's conservation efforts alongside their education programs?  Please log in with your DISboards username and password in order to leave a comment below.
Friend Dave on Facebook
I accept reader friend requests!
Category: Editorials, Sea World