How do you celebrate being a mother? Do you rely on your husband to pick the perfect place, or do you just make the reservation for the Mother's Day Royal Buffet at the Disneyland Hotel's Ballroom and tell them they have no choice? Well, guess what I did last year….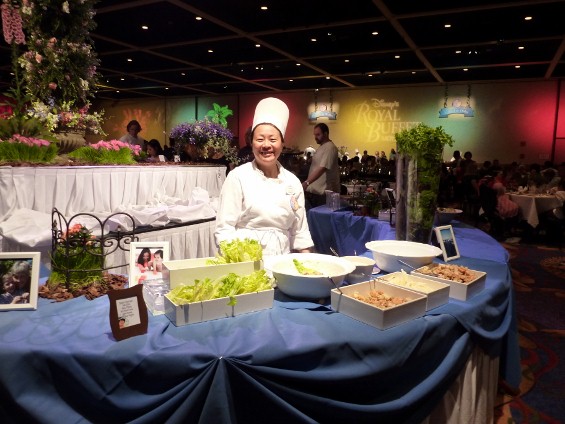 That's right. I made reservations for the Mother's Day Royal Buffet at the Disneyland Hotel! If you happen to be in Disneyland next weekend, you might not have known that this event existed.  I'll show you the set-up, help you drool over the food through photos, and try to give you tips and hints about how to make the most of the event, so keep reading.
I made the reservations in late March by calling Disneyland's dining hotline at 714-781-DINE.   I honestly think that you can make them the week before and still get in – you'll see why in a minute.  They may even do walk-ups, but I would still call the reservation number that same day, before going over.  The buffet stations are set up on several different levels, so if you have disability/mobility challenges in your dining party, be sure to let them know when you make your reservation, so you can be seated in the best location for your needs.
Mother's Day arrived and we packed the kids into the car and went down to the park. We bypassed our usual spot in the Mickey & Friends structure and pulled into the Disneyland Hotel. Parking comes with brunch attendance and when we checked in, the Cast Member at the gate told us we would get something for parking validation at our meal. We could have used the valet for free, but we chose the "fast break" option (those of you with young kids know exactly what I mean) and Ian dropped the three of us off and headed to Self Park.
When Ian arrived, we headed over to the ballroom area. There was a podium out in the hall. There were no crowds, no bustle, no nothing – and it was 10:45am! All we saw was a simple line to this podium. After confirming our reservation with the hostess, we were directed through a ballroom door. Here, we met a typical convention "registration booth" that was set with cashiers.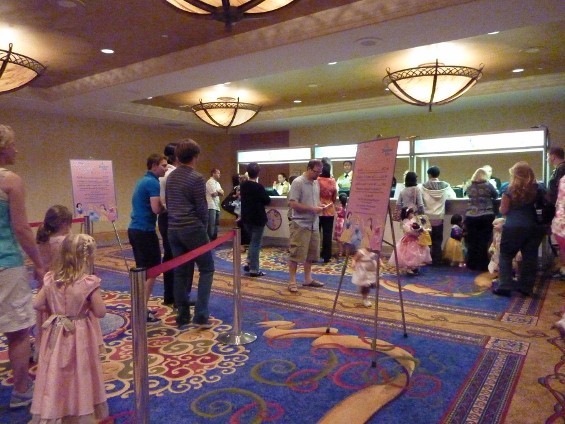 Here was our first surprise – the price was published on the website as $81.99 for adults (10-up) and $24.99 for children (3-9). The poster was telling us it was $67.00 for adults and $16.99 for children. Plus…. our Premium Annual Pass gave us an additional 15% off!!!! Happy Mother's Day!!!! (I think it's only fair to note that they are quoting the correct price from the start this year – $69.00 for adults and $18.99 for children, tax and gratuity not included.)
We were feeling pretty spiffy right now, so out we went through the next set of doors and into an elegant "holding pen". Disney thought of everything – a beverage table with coffee, tea, cocoa, and juice and small tables to sit and sip drinks, a "movie area" with a television and lots of chairs for kids to chill, a photo op – for mom to be her very own princess, and a handsome, tuxedo-wearing maitre d' to call out your name when your table was ready.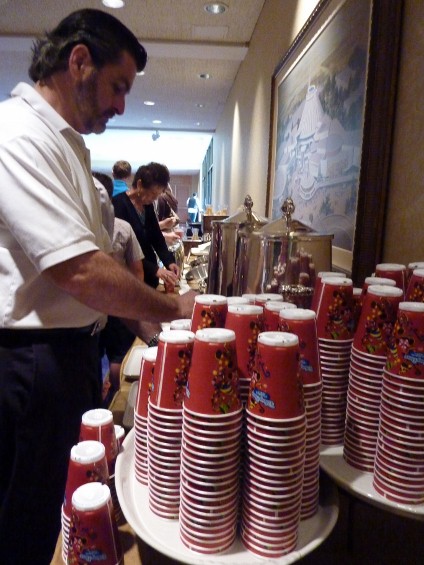 Remember the handsome tuxedo'd guy?  This one?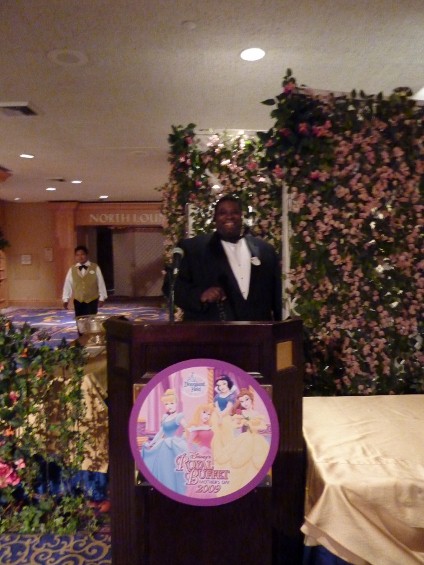 He called our name and it was now our turn to be escorted into the ballroom.  Before entering, we were directed to a specially partitioned section of the ballroom that was purely for strollers.  Now, for the unprepared, this is a subtle way for Disney to make sure that strollers aren't blocking the pathways in the ballroom.  Do not be worried though, if you have need for your stroller, they will not be upset with you for having to get it and bring it in, should one of the kids get sleepy or have issues.  If you think this might happen to you, try to request seating near the outer edge of the room.
So let me talk about the room.  Now when I say that we were escorted into the ballroom, I don't just mean a standard large ballroom.   You know how hotels build ballrooms so that they can rearrange the size and configurations as they need them to be?  In this case, every single divider wall was pushed back to join every single ballroom into one gigantic event!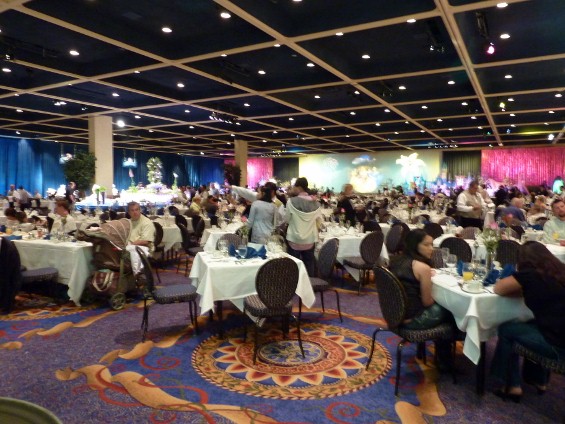 It was pretty glorious.  Spring flowers – delphiniums, stock, and foxglove rose to grandiose heights, towering over the buffets.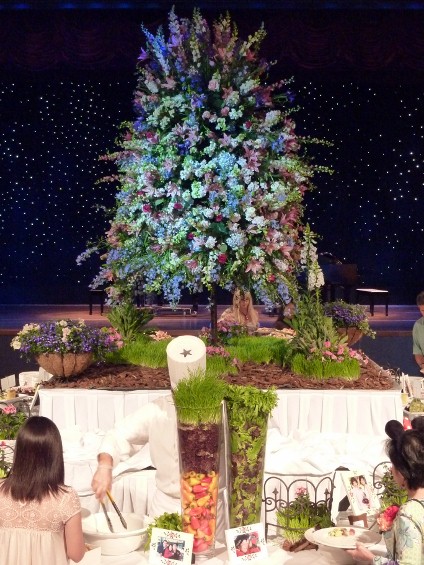 The tables complimented them, boasting vases of lettuces, peppers, and wheatgrass, to make small "gardens"  that showcased frames filled with heartwarming family photographs of mothers and their children.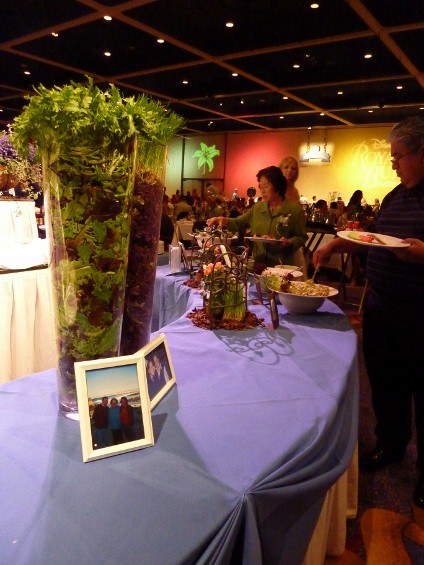 Images of Princesses and flowers were projected onto curtained walls.   Buffet tables were artfully positioned throughout the room, with two centralized stations to serve such a large guest capacity and make the most of the ballroom's unique features, such as the sunken dance floor.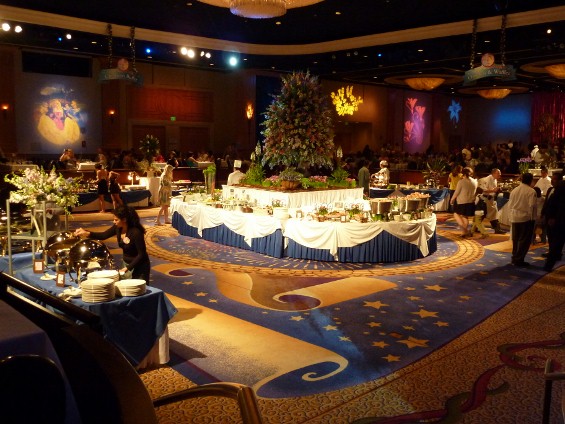 At either end of the room, we noticed that special Meet and Greet areas were set up for interaction throughout the course of the meal.  These were no simple stations – on our side of the room, Cinderella's glass coach was even driven in for the occasion!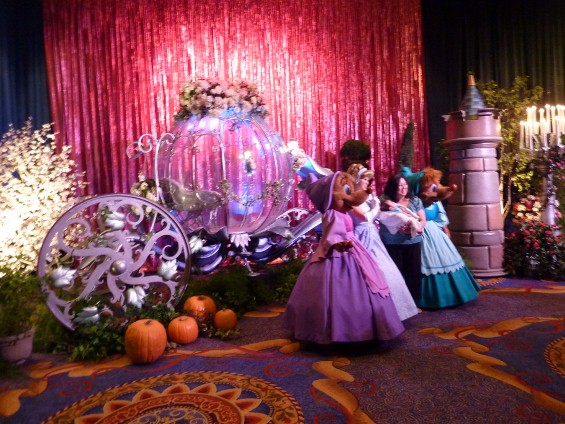 Sleeping Beauty, of course, took center stage (this is her park, after all), along with Snow White and Belle.  Princess Minnie and the rest of the Fab Five (sans Mickey – this is a girly event, after all) were positioned on the far side, though we never made the hike over there to see them.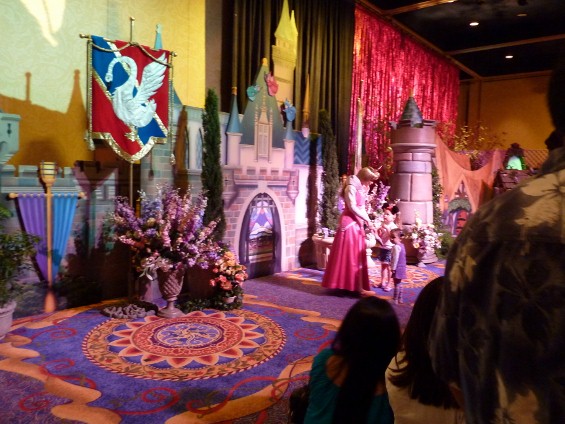 My best advice on taking advantage of the characters is to go nearer to the start of your meal.  We arrived at 10:45 and there were really no character lines.  By 1:00, the lines were quite long.  In other words, if it looks short – jump on that bugger.  it won't be that way for long.  As with the parks, they do rotate the princesses, so keep your eyes peeled for that.  You might be able to request seating nearer to that side, I'd say that it wouldn't hurt to try, if character interaction is important to you.
Once we were seated – on the edge of the room (which I thought was kind of crappy at first, but then realized it was complete genius by the end of our meal), we were greeted by our servers.  They took our drink orders immediately  – champagne was included, so of course we took them up on it.  Oh my gosh – can I tell you that, even though I can't remember the name of our fantastic gentleman a year later, he made one killer mimosa.  He was a charming, Southern guy too.
We then surveyed the territory.  Remember how I thought the edge stunk at first?  We had 4 stations set up within immediate bee-line distance!  No pushing though tables to get there!  This definitely was looking up.  First thing on the agenda was getting the kids situated with plates.
Of course, the first comment I heard when I told people about this originally was "$16.99 for kids to eat???? – How the heck?  My kids don't eat that much!"   Okay. Here is my response…
It's a special occasion hotel brunch.  There is a cost.
Look at what you get for this – a special kid-sized buffet!
They put the entire kid's buffet station on smaller height tables, that are perfect for smaller kids to survey the territory.   The foods are all kid-friendly, for even the pickiest eaters.  You get….
a cold/vegetable station – filled with salads, macaroni and cheese, and steamed veggies,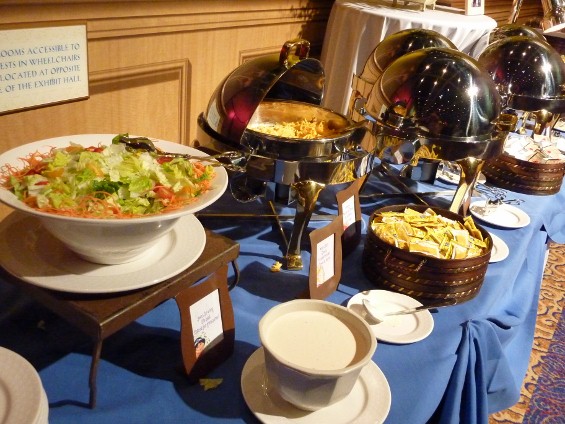 a hot station – filled with Mickey nuggets, waffle fries, mini corn dogs, mini pizzas,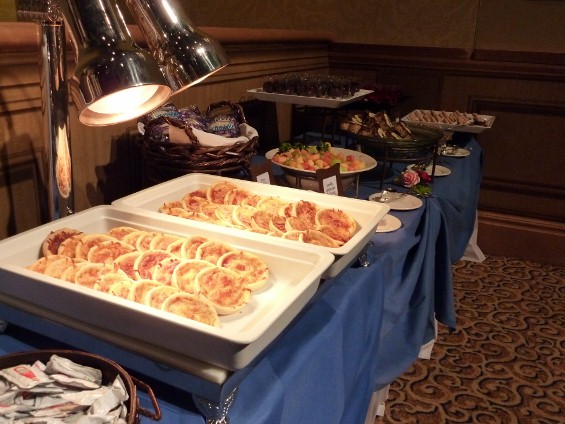 and a dessert station – filled with special things, like fruit, giant cookies, Mickey rice krispy treats, s'mores cups, dirt & worms, and sugar free jello.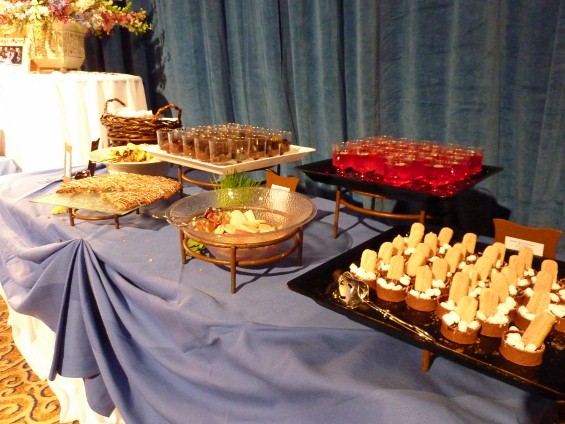 Once Lily helped me pick items for Zoe and herself, it was on to the grown-up offerings.  Frankly, the kids liked some of those almost as well as they did the kid's items!
We were lucky enough to be centered near all of the hot, manned, buffet stations -10 feet between both the meat carving and custom omelet-making stations.  There was a fresh waffle station another 20 feet away.   Our first path was to the carver.  It was still early – folks weren't quite into the meat yet – give them 20 minutes….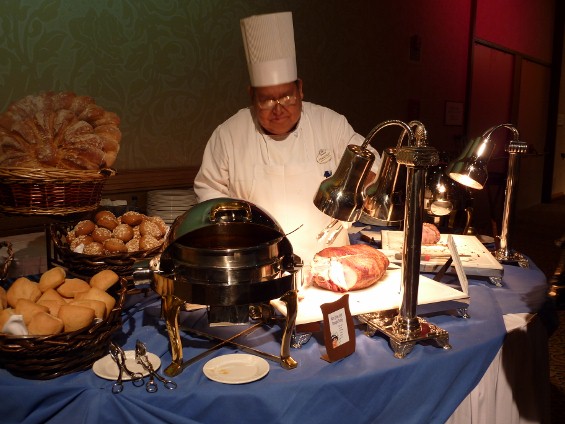 His delectable station featured a wide range of breads (including pretzel bread) and ham with warm brown sugar pineapple chutney and prime rib with garlic thyme jus and horseradish aioli.
The next station was custom omelets, which included other hot, traditional breakfast items, such as scrambled eggs, country fried potatoes, griddle pork sausages, and applewood smoked bacon.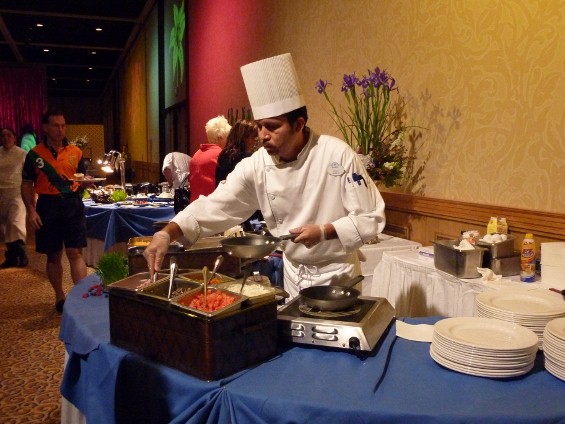 The final manned station was Mickey Waffles!  This chef was particularly busy, cranking out a steady stream of those tasty little treats, which you could top as you chose, with fruit compotes, whipped cream, or warm maple syrup.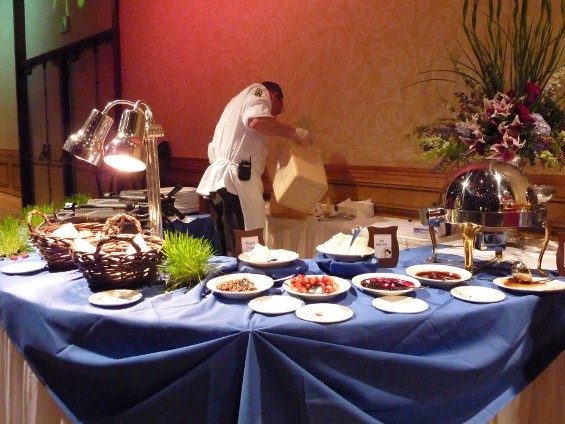 I wish I had a photo of a plate full of these stations' goodies, but the reality was, we ate it too fast.  You'll just have to take my word on it that the carving station meats and sauces were some of the most delectable things on the planet…. yum.  We especially liked the ham – smoky and sweet, with just the right amount of spice from the chutney.  We didn't hit the omelets, since we didn't want to fill up on the regular breakfast foods.
As far as the rest of the hot items go, at the end of the the wall, chafing dishes featured caramelized garlic infused Yukon Gold mashed potatoes and herb-roasted vegetables,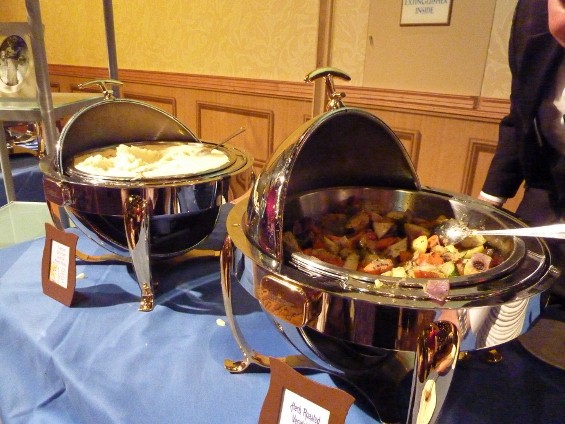 Romano crusted baked macaroni and brie with andouille sausage, roasted breast of chicken with wild mushroom ragout and port wine reduction, seared Atlantic salmon fillet with bell pepper brunois and lemon caper buerre blanc.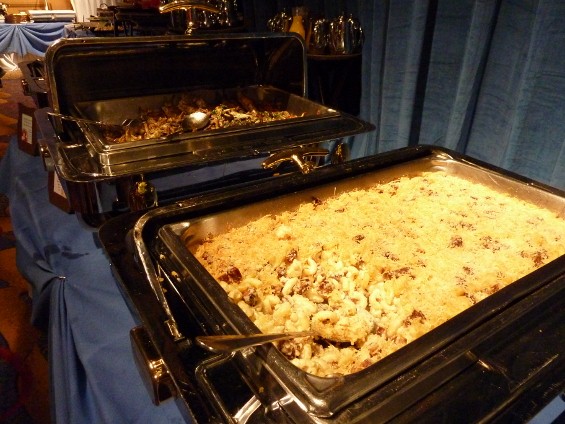 Here is my plate with the hot offerings.  Clockwise from top, the mashed potatoes, veggies, brie macaroni, salmon (which I thought was especially amazing), and the chicken.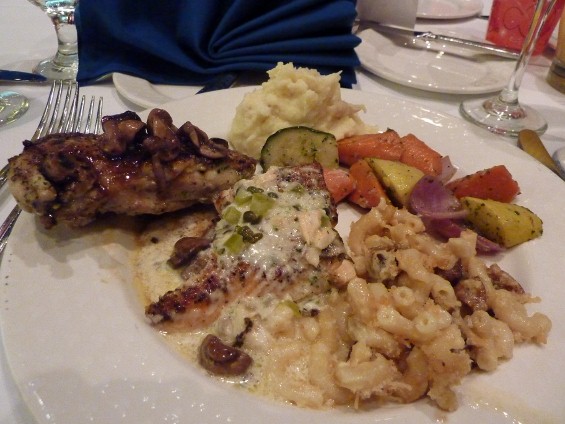 Since it was further away, in the center of the room, I hit the cold buffet for my second round.  I know this is traditionally backwards, but, hey, it was my day.
You couldn't help noticing the made-to-order caesar salad station at the front – the chef and station are featured in the first photo of this blog.   She was charming and chatted while she made the salad with large shavings of parmesan and just the right amount of dressing.  Other simple salads, like potato and such, were just off the the side, with a beautiful antipasto tray right next to them.
Then came the cheeses.  I…. am a cheese freak.  I love artisanal cheeses and these did not disappoint.  While they were some of the more popular varieties, they were beautifully presented.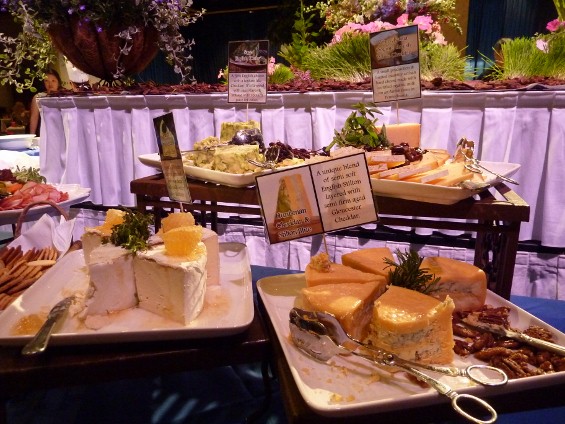 Clockwise from top left: Derby Sage with sun-dried raisins on the vine, Pennsylvania Organic Amish with olives, Huntsman cheddar with Stilton and candied pecans, and a triple creme Saint Andre with fresh honeycomb drizzled over the top.  The pairings were perfect – the honey especially.
The seafood buffet contained a nice variety.  There was a house-smoked salmon, done two ways – in the traditional gravlax style with dill – served for breakfast at Storyteller's Cafe in the Grand Californian, and regular smoked, served at Goofy's Kitchen in the Disneyland Hotel.  It was a beautiful presentation of traditional accompaniments – tomato, cucumber, onion, and capers.   They actually make all of their smoked salmon in the Disney kitchens and I think it's some of the best I've had.  This speaks highly for a mass produced recipe.
There were 3 types of shellfish waiting – King Crab legs (in chunks), peeled shrimp (sized in the 16-24 count range), and pre-cracked snow crab claws.  The only drawback is that they went so fast that the new trays didn't have much time to thaw from their extremely chilled/frozen state.  My tip – get these first.   This trio of oceanic delight (yes – I love shellfish) was accompanied by a trio of sauces – traditional cocktail, a heavier chili cocktail, and a lemon-dill aioli.  I liked this last choice – wasn't too heavy and just the right amount of seasoning.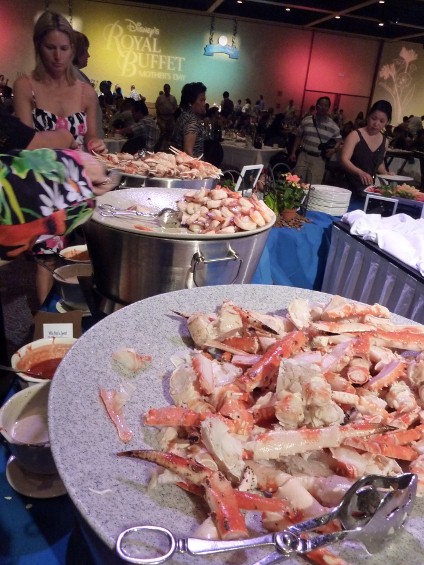 Here's my plate of cold goodies.  Clockwise from center: Snow claws, Cheeses, aioli dip, caesar salad, shrimp, and smoked salmon.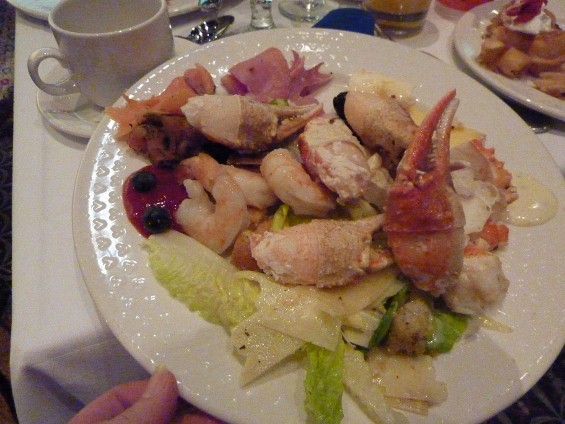 Now, I do realize that you think that we should be full by this point, but alas.  There is still the finale to sit through – the desserts.  There was such charm in the presentation and selection that we couldn't help but to indulge.  After all, each dessert was name for each of the chef's mothers.  How could you not share a tear of love and joy at that gesture?
The two dessert islands were positioned separate from the other buffets, in an oval format.  In the middle, came these loving little treasures.
Such delights as Marsha's Molten Chocolate Cake, Elena's Strawberry and Almond Tarts,  Cynthia's White Chocolate Raspberry Delights, Shannon's Organic Chocolate and Roasted Hazelnut Pate, Diane's Strawberry Cheesecake,  Michelle's Merlot Cherry Crostada, and Karen's Vanilla Bean Panna Cotta.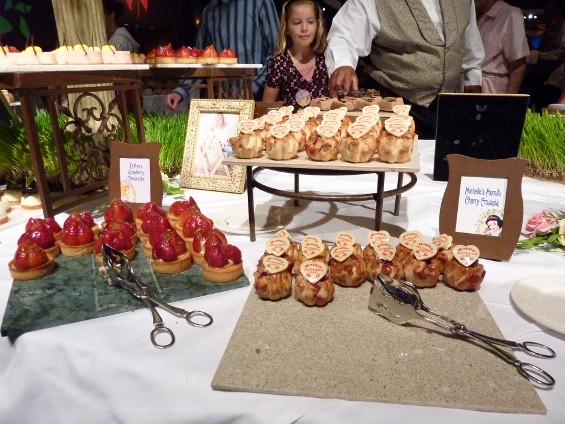 Our sampling – clockwise from top: Creme brulee, the Pate, the Crostada, cookies without the dipping chocolate, White Chocolate/Raspberry Delights, the Strawberry cheesecake, and the Molten chocolate cake.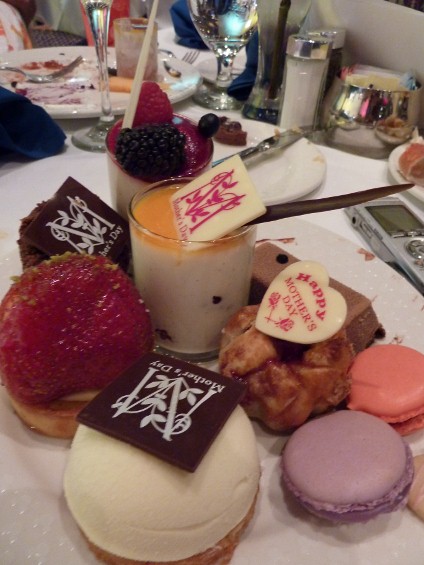 At each end, a manned pastry chef station served custom treats – producing the longest lines in the place.  One was for chocolate dipped fruits and cookies…..
the other end had a custom crepe station, serving bananas foster – shown flaming below – or strawberry.  Both had ice cream on the side.  The lines were too long and the kids too impatient to actually stand in line to get them.  A shame, really….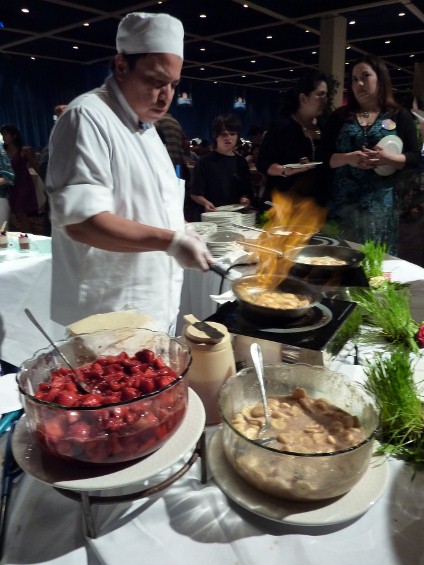 All in all, the desserts were a step above the usual buffet desserts, like those at Goofy's Kitchen.  There were a couple that were of more exceptional note.  The Pate was full of layered flavors, but actually deceptively soft and squishy.  I don't know what they were thinking when they served it with tongs, instead of a spatula!   The molten cake wasn't actually molten, but colder and more truffley.  The panna cotta – outstanding.  The others were passable.
We never felt rushed to hurry through our meal.  No one was ever hovering, yet service was always present.  I think we were there for almost 3 hours.  The quality of the experience was definitely worth the value of the cost.  We decided this was definitely something we would do again in future years.
By the way – one tip worth noting.  The restrooms directly off the back portion of the ballrooms are in locations that require the use of stairs – either up or down and take a few minutes to get to from the dining area.  There are other disability-accessible restrooms in the hallways that lead from the main hotel lobby and the Steakhouse 55/Goofy's Kitchen entrance.  Parents with small children (or even grownups who need extra time or help with mobility/wheelchair access) may want to keep that in the back of their minds for any "um…Mommy….." needs.
When we finished with our meal, we decided that our biggest tip was to come with a large "family" group, especially if you have small children.  We saw many multi-generational groups and realized we were right.   This is great for two reasons.  Being just my husband and I, we had to take turns making trips to the buffets, while the other parent would wrangle the kids.  If you have a larger group, this is much less of an issue – there is always someone at the table to keep an eye on them.
The other and best reason to come in a group….  to share the joy and the experience of family with the ones you love over a fabulous dining experience!
Category: Dining, Disneyland, News, Sea World
Disneyland Podcaster for the DIS Unplugged