After experiencing the first weekend of Disney's California Food and Wine Festival 2010 with my Disneyland Correspondent Team, I can truly say that whether you are a casual and unaware visitor or are a seasoned passholder,  the festival is bound to hold something in store for you. You basically have a choice: stumble on one or two of the features of the event (enhancing a normal day's experience) or make a full day of it. It's up to you.  Let's face it.  Even if you know nothing about the festival, you will stumble across activities as you go from ride to ride.  There are signs for special foods at every counter service eatery, you'll walk past a little roped off area where you can pay to taste a sampling of wines or beers from around the state or the world, and you'll see a tent that has a kitchen on a stage in the central hub of the park.
So what's in this blog?  It's got info – to make sure you know what you're in for,  it's got photos – to make you drool about it, and it's got some some tips that will make you feel like you got the most out of your park experience. The Festival can really be broken down into 4 topics: activity Locations, Seminars, Food & Wine/Beer/Spirits, and Shopping. Knowing a little about each one can save you a lot of time, energy, and even a little cash!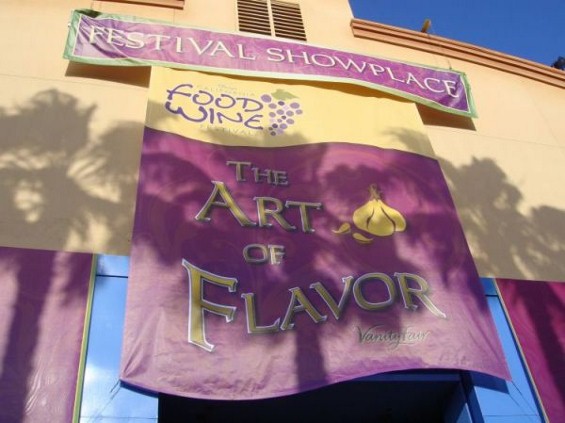 Let's start off with Locations.
The event organizers of Disney's California Food and Wine Festival have tried to incorporate the Festival into the entirety of California Adventure. That means the activities and the food are spread out throughout the entire theme park. In some ways, this is great, and in some ways, not so much. If you are coming to the park specifically for the event, it can feel a little too spread out and you might not know where to go next or what to do.
The most obvious location of activity is the Chef's Showcase Stage.  You can't miss this massive tan tent from the moment you enter the Park's turnstiles – it's directly in front of you under the giant sun.   This stage is home to the food demonstrations and celebrity speakers.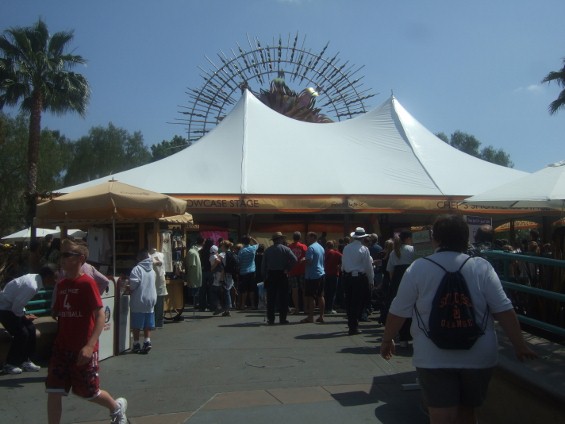 No matter what you did last year, do NOT head directly here first – no matter how obvious it seems that you should.  There is a reason for this – there isn't really any pertinent Festival information here.  For that, you need to…
TIP 1:  STOP AT THE FESTIVAL WELCOME CENTER and GET YOUR FESTIVAL GUIDE BOOKLET.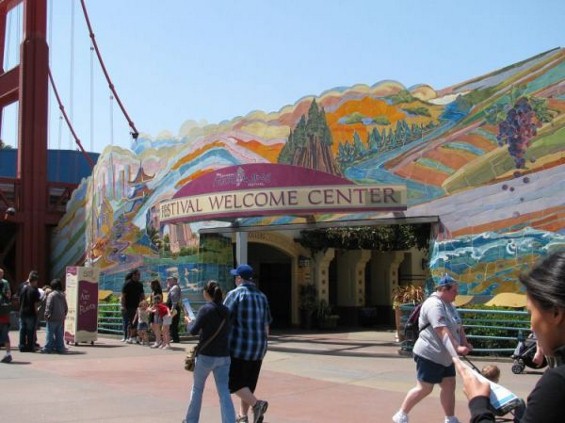 Located just inside the park gates (in the old stroller rental center) is the Festival Welcome Center.  Besides having a very large map of the park and the Festival activity locations and some really spiffy Guest Services Cast Members to answer questions and sell you a wristlet gift card, It's not much.
However, it is the best place to pick up your survival manual – THE FESTIVAL GUIDE.  This little booklet will tell you where to go and what to do – within reason.  That brings us to our next idea:
TIP 2: ASK THE CAST MEMBERS AT THE CENTER QUESTIONS BEFORE RUNNING ALL OVER THE PARK.
It's important to note that the guide book was printed before the festival and some things are not specifically printed in it.   If you look through the booklet, you aren't going to find a list of those special foods, or the wines and beers served at each walk location.  Also, if there is a change of speakers at the tent, it won't be reflected.  That's why the Festival Center is manned with Cast Members who are trained to know the Festival's events and changes to the schedule.  This can save you a lot of time and energy, as you won't have to run all the way to Pizza O Mow Mow to find out that you couldn't care less about the special antipasto salad.
TIP 3: USE THE MAP.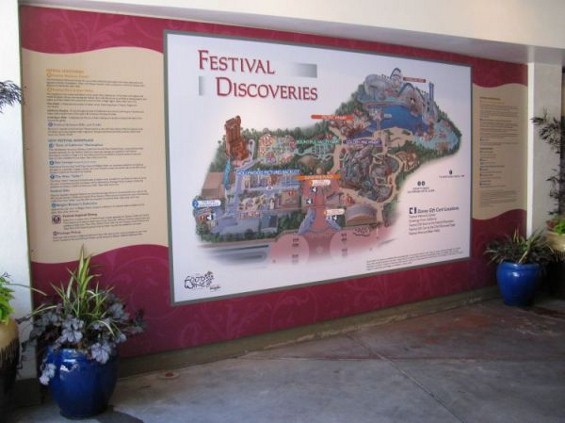 The huge map pictured above is also in the center of your Festival Guide and scattered on triangular Information signboards throughout the park.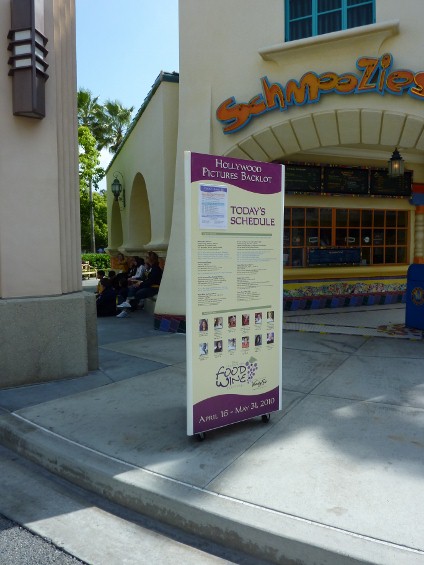 Without the map, you may have a hard time finding the locations of some of the activities, including the activity mecca, known as Festival Showplace.    Others, like the Chef's Showcase Stage can't be missed.
TIP 4: VISIT THE HOLLYWOOD BACKLOT AND FIND OUT WHAT IT HAS TO OFFER.
The Backlot is buzzing with activity during the Festival, especially since it's the one area of the park that really doesn't have much construction going on.  Besides the main center for Festival seminars, tasting and shopping – the Festival Showcase, the plaza area next to Monsters Inc. is host to the Junior Chef sessions and the Belgian Brewer's Collection tent.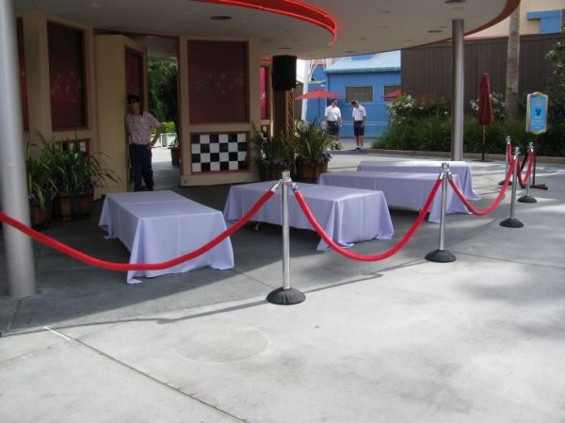 Junior Chef sessions are held on the weekends at this replica of a Drive In eatery.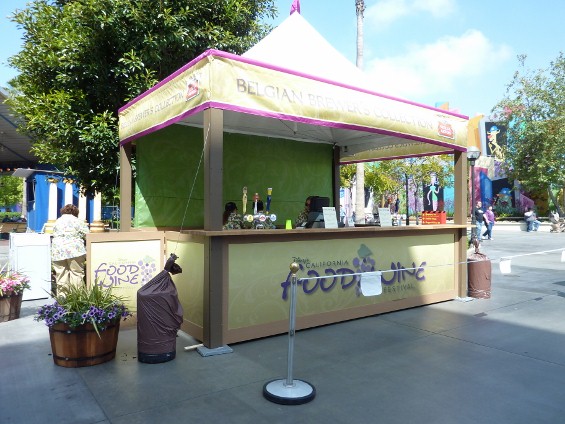 The Belgian Brewer's Collection features beers from Stella Artois Brewery.
The Festival Showplace (held in the Soundstage 12 building) had pros and cons in its location.   It's at the very back of the Hollywood Backlot and is behind a red catering truck next to Monsters Incorporated.   As you can tell in the photo below, there is a huge, brown, unbannered wall in front of it.   In fact, the FESTIVAL SHOWPLACE banner on the top of the photo is the only thing visible over the wall.    This is probably the biggest point of contention you will have with the place.  That or the lack of outdoor seating areas….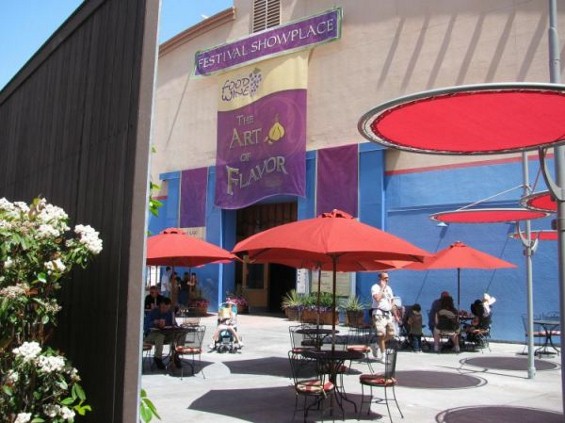 Just pick a side you want to enter from and don't hesitate in entering the building.   Neither is well marked, but be advised that the lines for the seminars are on the left entrance of the wall.  Once inside the Soundstage, the space is subdivided with shops, lecture hall, a lounge, and  a counter service eatery.  This could either be chaos or genius, and the conclusion reached was the latter.  The way they subdivided the space worked well and sound seemed to be contained in their separate areas.
Now that you have the gist of where things are, let's move on to Seminars.
The Festival offers guests a pretty wide range of food and beverage related topics to educate themselves on from the hours of 11am to 8pm.  Some speciality seminars, called Signature Events. are only available for a cost by online registration and may sell out in advance of your visit (such as one hosted by the Grand Californian Hotel's flagship restaurant Napa Rose ).  Most seminars are free, with lines queuing up anywhere from 20 minutes before start time.  If a celebrity chef or vineyard is involved, lines can form up to 5 hours ahead of showtime.
TIP 5: THE VALUE OF A SEMINAR IS WHAT YOU PERCEIVE IT TO BE.
The Signature Events are going to cost you.  Napa Rose Cooking School goes for $475 per person this year.  The Reidel Advanced Wine Course is $99.  Sweet Sundays are $70.  Each has its benefits.  If you aren't sure, do a little online research and find out what happened in last year's classes.  The Napa gives you private, professional instruction from an award winning chef – plus a handful of take-home goodies like a chef's coat.  Reidel is sending its participants home with a set of 4 Vinum series wine glasses that retail for between $80 and $100 (at least that's what Amazon says….).  For others, you could get an amazing meal of a lifetime.   One person's cost/value ratio is not the same as another.
One thing that can't be argued is the value of free food/drink for spending a little time and even just $1.   That is what is offered in both the Chef's Showcase Stage and the Festival Showplace Stage /Soundstage 12 events.  The Chef's Stage is home to the food demonstrations and Wine/Beer/Spirits ones are in Soundstage 12.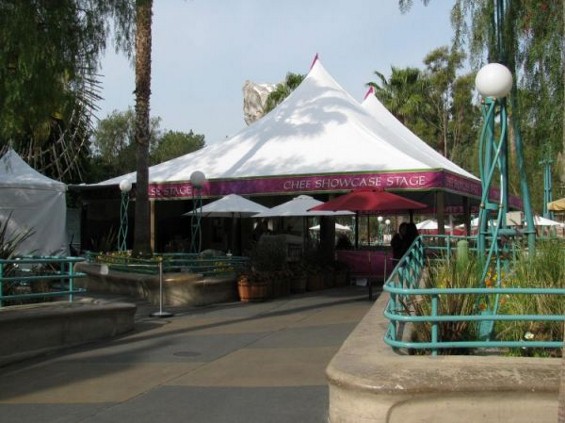 The Chef's Showcase Stage
TIP 6: THE LINES FOR SEMINARS ARE IN THE SUN AND HAVE SPECIFIC RULES TO WAITING IN THEM.
The seminars are under cover, but most of the lines aren't.  The Chef's Showcase lines are full of shady trees, but not so at Soundstage 12.  Keep this in mind, especially if you are getting in line for celebrity chefs.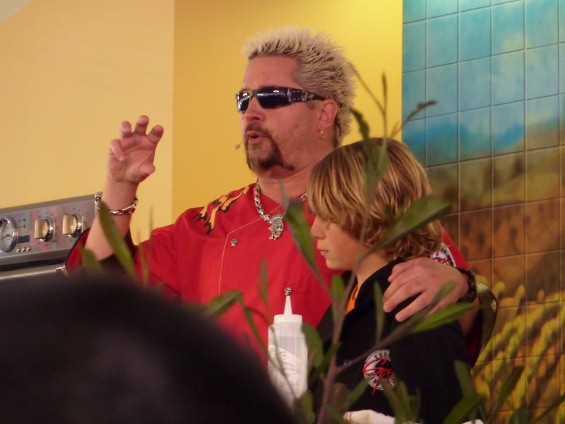 Celebrity chef Guy Fieri, and son, Hunter, discuss cooking with your kids
TIP 6A: Make sure you pay attention to the rules that the Cast Members announce while you are standing in line.  It could make a difference between getting in and being really disappointed. Celebrity sessions require tickets for first access to the seminar and the free food.  This means a SEAT.  You will not be able to place hold for others in your party.  Everyone must be there and be given a ticket.  If you have a ticket and have to leave for a few minutes, BE BACK ON TIME.  They will bump your party into the standby queue if the line is ready to move.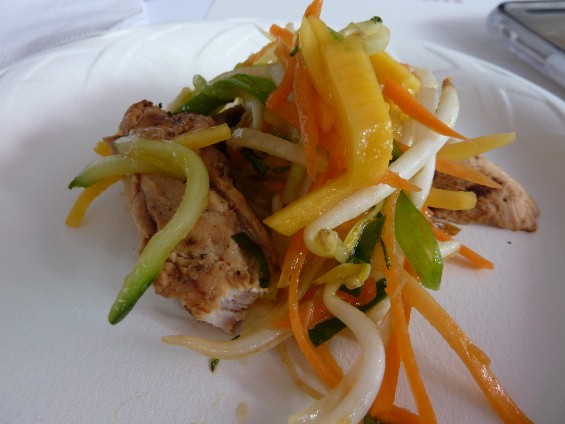 Guy's Asian Chicken and Papaya Slaw
TIP 6B:  Bring water and make friends with the folks next to you in line. They will save your place, should an unexpected departure need to come from the first half of this tip.
TIP 6C: If kids are with you, make sure they are capable of enjoying the activity in the company of adults. If not, they will probably do well with the Junior Chef program on the Hollywood Backlot.   Kids up to about 8 seem to really have fun with Goofy as they actually mix ingredients and receive the product of their efforts to take home.  This year, they are making oatmeal cookies.  The ones they get to take home are actually very tasty.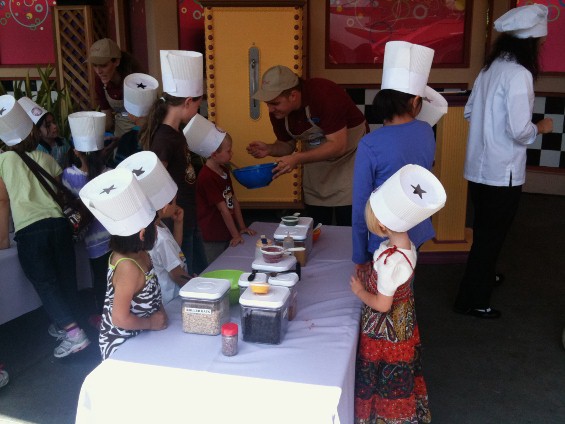 TIP 6D: The Chef's Showcase stage will have a waiting area for folks that want to see the celebrity chefs but don't want to get in line. The venue has half wall barricades set up, so that crowds can view from the outside.  This just means that you can still see the show, but not get a seat with free food.   You can hit this about 30 minutes prior to showtime and still get a good vantage point.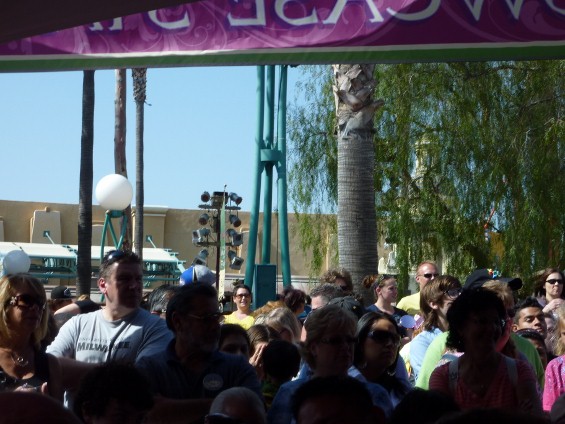 Wine Seminars are the same.  The half walls inside the Festival Showplace allow for guests to watch, but not taste, and that's okay.  The information provided ranges from horticulture to science to technique.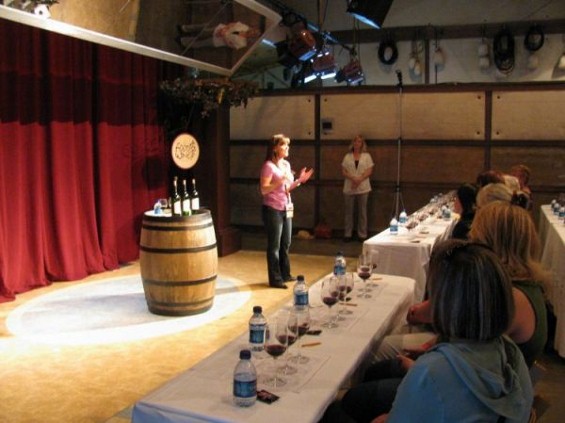 Granted, the tasting is what folks normally come for….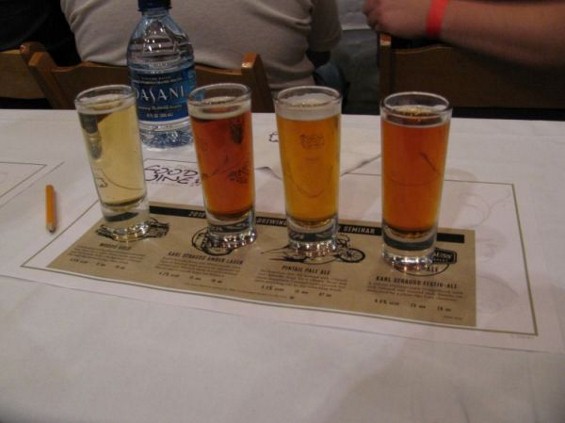 The important thing to remember when signing up for any alcohol tasting session is
TIP 7: BRING YOUR ID, YOUR MONEY (at least $1), AND A BOTTLE OF WATER.
You will be carded to verify that you are 21, you will need to pay (something regarding a pesky law), and it helps to have the water to cleanse your palate.  The charge for tastings is $1 (US), but you may want to have more handy, since the gift location is immediately next door, selling the wine beverage you just fell in love with.
Since we are talking about indulging in consumable goods, let's move on the the next area – Food and Wine/Beer/Spirits.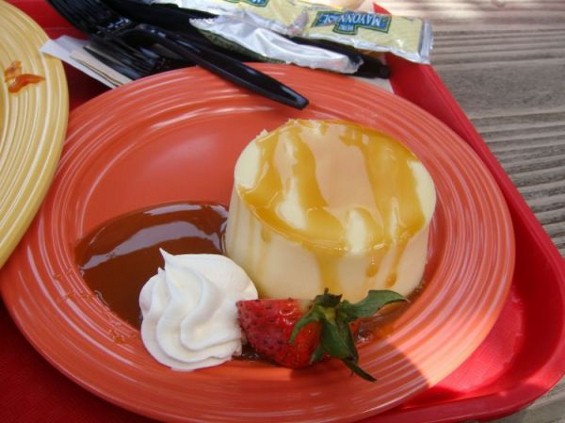 Dulce de Leche Cheesecake served at Cocina Cucamonga
This year, they brought the best ideas of the previous years together.  They are presenting special Festival Inspired Dining items at all counter service eateries and also having a centralized dining counter service, where you can get appetizer-sized portions of around 10 items.   There is some flexibility to the items offered, so…
TIP 8: CHECK WITH THE FESTIVAL WELCOME CENTER OR THE FESTIVAL SHOWPLACE CAST MEMBERS TO SEE WHAT FOOD IS OFFERED AT WHAT LOCATION.
This can't be said enough, especially since the guidebook doesn't say it at all.  They reserve the right to change items as the Festival progresses.  They may even change an item based on lack of popularity or guest feedback.
TIP 8A: You can identify the special items at their counter service locations by special signs, which also suggest the best beer and wine pairing for the dishes.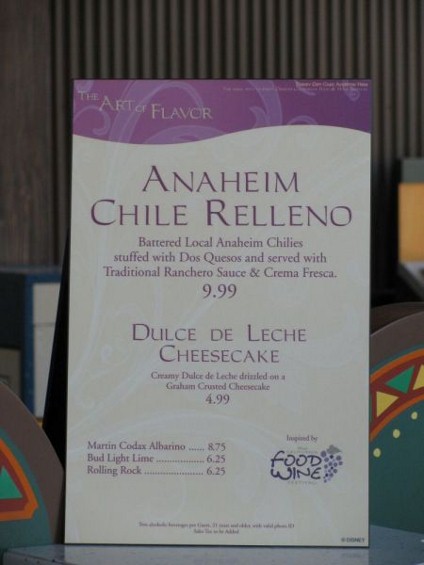 TIP 8B: This means these Festival items are entree sized, unless indicated as being an appetizer or dessert. Costs run average of $7-10 for the entrees.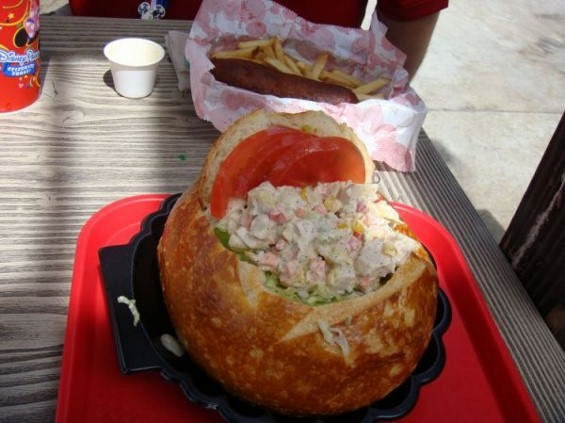 Wine Country Chicken Salad in Boudin Bread Bowl – served at Pacific Wharf Cafe
TIP 8C: The more the merrier!  Bring friends to share the samples and the costs!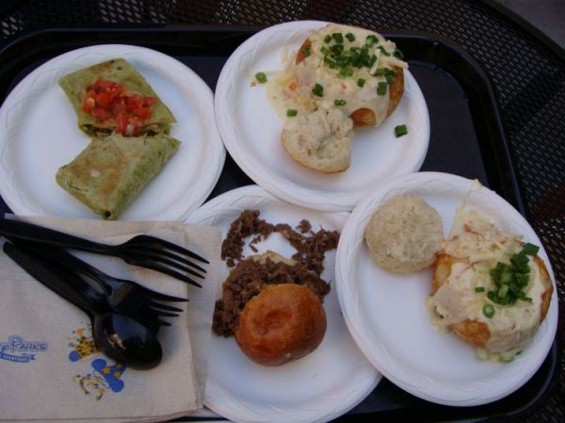 Tapas: Clockwise from top: White Cheddar Cheese Soup in bread bowls, the Festival Slider, and the Festival Quesadilla
With the addition of the tapas-style counter service in the Festival Showplace, as well as the Star Lounge inside, this opens up your chance to really splurge on food and drink.  With the tapas running in cost from $3.75 for the Pear Salad and the Ghiradelli Profiterole to $5.00 for the Ahi and Cheese Plates, it can add up pretty quickly.  Sharing is natural when it comes to eating, so a group of friends makes it all the better.  Everyone is bound to find something that they enjoy and something they'd like to pass on.
Having a group means you can also have more people try the Coca-Cola Freestyle dispenser that was brought in especially for the Festival.  It allows for up to 106 varieties of soda to be dispensed, not to mention your own unlimited variety of concoctions.  Members of our Disneyland Correspondent Team fell in love with this machine – especially for the freedom of choice it allows diabetics!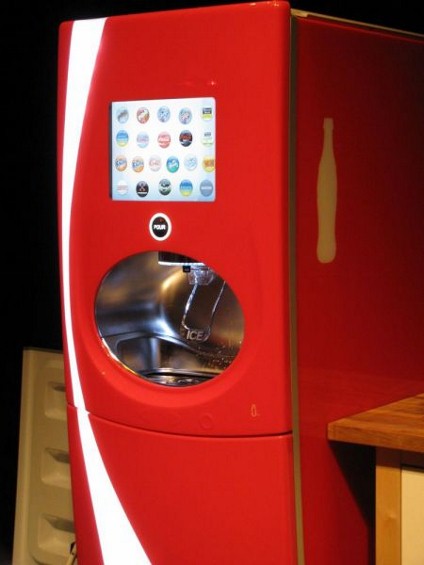 The group dynamic also works best on the Wine Walks and Hops Garden (Beer walk), where the number of samples is limited and the choices are many.
TIP 9: PARTIES OF 3 OR MORE IS THE IDEAL FOR THE WALK TASTINGS.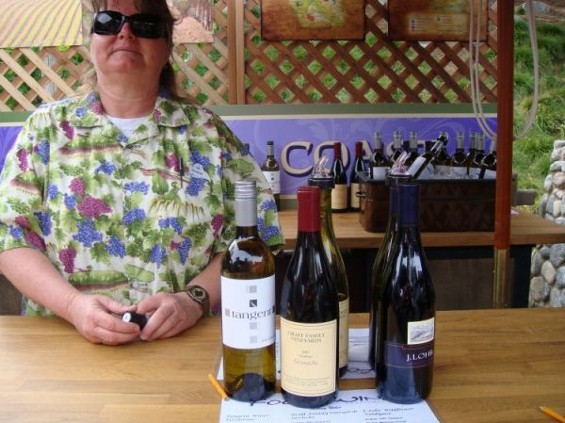 As you can see in the photo, each station in the walk has multiple wines to choose from and you only get 1 with your $10 admission.  Bringing friends allows you to share your samples and find the wine that is right for you.   Make sure you follow TIP 7 and bring that water for palate cleansing between samples.  Helps you to stay nice and hydrated in the late spring heat (if we have any this year….)
TIP 10:  MAKE SURE YOU FIND THE WINE REPRESENTATIVE, IF YOU HAVE QUESTIONS.
The folks pouring your wine are not from the wineries.  They are just humble Disney Cast Members that are probably not trained sommeliers.  There is always someone near by who knows the answer.  Find them.  They are trapped somewhere in the same tiny area you are.  Talk to them.  They will probably give you more information than you need.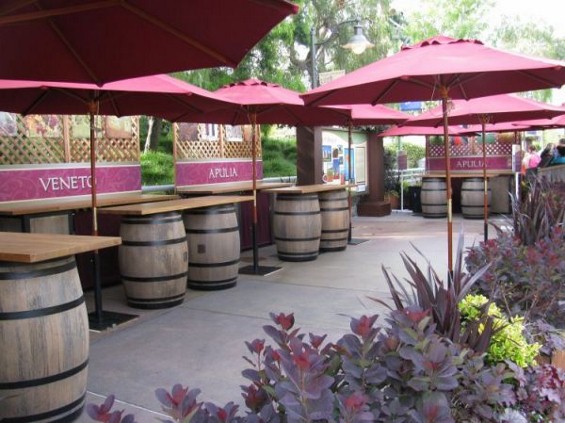 There are even some great educational boards posted to help you learn a little more about your experience.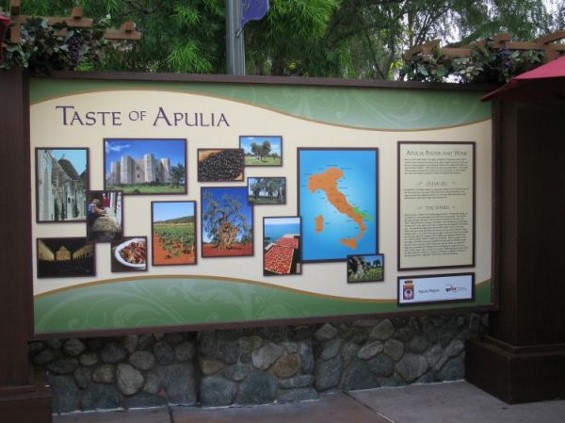 The information board for the Italian Wine Walk.
Once you have tasted and tested, it's now time to try the final category of Shopping.
There are actually 3 places to shop the Festival this year.  The Showplace hosts a wine-country painter and the main merchandise location for Festival Logo items and wines.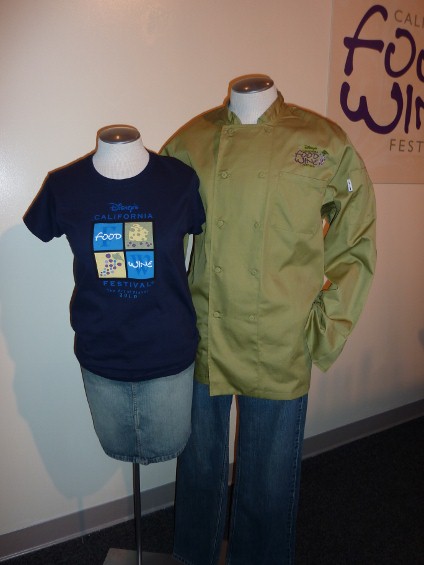 There is a cart by the Chef's Showcase, which features both Festival items and items related to that week's visiting celebrity chef.  On Guy Fieri's weekend, his latest book, his aprons, and his mustard/ketchup bottles were all on display.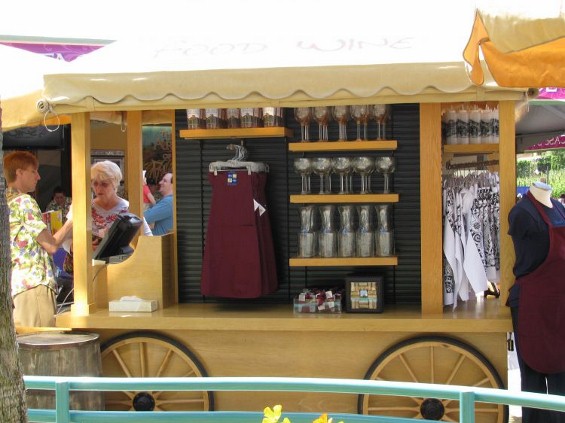 TIP 11: SOME ITEMS WILL RUN OUT.  SHOP EARLY. Good examples of this were celebrity chef cookbooks, celebrity vineyard wines, and the limited edition, recycled Festival 2009 banner totebags (which were highly publicized for having such a small quantity).   When I got my bag at 10:30 am, I found out there were only 15 delivered to them and only 40 made.  Dang.
TIP 11A: Celebrity chefs will only sign books or items that are purchased off the cart. Don't bring a book from home.
Tip 11A: All wine must be sent for package pickup and knife products must be drop shipped.  No glass bottles are allowed to be carried in the parks. Oddly enough, the logo drinking glasses are.
The final area to shop in was the Festival Artisan area in the Pacific Wharf section of the park.    There were only 4 carts here – a jeweler, another artisan, Basin soaps with wine grape fragrances, and Lucero Olive Oils.   The last shop was a hit with the Disneyland Correspondent team, as they sampled all varieties of oils and vinegars.  It was also deemed the most appropriately themed artisan for the festival.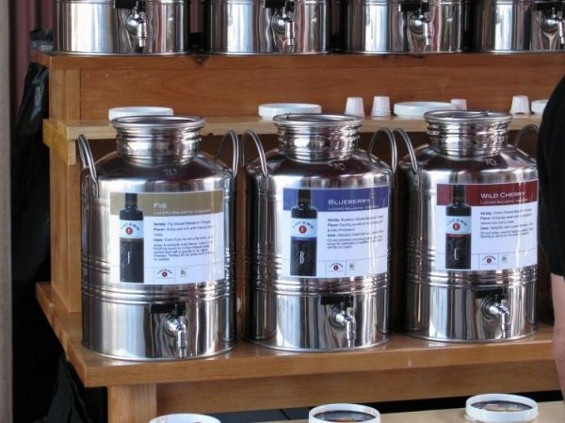 Lucero Vinegars for sale and tasting.
It looks like I've gotten to most of the tips we need to share with one exception – how this Festival affects the normal park activities.
TIP 12: PARADE/SHOW ROUTES HAVE CHANGED AND CHARACTER MEET AND GREETS ARE IN FRONT OF TOUGH TO BE A BUG .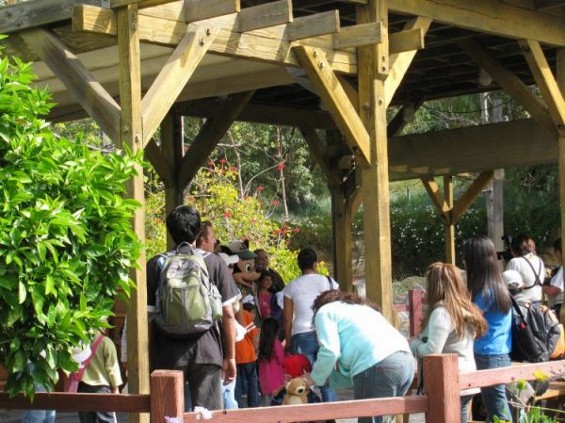 The Festival staff learned a lesson from last year and now the High School Musical 3 and any Pixar Parade performances avoid the Sunshine Plaza area,  This reduces interference with the guest speakers and other possible delays of the shows.
With that being said and all of our topics covered, I think it's time for one final tip from the team…
TIP 13: ENJOY YOURSELF!!!!!!
Photos by N. Johnson, C. Brood, and T. Bell
Category: Disney World, Disneyland
Disneyland Podcaster for the DIS Unplugged