These powerful words can both be descriptive of a good Disney vacation, as well as of the life of one of the busiest men in television today. From his roots as a Northern California restaurateur to exploding on the scene as the host of four currently-airing network television shows, Guy Fieri has taken his creativity and energy with food to a whole new level, which he will be sharing with visitors at Disney's California Food and Wine Festival this weekend. During a production break in the studio, Guy was gracious enough to take time out to talk with me a little bit about his involvement with Disney. I've included some of the audio from our conversation at the end of this blog, so you can hear him discuss the festival, Disney experiences, as well as his special edition of Diners, Drive Ins, and Dives called Guy's Disney Holiday.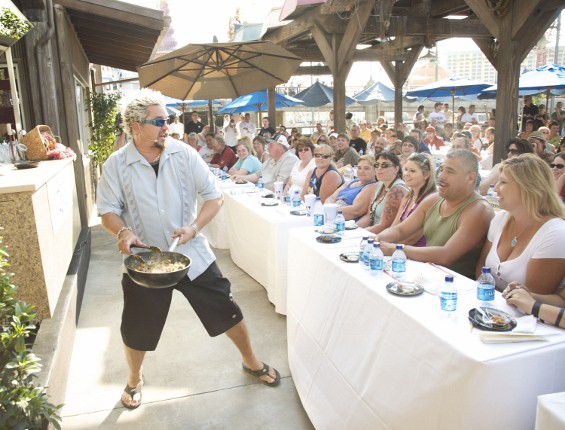 Guy's connection to Disney started at a young age.  He remembers his first visit to Disneyland was in the rain and how wonderful it was to just go from ride to ride with no waits in line.  He also remembers using the E Tickets, when every ride required you to have a book of tickets – the E tickets being for the very best rides.  He compared it to the Disneyland he knows today and is amazed by how long the lines are now!    One of the things he appreciates is the fact that Disney is so unique no matter what time of year you go, that the family can experience so many special things, especially during the holidays.
When he was talking about filming Diners, Drive-Ins, and Dives: Guy's Disney Holiday in 2008, Guy mentioned that the taping visit really was special for his family. He feels that Disney is great anyway, but during the holidays, it is even more unique and amazing. In fact, it made such an impression that when the family visited soon after the show taping, one of his sons asked him where all of the holiday decorations were!  Guy commented that the taping really meant everything to experience that together, between the candy canes, making the Yule log, and eating at the Napa Rose.   (You can see him making the candy canes in my previous blog here.)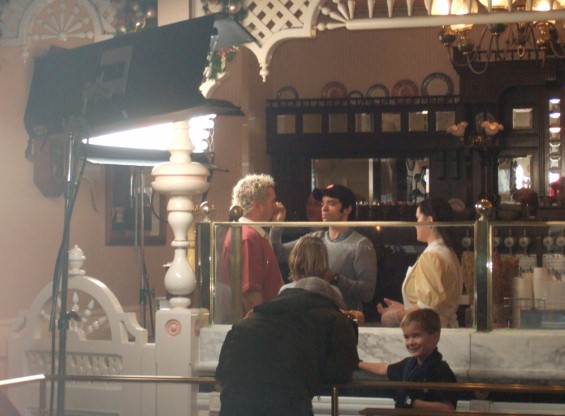 Guy and son, Hunter, get ready to film a segment on Waffle Cones
Guy mentioned that the Fieri family really enjoys their Disney dining. When Guy talks about food at Disney, he really likes to stress the family friendly aspect of dining in the parks. Guy has always been a proponent of healthy eating for families and children, having assisted in developing the California state legislation which proclaims the 2nd Saturday in May as "Cook with Your Kids Day". While he and his family really enjoy the corn dogs from the Little Red Wagon in Disneyland and the broasted chicken at the Plaza Inn, they also like to check out the foods at California Adventure which now feature healthier options for his kids – like carrot sticks with the corn dogs!
Disney's California Food and Wine Festival is a real family experience for the Fieris and this is Guy's second year appearing in the Celebrity Chef seminars on the Festival's Main Stage.
Guy mentioned that what makes Disney's California Food and Wine Festival special is that it involves the kids. The Festival can be an experience for both adults and children alike, in different ways. They bring the whole extended family down to celebrate and the adults get a chance to appreciate the festival offerings while he works, and the kids get to play! Unfortunately, the work aspect of the Festival doesn't give him much time to get out and sample the other offerings. Being Guy comes with a downside. When he comes to Disney, it's often for work. Therefore he brings the whole family with him, so he can try to squeeze in as much of that private family time and Disney magic as he can. Guy discussed that since he is easily recognizable with his blond spiky hair and sunglasses, he does find it difficult to tour the parks with his family as he would like, but always seems to find a way to see as much as they can.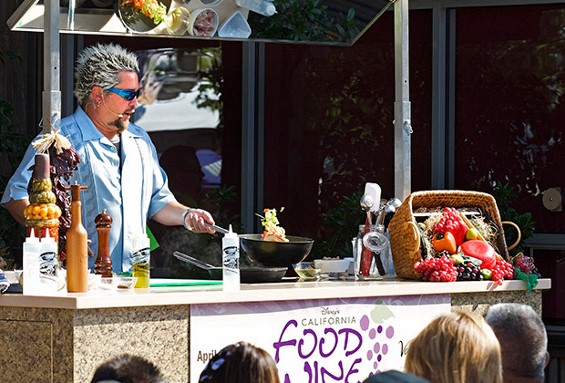 For fans coming to see him this weekend, Guy says they are in for a real treat.  He comes to Disney with the expectation to WOW the crowd.  He told me that he doesn't like to be what he considers a "dump and stir" chef, when it comes to performing in front of an audience.   Therefore, he will be bringing some unique recipes and hopes to have some crowd interaction and questions and the like.   Disney has set up time after his presentation to meet the fans and for photos and maybe sign a few autographs and copies of his books Diners, Drive-Ins, and Dives  I and II (which I'm sure will be sold in the Festival Merchandise area).
One of the things that has always interested me, even before talking to Guy, is that he is definitely the quintessential business man. It's obvious in speaking with him that he is working hard and making the most out of his career for his family. If four or five TV shows weren't enough, he's got two best-selling books, knives, licensed merchandise for his two restaurants, and even bigger plans in store for the future. Inspired by his love of cars and design, his flame-handled, Knuckle Sandwich knives are sexy enough that the inner "biker-chick/foodie" in me would buy them. I can see where many others would pick them up just to get a husband interested in chopping away in the kitchen. We talked a little bit about all of those things and I even discovered that no matter how much research you do before an interview, you can still get the name of a product wrong….  Thankfully, Guy took it all in stride!
While Guy doesn't have any other projects with Disney currently on tap, he confessed that he would love to have a branch of his popular Tex Wasabi's or Johnny Garlic's, or even a Guy Fieri-themed restaurant in a Disney theme park.  With all his foresight, energy, and charisma, he has it on his list as something to plan for the future! In the meantime, he's thrilled to be involved with sharing his passion for food at such great events as Disney's California Food and Wine!
If you'd like to check out a little more about some of the things that Guy and I discussed, here are a few links.
Guy's website: http://www.guyfieri.com/
Diners, Drive-Ins, and Dives: http://www.foodnetwork.com/diners-drive-ins-and-dives/index.html
Diners, Drive-Ins, and Dives: Guy's Disney Holiday – which even has recipes for the Yule Log they made, as well as the gingerbread cookies: http://www.foodnetwork.com/diners-drive-ins-and-dives/guys-disney-holiday/index.html
Guy's Restaurants in Northern California: Tex Wasabi's http://www.texwasabis.com/ and Johnny Garlic's http://www.johnnygarlics.com/
Knuckle Sandwich Knives:  http://www.ergochef.com/GuyFieriKnives.asp
Guy's newest show on NBC Minute to Win It : http://www.nbc.com/minute-to-win-it/
For more information about Disney's California Food & Wine Festival, check out our link: http://www.wdwinfo.com/Disneyland/events/foodandwine.htm
Photos from Disneyland Media Relations and Nancy Johnson
Category: Dining, Disneyland, News
Disneyland Podcaster for the DIS Unplugged